ConceptDraw DIAGRAM is a diagramming tool that lets you easily create diagrams in minutes to support any business communication process. You can create simple or complex drawings to communicate status or condition to your audience.
ConceptDraw DIAGRAM creates drawings, diagrams and charts with great visual appeal. It is simple to express ideas to share with others that quickly convey what you are thinking when using DIAGRAM. It is a spectacular, easy-to-use tool for preparing presentations and business documentation, describing structures and processes, making schematic diagrams, and drawing technical sketches.
ConceptDraw DIAGRAM is powerful enough to be the standard-bearer business graphic tool for organizations of any size, producing rich visual documents that convey meaning and support company's internal and external communication needs. Graphic company communications include dashboards displaying key performance indicators and depiction of processes based on company data. From simple to complex, DIAGRAM fills every niche.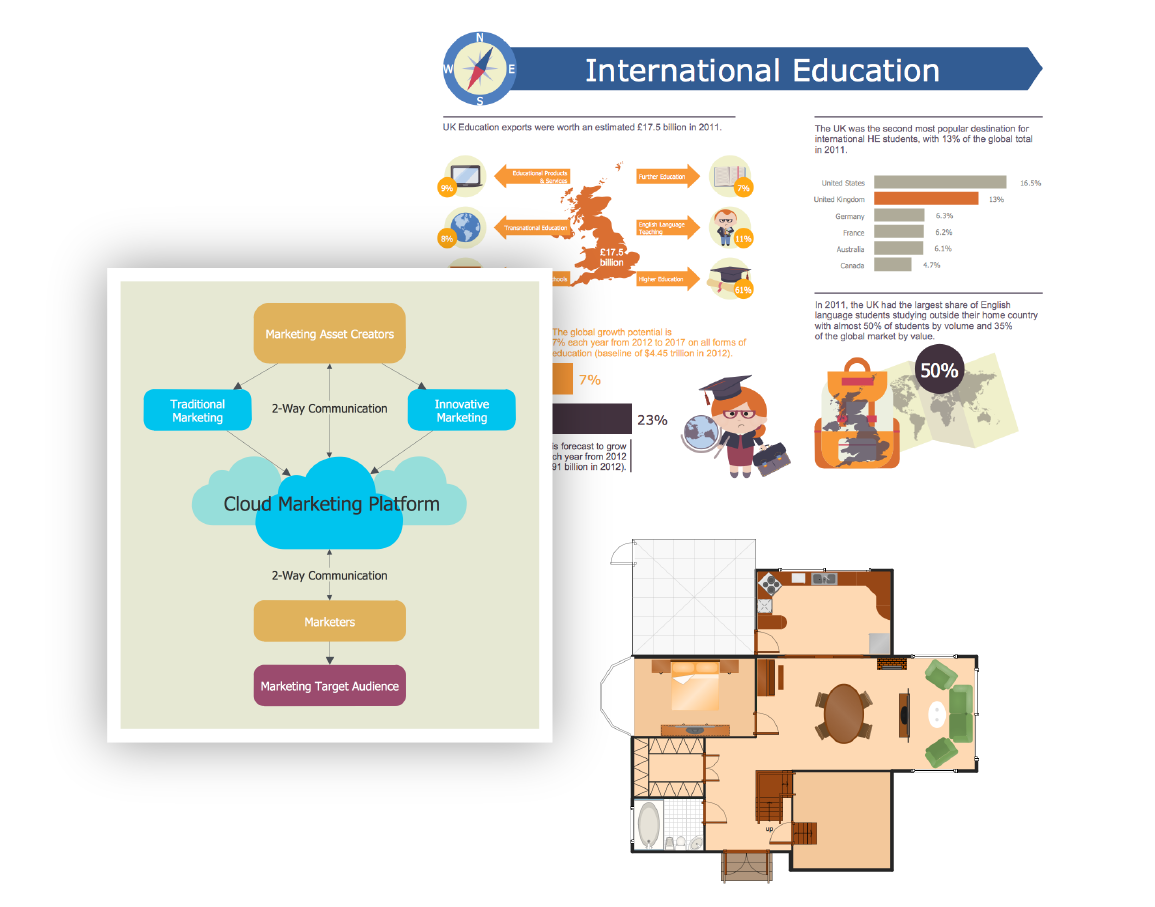 Diagramming Tools
RapidDraw
RapidDraw functionality allows you to assemble quickly business charts with minimal effort, increasing your productivity and making you a drawing wizard. Hover on a placed object and directional arrows with object symbols make flowchart layouts an easy task.
Objects and Connections
A wide range of libraries containing task-specific shapes and scalable vector graphics is supplied with free and premium ConceptDraw Solutions available for download via ConceptDraw STORE. You can create any diagram you need using different libraries and can even create your own. In addition to a rich assortment of pre-designed graphics, ConceptDraw DIAGRAM includes configurable drawing and connecting tools, automatic color and texture fill tools, as well as flexible text tools, make it quick and easy to create professional diagrams that are clear and easily understood.
Editing and Formatting
Objects in ConceptDraw DIAGRAM can be rotated, positioned one behind the other, aligned with one another and substituted with ease. You can modify and save ConceptDraw DIAGRAM objects to a library for future use. Objects that conform to your organization's identity save you time and effort. In addition to all the color fill options, ConceptDraw DIAGRAM comes with many different textures to fill objects, or you can scan your own sample texture and use it as an object fill. Text can be typed inside any object and easily be positioned to maximize object identification. Formatting tools include the drawing guideline grid which has "snap to" capabilities, dynamic guides to align objects, multiple drawing layers to simplify drawing tasks, and scaling to correctly size your drawing for any size circumstance. Libraries and Objects
Object Tools
Many of the drawing tools in ConceptDraw DIAGRAM allow you to quickly input content into drawings. The powerful object search capabilities inside ConceptDraw DIAGRAM help you locate appropriate images for every drawing project type. For example, in the business object library, there are sophisticated Smart Objects that can be quickly configured as the entire drawing.
Samples
ConceptDraw Solutions collection contains provides a large collection of sample drawings and diagrams that correspond to the template you have selected. Sample documents show you some of the amazing results that can be achieved using ConceptDraw DIAGRAM. Sometimes, this is exactly what you need to get an idea on how to make your own diagram.
Templates
ConceptDraw Solutions collection contains many templates and libraries for more specific business diagramming needs. These libraries greatly extend ConceptDraw DIAGRAM's core functionality with just a simple download. This extensibility brings huge additional value to users.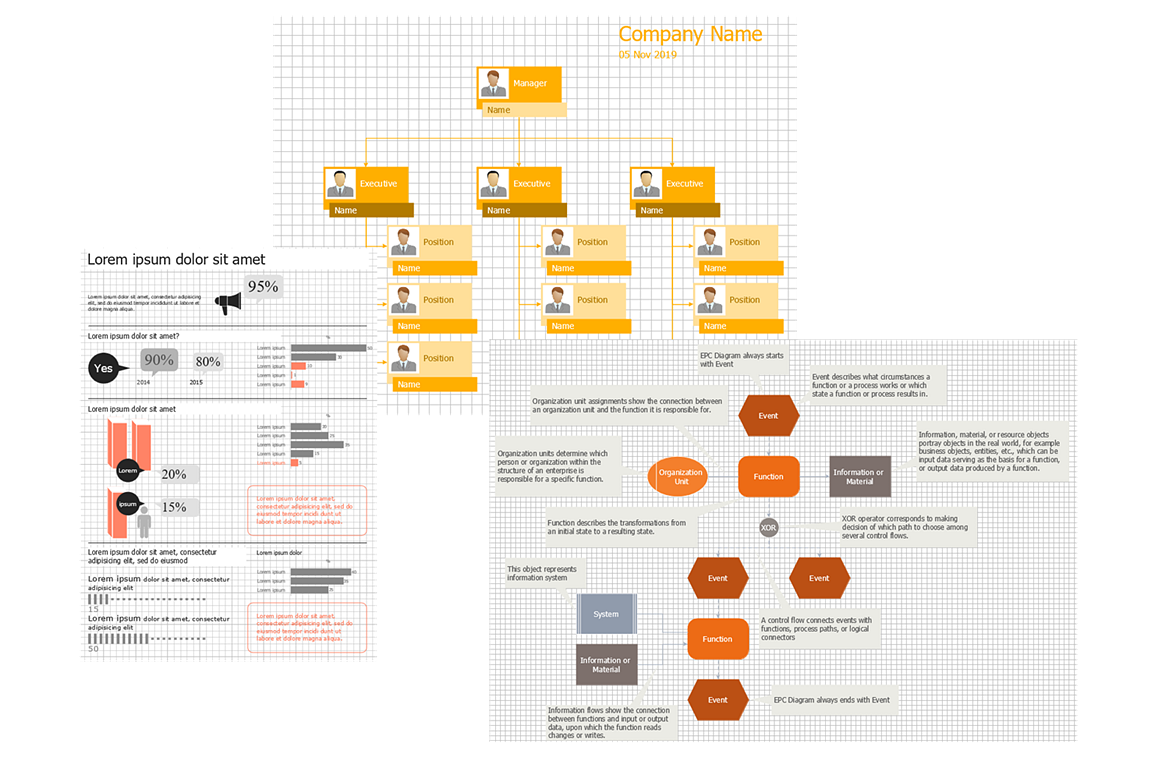 Exporting, Printing, and Presenting
Exporting
To stay on top of your business, you need to be able to share your data in a variety of formats. ConceptDraw DIAGRAM provides extensive export options to meet your communications needs. These high-value export options allow you to share your drawing, diagrams, and data across many format mediums. For example, ConceptDraw DIAGRAM exports to Adobe Acrobat, Microsoft Visio and Office applications, and over 20 common graphics formats.
ConceptDraw DIAGRAM also supports exporting to web formats for posting your drawing to the Internet. HTML, and Scalable Vector Graphics exports allow you to communicate over the web.
Printing
Highly configurable print configuration capabilities allow you to print any size drawing to any standard or custom page size. On top of the single page flexibility in ConceptDraw DIAGRAM, it is also possible to print all of a document's pages onto a single page to preview a multi-page document, as well as print one document page on multiple pages to assemble poster-size drawings. Printing output is crucial, and ConceptDraw DIAGRAM has the flexibility to meet your needs.
Presenting
ConceptDraw DIAGRAM can build powerful presentations that will take your graphic content and present it in its best light. You can select from four powerful presentation modes to properly convey your message. There is no more flexible presentation builder and presentation tool available anywhere. The graphic sophistication of ConceptDraw DIAGRAM will put the WOW factor in what you present.