Skype Presentation
"Remote Presentation for Skype" - solution extends ConceptDraw® MINDMAP with the ability to deliver presentation via Skype®. It lets you remotely present documents to participants of Skype conference call. The Skype presentation appears as a slide show at all computers of Skype conference and you control the presentation slides. It works great with other solutions of ConceptDraw® Solution Park such as Word Exchange, Presentation Exchange, and Mind Map Exchange. Using exchanging solutions you can do Skype presentations for virtually any type of documents or office files.
Another great feature, at the end of presentation each participant of conference call have the copy of presentation document file. It saves in Presentation History folder. Later, its very easy to return back to presentation history and view it again or show for other team.
Thanks to Mind Map Exchange solution which provide lots of features for seamless importing and exporting documents of between ConceptDraw® MINDMAP and most mindmapping software tools including Mindjet MindManager®, Freemind, XMind and other.


Develop your own presentation style...

Do great presentations...

Be successful!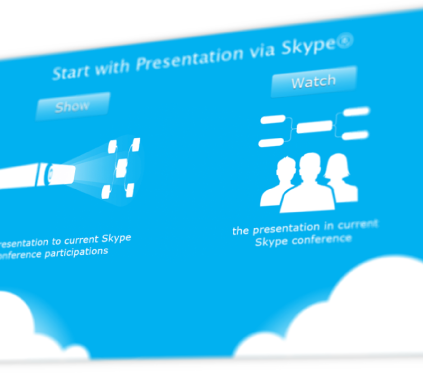 TEN RELATED HOW TO's: