How to do presentation via Skype
using mindmaps of Mindjet Mindmanager?

Collaboration in active Skype call:
Do Skype conference call
Share presentation via Skype
Keep presentation document synchronized between call participants
MindJet Mindmanager documents:
Open documents using MindMap Exchange solution
ConceptDraw MINDMAP features:
Import document of MindJet Mindmanager
Start presentation for active call participants
With no interuption to call, edit mindmap and do slide show again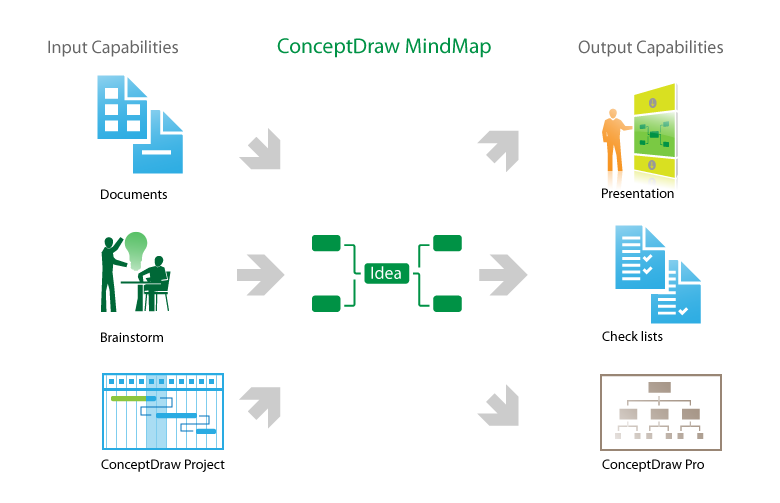 ---
See also:
One formula of professional mind mapping.
How to use input and output features to prepare data for presentation:
Video lessons for professional mindmapping
Sample-1. Project Status report as mindmap presentation via Skype
Sample-2. Solar System presentation via Skype, mindmap and data
How to make great presentation via Skype?
...how it works with ConceptDraw MINDMAP ?
---
See also Samples of mind maps:
Mind Maps
Mind Maps — Marketing
Mind Maps — Idea Communication
Mind Maps — Mind Map Exchange
Mind Maps — Presentation Exchange
THREE RELATED HOW TO's:
Presentation tools. A convenient tool to present documents via Skype. Share your desktop, collaborate on documents in real-time and run a web conference one-on-one or one-to-many. A tool for sharing and presenting business documents via Skype. Allows to present Microsoft® Word®, Microsoft PowerPoint®, Microsoft Project® and plenty mindmapping formats.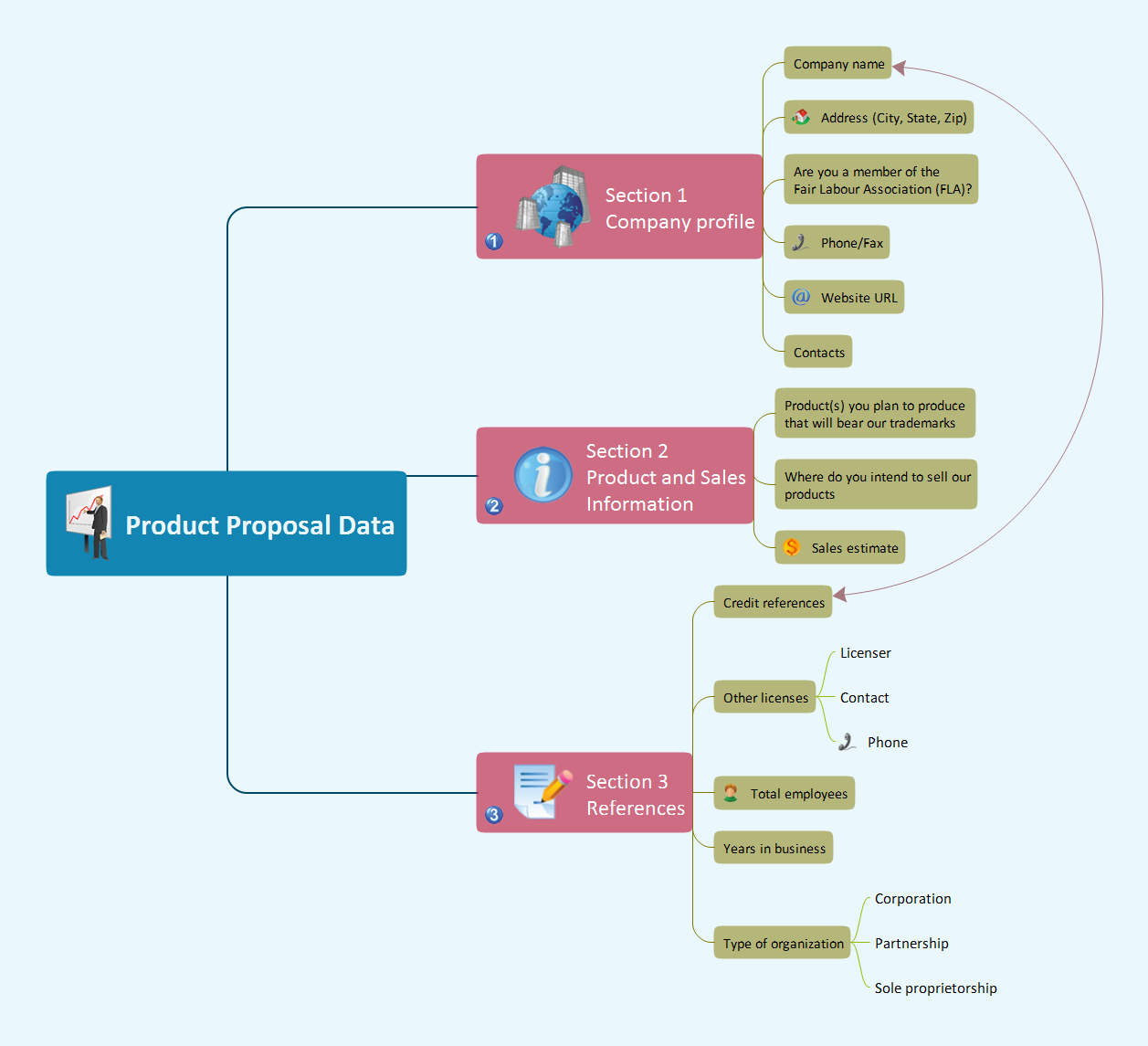 Picture: Presenting Documents with Skype
Related Solution:
SWOT analysis is an effective method of business planning, the question is how to do it. The most obvious way is to make a SWOT analysis in a Word document, which is not very convenient. Luckily, you can use software like ConceptDraw DIAGRAM that has features and templates made especially for SWOT analyzing. A SWOT Analysis is a manager's means of the strategic planning. It is used to define and classify considerable internal moments (strengths and weaknesses) and external forces (opportunities and threats) a business faces. You can use ConceptDraw MINDMAP to determine and organize factors utilized for SWOT analysis, and represent them in the SWOT matrix using ConceptDraw DIAGRAM. Using mind maps empowers you to explore and rank a lot of data engaged for SWOT analysis as well as recognize the relations between various pieces of information.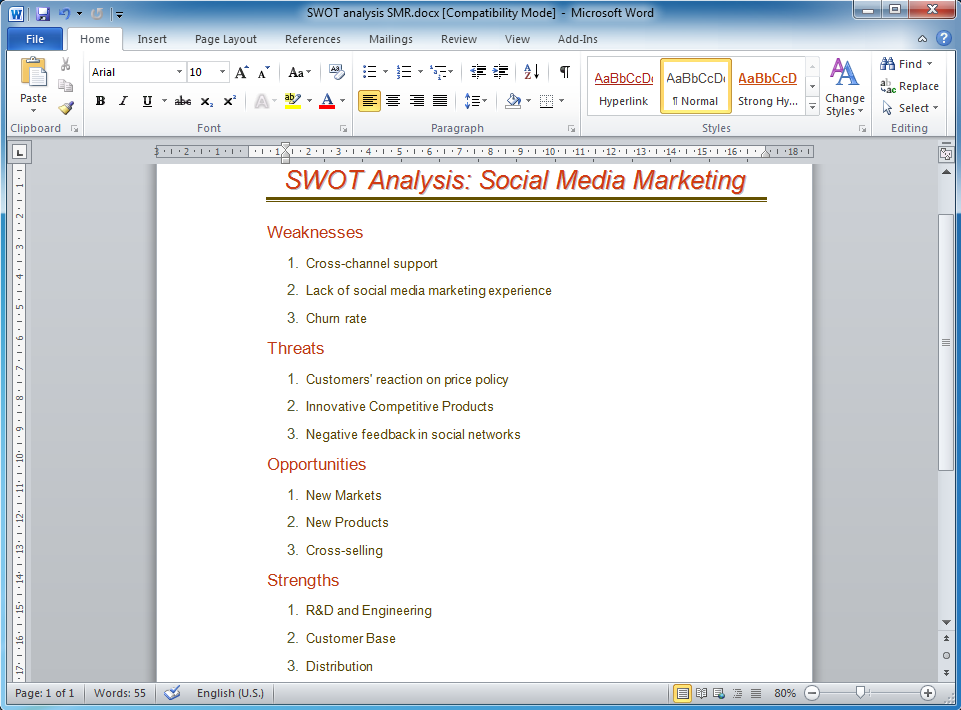 Picture: How to Make SWOT Analysis in a Word Document
Related Solution:
How to make great presentation via Skype - It let presenter to control over the slide-show process which plays on each computer of Skype conference call participants synchronously. Another great feature, at the end of presentation each participant of conference call have the copy of presentation document file. It saves in Presentation History folder. Later, its very easy to return back to presentation history and view it again or show for other team.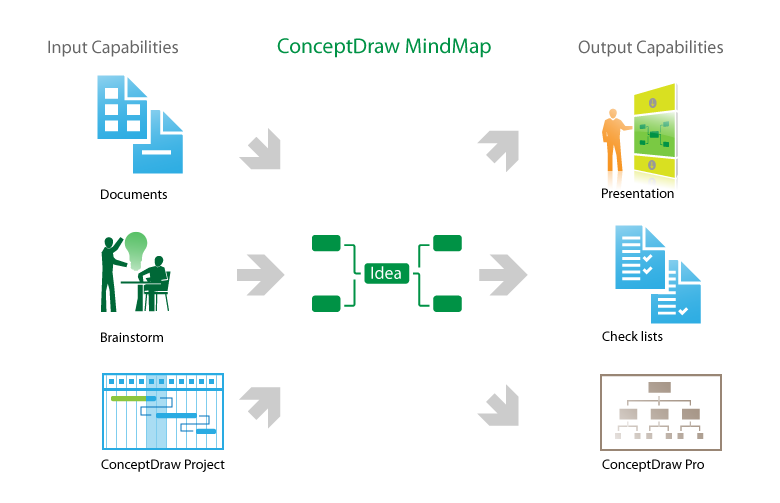 Picture: How to make great presentation via Skype? ...how it works with ConceptDraw MINDMAP?
Related Solutions: