How to Make SWOT Analysis in a Word Document
A SWOT Analysis is a popular strategic planning tool used to evaluate the Strengths, Weaknesses, Opportunities, and Threats involved in any businesses. Using mind map allows you to collect and structure a lot of information involved in SWOT Analysis as well as identify the relationships between different pieces of information.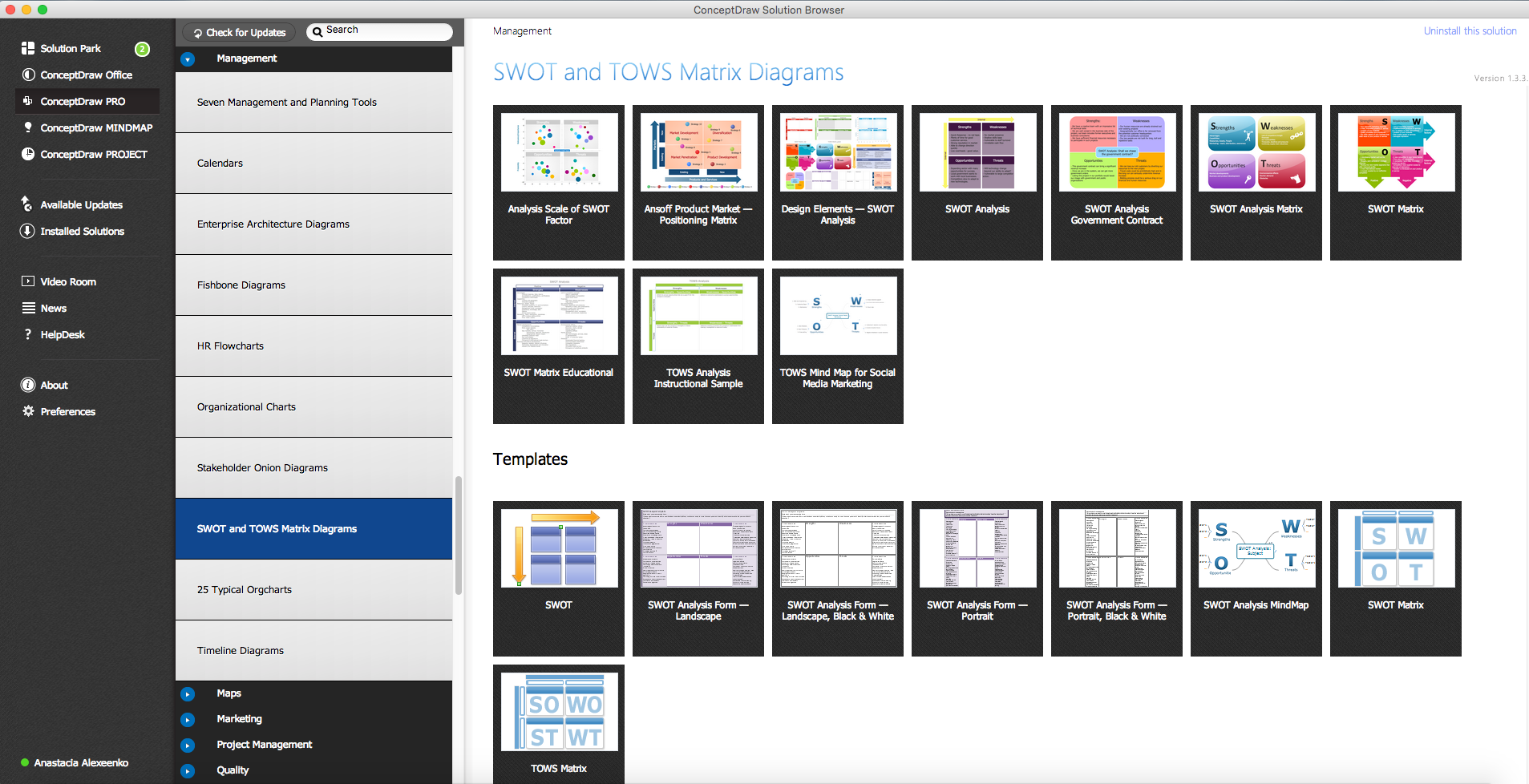 Example 1. SWOT Analysis solution
ConceptDraw SWOT Analysis solution combines the visual advantages of ConceptDraw MINDMAP and presentation capabilities of ConceptDraw DIAGRAM to provide a complete work solution. The SWOT/TOWS results from ConceptDraw can be easily exported to Microsoft PowerPoint, Microsoft Visio, Adobe PDF, and many electronic file formats.
You can export your SWOT mind map into a MS Word document, which makes using SWOT mind map easier if you need to collaborate it with other people.
From ConceptDraw MINDMAP inputs choose the Management category and run the SWOT Analysis template.
Create a mind map by filling a template.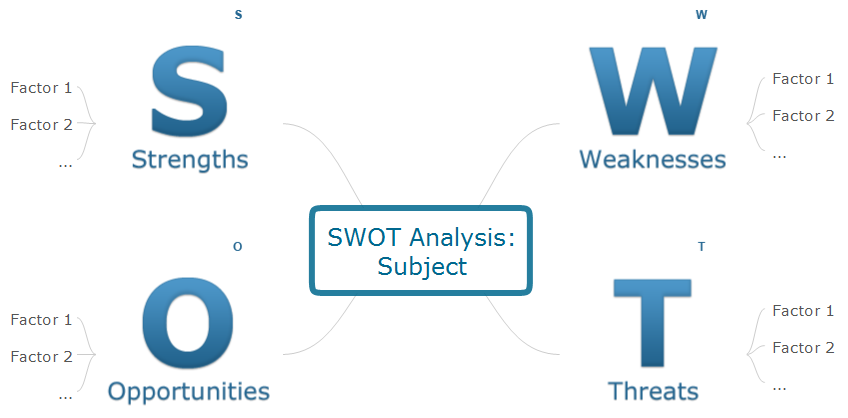 Example 2. SWOT analysis mind map template
Click the File menu, select Export and then choose MS Word.
The Export to Word window will appear. Select template and then click OK.
Mind Map structure is transformed into the structure of the MS Word document: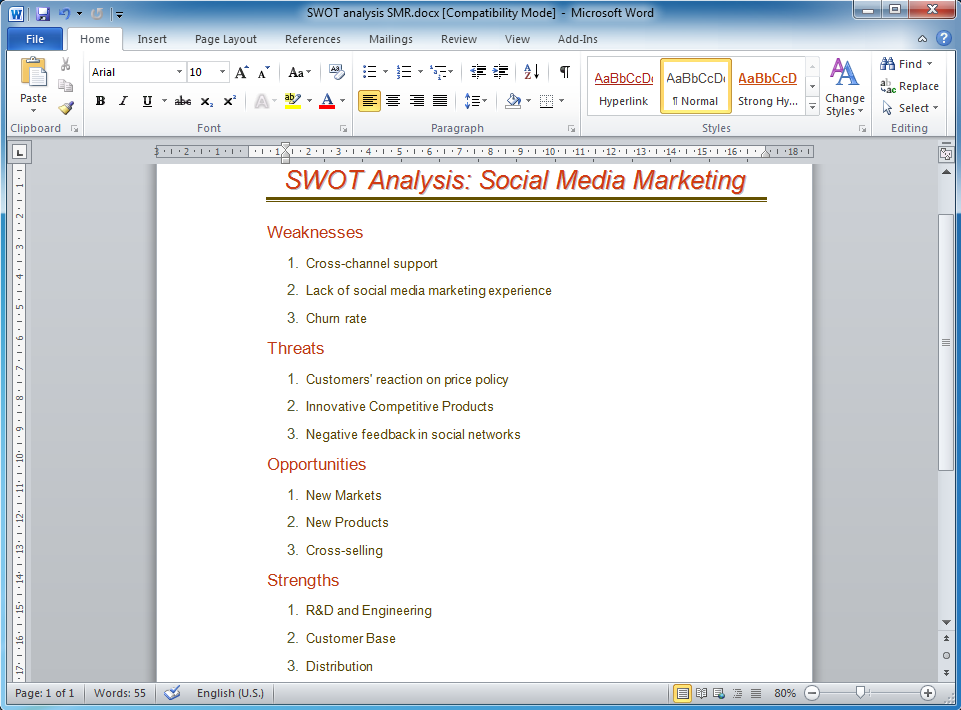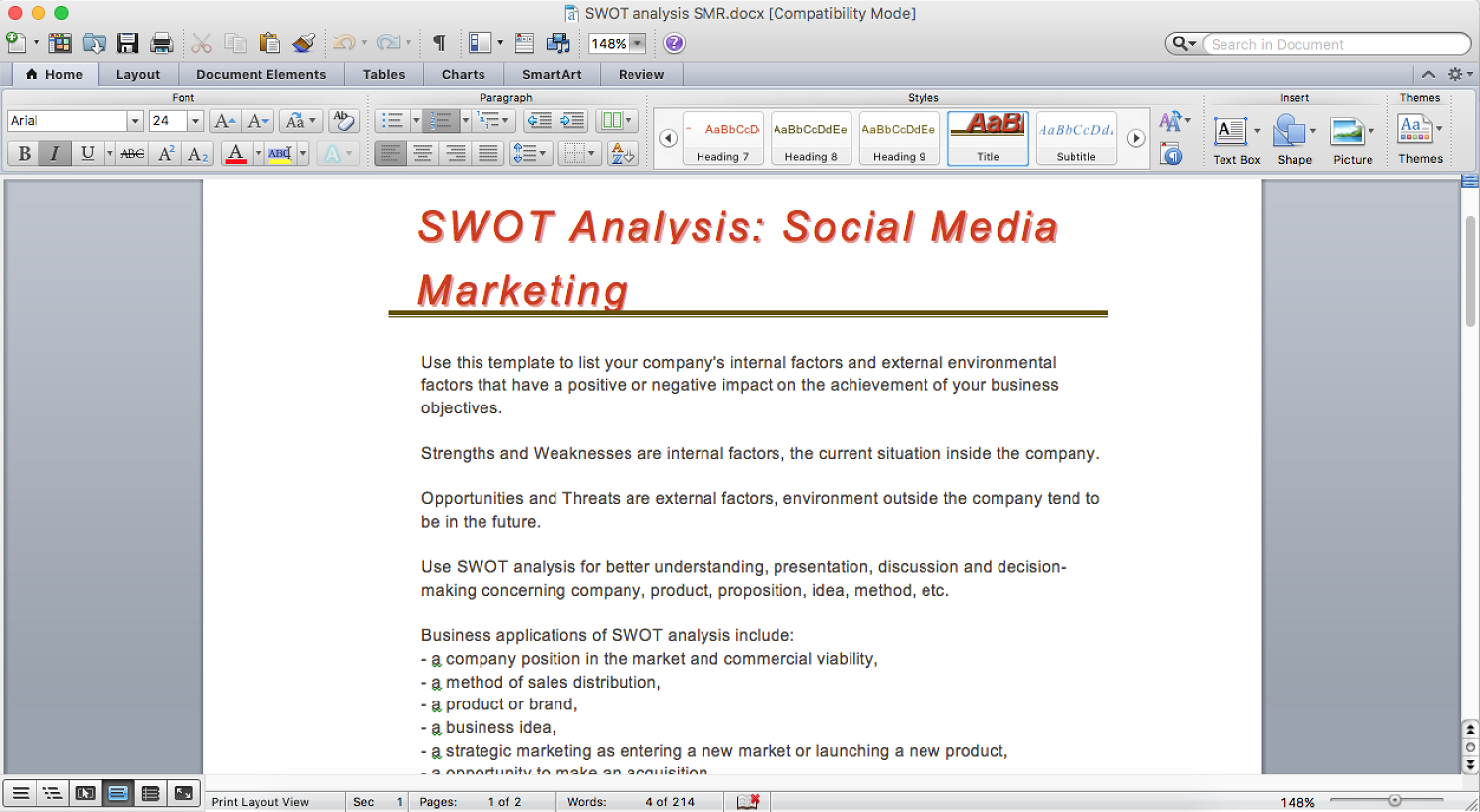 Example 3. SWOT Analysis in MS Word Document
ConceptDraw products across any platform, meaning you never have to worry about compatibility again. ConceptDraw MINDMAP allows you to make SWOT analysis on PC or macOS operating systems.
---
See also:
Marketing — Matrices
Marketing positioning matrix - Product positioning map
Product-market matrix - Ansoff matrix
BCG matrix - Boston growth-share matrix
Feature comparison chart - Digital scouting cameras
Marketing matrix diagram - Competitive strategies
Marketing matrix diagram - Porters value chain
Marketing — Mind Maps
Marketing mindmap - Marketing research project
Marketing mind map - Strategic accomplishment mapping
Twitter Compaign for New Software Product
Marketing mind map - Sales Call
TEN RELATED HOW TO's: