How To Do A Mind Map In PowerPoint
Presentation
ConceptDraw MINDMAP is an advanced tool for exporting mindmaps to PowerPoint for making awesome presentations. You can simply generate, change, update your mindmap and then make a presentation in PowerPoint.
The latest update to ConceptDraw MINDMAP makes generating presentations from your mind map faster and easier than ever before. The new Presentation tab on the ribbon houses all your presentation controls in a single, convenient location.
To being presenting with zero prep time, simply click Start Presentation. MINDMAP automatically generates a slideshow of each of your Main Topics, and engages full-screen presentation mode. Click the mouse to advance slides.
Create Default Presentation stores the default slideshow in the Slide Navigator without entering full-screen mode.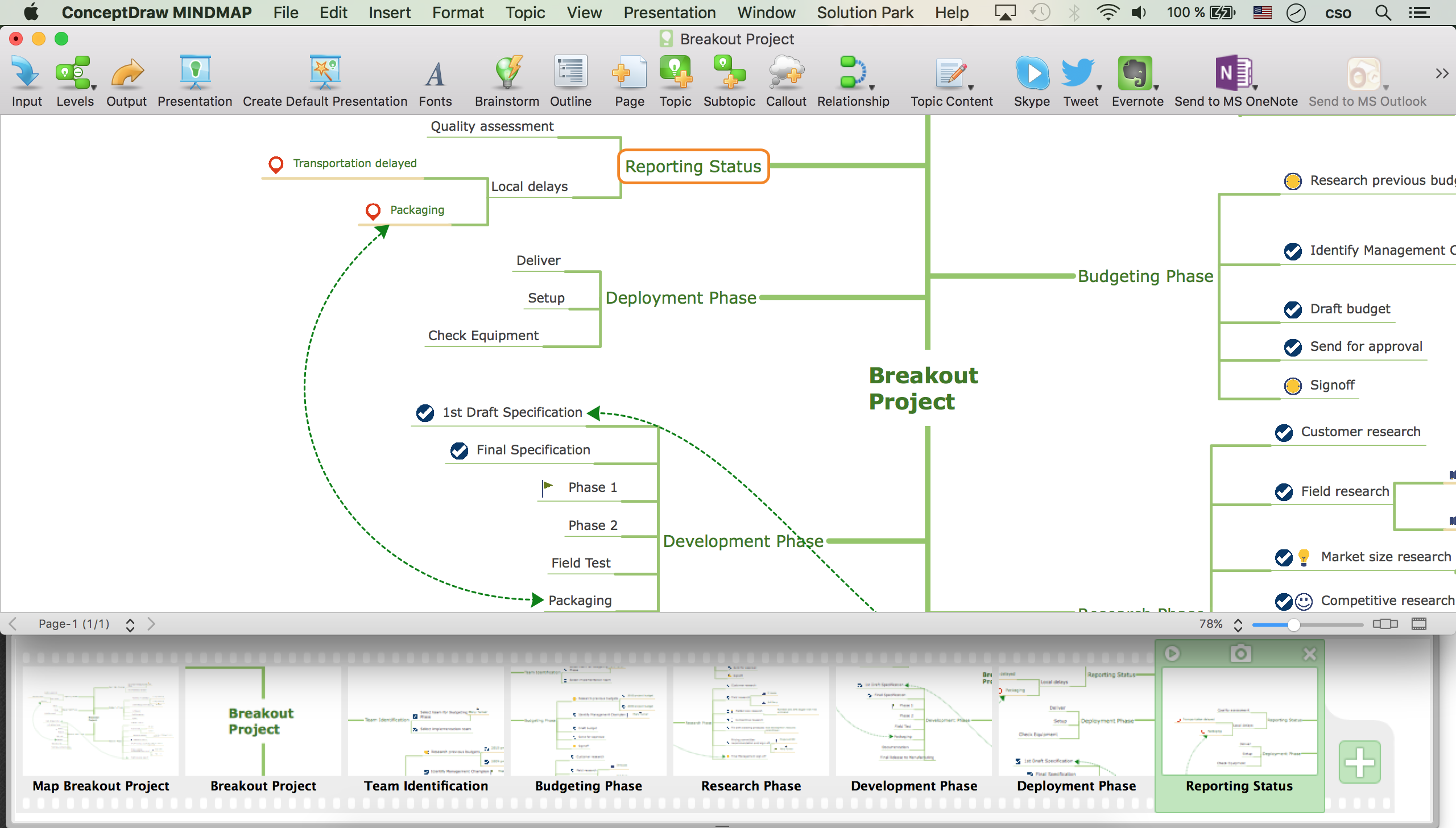 The Create Slide buttons are used to customize your presentation.Set to Visible captures a slide of the area of your map currently in view. Using the Zoom controls on the View tab of the ribbon, you can focus on specific areas of your map, and quickly create slides of only the content you want.
Set to Selected captures a slide of the selected topic or topics. Set to Selected with Subtopics allows you to select a topic and capture a slide of it and its related subtopics with a single click.
Slide Navigator expands the Slide Navigator tab at the bottom of the window. In the Slide Navigator, you will see all the slides you have created. You can reorder them by dragging and dropping, or remove them by clicking the X in their upper-right corner. Clicking the large plus icon works identically to Set to Visible. Clicking the play icon in the upper-left corner of a slide engages presentation mode beginning from the selected slide.
Beyond its own presentation mode, ConceptDraw MINDMAP also has the ability to export to Microsoft® PowerPoint®. Clicking the MS PowerPoint button opens a window with two options: Outline and Slideshow. Outline exports just the text of your map, allowing you to select from your available PowerPoint themes for the presentation. Slideshow exports the exact images saved in your View Navigator as the slides of a new presentation.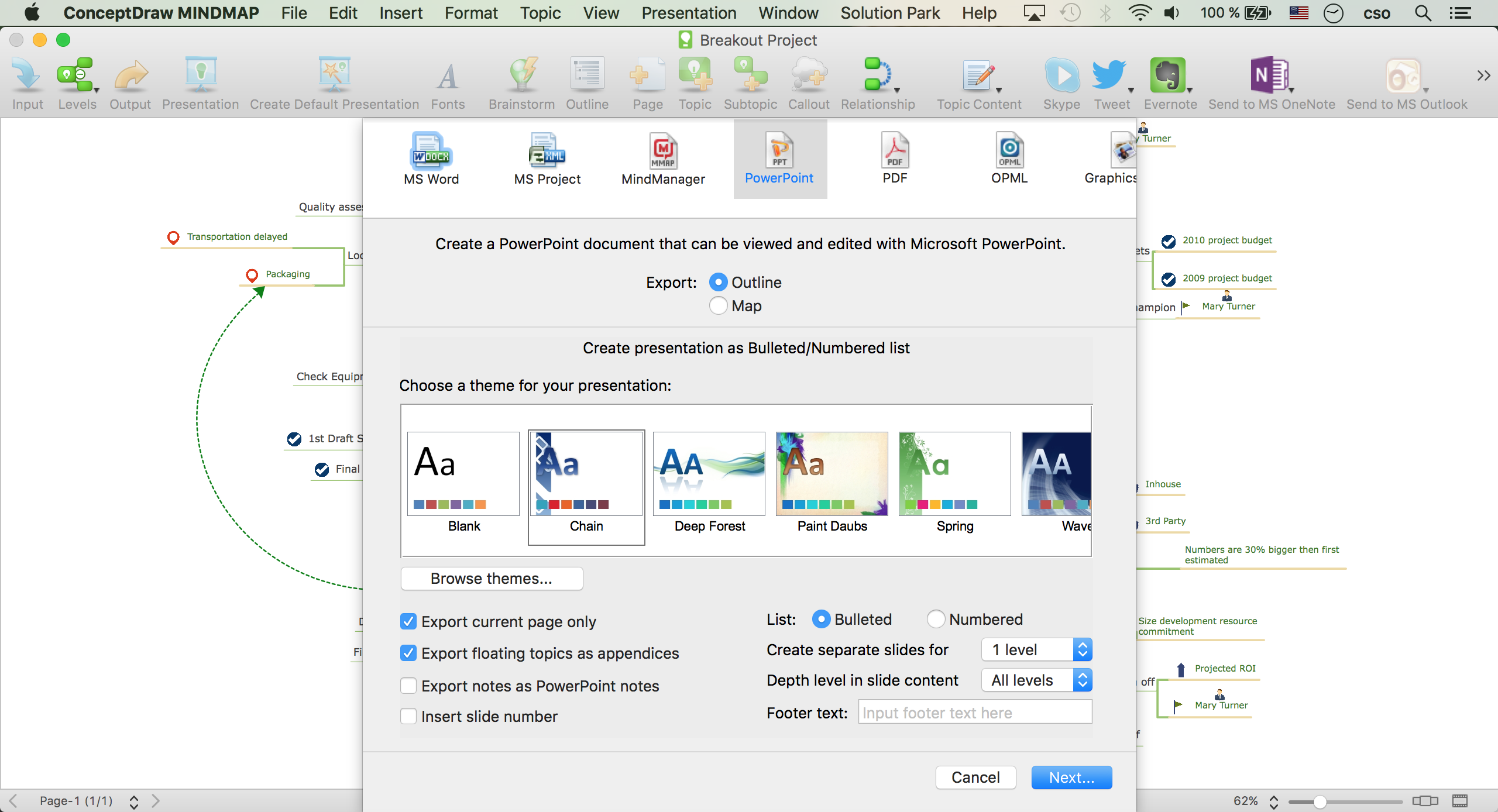 Pictures saves the slides in your Slide Navigator as graphics files in a new folder on your hard drive. A variety of formats are available, including .png, .jpg, .tif, .bmp, and .gif
Send via E-mail opens a new message in your email client with your map's outline as the text, and attaches both your map file and a .png file exported from your map.
See also Videos:
---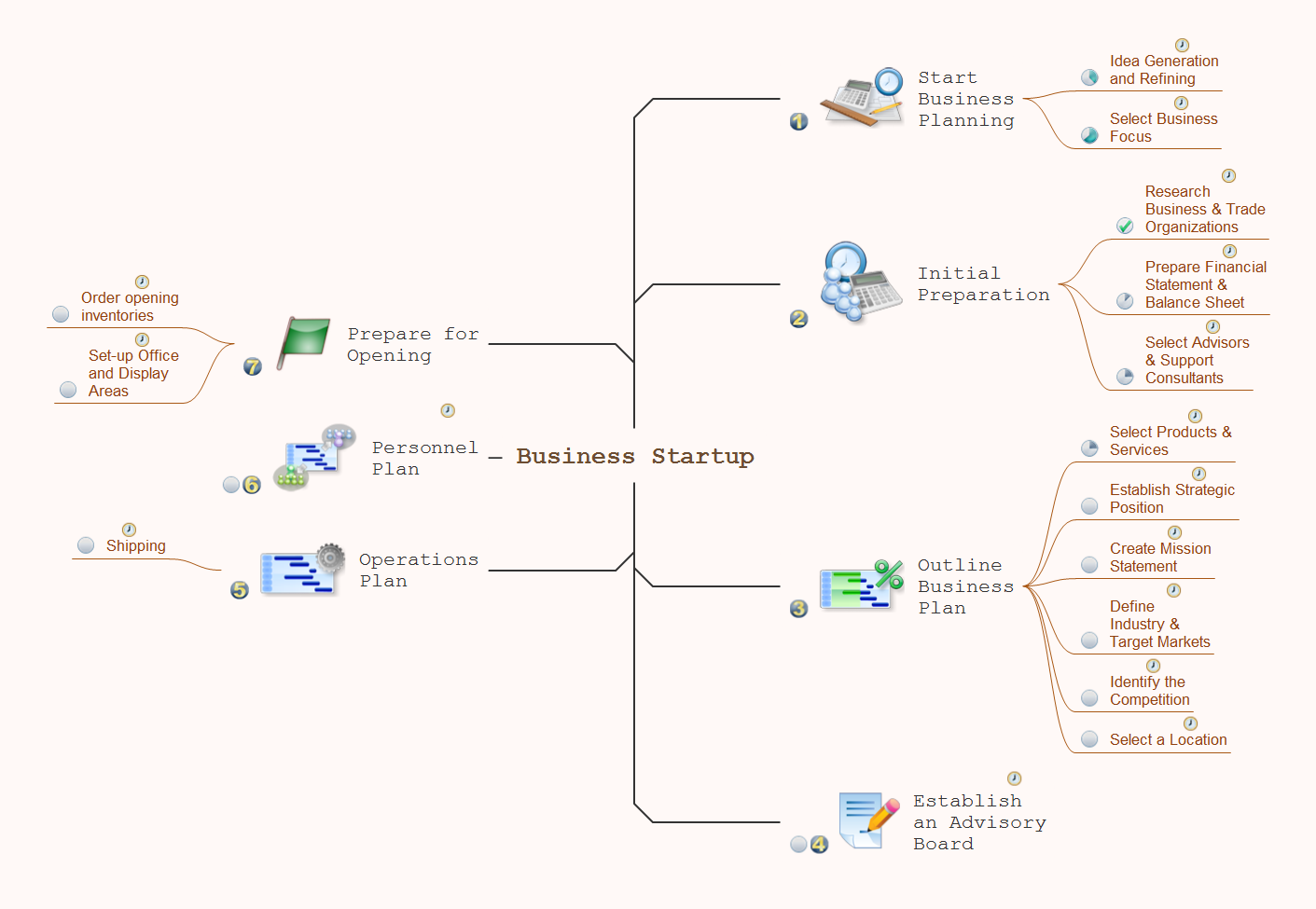 Sample 1. Mind map presentation - Business startup.
Presentation Exchange solution extends ConceptDraw MINDMAP software with the ability to import presentations from Microsoft PowerPoint, as well as enhancing its existing presentation capabilities.
With the Presentation Exchange solution you can easily extract the content from a PowerPoint presentation to see how it all fits together in a single view. You can review slide content, see how the slides support one another, and refine the story.
NINE RELATED HOW TO's: