Restaurant Floor Plans Samples
Whether you already started or just planning to open a restaurant, first you have to design the place itself. Sounds complex? No worries, we are here to help.
Imagine a place for socialization, comfort and memories. Restaurant is more than just eating factory. Thinking long before the design and menu, don't forget about safety, ergonomy and profitability.
There's a lot to consider when it comes to creating a restaurant floor plan. It should be functional and practical to increases staff productivity and sales. The idea behind the restaurant should determine the materials, the flow of the spaces and the placements of walls.
Each customer should see good food-service architecture from every seat. Atmosphere and appearance of the restaurant are most important points.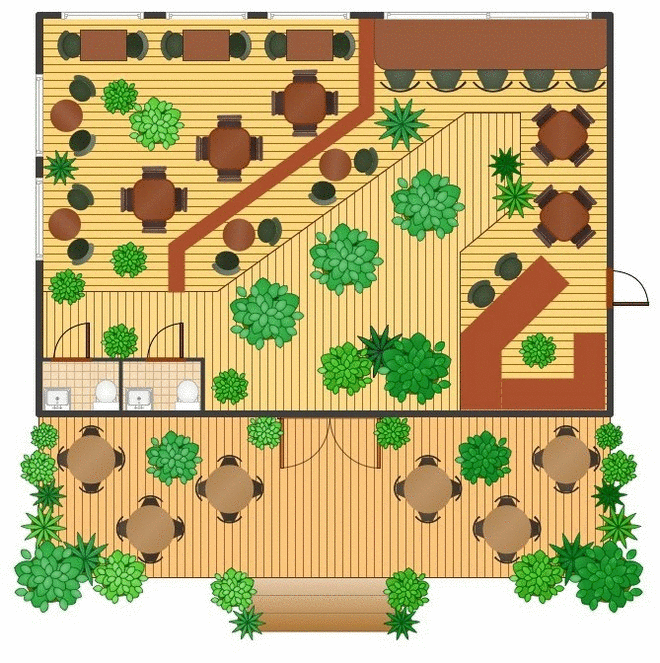 Restaurant floor plan should concentrate on the public areas such:
dining area,
bar,
waiting lounge,
restrooms.
Besides designing a new restaurant, it will help to renovate an existing space, host an event, or document emergency evacuation plans.
Any restaurant plan should create a quality dining experience and a positive work environment for your employees.
ConceptDraw for successfully planning your restaurant floor plans. That tool can help you to plan what you will require.
The software includes sample:
restaurant floor and cafe plans,
restaurant floor plan layout,
restaurant design,
restaurant electrical plan,
restaurant emergency plans,
restaurant landscape design.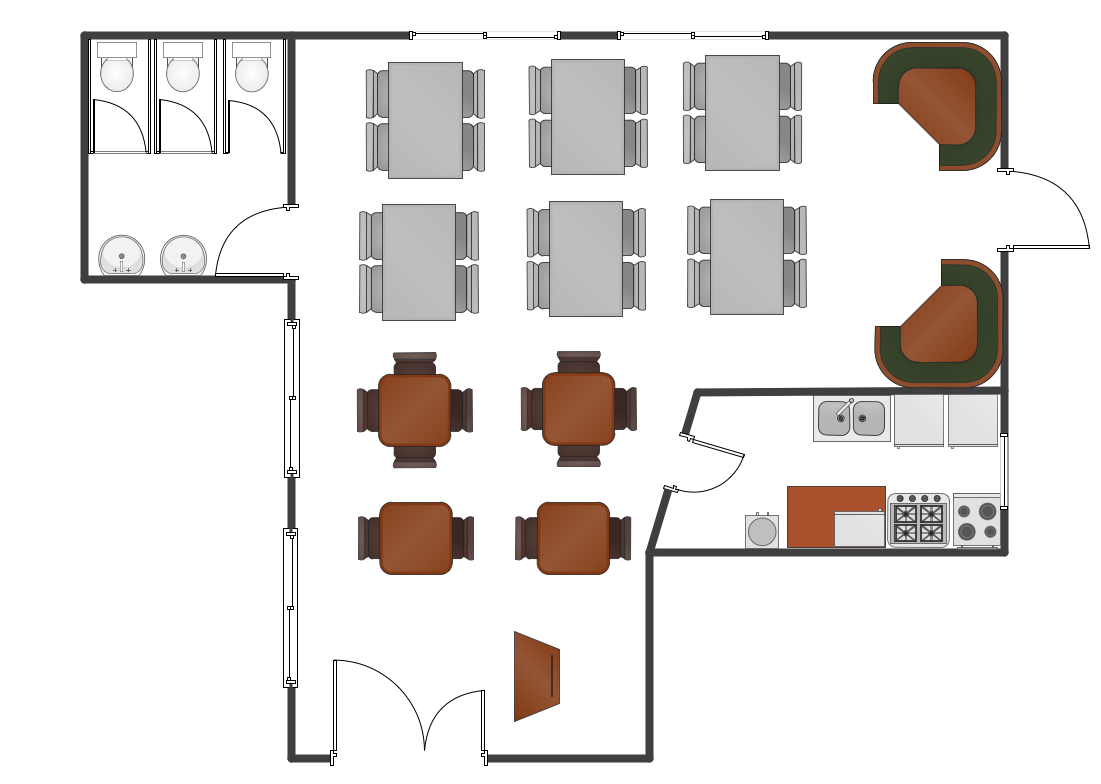 Sample 1. Restaurant floor plan sample
We can provide 1000 furniture symbols which you can find in our ConceptDraw STORE application in the libraries full of special design elements. Also we offer samples and examples of pre-designed plans one of which you can use as a draft for making your own layout. Going to Solutions section here on this site can lead you to the templates and vector stencil libraries with everything you need to create the dream plan of your restaurant lots of people will go to. Visit now to start today and make it all by tomorrow!
TEN RELATED HOW TO's: