Relations Diagram
Relations Diagram
Identify how factors influence each other. Factors mostly influencing called "Drivers" Primarily affected factors called "Indicators". Problem solving further focuses on changing driver factors by corrective actions. Indicator factors help establish KPI (Key Performance Indicators) to monitor changes and the effectiveness of corrective actions in resolving a problem.
How to create Relations Diagram
Use "Relations Diagram" input template in ConceptDraw MINDMAP

The Relations Diagram (located in Input tab) opens with a new brainstorming session

Use this Brainstorming session to identify the central issue and the contributing factors to that issue

From Output tab, under "7 Management & Planning Tools", select Relations Diagram

Relations Diagram will be automatically drawn in ConceptDraw DIAGRAM
Identify what factors are causes and which factors are effects.
Factors that are causes are called "Drivers"; a consequence of factors is called "Indicators".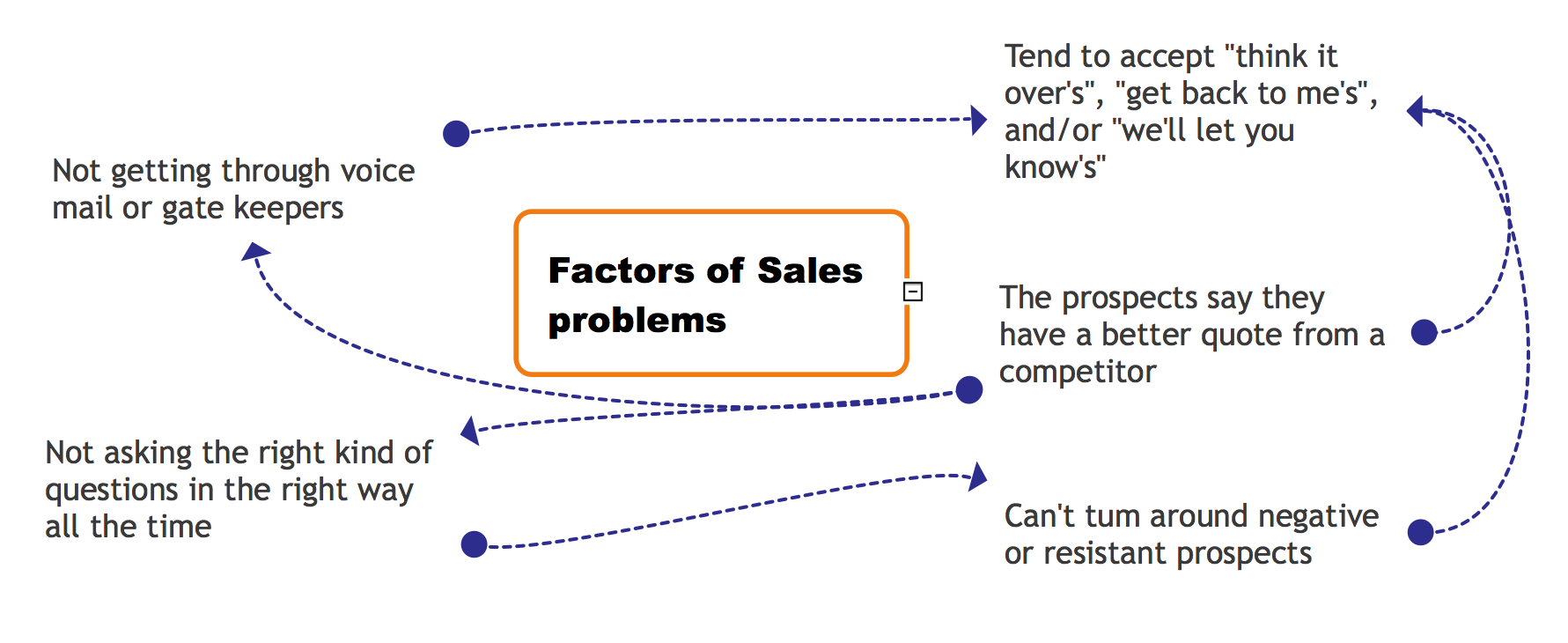 Example 1. Factors of Sales Problems
The Benefits for ConceptDraw MINDMAP Brainstorming Software
ConceptDraw MINDMAP is effective for brainstorming, designing mind maps, idea generating, creative and lateral thinking, creativity and problem solving.
ConceptDraw MINDMAP is ideal for team and personal work in Business, Marketing and Project Management.
The libraries with large quantity of vector objects help to illustrate your mind maps and to make them bright, visual and comprehensible.
Use of View Navigator tool lets create presentations from a mind map: you can simply select the map parts you want to present, sequence your slides, and preview the presentation.
ConceptDraw MINDMAP provides wide capabilities of importing and exporting in various formats: Microsoft PowerPoint, Microsoft Word, MS Excel, Mindjet MindManager, image, HTML, PDF file.
NINE RELATED HOW TO's: