Electrical Symbols — Lamps, Acoustics, Readouts
Wiring and circuit diagrams use special symbols recognized by everyone who uses the drawings. The symbols on the drawings show how components like resistors, capacitors, inductors, switches, lamps, acoustic devices, measuring devices and other electrical and electronic components are connected together.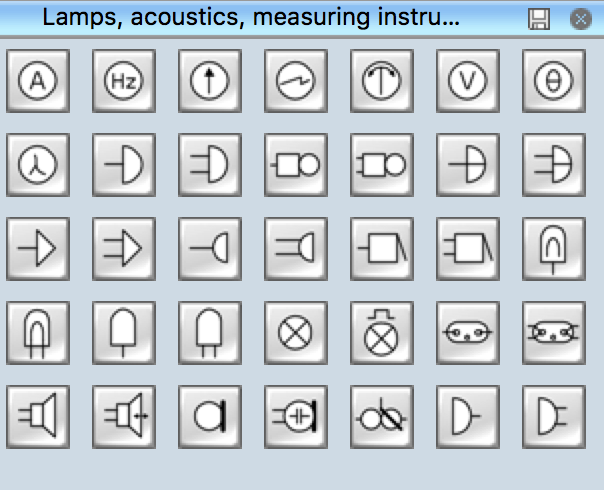 Pic. 1. Lamps Acoustics Readouts
ConceptDraw DIAGRAM is a powerful software for creating professional looking electrical diagram quick and easy. For this purpose you can use the Electrical Engineering solution from the "Engineering" area of ConceptDraw Solution Park.
Electrical Engineering Solution for ConceptDraw DIAGRAM provides the stencils libraries of ready-to-use predesigned 926 vector symbols, templates and samples that make your electrical drawing quick, easy and effective.
26 libraries of the Electrical Engineering Solution of ConceptDraw DIAGRAM make your electrical diagramming simple, efficient, and effective. You can simply and quickly drop the ready-to-use objects from libraries into your document to create the electrical diagram.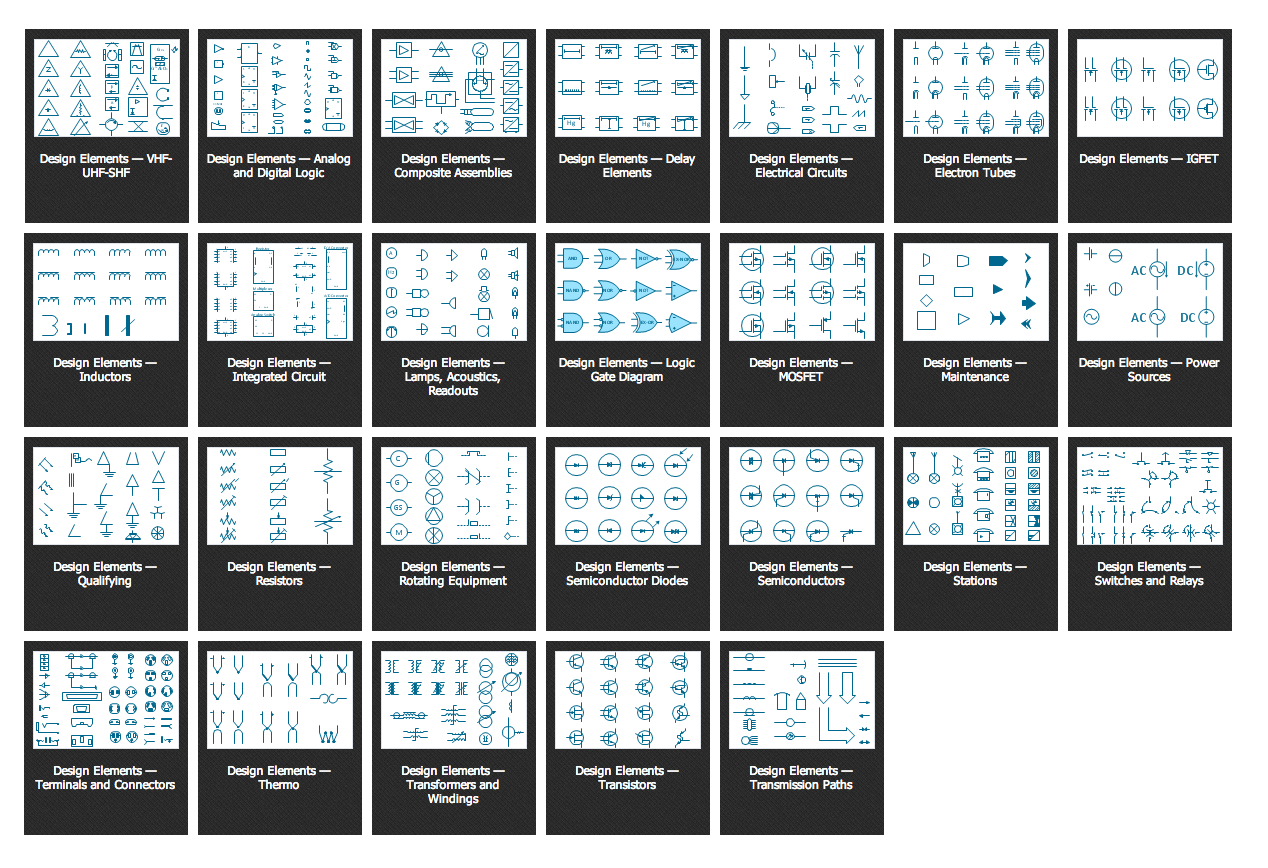 Pic. 2. Electrical Engineering symbols
Electrical diagram software will assist you in drawing your electrical diagrams with minimal effort and makes it very easy for beginners. Electrical symbols and smart connectors help present your electrical drawings, electrical schematic, wiring diagrams and blue prints.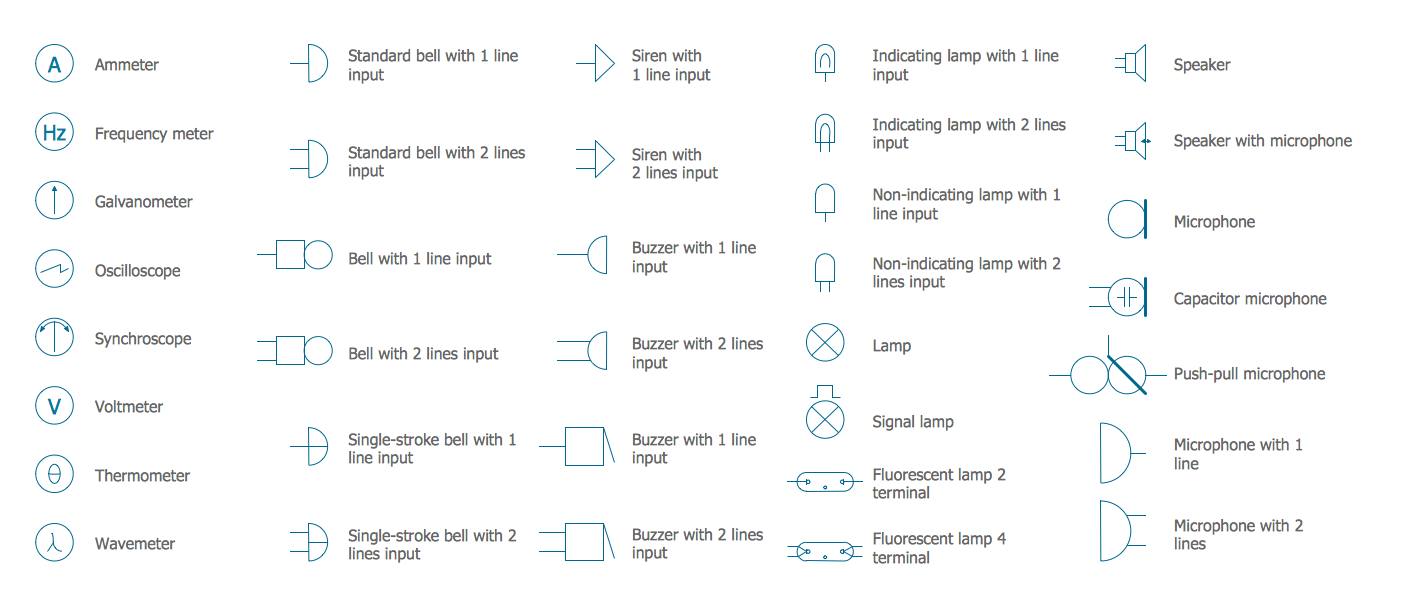 Pic. 3. Electrical Symbols — Lamps Acoustics Readouts
Most of the electrical symbols can be changed in their appearance, styles and colors according to users' requirements. Electrical symbols are used to represent various electrical and electronic devices in a schematic diagram of an electrical or electronic circuit.
The following table lists some lamps acoustics readouts electrical symbols in our electrical diagram software.
Symbol
Meaning
Electrical Symbols — Lamps Acoustics Readouts
Ammeter
Frequency meter
Galvanometer
Oscilloscope
Synchroscope
Voltmeter
Thermometer
Wavemeter
Standard bell with 1 line input
Standard bell with 2 lines input
Bell with 1 line input
Bell with 2 lines input
Single-stroke bell with 1 line input
Single-stroke bell with 2 lines input
Siren with 1 line input
Siren with 2 lines input
Buzzer with 1 line input
Buzzer with 2 lines input
Buzzer with 1 line input
Buzzer with 2 lines input
Indicating lamp with 1 line input
Indicating lamp with 2 lines input
Non-indicating lamp with 1 line input
Non-indicating lamp with 2 lines input
Lamp
Signal lamp
Fluorescent lamp 2 terminal
Fluorescent lamp 4 terminal
Speaker
Speaker with microphone
Microphone
Capacitor microphone
Push-pull microphone
Microphone with 1 line
Microphone with 2 lines
Electrical measuring instruments, from the name itself, refer to devices used for measuring various electrical aspects such as the presence and amount of current, voltage, resistance, power and etc.
How to Create an Electrical Diagram Using Lamps Acoustics Readouts Library
Open ConceptDraw DIAGRAM new document page.
Select libraries from Electrical Engineering section.

There are a few different ways to place an object into your drawing:

Click on an object and then click on the document, at the place you want the object to be inserted.
Perform a

drag-and-drop

from the library to your document.
Double click on an object's icon in the library to place an object in the center of your document.

Select the Smart Connector tool . To connect elements using this tool, drag the connector from one connect dot to another.You can use Layers to place connections on different layers.
Result: Electrical Diagram.
NINE RELATED HOW TO's: