Work Order Process Flowchart.
Business Process Mapping Examples
ConceptDraw defines some flowchart types, divided into ten categories.
Every flowchart type has specific shapes and examples.
We use the phrase business process to define a particular set of tasks or actions undertaken by an organization, that lead to the production of goods or services for the customer base. It's a flexible term — one that can be used to describe the most menial or idiosyncratic of assignments, or as a way of describing a company in its entirety.
ConceptDraw DIAGRAM diagramming and vector drawing software offers the useful tools of the Business Process Mapping Solution from the Business Processes Area of ConceptDraw Solution Park which make it a powerful Business Mapping Software.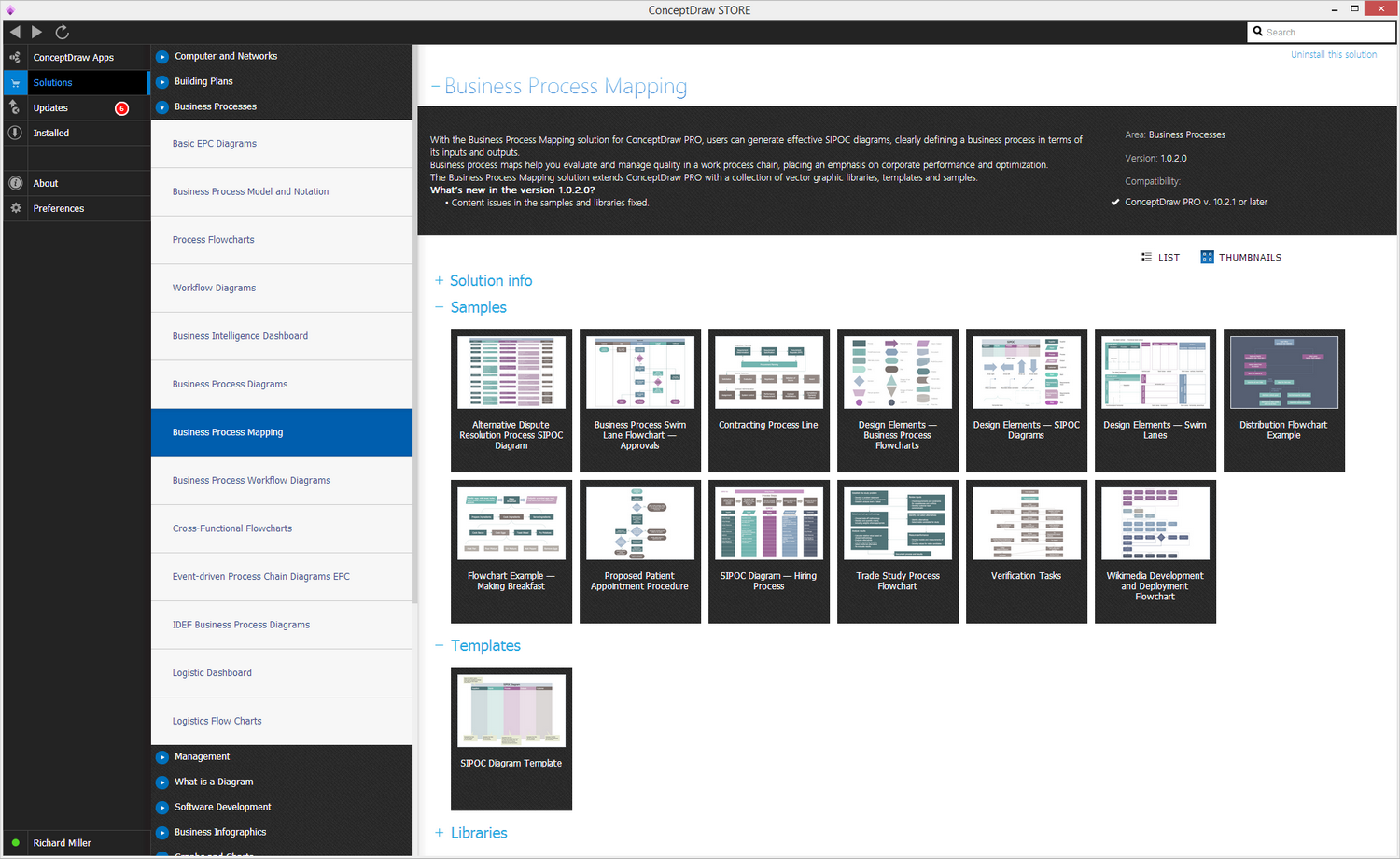 Example 1. Business Process Mapping solution
There are many different types of flowcharts, which you can always create with help of ConceptDraw DIAGRAM This application offers so very many different kinds of examples and templates for making any kind of needed flowchart, including: Basic Flowchart, which is often used for defining and documenting basic work as well as any data flows, financial, production and quality management processes in order to increase efficiency of your business; Process Flowchart (also known as the system flow diagram or SFD), which can show the relationship between major parts of the system; Order Process Flowchart, which describes the process of ordering some kind of goods or services; and many other types of flowcharts and other drawing as well.
The team of IT specialists of CS Odessa provides all necessary design symbols as well as templates and samples, which can be found in our solutions, depending on what exactly you need to create. There are also all of the necessary stencils for making Order Process Flowchart, which is often used to show the relationship between a business owner or a seller and his customers during the process of ordering some kind of goods, as well as ordering some services. There are also many options and tools for creating other drawings, e.g. many other types of flowcharts, diagrams, charts, plans and schemes.
Having a huge variety of samples and templates for making your unique great looking flowcharts of any type, size, colour and shape, seems to be a good thing to have. Planning a new project, representing some algorithm or some process, illustrating a solution to a given problem, representing process operations, analysing, designing, documenting, managing any process in various fields of business activity is always better to do in a way of flowchart and the types of flowcharts and diagrams are numerous.
Order Process Flowchart simply illustrates a graphical view of the business processes in a workflow and so the process of the order itself. ConceptDraw DIAGRAM application allows to create the analytical representations of business processes, to illustrate business processes within some organization, to bridge the communication gap between business process design and its implementation, to make understanding of business activities flows and processes simpler, to show internal business processes within a particular company, to depict the interactions between two or more business entities, as well as to create some process improvement in a way of any needed flowchart, chart, scheme or diagram.
The application handling and invoicing process can start with showing the application given, after which it should be corrected if needed and in case everything is correct, goods go to the next stage which is these goods transportation, after this stage they get invoiced and the client is asked to pay for it by issuing the invoice to him from the shipper. That is one of so many possible variations of the ordering process illustrating the goods going for delivery from one to another business partner.
The example given above shows a simple order procedure and it can be illustrated in a way of an order process flowchart with help of ConceptDraw DIAGRAM as only this software allows to make so many different kinds of flowcharts, using the already previously created examples. Using the provided by the CS Odessa team tools, including the stencil libraries and the pre-made templates, you can always create any order process flowchart needed within only a few hours or even minutes, depending on how good you know this unique and very useful ConceptDraw DIAGRAM software and if you have any experience in making anything similar before.
Making more other charts, depending on what type of flowchart you want to create, using ConceptDraw DIAGRAM software is as simple as for some professional designer creating the interior plans knowing how to do it very well. And even if you do not have as much experience in making anything similar to such kinds of drawings, then you can still create a very good looking diagram, chart, flowchart, map, scheme or plan in a very short period of time, using our support and by learning things about drawing the needed schematics on this site reading our articles and watching our videos, provided especially for our clients - the ConceptDraw DIAGRAM users.
It is always very important to use the appropriate, professional and good looking design symbols for making professional flowcharts, charts, schemes, maps and diagrams. We provide all of our users with the opportunity to download the solutions with all of the needed flowchart symbols as well as other symbols for creating their own drawing, including the Order Process flowcharts, in order for them to represent different types of actions or steps in a process. These design symbols can be different shapes, lines and arrows, and they all can be found in the solutions needed in ConceptDraw STORE or on this site.
Order Process Flowchart Symbols can be used for demonstrating the workflow of relationships within one particular market or between different organizations working in different businesses. With the help of these pre-made stencils it is always simpler to describe any business workflow, such as process of ordering any goods or services in a way of a great looking order process flowchart. Use them in order to make your flowcharts special and truly professionally looking.
Thus, if you wonder how to draw a very simple or very complex diagram, chart, plan, scheme or flowchart, including the order process one, then the best option will be downloading a unique, very smart and professional tool, which is ConceptDraw DIAGRAM software, that will allow you to make any of the mentioned above and more other structures in order to illustrate any needed process. Our diagramming and vector drawing software and Business Process Mapping Solution from the Business Processes Area of ConceptDraw Solution Park can help you to make any of the desired flowcharts having only one tool, which is the ConceptDraw DIAGRAM application itself.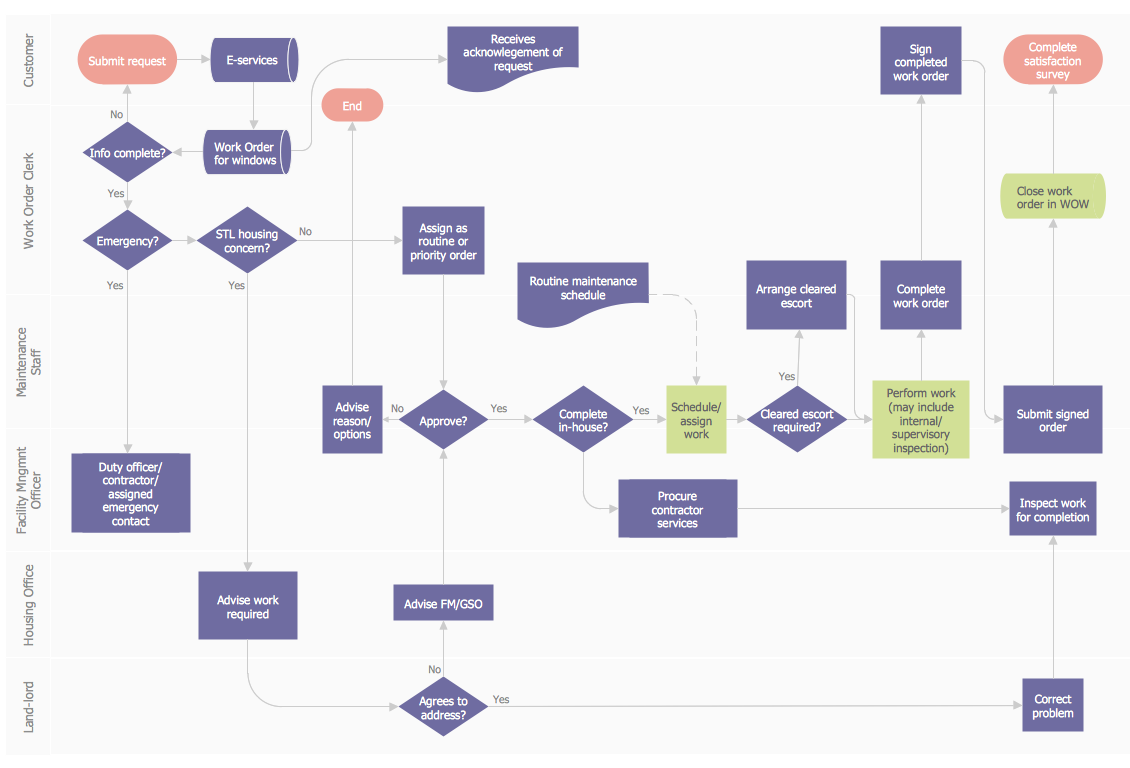 Example 2. Work order process map. Real Property Work Order
"In English common law, real property, real estate, realty, or immovable property is any subset of land that has been legally defined and the improvements to it have been made by human efforts: buildings, machinery, wells, dams, ponds, mines, canals, roads, etc. Real property and personal property are the two main subunits of property in English Common Law.
In countries with personal ownership of real property, civil law protects the status of real property in real-estate markets, where estate agents work in the market of buying and selling real estate. "
[Real property. Wikipedia]
Use variety of vector objects from the libraries of Business Process Mapping Solution for ConceptDraw DIAGRAM Business Mapping Software and also collection of Business Process Maps, Flowcharts, Swim Lanes Diagrams and SIPOC Diagrams, and template from ConceptDraw STORE to create your own professional looking diagrams of any complexity quick, easy and effective.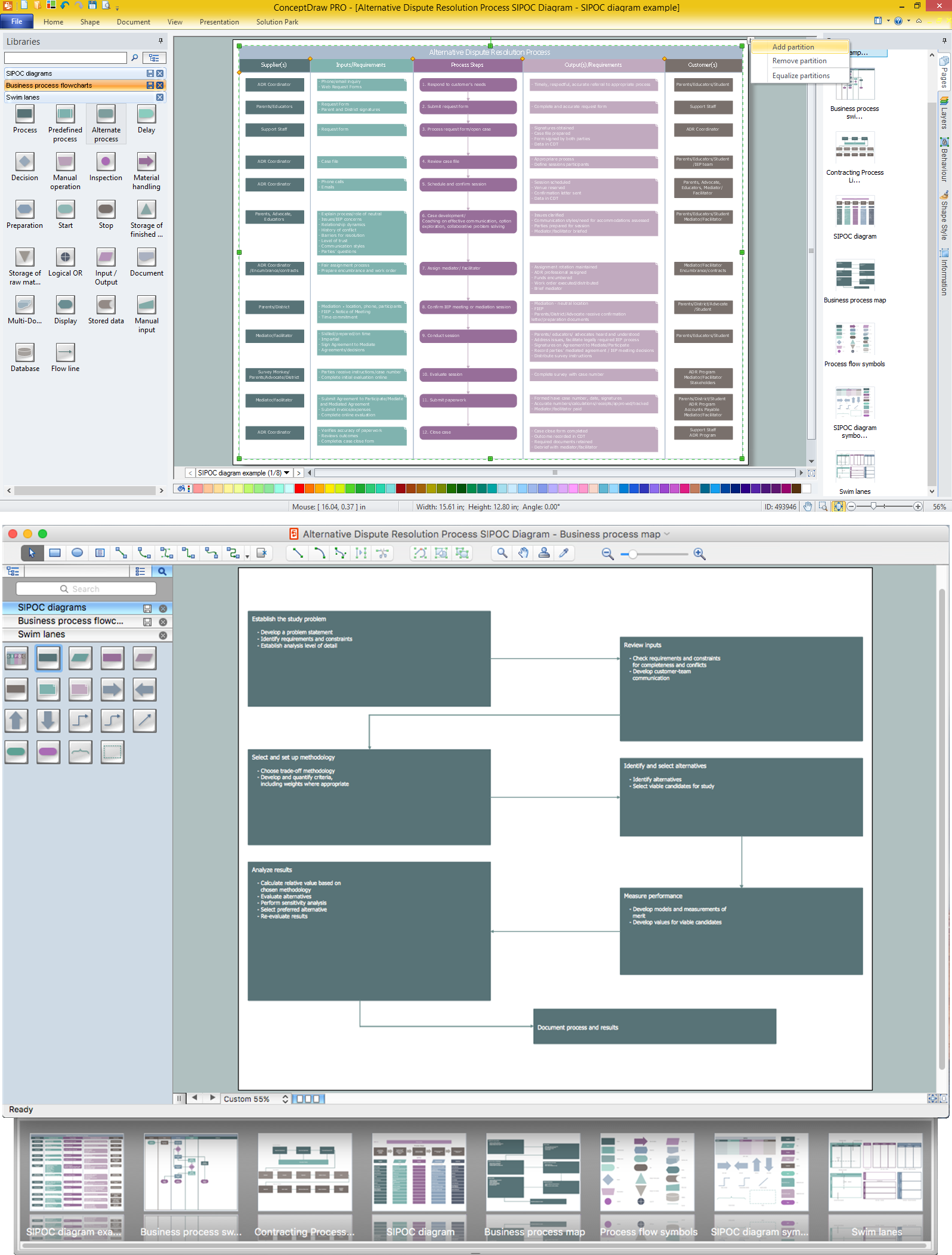 Example 3. Business Process Mapping Examples (macOS and Windows)
All ConceptDraw DIAGRAM documents are vector graphic files and are available for reviewing, modifying, and converting to a variety of formats: image, HTML, PDF file, MS PowerPoint Presentation, Adobe Flash, MS Visio.
---
See also Samples:
TEN RELATED HOW TO's: