Influence Diagram Software
ConceptDraw DIAGRAM is a powerful drawing and vector diagram maker software that allows to design the professional looking Influence Diagrams quick and easy.
Influence diagram (ID) is a graphical and mathematical representation of the decision. Influence diagrams are widely used in the decision analysis and in the game theory. They are the alternative to the decision tree. The influence diagram gives to analyst the high-level conceptual view that it can use to build the detailed quantitative model.
Basic Diagramming Solution from the Universal Diagramming area of ConceptDraw Solution Park provides vector stencils for drawing the Influence Diagrams in a few minutes.
You can also use the templates and samples from the Basic Diagramming Solution as the base for quickly creating your own Influence Diagrams.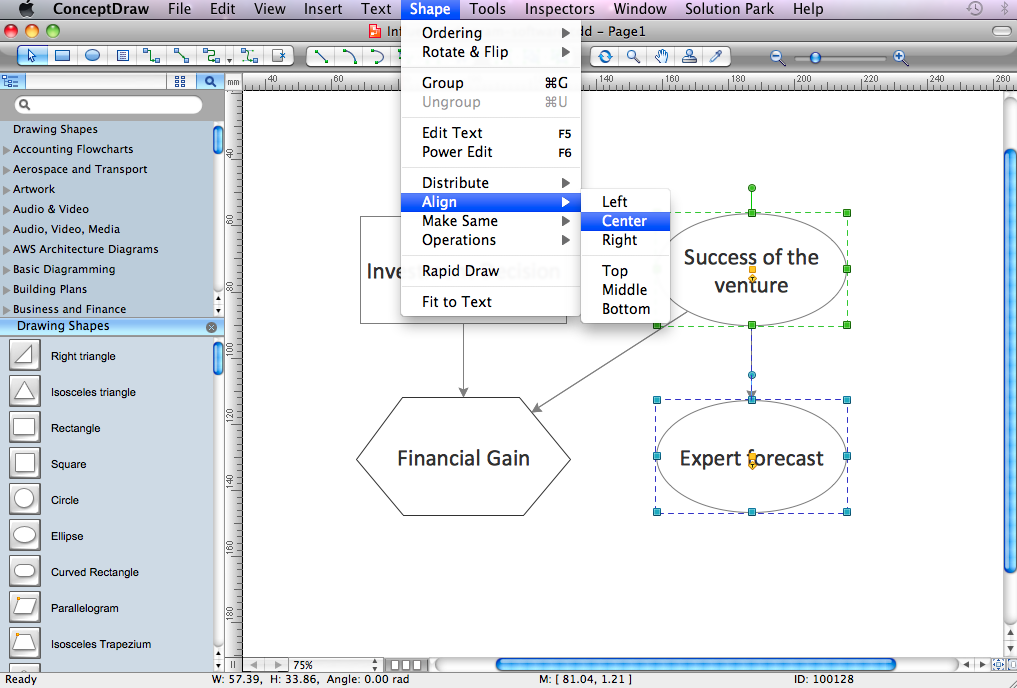 Sample 1. Influence diagram software.
This sample shows the Influence diagram. It is a directed acyclic graph with three types of nodes: Decision node is drawn as a rectangle, Uncertainty node is drawn as an oval, Value node is drawn as an octagon. The nodes are connected with arcs.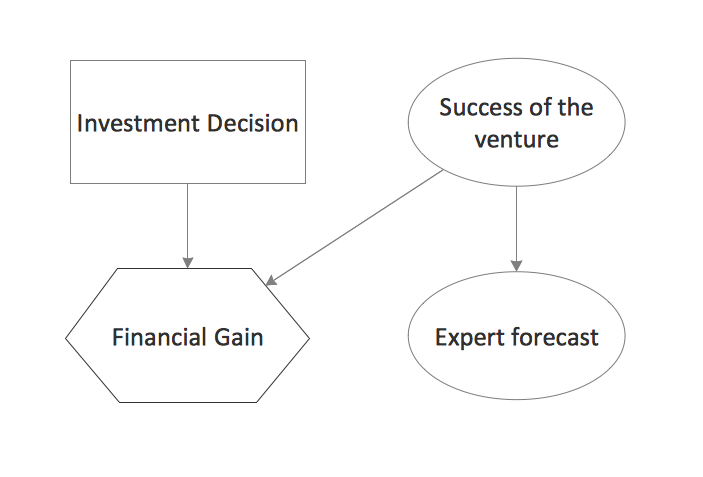 Sample 2. Influence diagram example.
The Influence diagrams produced with ConceptDraw DIAGRAM are vector graphic documents and are available for reviewing, modifying, and converting to a variety of formats for diagram makers (image, HTML, PDF file, MS PowerPoint Presentation, Adobe Flash or MS Visio).
Sometimes, the influence can be visualized more effectively than with Influence Diagram. For instance, the influence can be figured as a bubble diagram. The possible visualization idea is using bubbles associating the size of circles with a level of influence and the distance between circles - with probability of influence. Depending on visual objective, there are more options: also the size of circles can be associated with a number of influensive factors and the distance between circles associated with a level of impact. Instead of bubble diagram it also can be shown with pyramid diagram or mindmap diagram. All this visualization options are availbale in ConceptDraw DIAGRAM. This diagram maker software include professionally designed symbols and templates from ConceptDraw Solution Park.
Diagram Maker :
The full list of supported diagrams available in ConceptDraw Solution Park, this is extensive collection of graphical symbols and charting elements for major charting types, such as Venn diagram to visualize intersections, flow and chart diagram, block diagram, column and bar charts, bubble and line, spider charts and many other. It refers to the area of ConceptDraw Solution Park - Management Area for planning and organizing. Ther are templates for decision making, planning, analisys, timelines and typical orgcharts diagrams.
NINE RELATED HOW TO's: