Network Security
The Internet is a giant computer network which connects computers all over the world. Now the Internet is widely used in all spheres of the life and activity, it is first of all a way to exchange information, without which today is difficult to imagine the life. The Internet is integral part of human society and business. But the serious question for network engineers, designers, lawmakers and enforcers is the need for protect the Internet networks from the Internet crimes, hacking and attacks.
There are many kinds of dangers and ways of attacks, but there are also quite a number of hardware, software and physical methods of protection against them. Such devices as routers, IDS and Firewalls are examples of hardware devices used for network security. Anti-virus software and VPNs are some of the software network security tools.
One of the most effective and easily implemented ways to protect the networks is the use of Firewalls. The Firewall is a first line of defense against the external threats to networks, it can be either software based or hardware based. The main task of firewall is to allow the authorized access to a computer while blocking unauthorized access. The Network layer firewalls makes decisions based on the source address, destination address and ports in individual IP packets. Modern network layer firewalls maintain internal information about states of the connections passing through them.
Depending of the service kind and security you need for your network, you can choose the type of firewall. The most useful types of firewalls are: Screened host firewall, Screened subnet firewall, Packet filer firewall, Stateful inspection firewall, Hybrid firewall, Proxy server firewall, Application level (gateway) firewall.
ConceptDraw DIAGRAM is a powerful diagramming and vector drawing software that allows quick and easy draw the diagrams of your safe networks.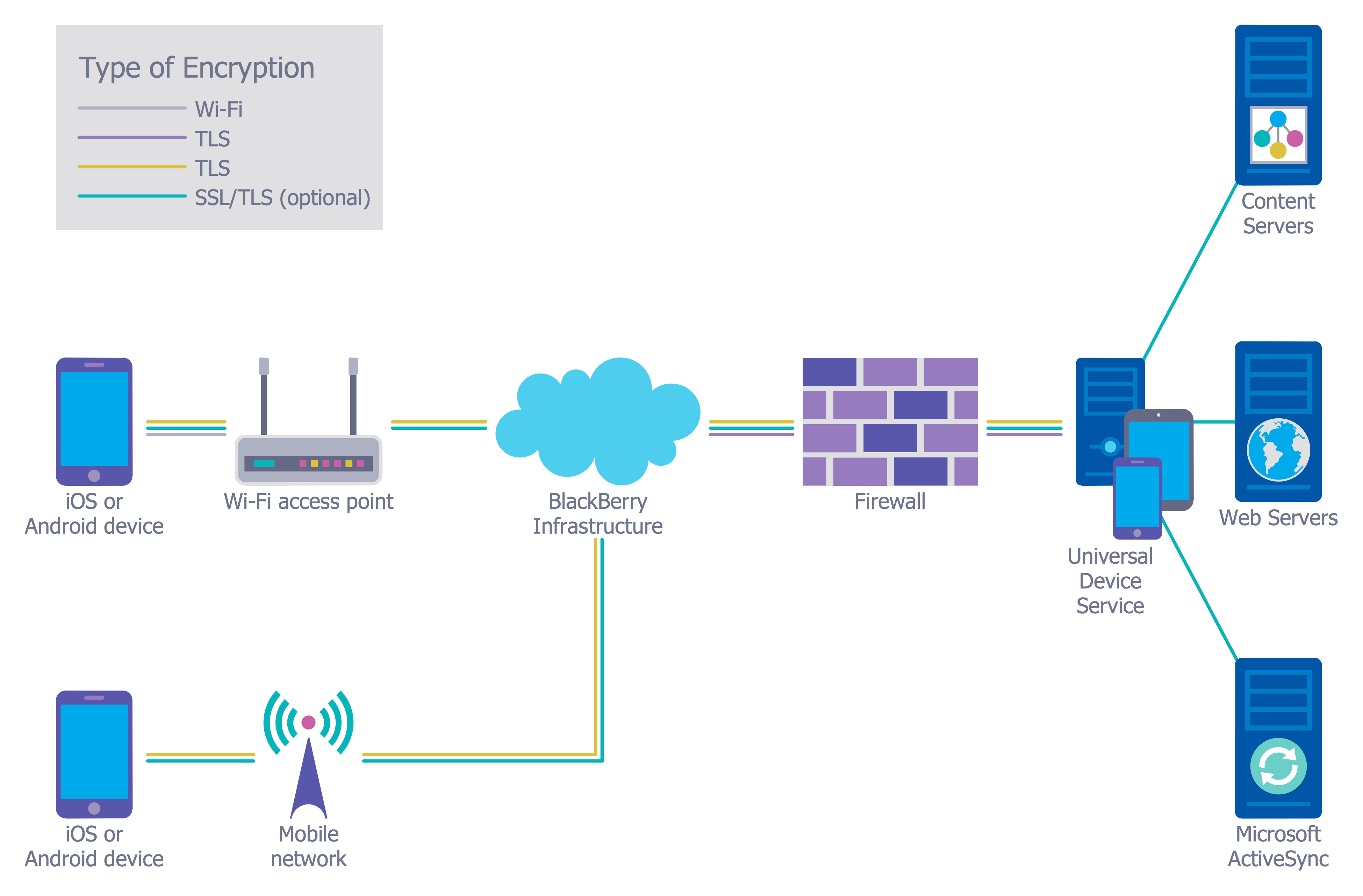 Example 1. Network Security
Computer and Networks Area provides the Network Security Diagrams solution that contains the libraries with a great number of predesigned vector stencils, a set of professional looking examples that you can change for your needs.
All numerous predesigned Network Security Diagram samples are available from ConceptDraw STORE. Use of ready sample is the most simply and quick way of drawing diagrams, you can start with ready sample and change it according to your taste and needs.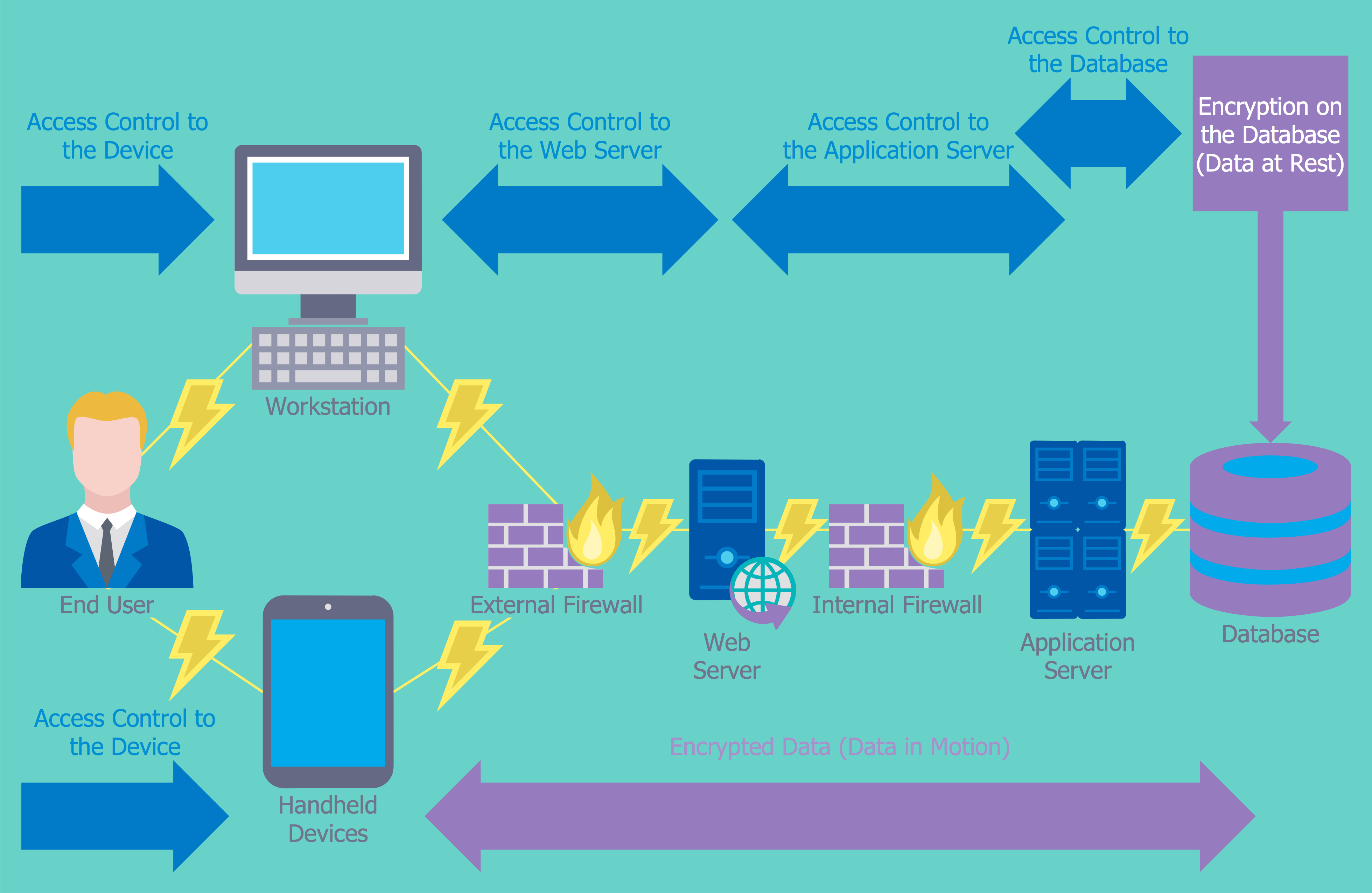 Example 2. Network Security Diagram - Access Control and Encryption
The samples you see on this page were created in ConceptDraw DIAGRAM using the tools of Network Security Diagrams Solution for ConceptDraw DIAGRAM software. They show protection networks with Firewalls and other network security devices. An experienced user spent 5-10 minutes creating each of these samples.
Use the Network Security Diagrams Solution for ConceptDraw DIAGRAM to create your own Network Security Diagrams quick, easy and effective.
All source documents are vector graphic documents. They are available for reviewing, modifying, or converting to a variety of formats (PDF file, MS PowerPoint, MS Visio, and many other graphic formats) from the ConceptDraw STORE. The Network Security Diagrams Solution is available for all ConceptDraw DIAGRAM users.
NINE RELATED HOW TO's: