Flow Chart Online
Flow Chart is a great visualization tool for the flow of a process, algorithm or procedure with a lot of benefits:
gives a clear documentation of a process;
allows to define and offers common understanding of processes;
helps to build a process visual representation for analysis, discussion, and communication;
allows to identify the scope of the process;
allows to trace and analyze the process steps;
helps to standardize and find areas for monitoring, improvement and increased efficiency in a process;
allows to find and detach the steps of the process that are not essential;
helps in understanding the logic of complex problems;
offers a guidance for managers overseeing operations;
facilitates communication between programmers and business people;
helps programmers to write the programs of any complexity and on the any high level language;
helps in debugging process and provides efficient program maintenance;
helps to understand and explain to other people the logic of the complex problems and their solution;
assists to improve teamwork effectiveness.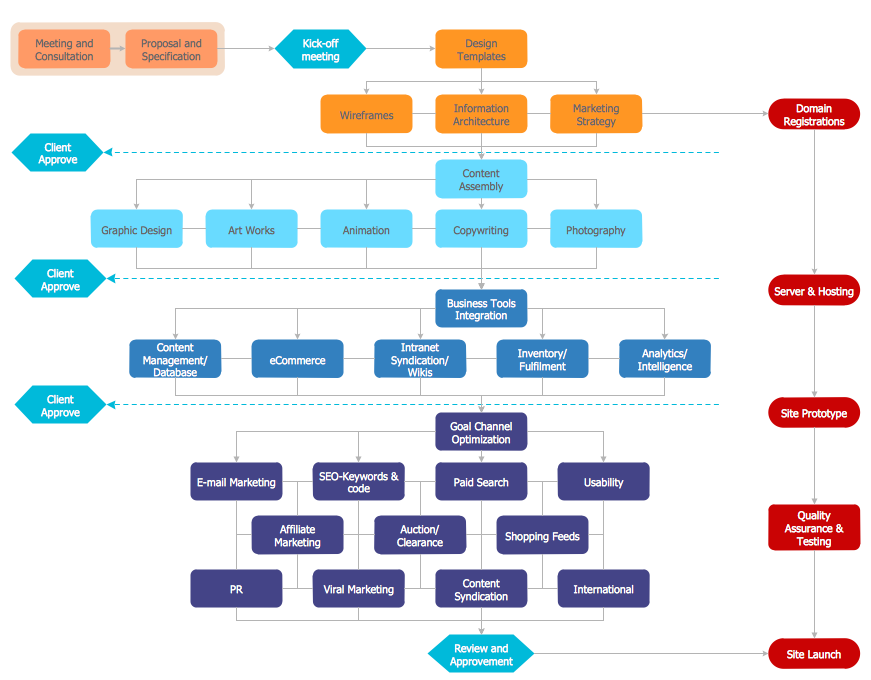 Example 1. Flow Chart - Website Launch
It is convenient to use a powerful software for creating flow charts. Now we have the best flow chart online design software - ConceptDraw DIAGRAM enhanced with Flowcharts Solution from the "Diagrams" Area of ConceptDraw Solution Park.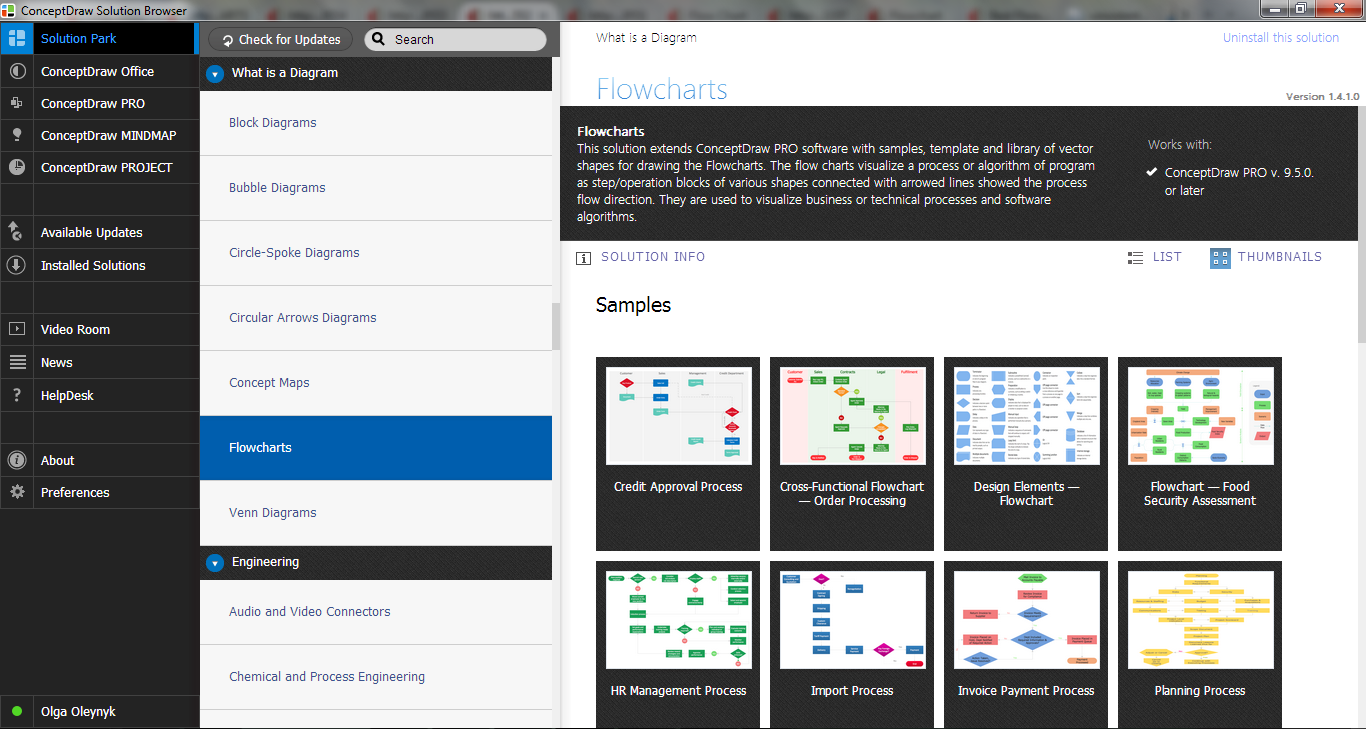 Example 2. Flow Chart Online - ConceptDraw STORE
Flowcharts Solution is so powerful flow chart online maker thanks to wide set of included tools and services.
To create flow chart online, use primarily the ConceptDraw STORE which is an excellent tool for navigation through ConceptDraw Solution Park. It gives an access to the libraries, templates and samples, and also lets to manage downloads and updates. The best flowchart maker uses the Flowcharts solution of ConceptDraw Solution Park.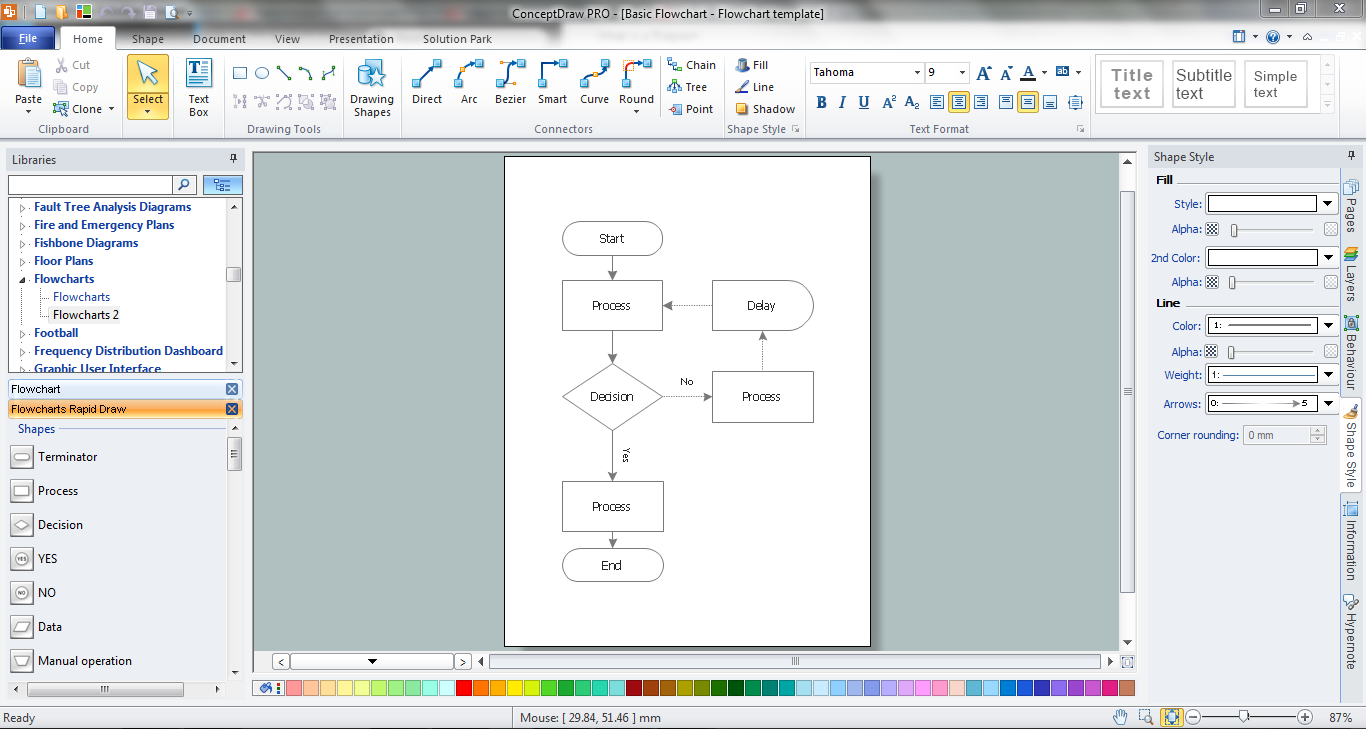 Example 3. ConceptDraw DIAGRAM - Flow Chart Online Diagram Maker
Flowcharts Solution provides 2 libraries with numerous ready-to-use vector objects, collection of predesigned flow chart diagrams examples and samples, and the perfect base for easy flowcharting - basic flow chart template. Use basic flow chart template for easy drawing flowchart, business process flow chart, online flow chart, data flow chart diagram, and many others.
All samples and template are available from the Flowcharts section in ConceptDraw STORE.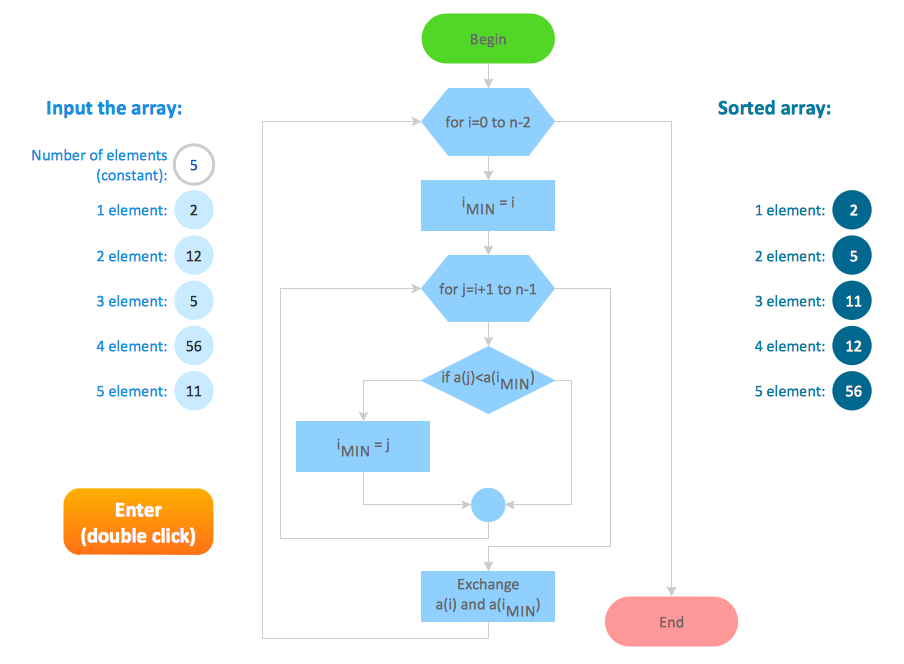 Example 4. Flow Chart - Selection Sorting Method
The following features make ConceptDraw DIAGRAM the best flow chart online design software:
You don't need to be an artist to draw professional looking diagrams in a few minutes.
Large quantity of ready-to-use vector objects makes your drawing diagrams quick and easy.
Great number of predesigned templates and samples give you the good start for your own diagrams.
ConceptDraw DIAGRAM provides you the possibility to use the grid, rules and guides. You can easily rotate, group, align, arrange the objects, use different fonts and colors to make your diagram exceptionally looking.
All ConceptDraw DIAGRAM documents are vector graphic files and are available for reviewing, modifying, and converting to a variety of formats: image, HTML, PDF file, MS PowerPoint Presentation, Adobe Flash, MS Visio.
Using ConceptDraw STORE you can navigate through ConceptDraw Solution Park, managing downloads and updates. You can access libraries, templates and samples directly from the ConceptDraw STORE.
If you have any questions, our free of charge support is always ready to come to your aid.
TEN RELATED HOW TO's: