Cross Functional Flowchart Symbols
The humble flowchart is one of the more ubiquitous diagrams used when constructing or analyzing business processes. Their simple nature makes them an ideal candidate for use as a solution model to a given problem; possible subject matter is practically limitless, and they can be utilized and understood by all levels of employee throughout a company.
The basic building blocks of a flowchart are always the same — the starting and (sometimes multiple) ending points of the process flow are called 'terminals', and are shown as circles, ovals, stadiums or rounded rectangles. Decisions are described within diamond shapes, and all are connected with arrowed lines that represent the flow of control throughout the process.
The excellent possibility to create attractive Cross Functional Flowcharts for step-by-step visualization the operations of a business process flow of any degree of detailing is offered by ConceptDraw's Cross-Functional Flowcharts solution. The extensive selection of commonly used vector stencils libraries allow you to demonstrate the document flow in organization, to represent each team member's responsibilities and how processes get shared or transferred between different teams and departments.
This solution includes the Cross-Functional Flowcharts library with 42 vector cross functional flowchart symbols.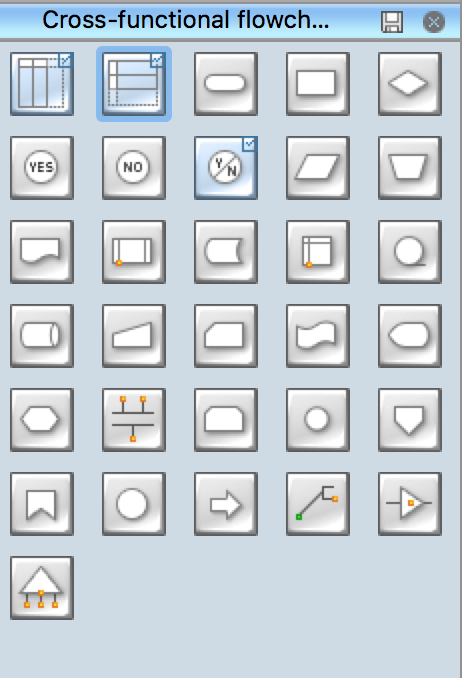 Example 1. Cross Functional Flowchart Symbols Library
All predesigned cross functional flowchart symbols are commonly used and standardized, so your flowcharts created in ConceptDraw DIAGRAM will be comprehensive for all your colleagues and business associates. They include the objects of:
Vertical and Horizontal Swimlanes - for easy start drawing accordingly vertical or horizontal Cross-Functional Flowchart;
Process - represents series of steps or actions taken to achieve a definite end;
Terminator - indicates the beggining or end of a program flow;
Decision - the decision point before two or more paths in your flowchart;
Data - represents any type of data in flowchart;
Document - data that can be read by people, such as printed output;
and wide variety of other cross functional flowchart symbols and objects.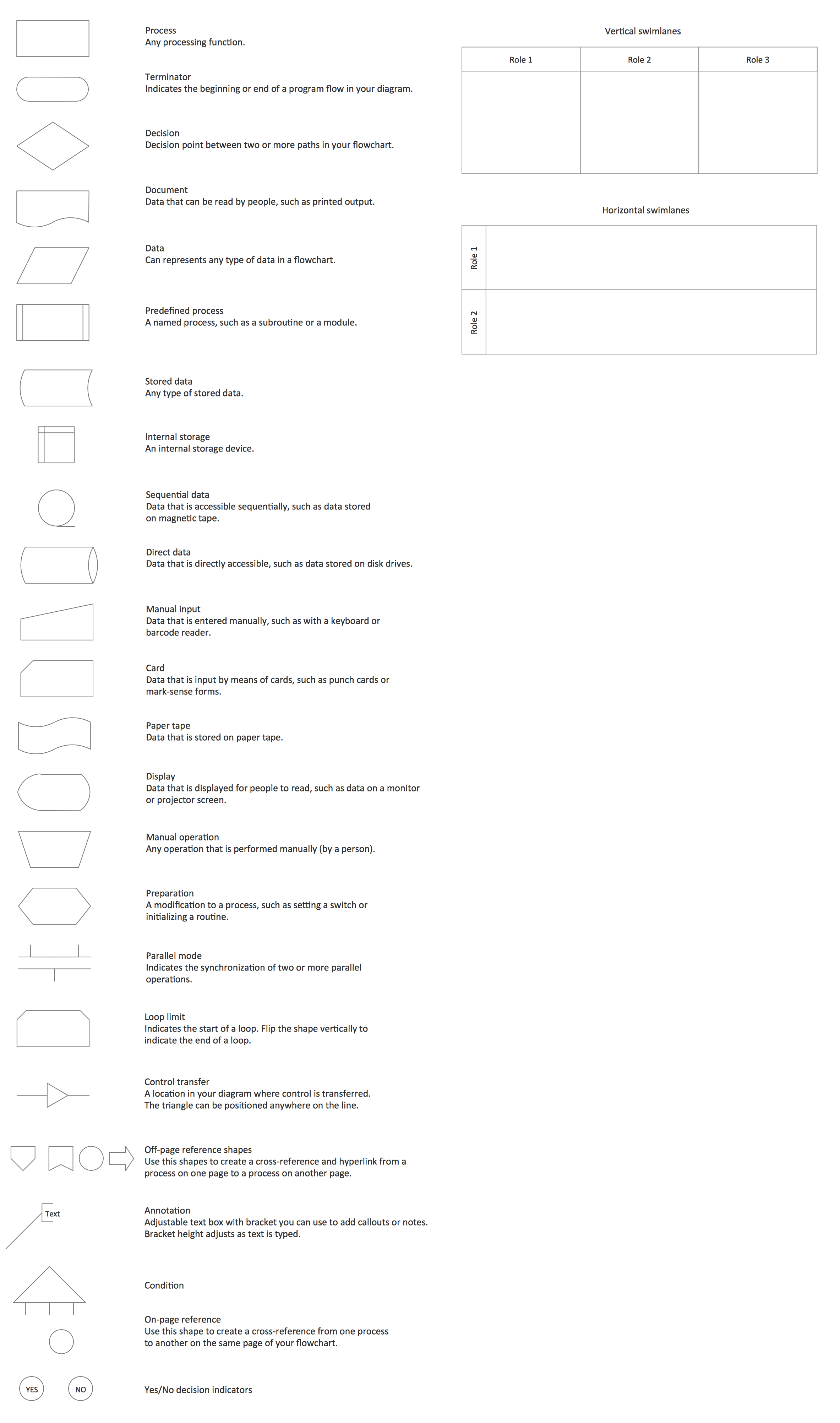 Example 2. Cross Functional Flowchart Symbols
Cross functional flowcharts use swim lanes to provide an extra dimension by assigning each process step to a category. Most often the category is a stakeholder (person, role, or department), but it can also be a machine, a project phase, a resource, or some other attribute.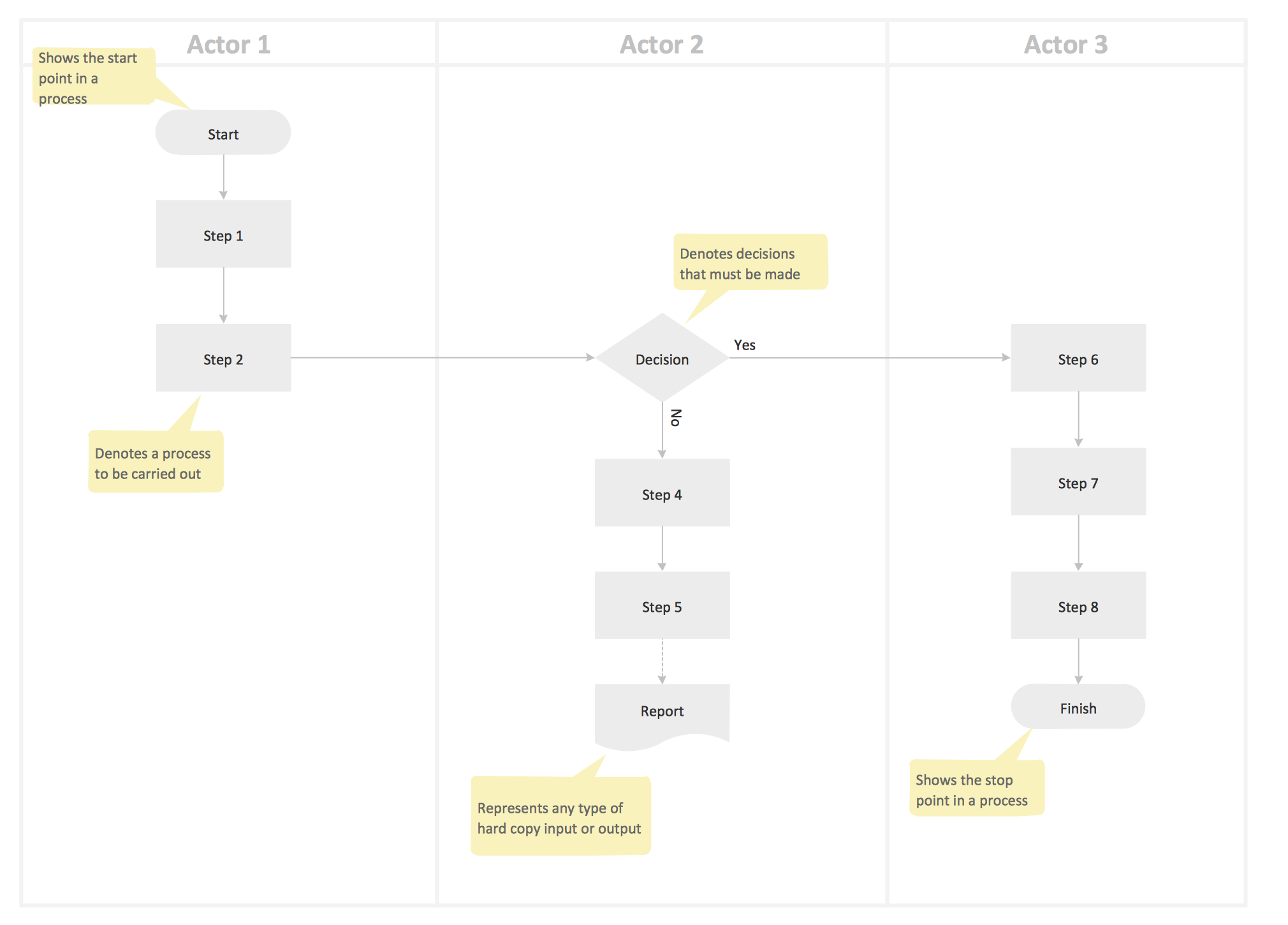 Example 3. Cross Functional Flowchart Template - Vertical Swim Lanes
We try to make the drawing process in ConceptDraw DIAGRAM as many as possible easier for you, for this purpose were also developed collection of templates which you can find inside the solution.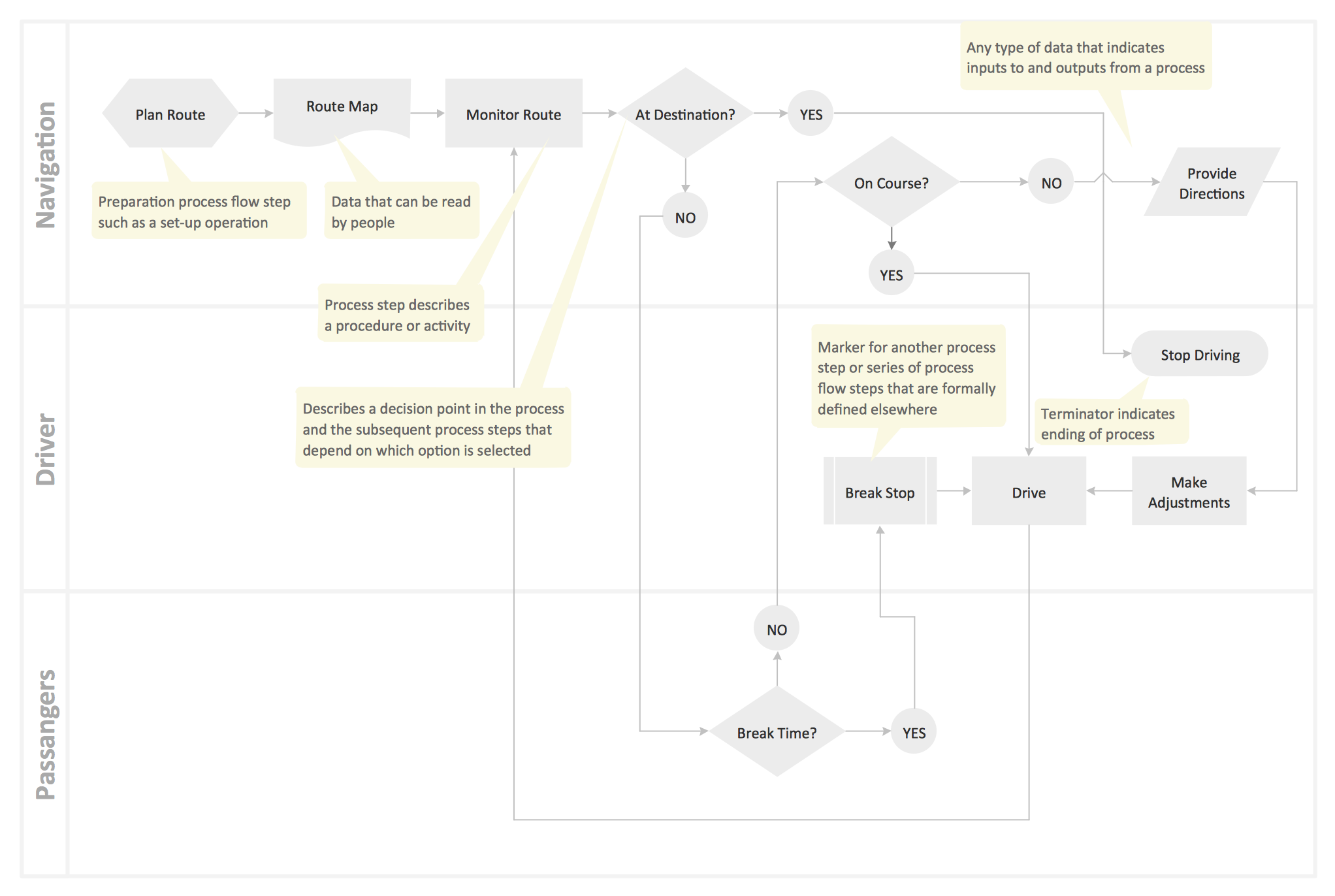 Example 4. Cross Functional Flowchart Template - Horizontal Swim Lanes
Using the Cross-Functional Flowcharts solution, you can create professional looking flowcharts in an instant. Before designing any Cross Functional Flowchart, activate the Chain connection mode by using the Chain Mode button on the Home toolbar and follow the next steps for design:
All Cross Functional Flowchart examples are available from ConceptDraw STORE in Cross-Functional Flowcharts Solution section. They were developed in ConceptDraw DIAGRAM specially to help you in your own Cross Functional Flowcharts designing.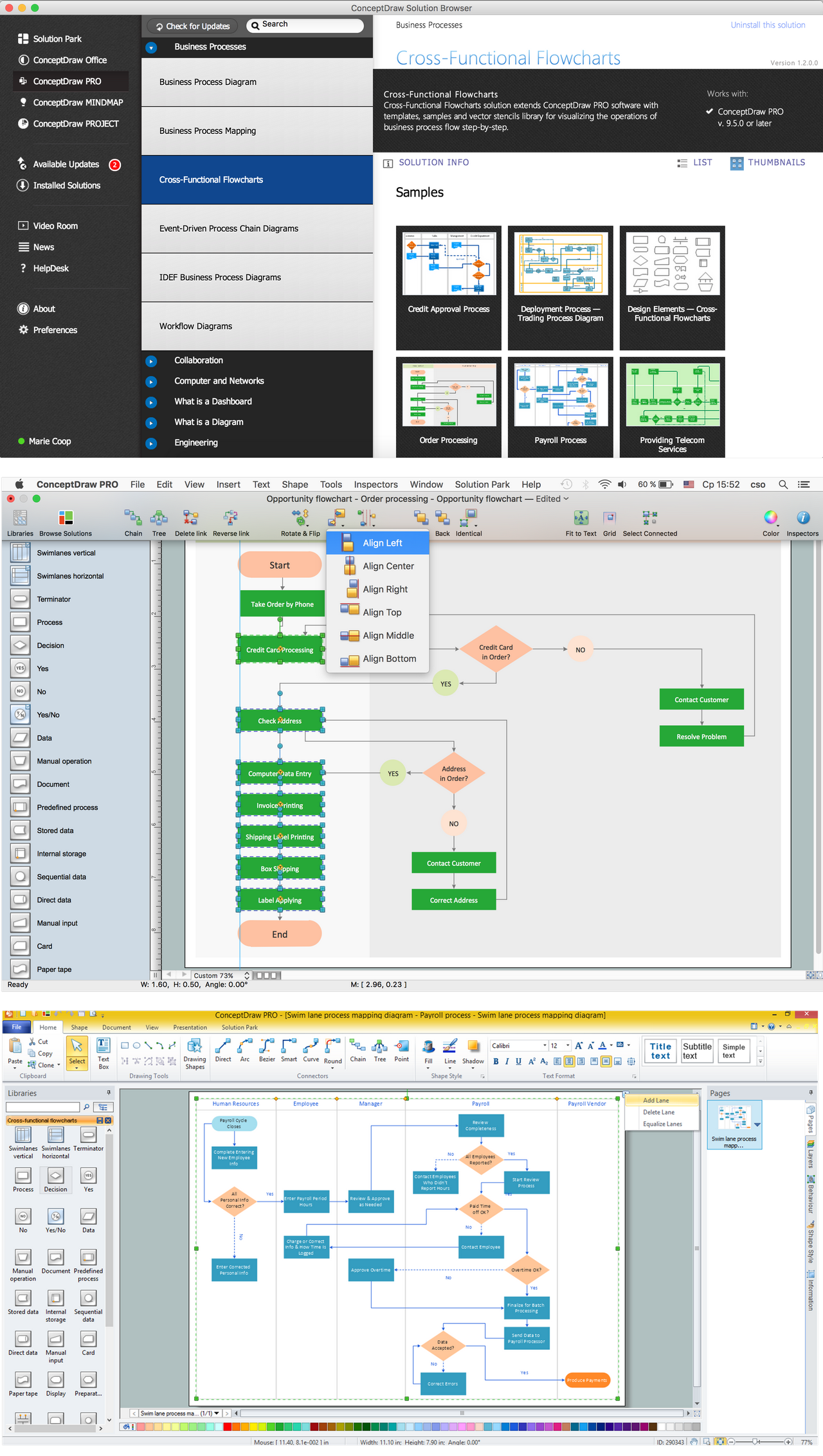 Example 9. Cross Functional Flowchart Solutions
The Cross-Functional Flowcharts solution is a professional and powerful tool for those who need to represent the transferring of data, documents, and tasks during performance of a work process in organization in a visual manner using the Cross-Functional Flowcharts.
TEN RELATED HOW TO's: