Flow chart Example. Warehouse Flowchart
Warehouse flowchart example
Having your own warehouses you wonder how to adjust its work and to control its processes. Helpful in importing, exporting goods, wholesales and transport businesses, warehouse flowcharts are always useful for sorting things out in logistics and not only. Storing goods in proper way making sure they don't get damaged or spoiled is always simple with help of the flowcharts. Mark dates of expiry, mention where materials are, both raw and packing, and so on. Get ensured how simple it is to use ConceptDraw DIAGRAM to make your own charts. Using examples you'll make charts yourself with an ease in very short terms. Check "Diagrams" area of ConceptDraw Solution Park to make your own flowcharts. As using the right software for making helpful diagrams means making right decisions, innit? Useful in production, logistics, ConceptDraw DIAGRAM is the one to help your businesses to prosper.
Example 1. Flow chart solution
Having your own warehouse means having so many different things in it, which can be savoury products, sweets or other food you sell in wholesale, or they can be the clothes you purchase from abroad, etc.
Warehouses are meant to be used for storing very different things that in the end will appear at the market in order to be sold.
Warehouses are common for being used by the manufacturers, importers, exporters, wholesales, customs and they are often a huge part of the logistics processes. In case some container of clothes has to be delivered from China, for example, to any of the European ports, it will go through the customs clearance and it will end up staying at the warehouse until it is sold or transported to the other place: another warehouse or to the shop. Warehouses are often used as a part of the big supermarkets. Once there was too much of something bought in advance and you cannot put all of it on the shelves, then you might want keep the rest in the warehouse which is usually not very far from the supermarket itself or it is in the same building. In order to make the most profit of all what you sell, you have to keep an eye on what is left in the warehouse or make somebody else track it. It is very important that everything you buy wholesale you sell in retail as it is the only way you can make lots of money.
Wasting food and throwing what is left away from the warehouse means losing money as all of it what is in your warehouse was once bought and so the money was spent on it, so try to sell as much as possible. To make it happen you can always make a discount for the products you want to get rid of and so those who want to buy these products can have the special offers, and most of the customers love special offers, especially before big dates and big celebrations, such as Christmas, and so on. That is why it is so important to plan everything in advance and to buy as much as you think you can sell or to buy more than you think you can sell before big holidays when people have lots of time for shopping, especially in winter when there is not much to do outside.
Marketing is a huge part of every successful business as well as using other tools for making sure that you make all of your plans and dreams come true. Thus, having all of the modern tools to use while leading your business is obligatorily. Having the right software and applications to use is a huge part of doing your business. In order to track all of the products, clothes, etc. from your warehouse you can use the warehouse flowcharts which you can draw in terms of fixing all of the important information and so the processes which represent the flow of materials.
Making such flowchart can be a quite complicated thing unless you have the right software to use it in terms of making such flowcharts. To use ConceptDraw DIAGRAM software is always convenient and it is one of the best applications which is well known and widely used, especially for such kinds of businesses, where the flow of data, people, materials and other objects has to be traced.
ConceptDraw DIAGRAM was developed by the team of IT specialists and it is the product of CS Odessa which is world widely used and quite popular nowadays. ConceptDraw DIAGRAM popularity can be explained by this application being used with ConceptDraw STORE where a large choice of many different solutions is. Each of the solution includes appropriate stencil libraries where the design elements for the certain purpose are. Each of these solutions was created for being used by ConceptDraw DIAGRAM users for their needs and each of them can be applied in the different spheres of business activity. The stencil libraries are always full of the appropriate design symbols and also these solutions always include the appropriate examples of different charts, flowcharts, diagrams, schemes and plans.
To create any charts or flowcharts, plan or diagram using any of the needed solutions is always much simpler, faster and more convenient. Using the "Flowcharts solution", which can be downloaded from the "Diagrams" area of ConceptDraw Solution Park or from ConceptDraw STORE for creating your own workflow diagrams and flow charts can be a very fun and entertaining process. The Process Flow Diagrams are meant to be helping putting the information in order as well as tracking if some definite process is being carried out without any delays. To create some process flow diagram or warehouse flowchart is never a problem as long as you have all you need, which is a ConceptDraw DIAGRAM software and the correct solution to it. The workflows within some warehouse processes may be tracked in a way of such warehouse flowchart and such flowchart can be made during only a couple of hours or even minutes for the expert user of ConceptDraw DIAGRAM as having the previously created flowcharts which you can use as the drafts for your own flowchart is always a bonus.
Running your business, no matter if it is connected with agriculture, manufacturing or production, storing your goods, whether they are some raw materials, packing materials, spare parts, components or finished goods, tracking them with help of making warehouse flowcharts using ConceptDraw DIAGRAM is the way to succeed in what you do. Find some more examples of Warehouse workflow diagrams on this site or in the solution and make your own for tracking all of the business operations and document transfers within your own warehouse. Use the final workflow diagram for warehousing process flow description and enjoy the result which will definitely look very professional and smart as long as you used ConceptDraw DIAGRAM software to make it. Once other people (your business partners, employees or colleagues, for example) see the way you can use ConceptDraw DIAGRAM then they might want to get it as well for their use. So feel free to mention where to buy this amazing software and to use it in many different types of business activity.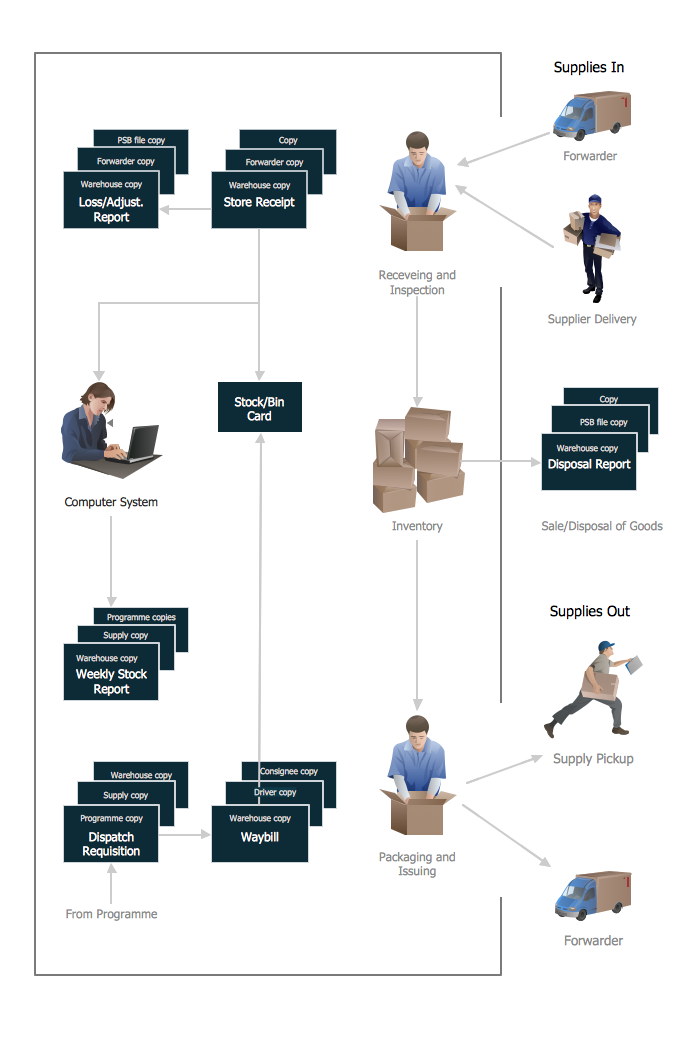 Example 2. Warehouse Flowchart
This example of Warehouse workflow diagram shows the seqence of operations and document transfer at the warehouse. This is kind of workflow diagram used for warehousing process flow description.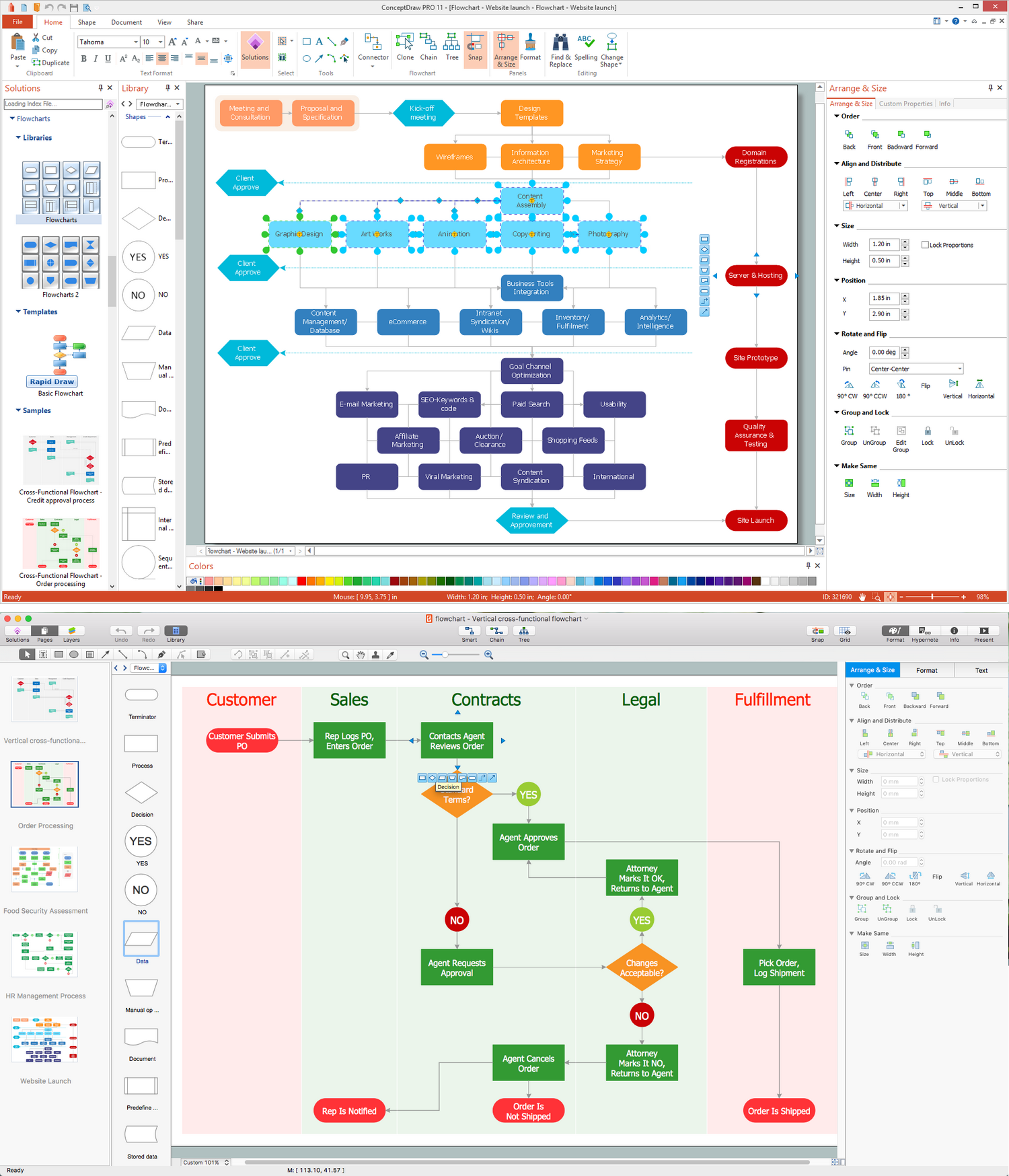 Example 3. Flow chart Examples
Start creating your own flow chart example with ConceptDraw DIAGRAM and accomplish great results in the moment.
See also Samples:
NINE RELATED HOW TO's: