ConceptDraw PROJECT v11 is a comprehensive multi-project software tool, available for Windows and macOS. PROJECT is well equipped for managing projects, tasks, and resources. It is easy to learn and use. The main force of PROJECT v11 is visual tools. If you want to experience the full functionality and benefits of ConceptDraw PROJECT v11, you need to use it in conjunction with MINDMAP v12 and DIAGRAM v14. ConceptDraw PROJECT v11 provides a full visibility of all the essential elements of your project and ensures your control over resources and budget.
Multi-Project Dashboard
A multi-project workspace allows you to manage multiple projects from a single file. You can group and establish links between projects to better organize a complex project structure.

Gantt Chart
Gantt Chart view allows you to allocate tasks, assign resources and manage their overloading in a simple graphic format.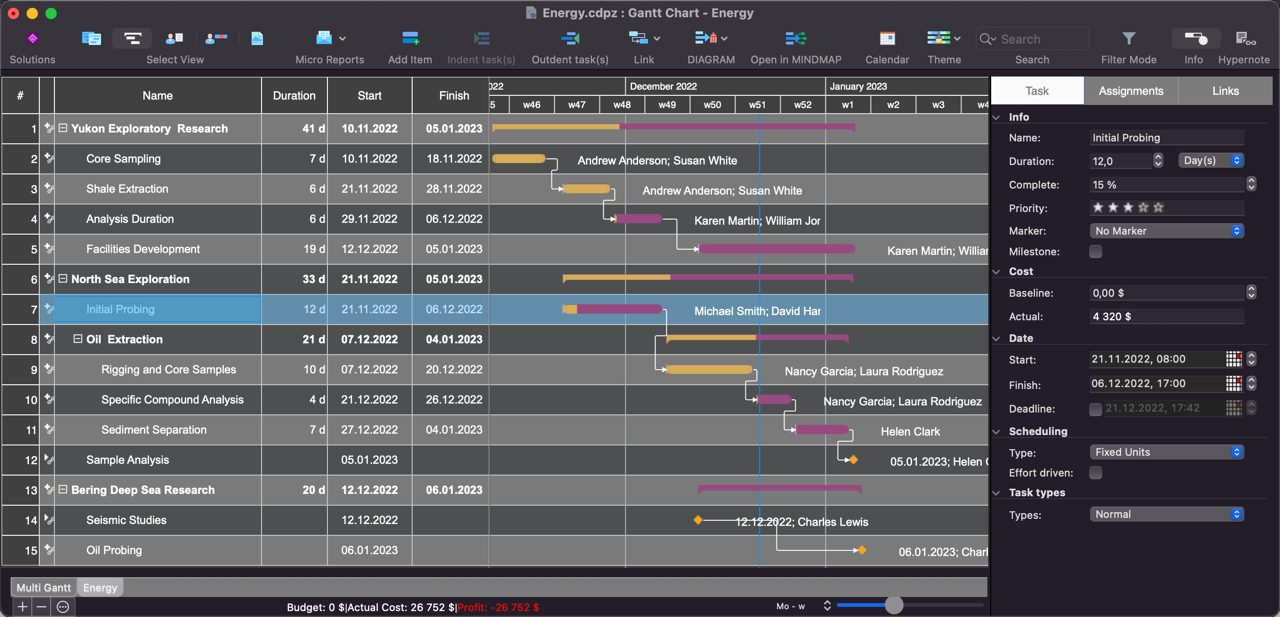 Resources Allocation and Resource Usage Tracking
Resource List stores the complete information on overall resources (human, material and financial) available to assign in multiple projects. In the Resource Usage view, the loads and availability of resources of all types (human, material and financial) contained in the resource list are displayed. Resource view allows you to manage assignments for each of the resources so that you can efficiently distribute their usage.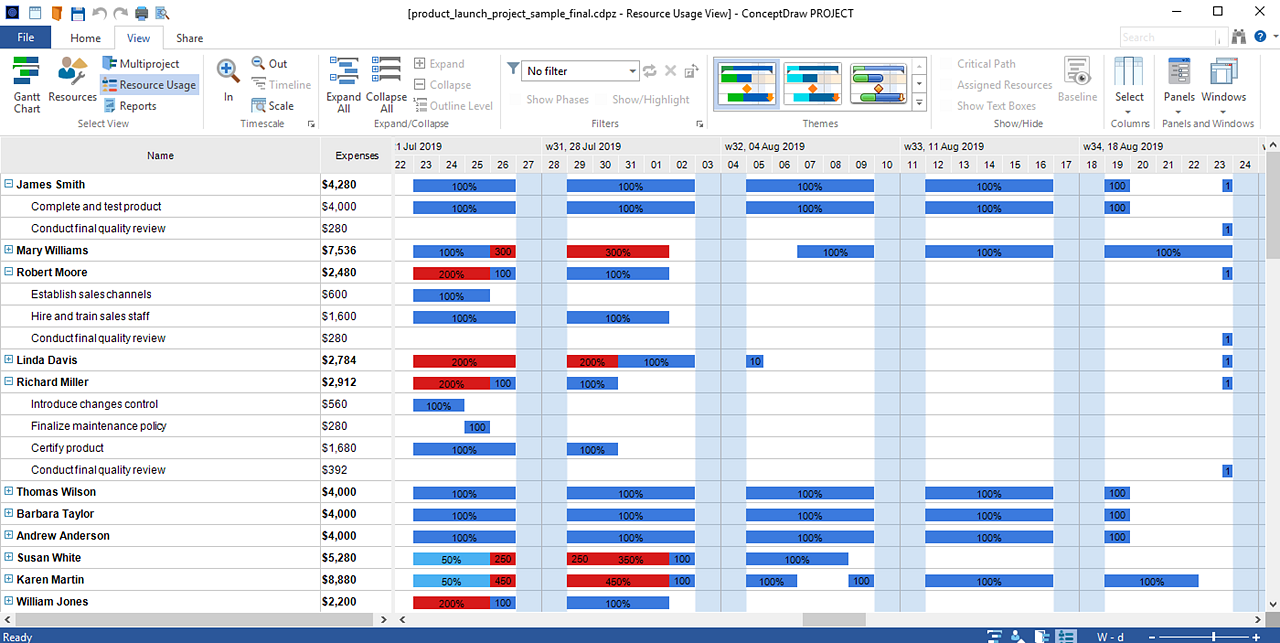 Split and Recurring Tasks
The flexible task management capabilities allow you to split a task when the work for it in a project should be started, then interrupted, and finally, resumed at a later term. Creating recurring tasks helps you easily schedule project tasks that occur on a regular basis.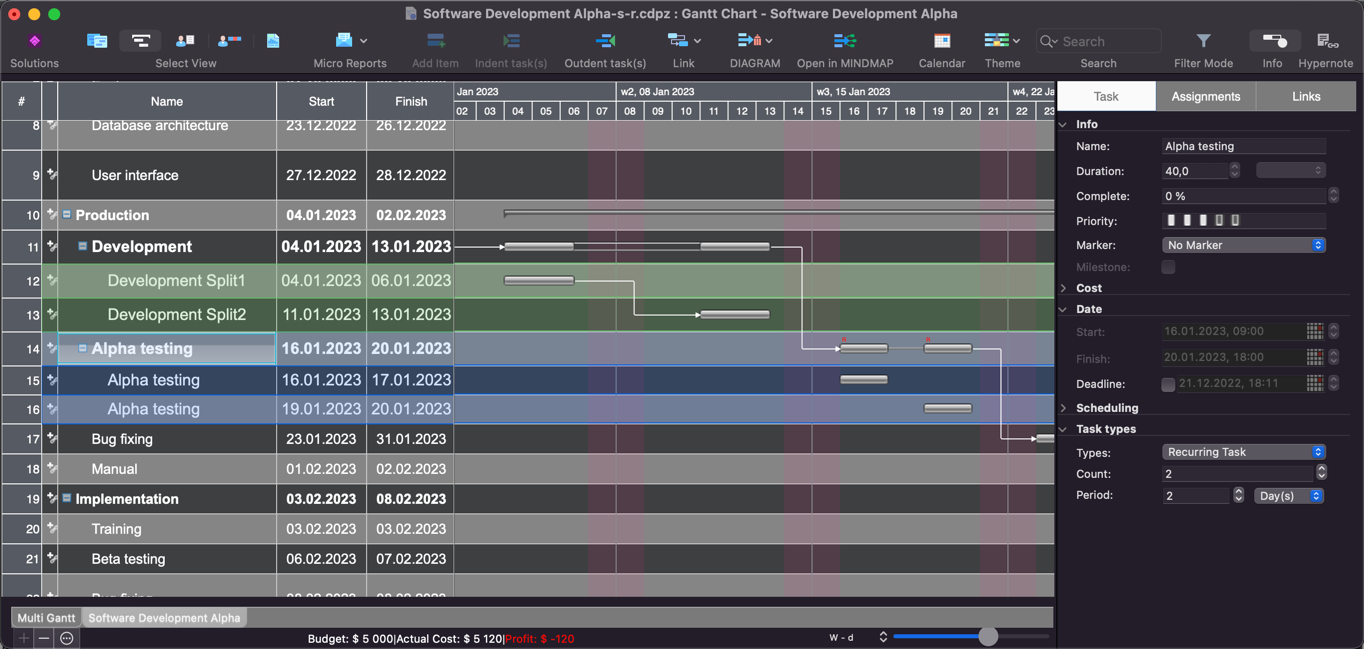 Filters
A powerful filter wizard enables creating simple or complex filters based on a set of user-defined conditions. You can apply filters to tasks, resources and even projects to hide all unnecessary information and focus on particular results and tasks.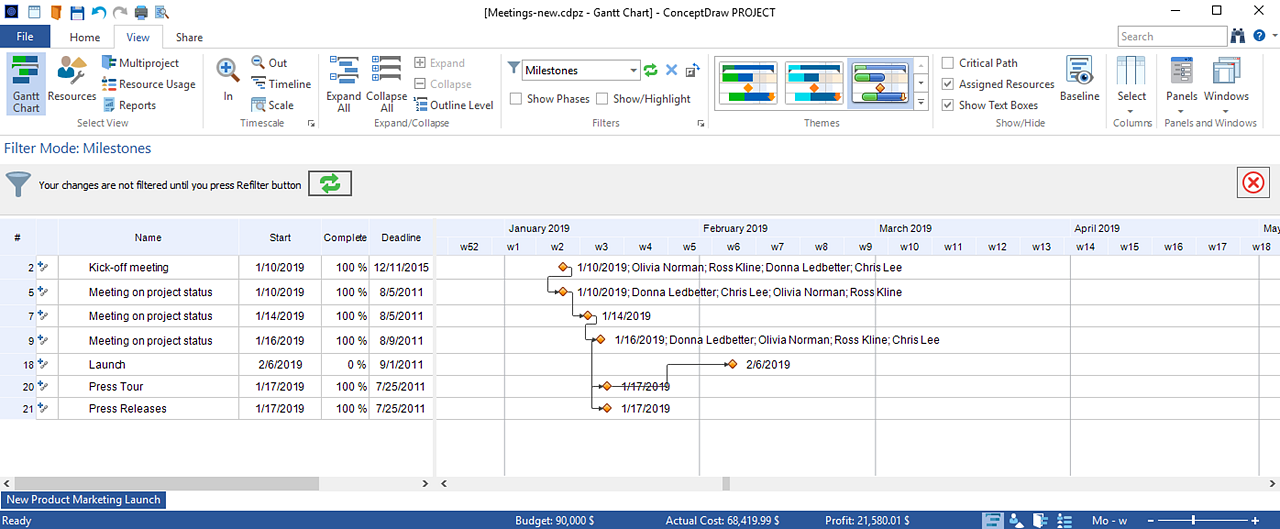 Powerful Reporting System
ConceptDraw PROJECT v11 offers a number of ways to report the project status. The Solutions panel provides a vast array of choices for reporting on your project status. Tabular reports are generated as electronic spreadsheets in the MS Excell format (XLSX). There are more than 30 tabular reports in ConceptDraw PROJECT v11. Reports are combined into 7 case-oriented solutions. ConceptDraw PROJECT v11 offers several types of visual reports that can help to assess visually the difference between planned and actual project data. The visual reports are generated as ConceptDraw DIAGRAM v14 files (CDDZ).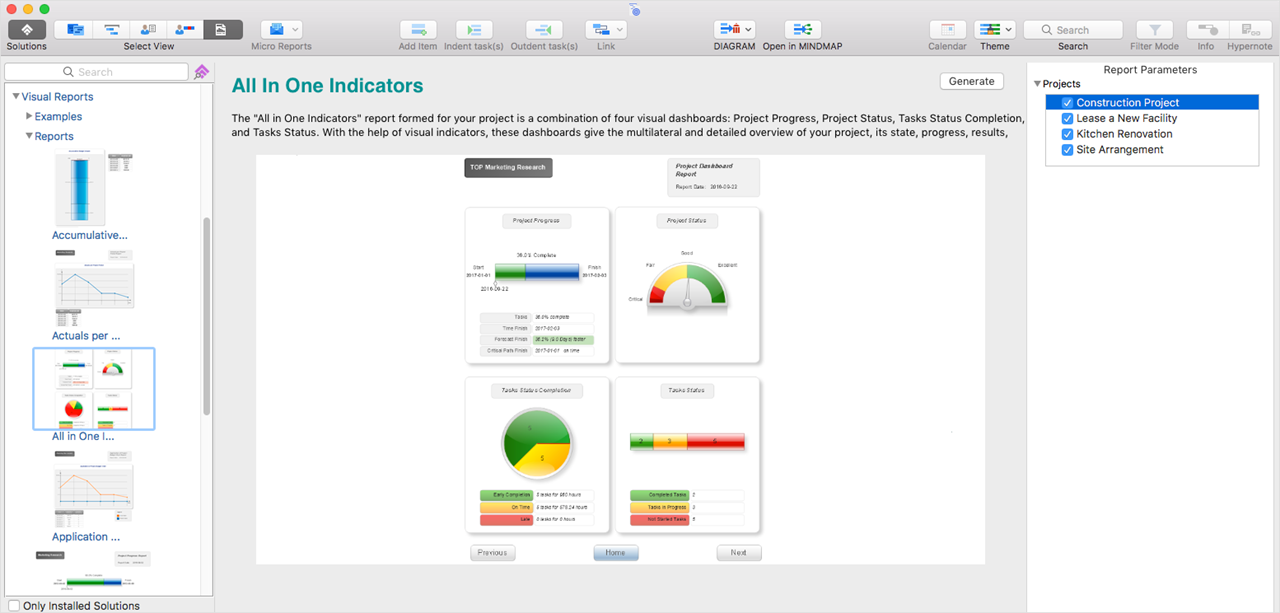 Hyperlinks and Text Notes
Hypernote is the combination of a text note with multiple hyperlinks. Multiple hyperlinks connect project documentation to tasks, phases, resources. You can link URL, e-mail, file, folder, Project, Task, Resource. Adding text notes will help to explain more about hyperlinks.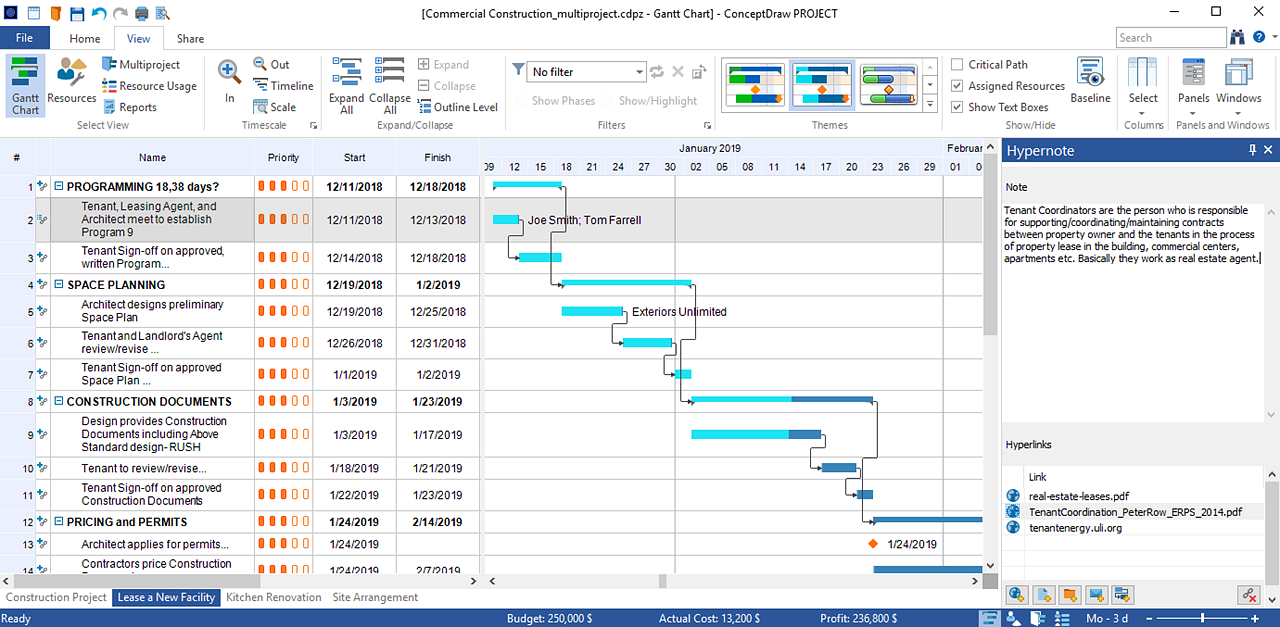 Mind Map Reports
The mind map reports are generated as ConceptDraw MINDMAP v11 files (CDMZ). You can generate the report mind map with the help of compatibility between PROJECT and MINDMAP. Micro-reports — the automatically generated e-mails with text and mind map attachments. Micro-reports are used to communicate with the project team.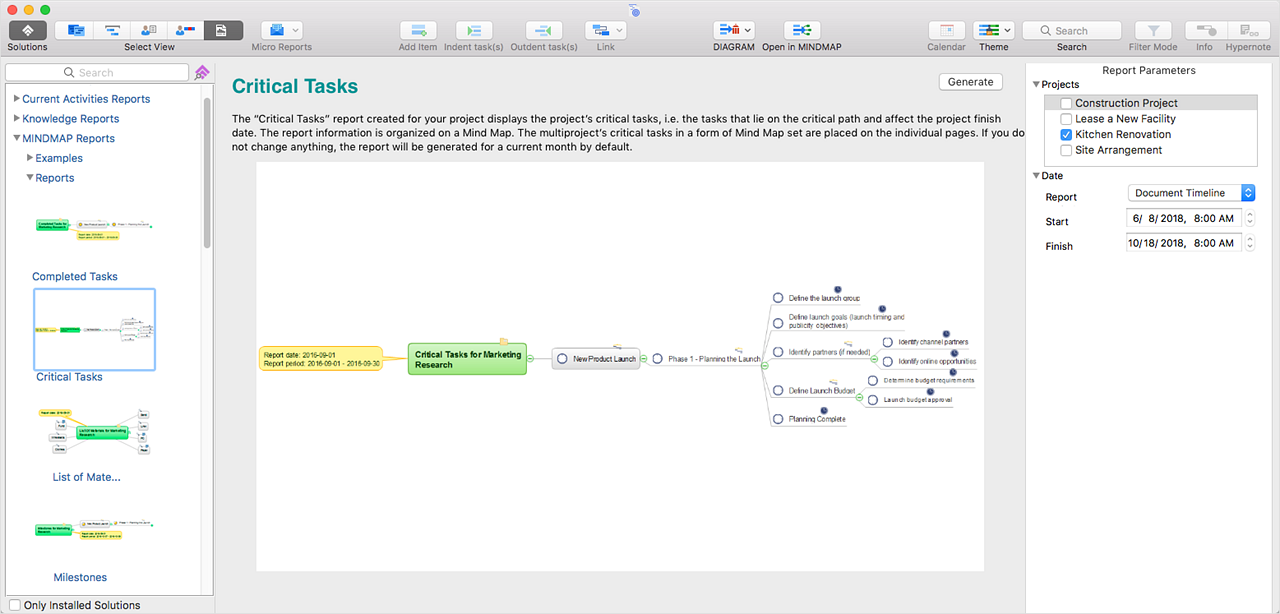 Dashboards and Project Management Diagrams
The PM Dashboards solution allows generating visual project dashboards: Common Project Dashboard, Radar Chart, and Tactical Dashboard. Project Dashboards are the helpful tool for tracking project progress and catching critical points. The dashboards are opened as ConceptDraw DIAGRAM v13 documents (CDDZ). Project management diagrams give you the ability to view at a detailed level project attributes such as project scope, logical connections in the project, critical paths, key events on the timeline, milestones, tasks, calendars for work, and resource utilization. The project diagrams are generated as ConceptDraw DIAGRAM v13 files (CDDZ).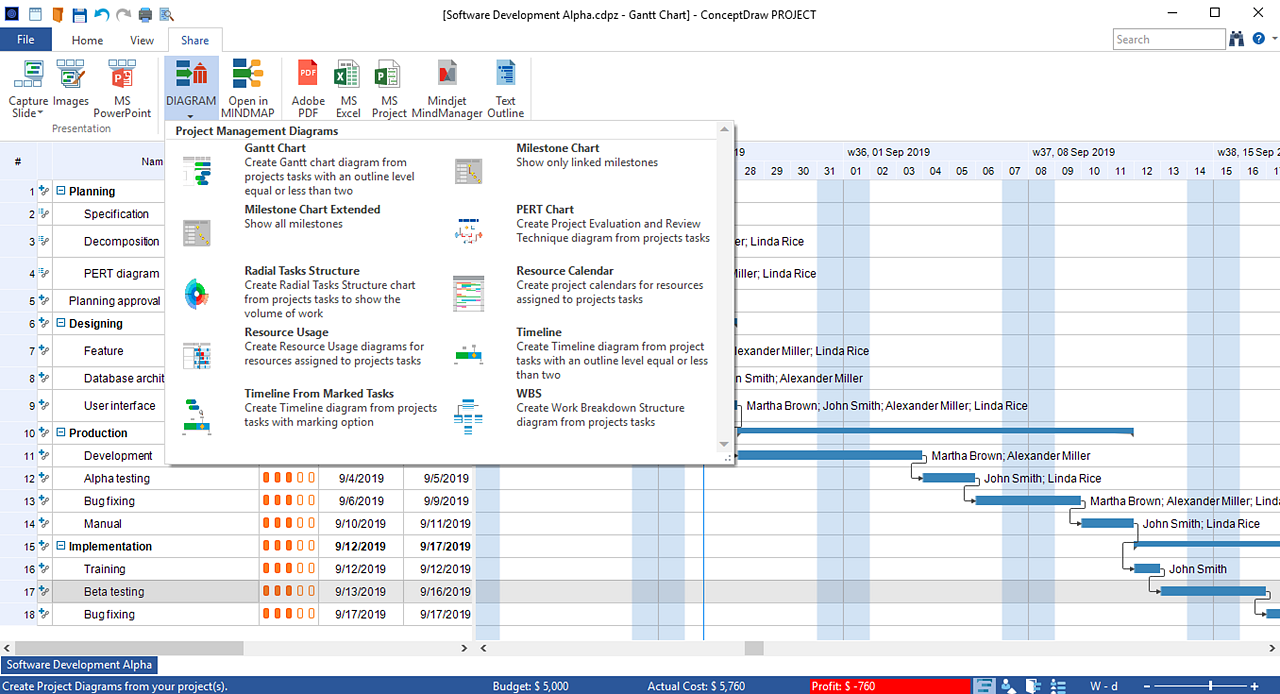 Customizable Printing
Printing is the most commonly used way to present project information. Sometimes It can be the most effective approach. With PROJECT v11, you can print all the views: Multiproject, Gantt, and Resources views. Thus, you can present the exact information that you want to share.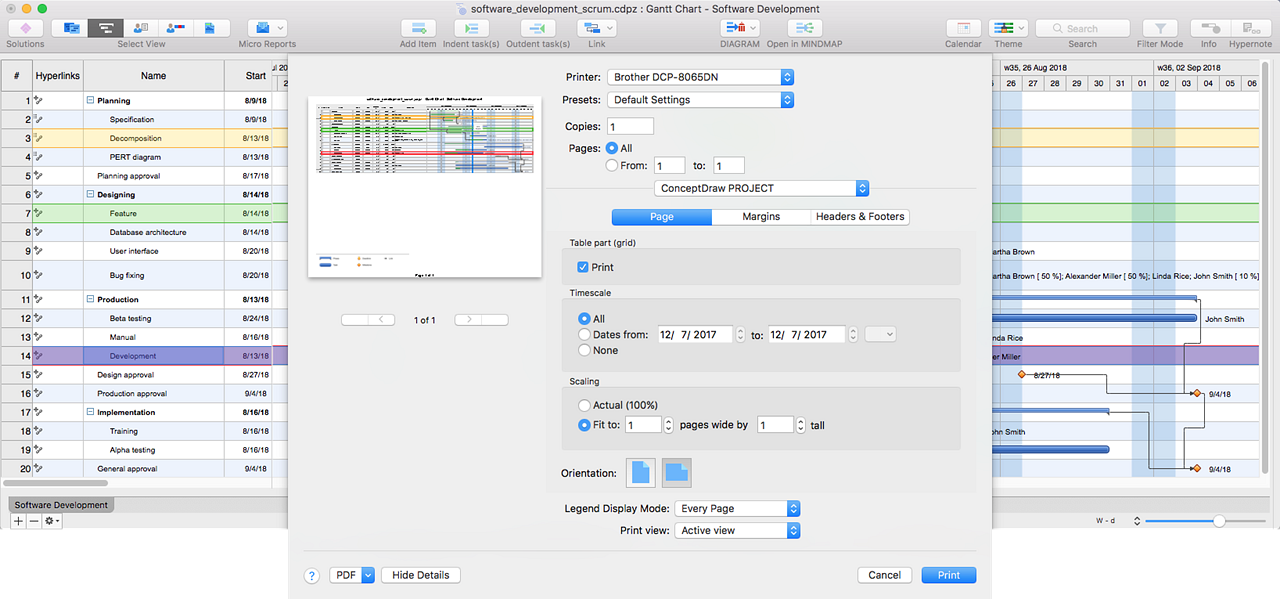 Import and Export
ConceptDraw PROJECT v11 has the ability to import and export a number of usable formats, providing users with powerful flexibility in collaboration:
Import/Export MS Project 2007/20v10
Import/Export MS Excel 2007/20v10/2016
Import/Export MindManager v7 and later

Import/Export ConceptDraw MINDMAP
Export Gantt Charts as PNG