ConceptDraw PROJECT v9 provides a set of improvements that help professionals visualize, maintain, and communicate projects even more effective. The new 64-bit version is dramatically faster, and it can address more memory. Users of supported 64 bit operating systems will experience improved performance and enhanced capabilities: Faster program startup times, and improved processing of big files. New Solutions panel provides direct access from the application to a content of project management solutions including sample project files and embedded reports.
Solutions Panel
ConceptDraw Solutions offer a variety of project management solutions that extend reporting capabilities with numerous resource, schedule, and task reports. Using the proper solution enhances the project management workflow and will be helpful with specific project management practices. New Solutions panel contains a list of project management solutions. It provides access to a number of project schedule examples and various types of reports. Open the example project file to modify it, or generate tabular or visual reports for your own project. Solutions panel displays not installed solutions as well, so you can quickly find the necessary ones and install them using the STORE.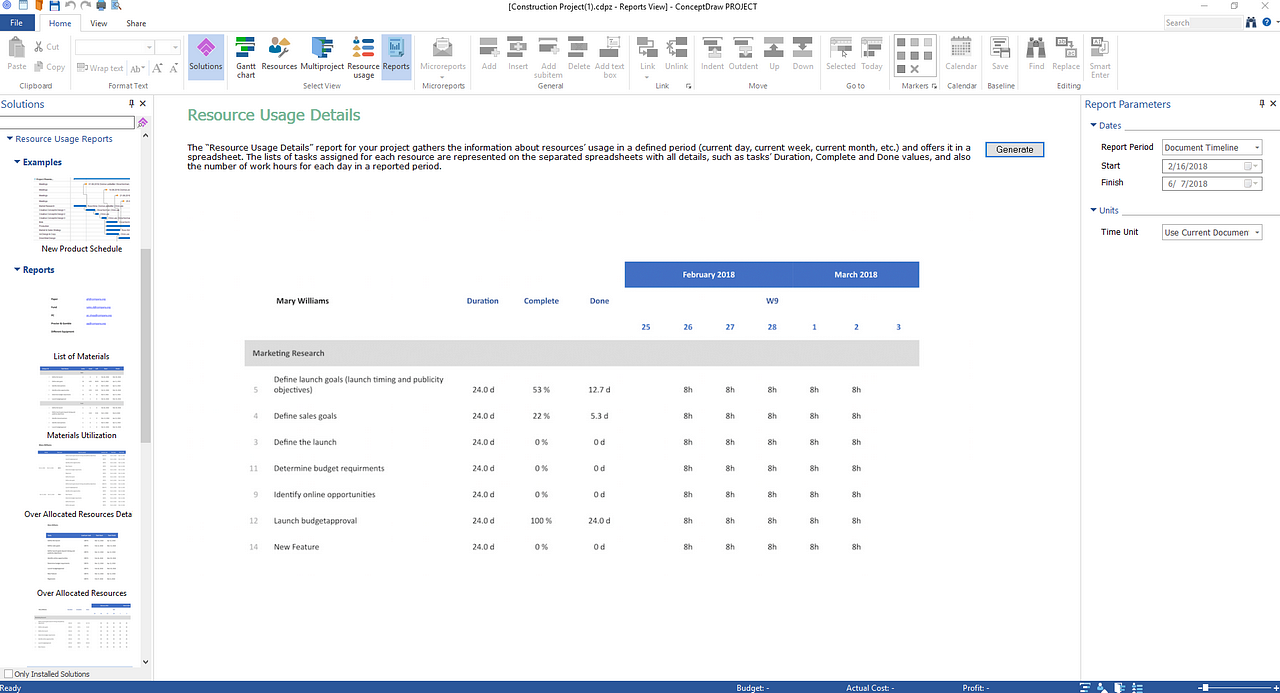 Split and Recurring Tasks
If you have a task that repeats itself over a project ConceptDraw PROJECT can help you create it as a recurring task, so you only need to set it up once. If you need to interrupt work on a task, you can split the task so that part of it starts later in the schedule. You can split a task into as many sections as you need.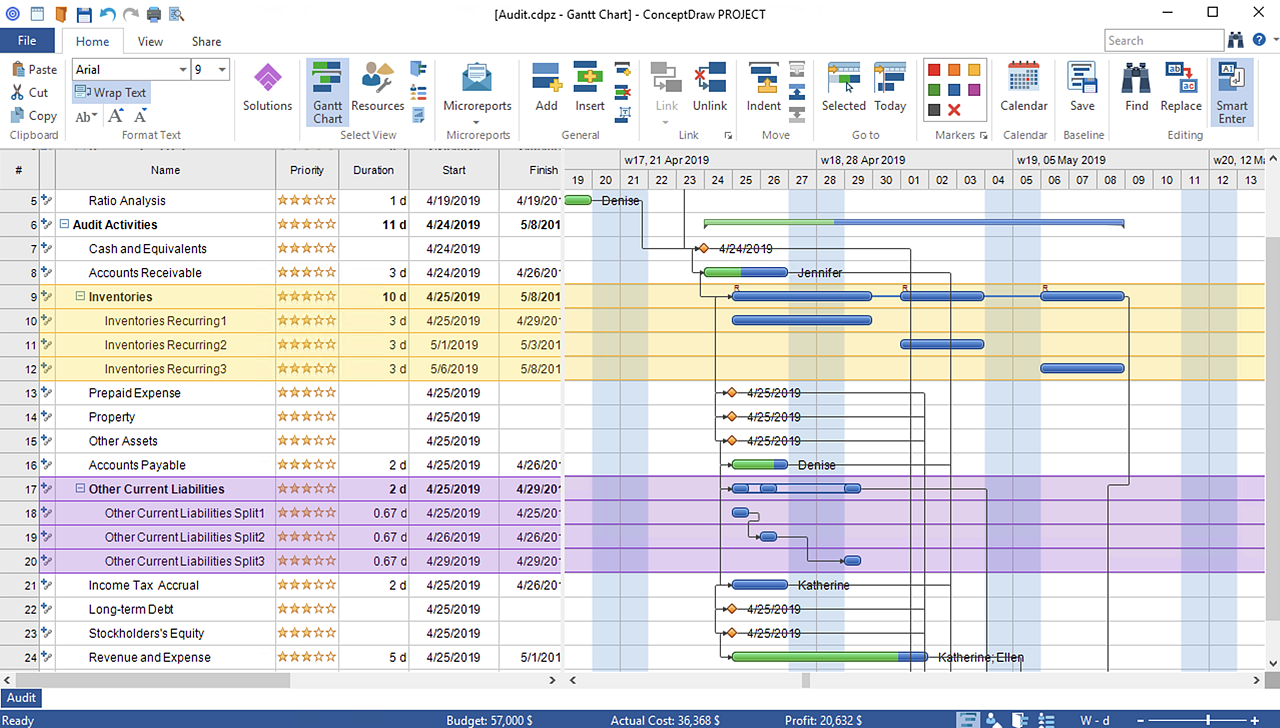 DIAGRAM and MINDMAP Buttons
By using integration of traditional project management approach with mind mapping and business diagramming provided by MINDMAP and DIAGRAM, you can easily communicate project data and project documentation in visual formats. Display the Gantt Chart Bar for a Selected Task
A common issue with project schedule is that the Gantt Chart does not display the bar for the selected task to the right of the tasks outline in the Gantt Chart. Often the screen has scrolled over as the result of another action. In Gantt Chart view select a task and use the Go to Selected command to "line up" the Gantt Chart with the selected task.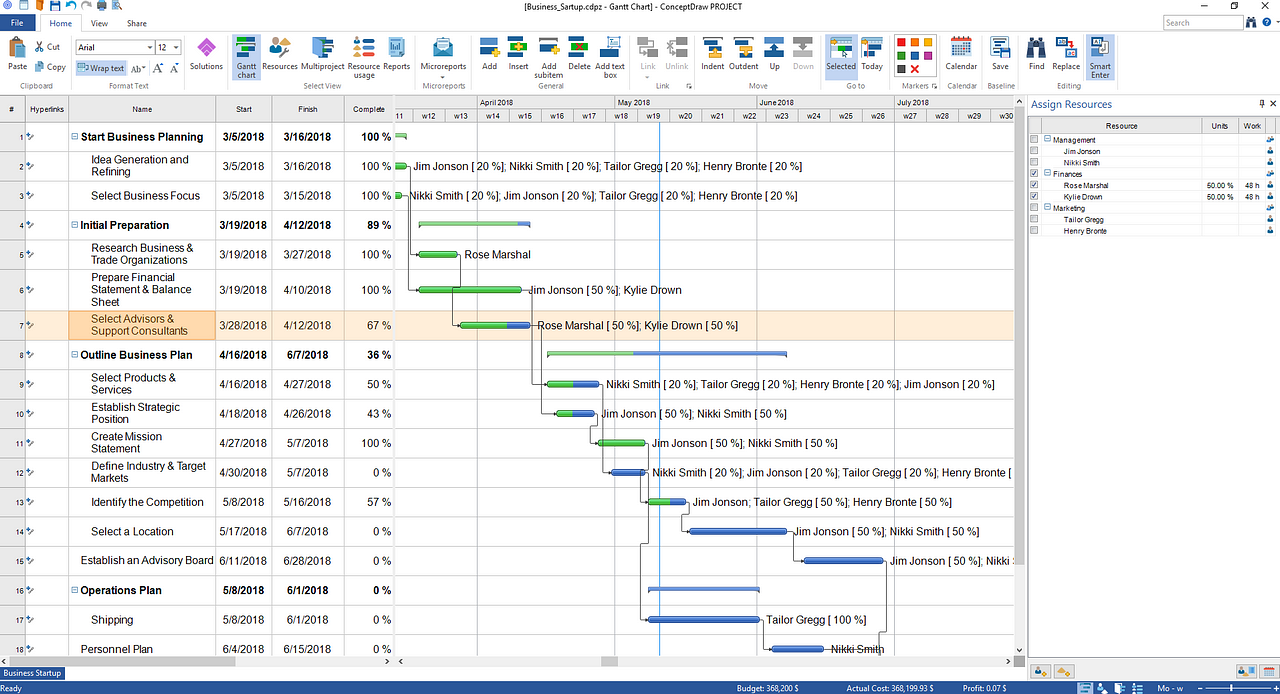 Add Custom Fields to a Project Schedule
By adding a custom fields to a project outline, you can collect additional specific information important for a particular project. You can track information from these columns using the Visual columns report.