Electrical Symbols — VHF UHF SHF
Ultra high frequency (UHF) is the ITU designation for radio frequencies in the range between 300 MHz and 3 GHz, also known as the decimetre band as the wavelengths range from one meter to one decimetre. Radio waves with frequencies above the UHF band fall into the SHF (super-high frequency) or microwave frequency range. Lower frequency signals fall into the VHF (very high frequency) or lower bands. UHF radio waves propagate mainly by line of sight; they are blocked by hills and large buildings although the transmission through building walls is strong enough for indoor reception. They are used for television broadcasting, cell phones, satellite communication including GPS, personal radio services including Wi-Fi and Bluetooth, walkie-talkies, cordless phones, and numerous other applications.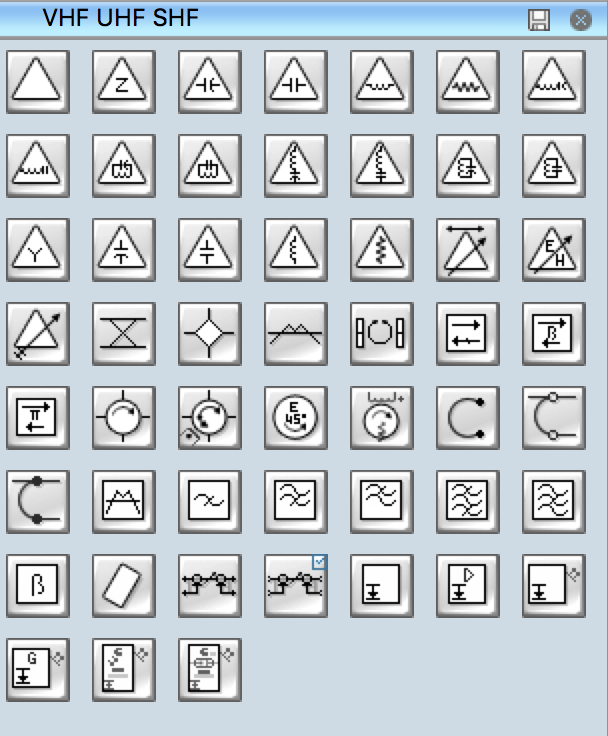 Pic. 1. VHF UHF SHF Library
ConceptDraw DIAGRAM is a powerful software for creating professional looking electrical diagram quick and easy. For this purpose you can use the Electrical Engineering solution from the "Engineering" area of ConceptDraw Solution Park.
Electrical Engineering Solution for ConceptDraw DIAGRAM provides the stencils libraries of ready-to-use predesigned 926 vector symbols, templates and samples that make your electrical drawing quick, easy and effective.
26 libraries of the Electrical Engineering Solution of ConceptDraw DIAGRAM make your electrical diagramming simple, efficient, and effective. You can simply and quickly drop the ready-to-use objects from libraries into your document to create the electrical diagram.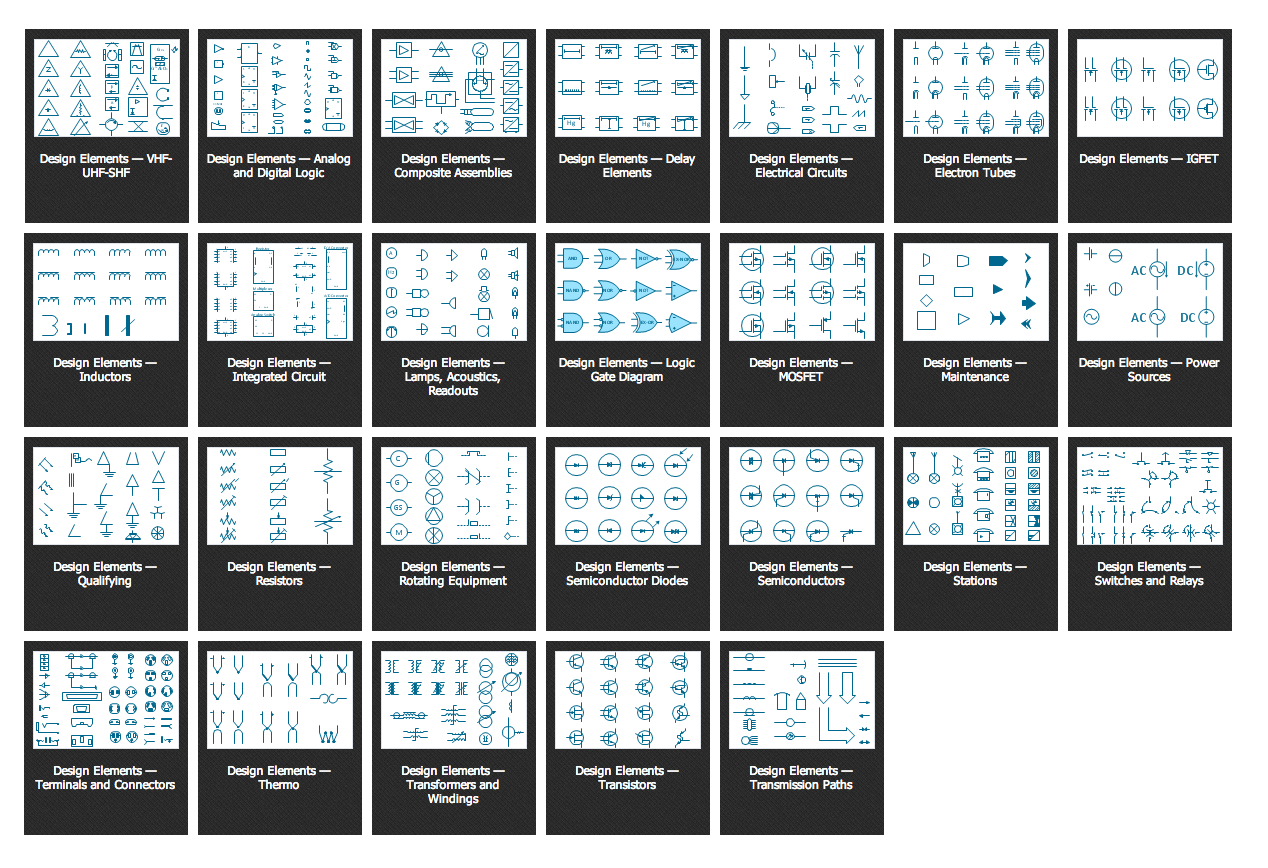 Pic. 2. Electrical Engineering symbols
Electrical diagram software will assist you in drawing your electrical diagrams with minimal effort and makes it very easy for beginners. Electrical symbols and smart connectors help present your electrical drawings, electrical schematic, wiring diagrams and blue prints.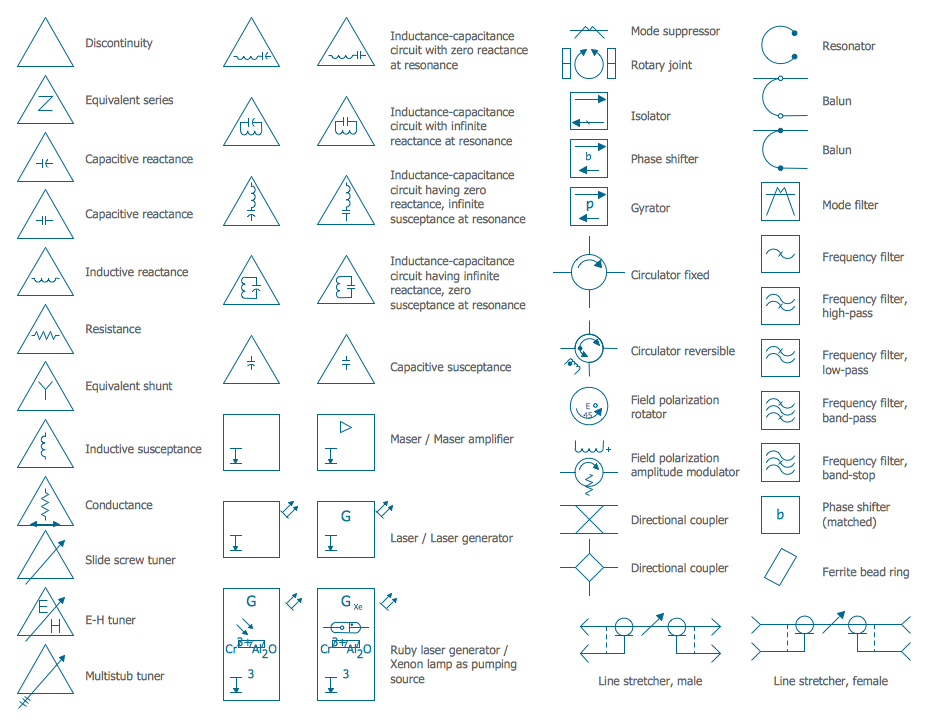 Pic. 3. Electrical Symbols — VHF UHF SHF
Most of the electrical symbols can be changed in their appearance, styles and colors according to users' requirements. Electrical symbols are used to represent various electrical and electronic devices in a schematic diagram of an electrical or electronic circuit.
The following table lists some VHF UHF SHF electrical symbols in our electrical diagram software.
Symbol
Meaning
Electrical Symbols — VHF UHF SHF
Discontinuity
Equivalent series
Capacitive reactance
Capacitive reactance 2
Inductive reactance
Resistance
Inductance capacitance
Inductance capacitance 2
Inductance capacitance 3
Inductance capacitance 4
Inductance capacitance 5
Inductance capacitance 6
Inductance capacitance 7
Inductance capacitance 8
Equivalent shunt
Capacitive susceptance
Capacitive susceptance 2
Inductive susceptance
Conductance
Slide screw tuner
E-H tuner
Multistub tuner
Directional coupler
Directional coupler 2
Mode suppressor
Rotary joint
Isolator
Phase shifter
Gyrator
Circulator fixed
Circulator reversible
Field polarization rotator
Field polarization amplitude modulator
Resonator
Balun
Balun 2
Mode filter
Frequency filter
Frequency filter, high-pass
Frequency filter, low-pass
Frequency filter, band-pass
Frequency filter, band-stop
Phase shifter (matched)
Ferrite bead ring
Line stretcher, male
Line stretcher, female
Maser
Maser, amplifier
Laser
Laser, generator
Ruby laser
Ruby laser, Xenon lamp
A laser is a device that emits light through a process of optical amplification based on the stimulated emission of electromagnetic radiation. The term "laser" originated as an acronym for "light amplification by stimulated emission of radiation".
How to Create an Electrical Diagram Using VHF UHF SHF Library
Open ConceptDraw DIAGRAM new document page.
Select libraries from Electrical Engineering section.

There are a few different ways to place an object into your drawing:

Click on an object and then click on the document, at the place you want the object to be inserted.
Perform a

drag-and-drop

from the library to your document.
Double click on an object's icon in the library to place an object in the center of your document.

Select the Smart Connector tool . To connect elements using this tool, drag the connector from one connect dot to another.You can use Layers to place connections on different layers.
Result: Electrical Diagram.
NINE RELATED HOW TO's: