Tools to Create Your Own Infographics
Infographics
There are two systems that determine the way a person processes information: subconscious and conscious. Subconsious system operates continuously and requires no human intervention, while conscious functions require direct participation. For example, if a person sees a picture, which will depicts someone happy, this person will need a very little time and almost no effort to understand that. That is an example of subliminal perception system. In the next place, if a person sees an image of any logical equation, then he would need some efforts to solve it, which is an example of a conscious system work. Based on this, the main task of data visualization is in presenting the information in a way that the greater part of it would be perceived subconsciously. To achieve such efficiency, one should try to encode data in different visual attributes such as color, shape, size and various shapes as much as possible. It is very important to understand the information that requires visualization. A designer can create a creative and vibrant bar graph or chart that will be meaningless if he does not understand the essence of what he needs to show. Data visualization is used to display a particular information, or to emphasize something. So, in the first place, it is important to analyze the data, and only then to use the illustration tools. There are several common data visual encodings with varying accuracy of comparison. Thus, line and bar charts, for example, are considered the most accurate and color differentiation and pie charts provide a lower level of comparison accuracy.
ConceptDraw DIAGRAMis a software for create your own infographics with more than 10 library objects that scalable vector images. The Spatial Infographics solution is an additional libraries of vector graphic stencils for drawing simple infographical presentation of numerical data. ConceptDraw DIAGRAM allows you to focus on work, not the drawing process.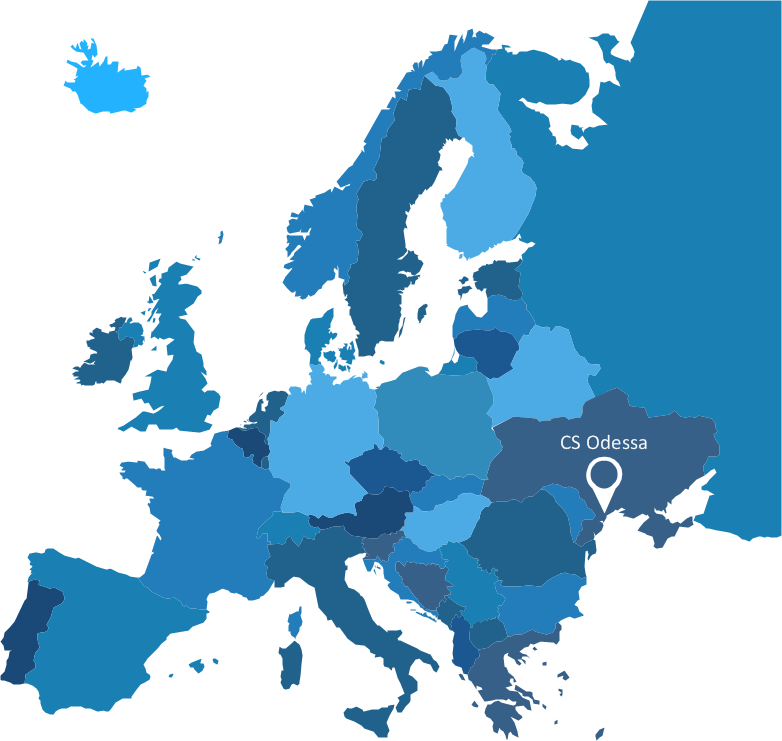 Sample 1. Europe map - Spatial infographics template.
Solution Spatial Infographics from ConceptDraw Solution Park extends ConceptDraw DIAGRAM ector diagramming and business graphics software with easy-to-use spatial infographics drawing tools.
This solution contains spatial infographics samples, map templates to be filled in, and libraries of vector stencils for main design elements of spatial infographics.
Use this solution to draw your own geospatial infographics documents with thematic maps, road maps, directional maps and transport maps.
TEN RELATED HOW TO's: