SWOT Sample in Computers
SWOT analysis is a method of the making plan for evaluate the Strengths, Weaknesses, Opportunities, and Threats involved in a project. It involves specifying the objective of the project and identifying the internal and external causes for the accomplishing project goals.
The ConceptDraw DIAGRAM is a best diagram software. The SWOT Analysis solution includes the SWOT matrix samples, and templates that allow users create own SWOT diagram.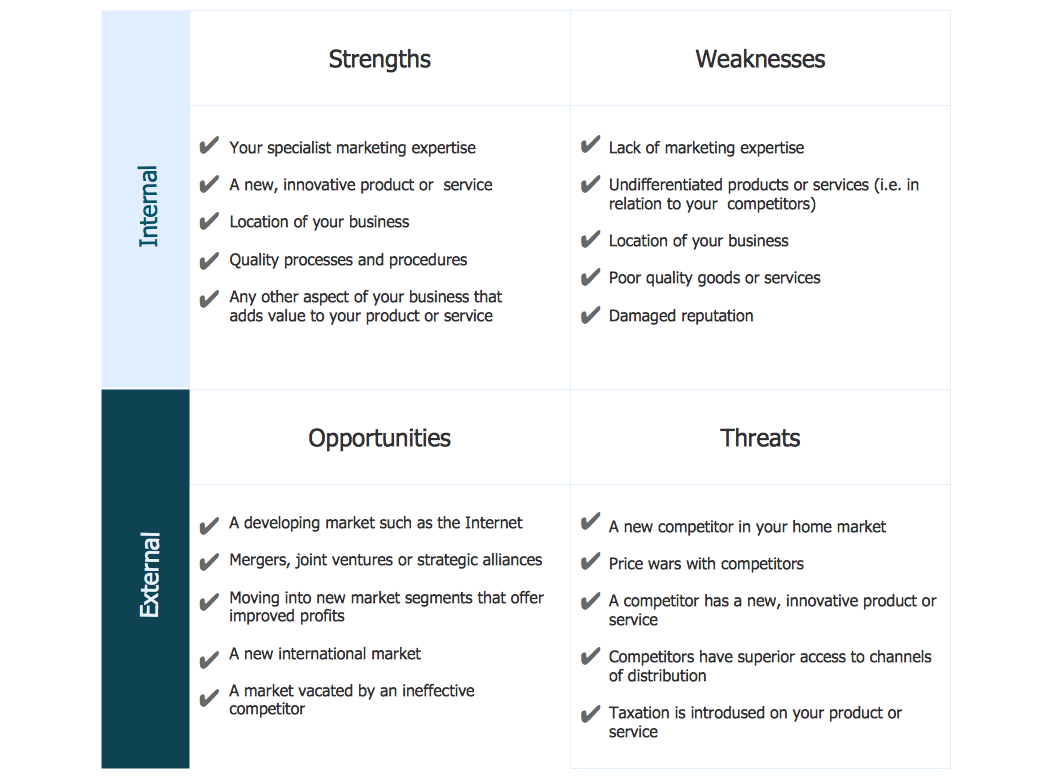 Sample 1. SWOT analysis sample - Innovative business.
This sample of a completed SWOT Matrix with example entities provides an example to help you start your analysis of Strengths, Weaknesses, Opportunities and Threats facing a project or business.
---
See also:
Marketing — Matrices
Marketing positioning matrix - Product positioning map
Product-market matrix - Ansoff matrix
BCG matrix - Boston growth-share matrix
Feature comparison chart - Digital scouting cameras
Marketing matrix diagram - Competitive strategies
Marketing matrix diagram - Porters value chain
Marketing — Mind Maps
Marketing mindmap - Marketing research project
Marketing mind map - Strategic accomplishment mapping
Twitter Compaign for New Software Product
Marketing mind map - Sales Call
TEN RELATED HOW TO's:
Competitor analysis is a first and obligatory step in elaboration the proper corporate marketing strategy and creating sustainable competitive advantage. Use powerful opportunities of numerous solutions from ConceptDraw Solution Park for designing illustrative diagrams, charts, matrices which are necessary for effective competitor analysis.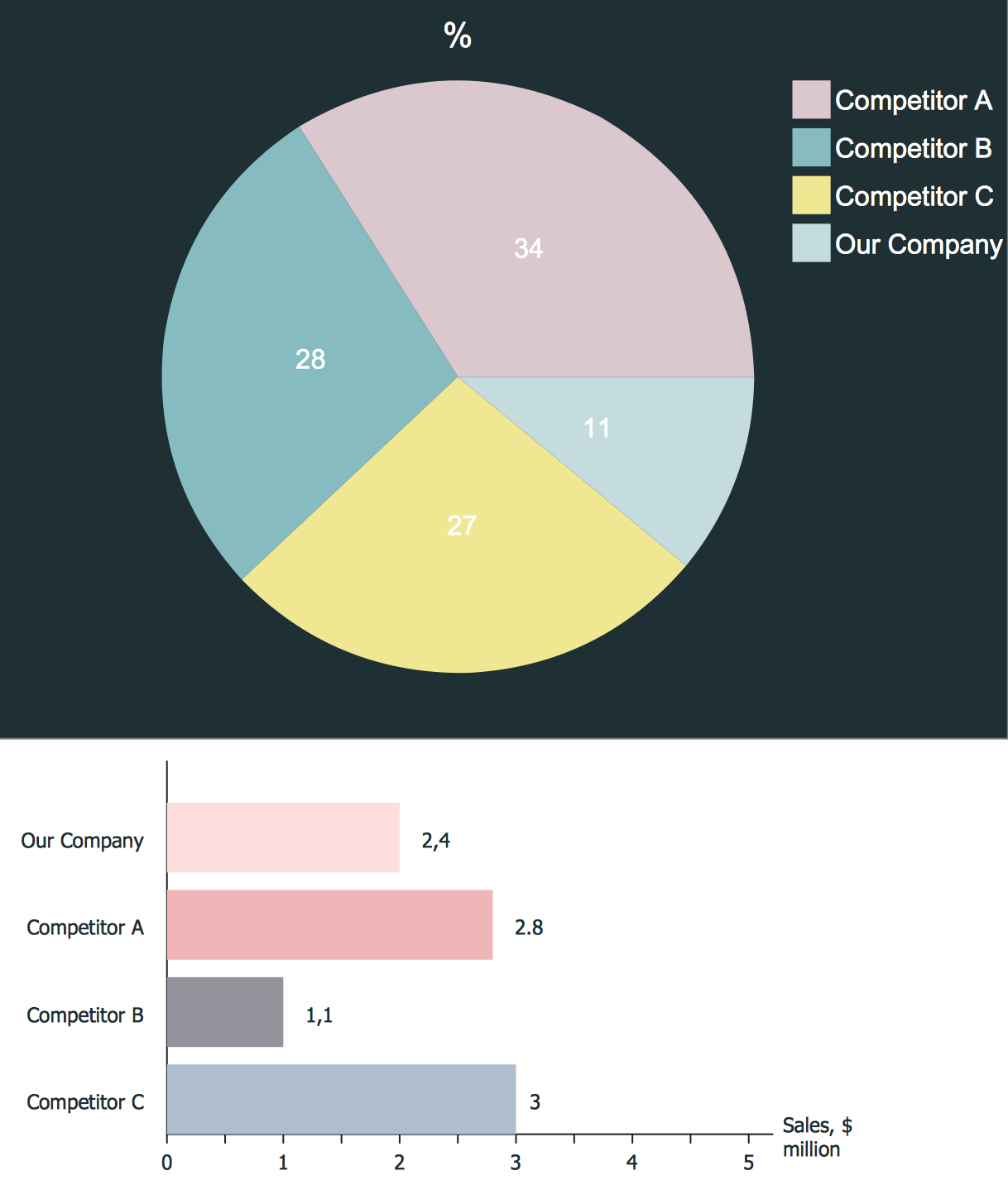 Picture: Competitor Analysis
Related Solution:
If your company is in chaos in clutter and no one understands their rights and responsibilities, maybe it's time to change that. One of the ways to put the company in order is to draw an organization chart that would reflect the structure and show the relationships among departments and positions. This is a very useful and easy to understand scheme. This is example of the one of the most typical kind of organizational chart. It depicts an organizational structure of the hierarchical type. Its construction is similarv to pyramid. The single main position on the top - in this case, the mayor's position followed by sub-levels of authority in his command. Each position in the pyramid reports only to his supervisor, and takes only a report of direct subordinates. Such scheme limits the number of communications. This organizational structure is effectively used in public organizations. Also it is suitable for any organization with the need for multiple levels of middle managers. The ability to create organizational charts of different types is supplied with ConceptDraw Ogrcharts solutions.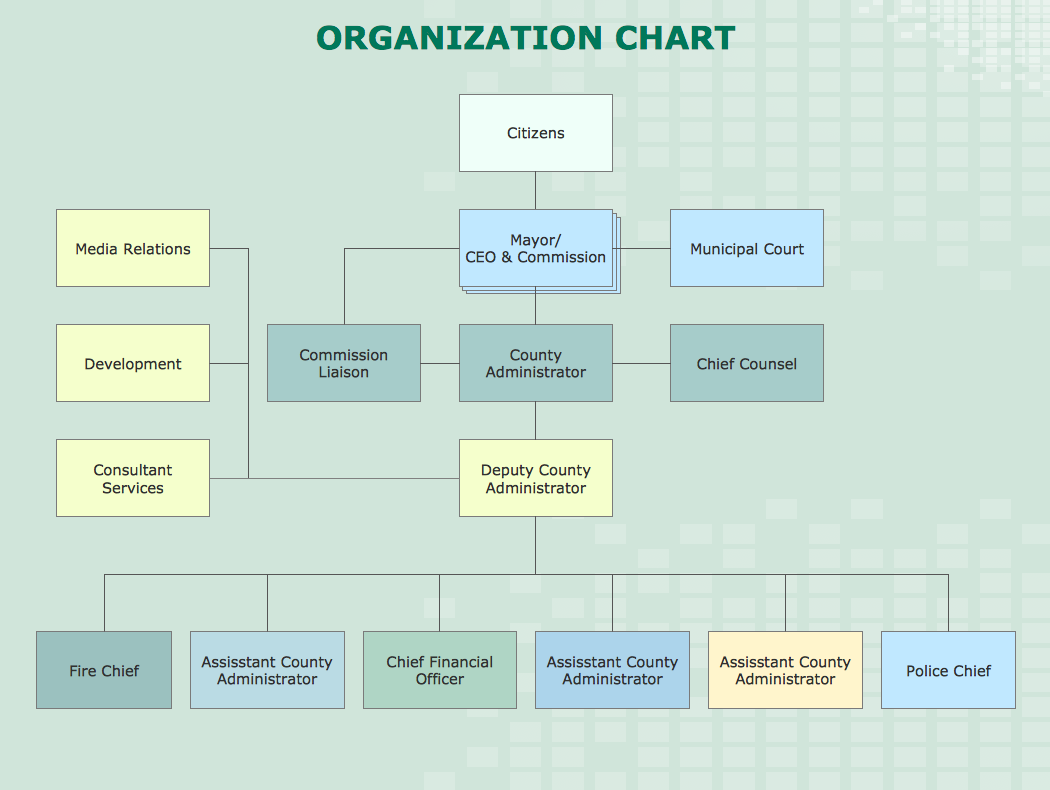 Picture: How to Draw an Organizational Chart
Related Solution:
To support you in your tasks you can use the power of ConceptDraw DIAGRAM providing intelligent vector graphics that are useful for marketing diagramming and ConceptDraw MINDMAP for key marketing mind maps.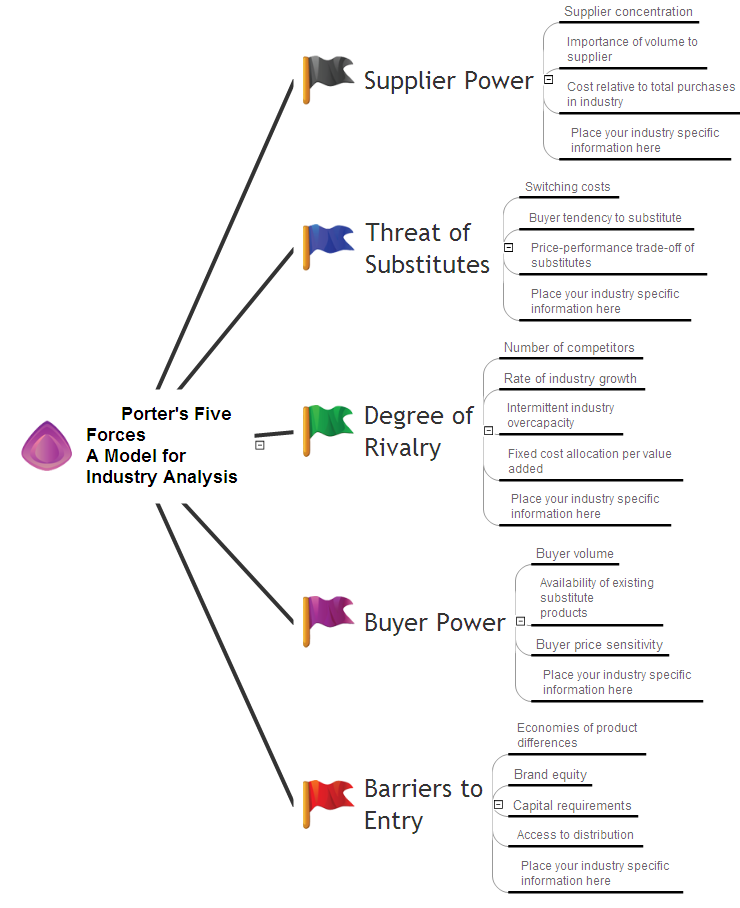 Picture: Business Productivity - Marketing
Related Solution: