Electrical Symbols — Semiconductor Diodes
In electronics, a diode is a two-terminal electronic component that conducts primarily in one direction (asymmetric conductance); it has low (ideally zero) resistance to the flow of current in one direction, and high (ideally infinite) resistance in the other. A semiconductor diode is a crystalline piece of semiconductor material with a p–n junction connected to two electrical terminals. Today, most diodes are made of silicon, but other semiconductors such as selenium or germanium are sometimes used.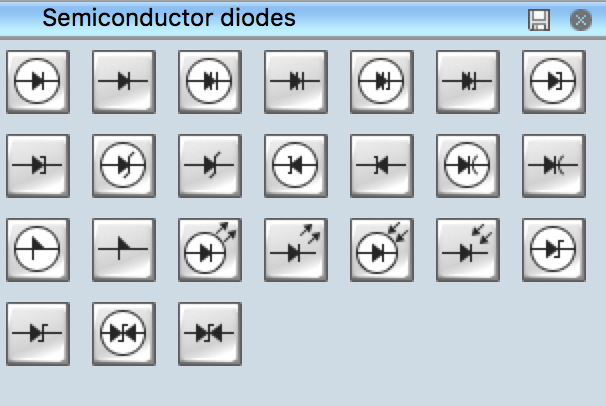 Pic. 1. Semiconductor Diodes Library
ConceptDraw DIAGRAM is a powerful software for creating professional looking electrical diagram quick and easy. For this purpose you can use the Electrical Engineering solution from the "Engineering" area of ConceptDraw Solution Park.
Electrical Engineering Solution for ConceptDraw DIAGRAM provides the stencils libraries of ready-to-use predesigned 926 vector symbols, templates and samples that make your electrical drawing quick, easy and effective.
26 libraries of the Electrical Engineering Solution of ConceptDraw DIAGRAM make your electrical diagramming simple, efficient, and effective. You can simply and quickly drop the ready-to-use objects from libraries into your document to create the electrical diagram.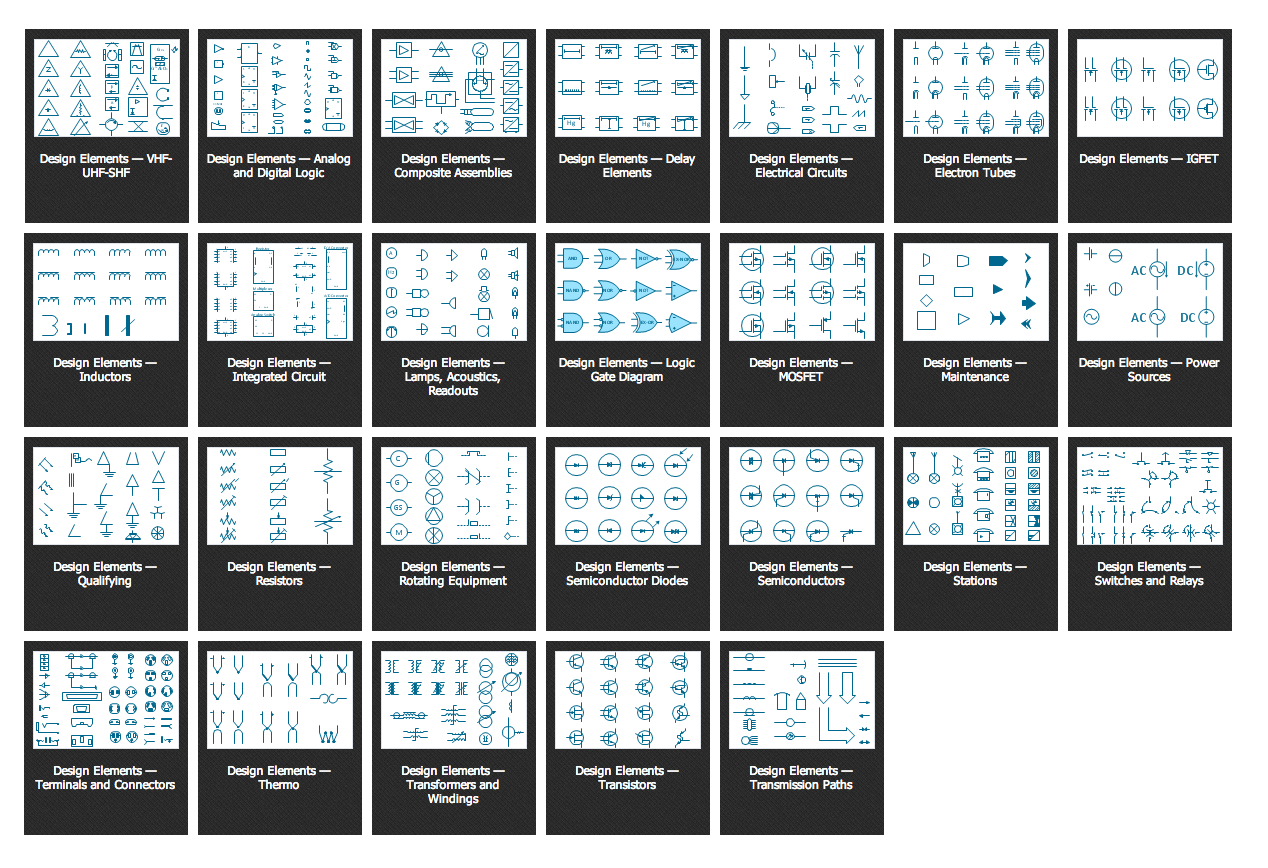 Pic. 2. Electrical Engineering symbols
Electrical diagram software will assist you in drawing your electrical diagrams with minimal effort and makes it very easy for beginners. Electrical symbols and smart connectors help present your electrical drawings, electrical schematic, wiring diagrams and blue prints.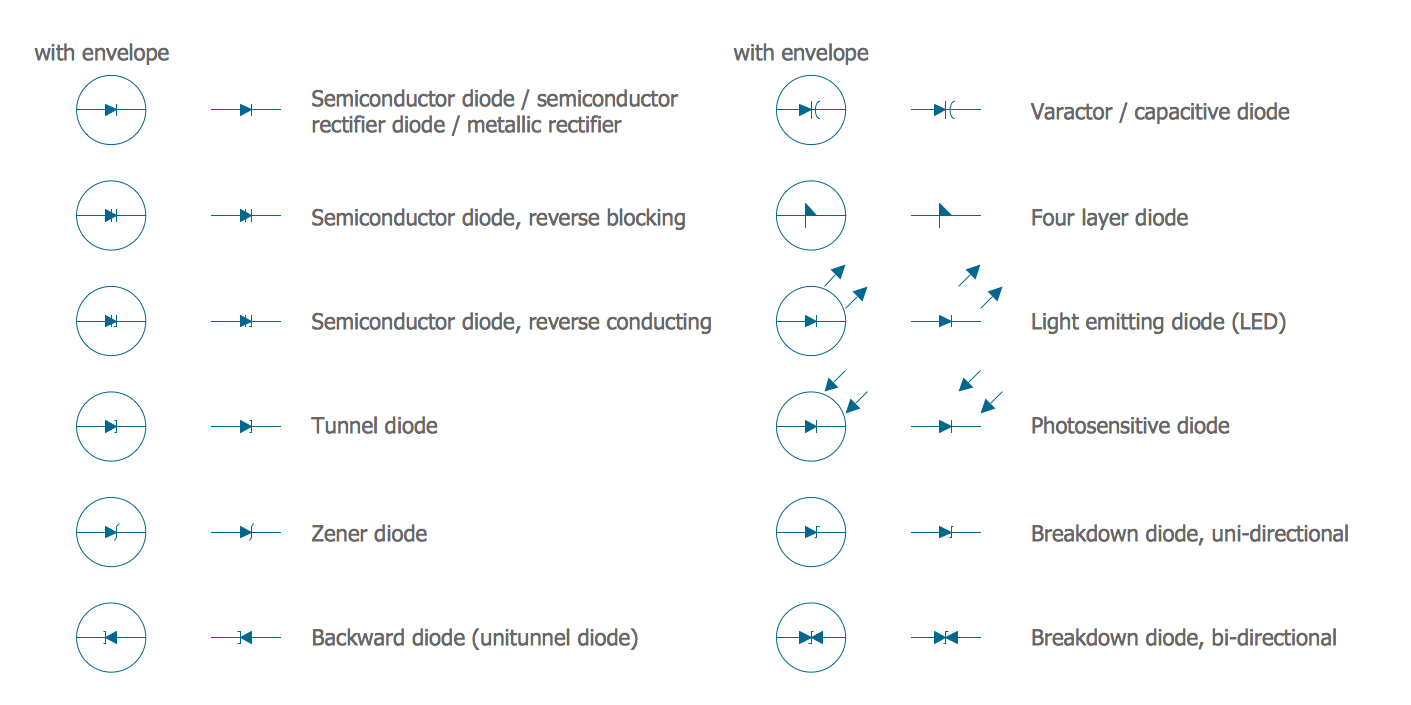 Pic. 3. Electrical Symbols — Semiconductor Diodes
Most of the electrical symbols can be changed in their appearance, styles and colors according to users' requirements. Electrical symbols are used to represent various electrical and electronic devices in a schematic diagram of an electrical or electronic circuit.
The following table lists some semiconductor diodes electrical symbols in our electrical diagram software.
Symbol
Meaning
Electrical Symbols — Semiconductor Diodes
Diode, env
Diode
Diode, reverse blocking, env
Diode, reverse blocking
Diode, reverse conducting, env
Diode, reverse conducting
Tunnel diode, env
Tunnel diode
Zener diode, env
Zener diode
Backward diode, env
Backward diode
Varactor, env
Varactor
Four layer diode, env
Four layer diode
LED, env
LED
Photo-diode, env
Photo-diode
Breakdown diode, uni-directional, env
Breakdown diode, uni-directional
Breakdown diode, bi-directional, env
Breakdown diode, bi-directional
A semiconductor diode's current–voltage characteristic can be tailored by selecting the semiconductor materials and the doping impurities introduced into the materials during manufacture. These techniques are used to create special-purpose diodes that perform many different functions. For example, diodes are used to regulate voltage (Zener diodes), to protect circuits from high voltage surges (avalanche diodes), to electronically tune radio and TV receivers (varactor diodes), to generate radio-frequency oscillations (tunnel diodes, Gunn diodes, IMPATT diodes), and to produce light (light-emitting diodes). Tunnel, Gunn and IMPATT diodes exhibit negative resistance, which is useful in microwave and switching circuits.
How to Create an Electrical Diagram Using Semiconductor Diodes Library
Open ConceptDraw DIAGRAM new document page.
Select libraries from Electrical Engineering section.

There are a few different ways to place an object into your drawing:

Click on an object and then click on the document, at the place you want the object to be inserted.
Perform a

drag-and-drop

from the library to your document.
Double click on an object's icon in the library to place an object in the center of your document.

Select the Smart Connector tool . To connect elements using this tool, drag the connector from one connect dot to another.You can use Layers to place connections on different layers.
Result: Schematic of Circuit.
TEN RELATED HOW TO's: