Electrical Symbols — Rotating Equipment
Electrical rotating machines, such as motors and generators, are vital assets for any power plant or large industrial company. An electric motor is an electrical machine that converts electrical energy into mechanical energy. The reverse of this would be the conversion of mechanical energy into electrical energy and is done by an electric generator. In normal motoring mode, most electric motors operate through the interaction between an electric motor's magnetic field and winding currents to generate force within the motor. In certain applications, such as in the transportation industry with traction motors, electric motors can operate in both motoring and generating or braking modes to also produce electrical energy from mechanical energy.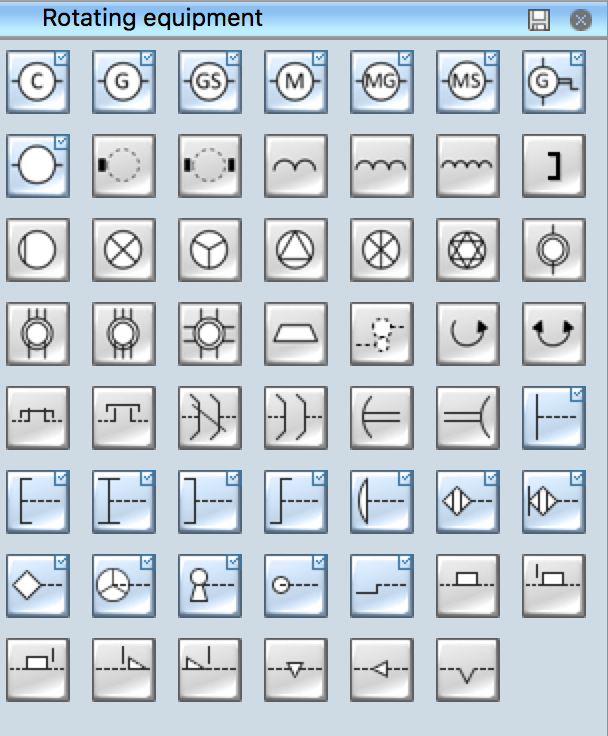 Pic. 1. Rotating Equipment Library
ConceptDraw DIAGRAM is a powerful software for creating professional looking electrical diagram quick and easy. For this purpose you can use the Electrical Engineering solution from the "Engineering" area of ConceptDraw Solution Park.
Electrical Engineering Solution for ConceptDraw DIAGRAM provides the stencils libraries of ready-to-use predesigned 926 vector symbols, templates and samples that make your electrical drawing quick, easy and effective.
26 libraries of the Electrical Engineering Solution of ConceptDraw DIAGRAM make your electrical diagramming simple, efficient, and effective. You can simply and quickly drop the ready-to-use objects from libraries into your document to create the electrical diagram.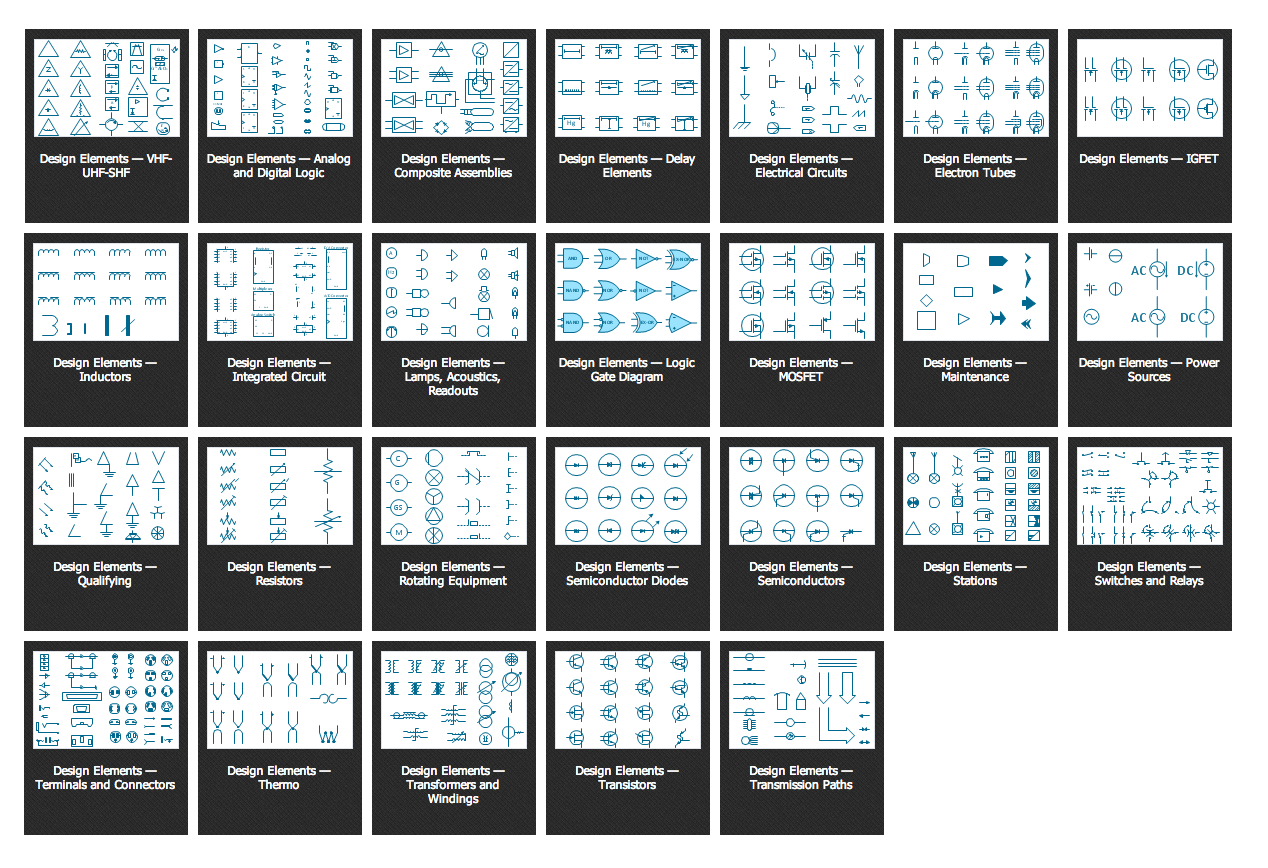 Pic. 2. Electrical Engineering symbols
Electrical diagram software will assist you in drawing your electrical diagrams with minimal effort and makes it very easy for beginners. Electrical symbols and smart connectors help present your electrical drawings, electrical schematic, wiring diagrams and blue prints.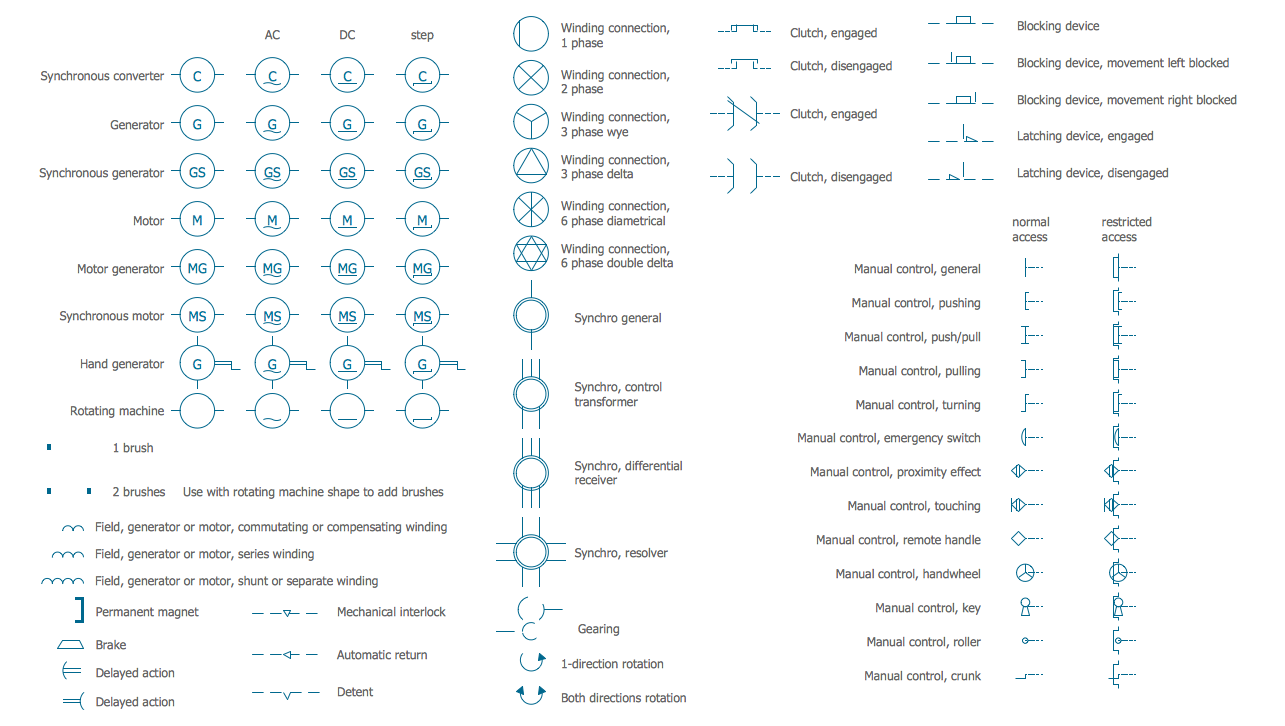 Pic. 3. Electrical Symbols — Rotating Equipment
Most of the electrical symbols can be changed in their appearance, styles and colors according to users' requirements. Electrical symbols are used to represent various electrical and electronic devices in a schematic diagram of an electrical or electronic circuit.
The following table lists some rotating equipment electrical symbols in our electrical diagram software.
Symbol
Meaning
Electrical Symbols — Rotating Equipment
Synchronous converter
Generator
Synchronous generator
Motor
Motor generator
Synchronous motor
Hand generator
Rotating machine
1 brush
2 brushes
Field, commutating or compensating
Field, series
Field, shunt or separate
Permanent magnet
Winding connection, 1 phase
Winding connection, 2 phase
Winding connection, 3 phase wye
Winding connection, 3 phase delta
Winding connection, 6 phase diametrical
Winding connection, 6 phase double delta
Synchro general
Synchro, control transformer
Synchro, differential receiver
Synchro, resolver
Brake
Gearing
Rotation
Rotation 2
Clutch, engaged
Clutch, disengaged
Clutch, engaged 2
Clutch, disengaged 2
Delayed action
Delayed action 2
Manual control, general
Manual control, pushing
Manual control, push/pull
Manual control, pulling
Manual control, turning
Manual control, emergency switch
Manual control, proximity effect
Manual control, touching
Manual control, remote handle
Manual control, handwheel
Manual control, key
Manual control, roller
Manual control, crunk
Blocking device
Blocking device 2
Blocking device 3
Latching device, engaged
Latching device, disengaged
Mechanical interlock
Automatic return
Detent
In electricity generation, a generator is a device that converts mechanical energy to electrical energy for use in an external circuit. The source of mechanical energy may vary widely from a hand crank to an internal combustion engine. Generators provide nearly all of the power for electric power grids. The reverse conversion of electrical energy into mechanical energy is done by an electric motor, and motors and generators have many similarities. Many motors can be mechanically driven to generate electricity and frequently make acceptable generators.
How to Create an Electrical Diagram Using Rotating Equipment Library
Open ConceptDraw DIAGRAM new document page.
Select libraries from Electrical Engineering section.

Rotating equipment library contains objects, identified by a blue tile in the library pane. Such objects can be edited by using the Action button menu. To open the menu select an object and click the button in the upper right corner of the object.
Select the Smart Connector tool . To connect elements using this tool, drag the connector from one connect dot to another.You can use Layers to place connections on different layers.
Result: Electrical Diagram.
TEN RELATED HOW TO's: