Lean Six Sigma Diagram Software
Lean Six Sigma Diagram Software
Lean Six Sigma (LSS) is a well-known in all over the world methodology of quality improvement and business perfection. It includes a set of empirical and statistical methods, techniques and tools for processes improvement, and focuses on the development and creation of perfect products and services. At this, the Six Sigma method measures how far a given process recedes from the perfection, lets identify the defects and remove them.
Lean Six Sigma is aimed at the transformation of business performance by improving quality, reducing costs, elimination of waste in processes and creating new opportunities, it allows to generate new markets and higher income and profits.
Lean Six Sigma is a leading method for business success, because continuous efforts to achieve stable and predictable process results have a vital importance for business. This technology includes usually five phase: define, measure, analyze, improve and control and is widely used in all kinds of manufacturing and services, retail, public sector, education, military, municipal sector, catering sector and many other fields.
ConceptDraw DIAGRAM diagramming and vector drawing software is a powerful Lean Six Sigma Diagram Software thanks to the included Value Stream Mapping solution from the Quality Management Area of ConceptDraw Solution Park. It is the best for effective drawing the Lean Six Sigma Diagrams, for visualizing the process of manufacturing materials and information flow required to deliver a product/service to customers, for analyzing and identifying the process improvement opportunities.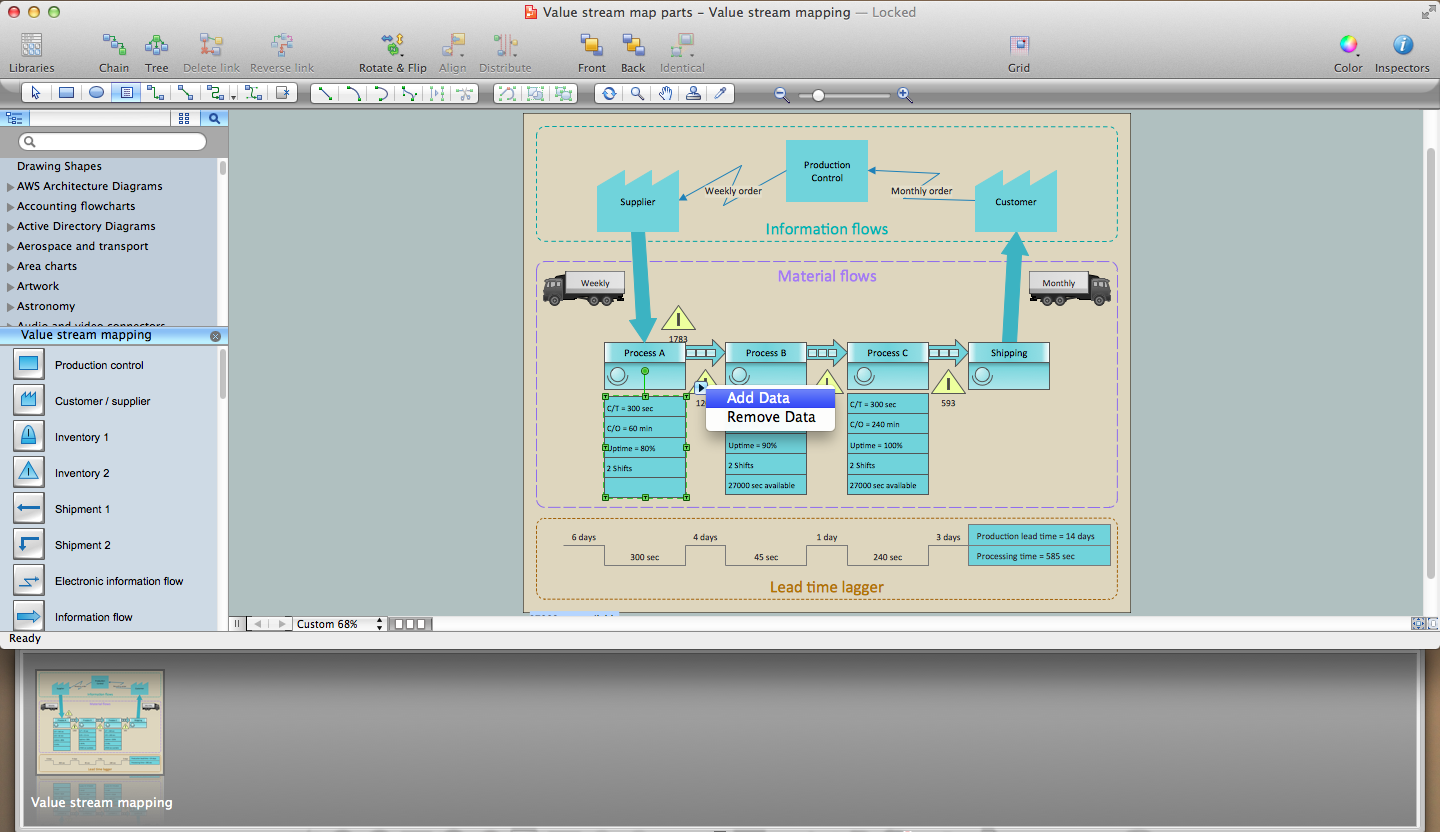 Pic 1. Lean Six Sigma Diagram Software
The Value Stream Mapping solution offers wide opportunities for ConceptDraw users for easy drawing the Lean Six Sigma Diagrams, among them the Value Stream Mapping library of vector objects and large variety of predesigned templates, samples and examples.
Lean Six Sigma Diagram Elements
The Value Stream Mapping solution includes the Value Stream Mapping library with incredibly large number of predesigned vector objects. Simply dragging them to your document page and arranging, you can design your professional-looking diagram in minutes.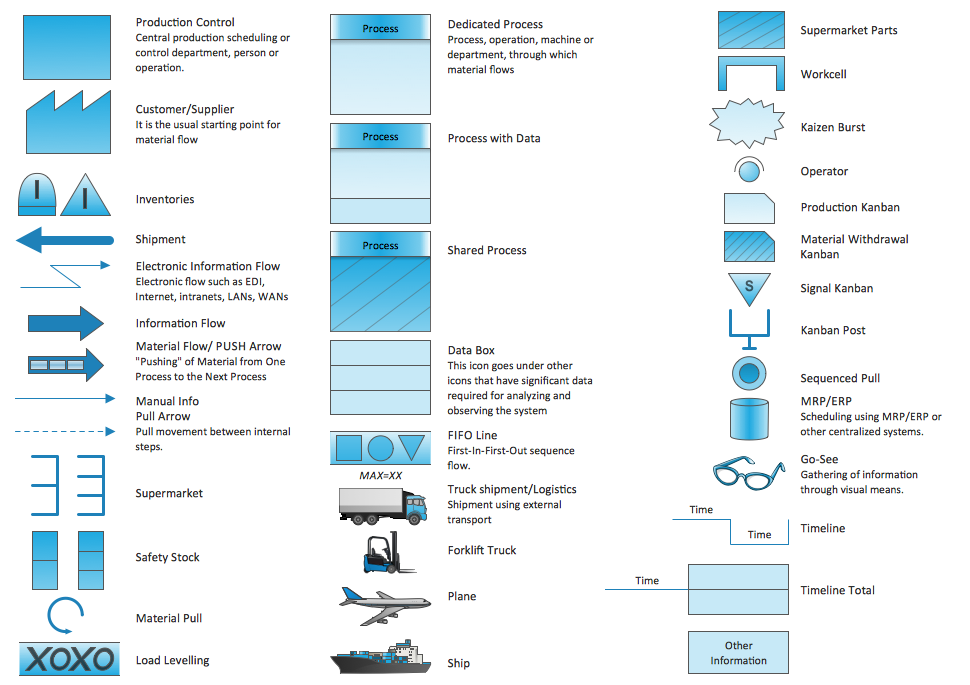 Pic 2. Lean Six Sigma Diagrams Design Elements
Now you can align your objects, connect some of them if needed, apply formatting tools, add pictorial clipart from other ConceptDraw libraries to make your Lean Six Sigma Diagram exceptionally looking. You can also add the legend and type the text to comment your diagram.
Lean Six Sigma Diagram Sample
Pay also attention for the collection of samples offered by Value Stream Mapping solution at ConceptDraw STORE. You can be inspired by them drawing your own diagrams, you can use them as examples or even as the basis for your own Lean Six Sigma Diagrams.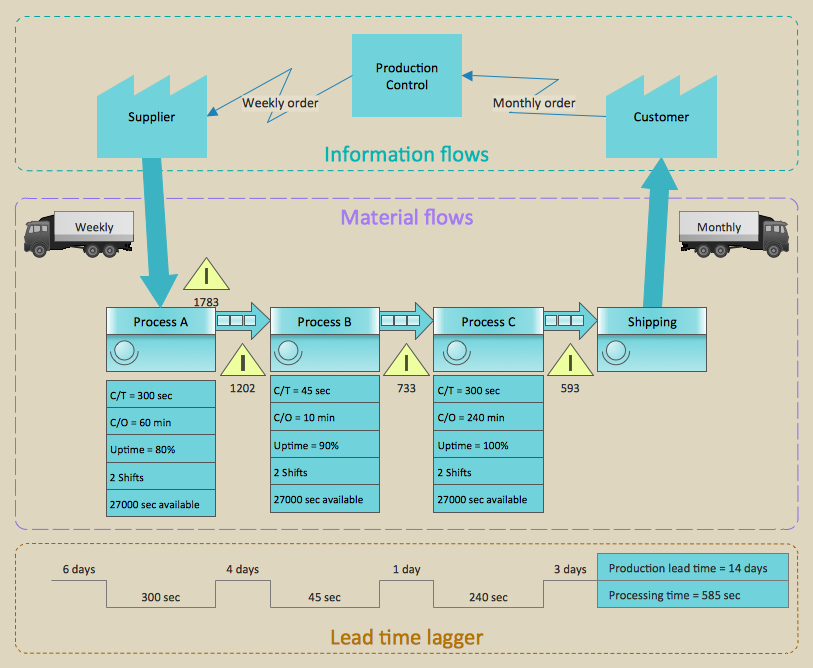 Pic 3. Lean Six Sigma Diagram Sample - Value Stream map Parts
The following features make ConceptDraw DIAGRAM the best Lean Six Sigma Diagram Software:
You don't need to be an artist to draw professional looking diagrams in a few minutes.
Large quantity of ready-to-use vector objects makes your drawing diagrams quick and easy.
Great number of predesigned templates and samples give you the good start for your own diagrams.
ConceptDraw DIAGRAM provides you the possibility to use the grid, rules and guides. You can easily rotate, group, align, arrange the objects, use different fonts and colors to make your diagram exceptionally looking.
All ConceptDraw DIAGRAM documents are vector graphic files and are available for reviewing, modifying, and converting to a variety of formats: image, HTML, PDF file, MS PowerPoint Presentation, Adobe Flash, MS Visio.
Using ConceptDraw STORE you can navigate through ConceptDraw Solution Park, managing downloads and updates. You can access libraries, templates and samples directly from the ConceptDraw STORE.
If you have any questions, our free of charge support is always ready to come to your aid.
TEN RELATED HOW TO's: