Business Process Elements: Events
Design Elements: Events
An Event is represented denotes that something happens. Icons within the circle depict the type of event, an envelope representing a message, clock representing time.
ConceptDraw has 142 vector stencils in the 8 libraries that helps you to start using software for designing own Business Process Diagrams.
Use Events library with 17 objects from BPMN. Comments from notation:
Start event: Acts as a process trigger. It indicated by a single narrow border, and can only be Catch, so is shown with an open (outline) icon.
Intermediate event: Represents something that happens between the start and end events. It indicated by a double border, and can Throw or Catch.
End event: Represents the result of a process. It indicated by a single thick or bold border, and can only Throw, so is shown with a solid icon.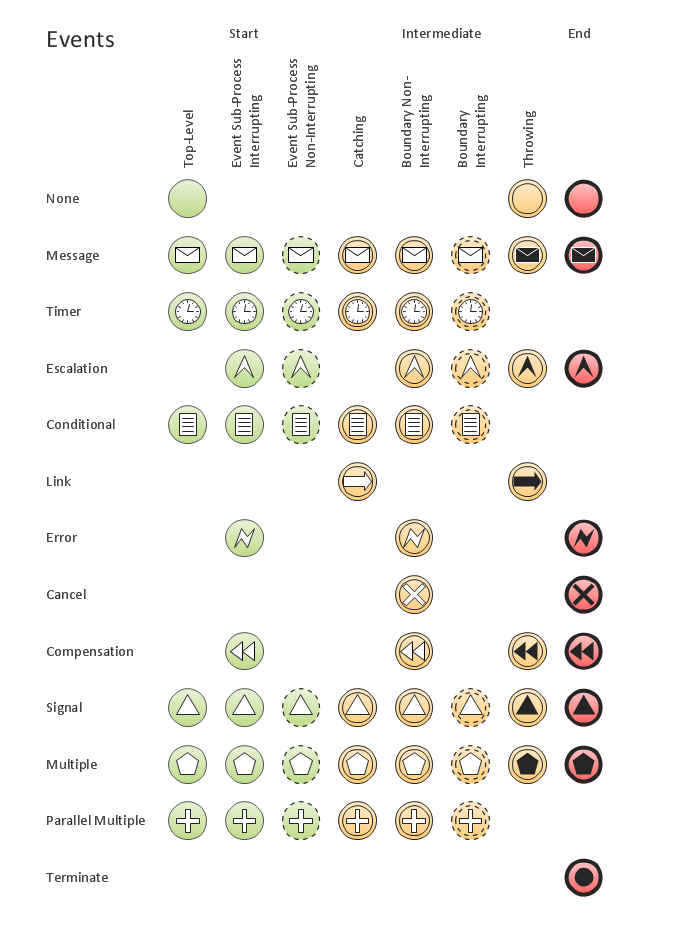 Events library from Business Process Diagram solution provides 17 vector stencils for Start,Intermediate ans End events.
Use design elements from the Events library to represent something that happen on the business process diagrams drawn by BPMN 2.0 notation.
NINE RELATED HOW TO's: