Cloud Computing Architecture Diagrams
Cloud Computing
According to the definition of the National Institute of Standards and Technology (NIST): "the Cloud Computing is a model for enabling ubiquitous, convenient, on-demand network access to a shared pool of configurable computing resources (e.g., networks, servers, storage, applications, and services) that can be rapidly provisioned and released with minimal management effort or service provider interaction."
The Cloud computing lets users to have access to the resources, software, and information using any device with access to Internet, at this users pay only for the consumed resources. A cloud model provides three types of services:
Infrastructure-as-a-Service (IaaS) that provides processing storage, networks, and other computing resources where the consumer can deploy and run different software;
Platform-as-a-Service (PaaS) that offers platform layer resources to build, deploy and deliver applications into the cloud;
Software-as-a-Service (SaaS) that provides end-user applications that are running on a cloud infrastructure.
A Cloud can have one of four types of access:
Public Cloud - allows systems and services to be easily accessible to the general public;
Private Cloud - allows systems and services to be accessible within an organization;
Community Cloud - allows systems and services to be accessible by group of organizations;
Hybrid Cloud - is combination of public, private and community cloud.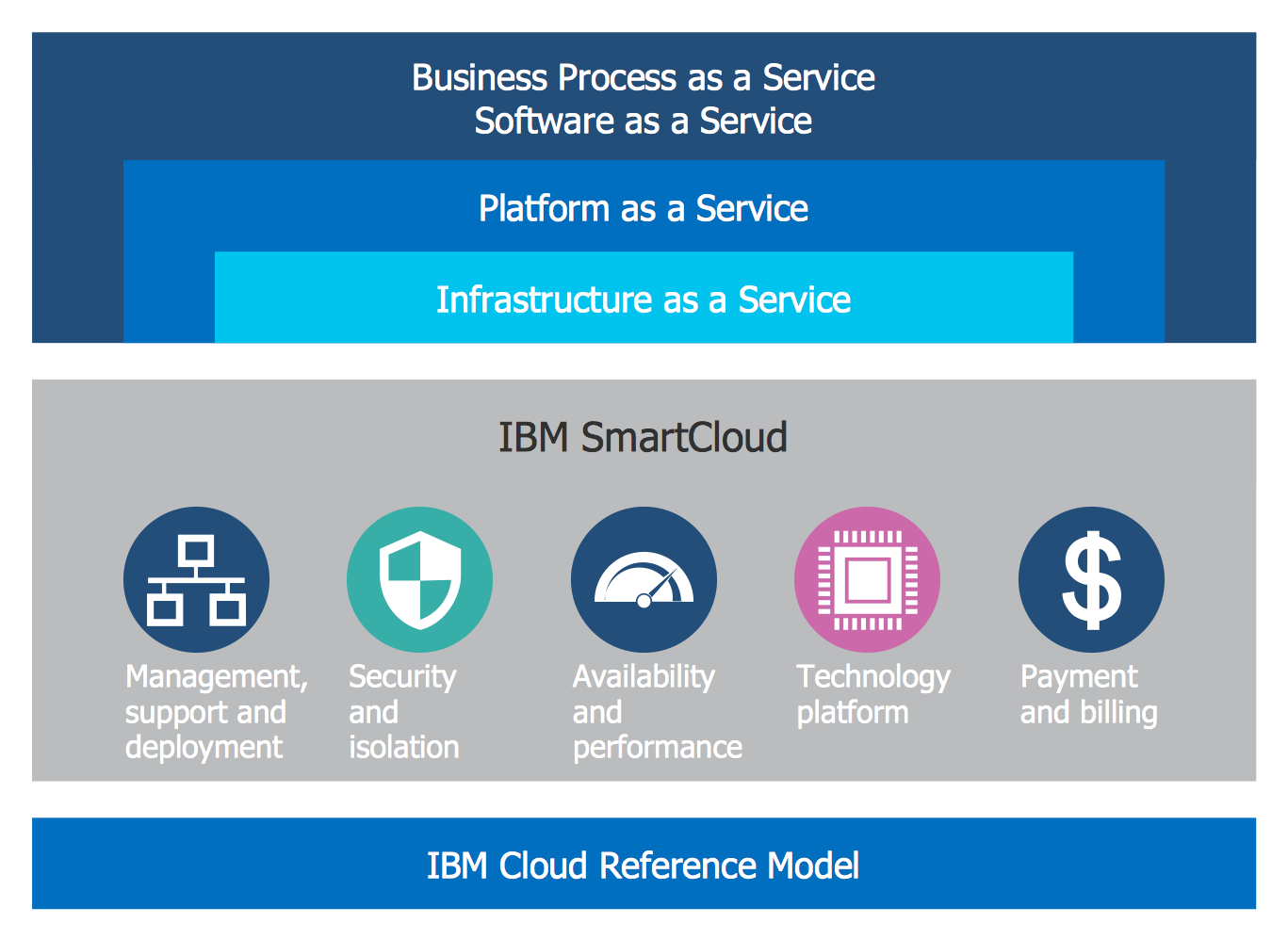 Example 1. Cloud Computing
Cloud Computing Architecture
The Cloud Computing Architecture is the configuration of the system that involves local and cloud resources, services, middleware and software, cloud clients and cloud storages, networks, geo-location. Note that the Cloud Computing Architecture is based on the needs of the end-user - the cloud consumer and describes how all these components are arranged and related.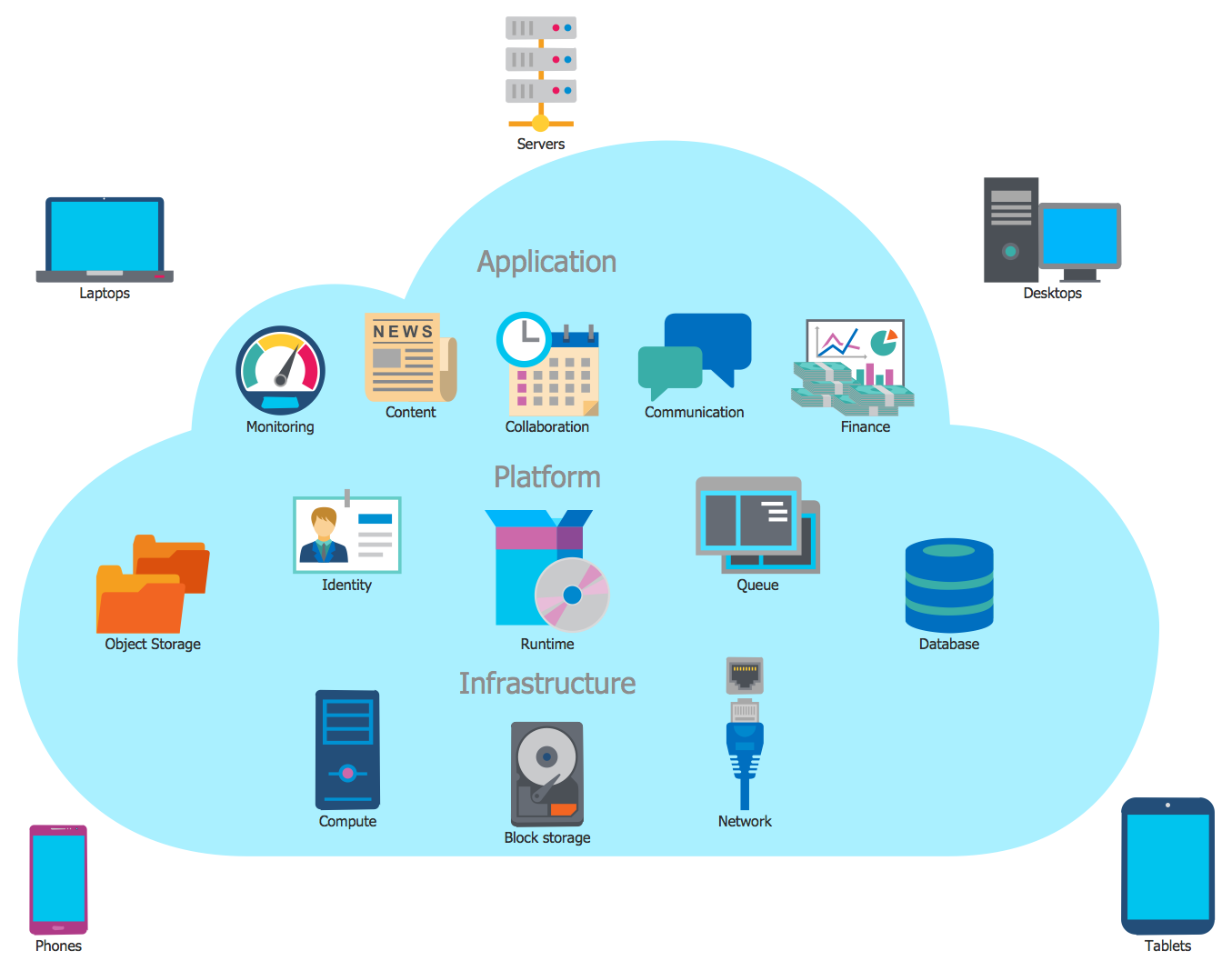 Example 2. Cloud Computing Architecture
Cloud Computing Architecture Diagram
For documenting the Cloud Computing Architecture with a goal to facilitate the communication between stakeholders are successfully used the Cloud Computing Architecture diagrams. Each Cloud Computing Architecture diagram visually depict the cloud components and relationships between them.
It is convenient and easy to draw various Cloud Computing Architecture diagrams in ConceptDraw DIAGRAM software with help of tools of the Cloud Computing Diagrams Solution from the Computer and Networks Area of ConceptDraw Solution Park.
Example 3. Cloud Computing Architecture Diagram
Exporting Cloud Computing Architecture Diagrams
The ConceptDraw DIAGRAM software provides powerful export capabilities - you can export your diagrams to a number of useful and popular file formats. Thus you can export the diagrams to Microsoft PowerPoint (PPT), Adobe Acrobat (PDF), Microsoft Visio (VDX, VSDX), and many other formats.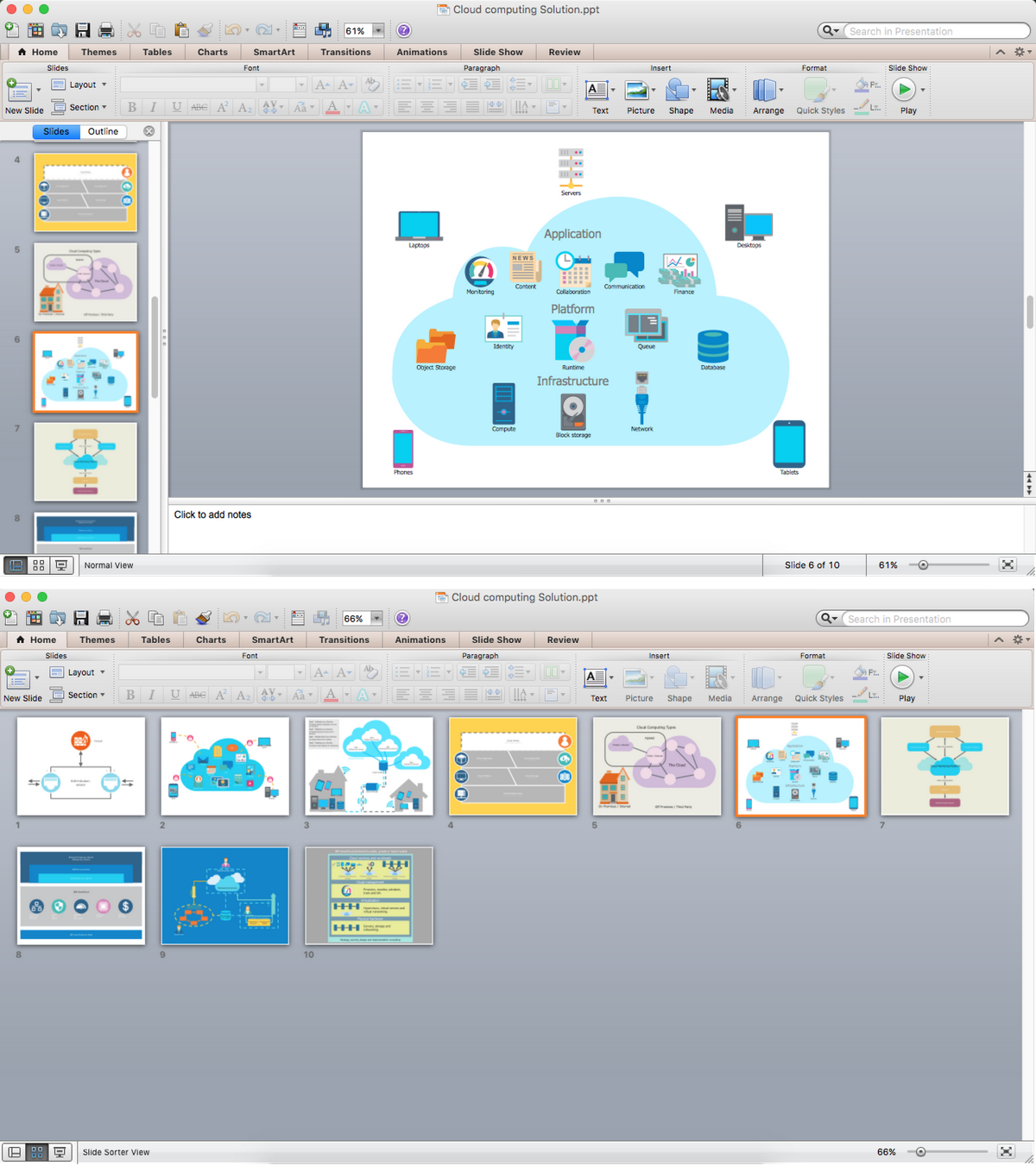 Example 4. Cloud Computing Architecture Diagram PPT
All exporting commands are available at ConceptDraw DIAGRAM from the File menu. You can immediately apply them when your diagram is ready.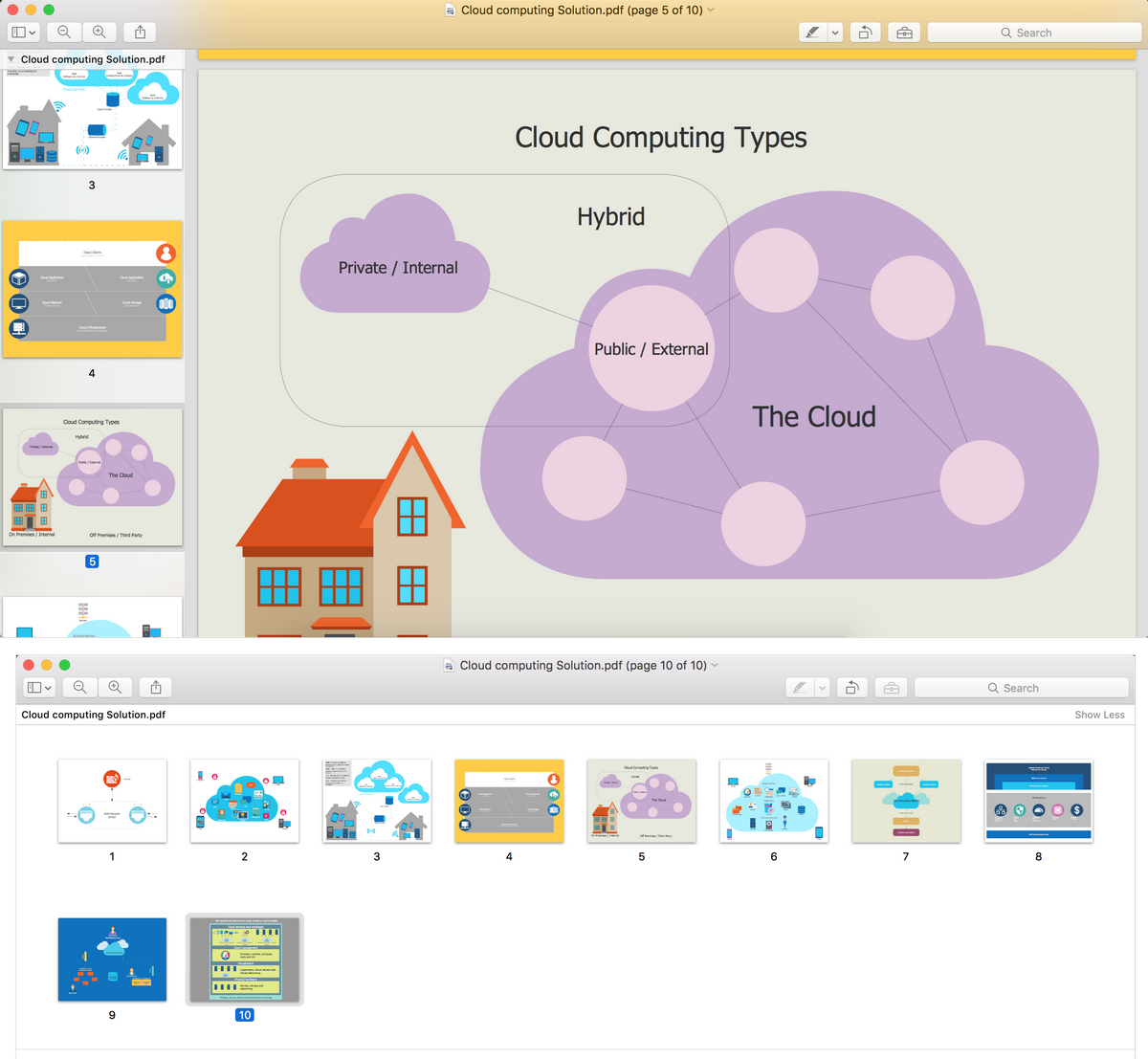 Example 5. Cloud Computing Architecture PDF
The possibility of exporting diagrams to various formats gives to ConceptDraw DIAGRAM users a flexibility when working with other people, because now it's not a problem to collaborate and exchange documents with those who don't have ConceptDraw DIAGRAM software.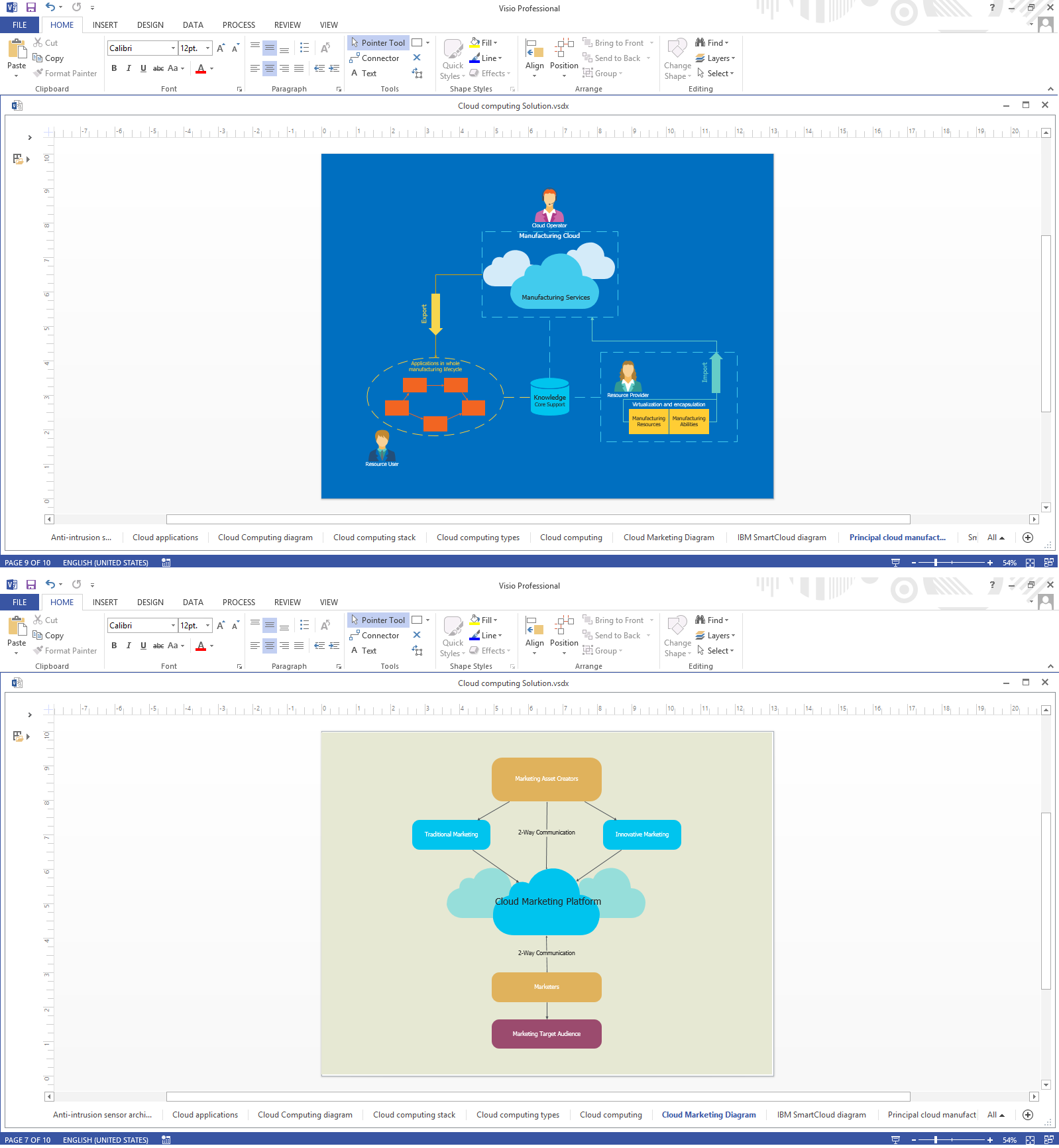 Example 6. Cloud Computing Architecture Visio
Benefits of ConceptDraw DIAGRAM Cloud Computing Diagrams software
The following features make ConceptDraw DIAGRAM the best Cloud Computing Diagrams software:
You don't need to be an artist to draw professional looking diagrams in a few minutes.
Large quantity of ready-to-use vector objects makes drawing your diagrams quick and easy.
Extensive collection of pre-designed templates and samples give you a great start for your own diagrams.
ConceptDraw DIAGRAM provides you with the possibility to use the grid, rules and guides. You can easily rotate, group, align, and arrange objects, and use different fonts and colors to make your diagram stand out.
All ConceptDraw DIAGRAM documents are vector graphic files and are available for reviewing, modifying, and converting to a variety of formats: image, HTML, PDF file, MS PowerPoint Presentation, Adobe Flash, MS Visio.
Using ConceptDraw STORE you can navigate through ConceptDraw Solution Park, managing downloads and updates. You can access libraries, templates and samples directly from ConceptDraw STORE.
If you have any questions, our support is free of charge and always ready to come to your aid.
TEN RELATED HOW TO's: