Cause and Effect Diagram Software
The Cause and Effect diagram introduced by Kaoru Ishikawa in 1968 is a method for analyzing process dispersion. It can help you to dive into a problem and find an effective solution, identify and represent the possible causes for an effect, analyze the complex business problems and successfully solve them.
You can design your Cause and Effect diagram on a paper, but more effective way is to use specific software - ConceptDraw DIAGRAM is a powerful Cause and Effect Diagram Software. It helps you create Cause and Effect diagram known also as Fishbone diagram or Ishikawa diagram from templates and examples.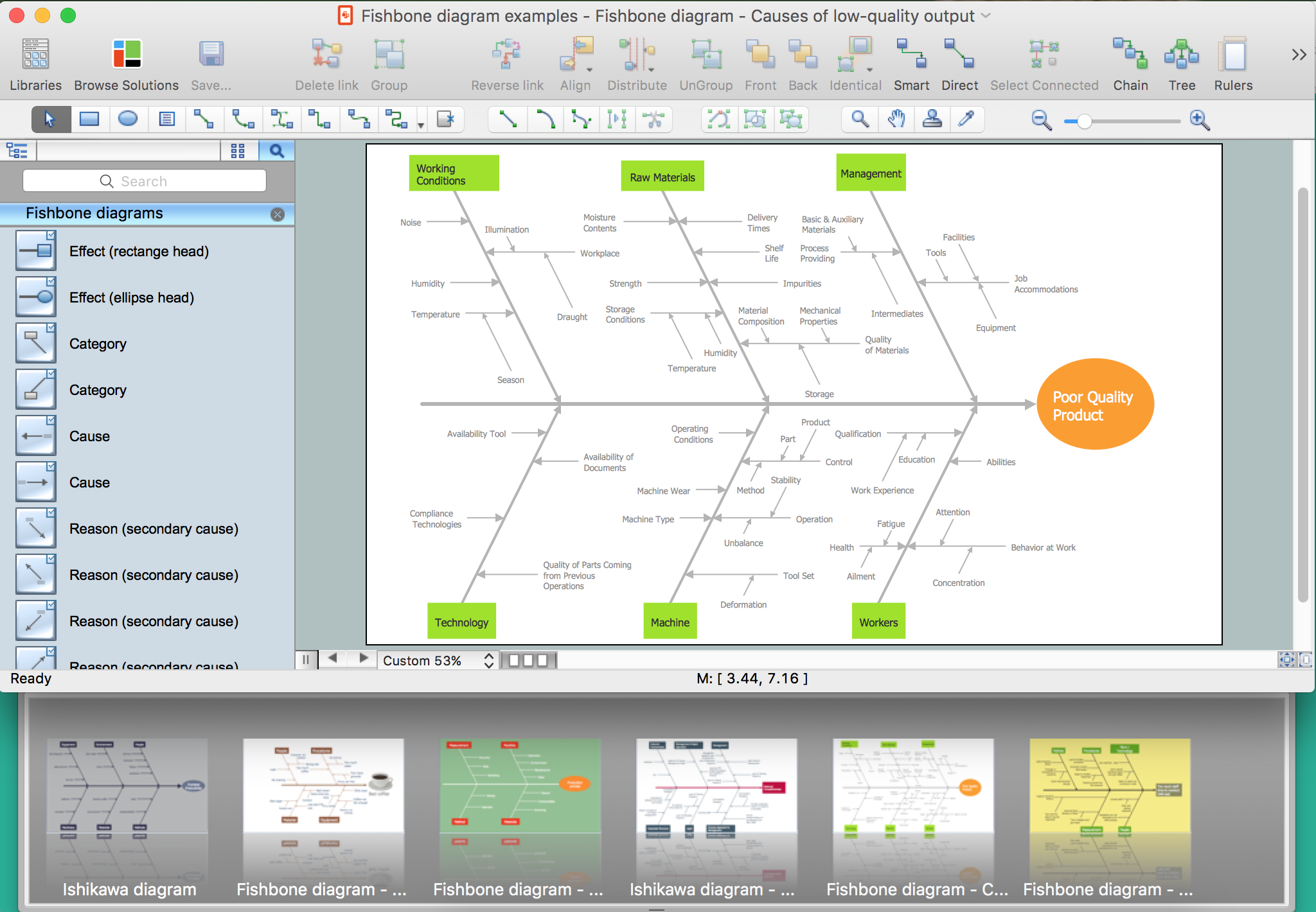 Example 1. Cause and Effect Diagram Software
As a first step of creation Cause and Effect diagram for solving a problem, you need to clearly define an effect, put it as a "head" on your diagram and draw a "fish spine" as a horizontal line. The second step is to brainstorm the possible influencing factors and causes, and represent them as "bones" on a diagram. You can construct a few levels of causes, if needed. As a brainstorming software we recommend to use the ConceptDraw MindMap application.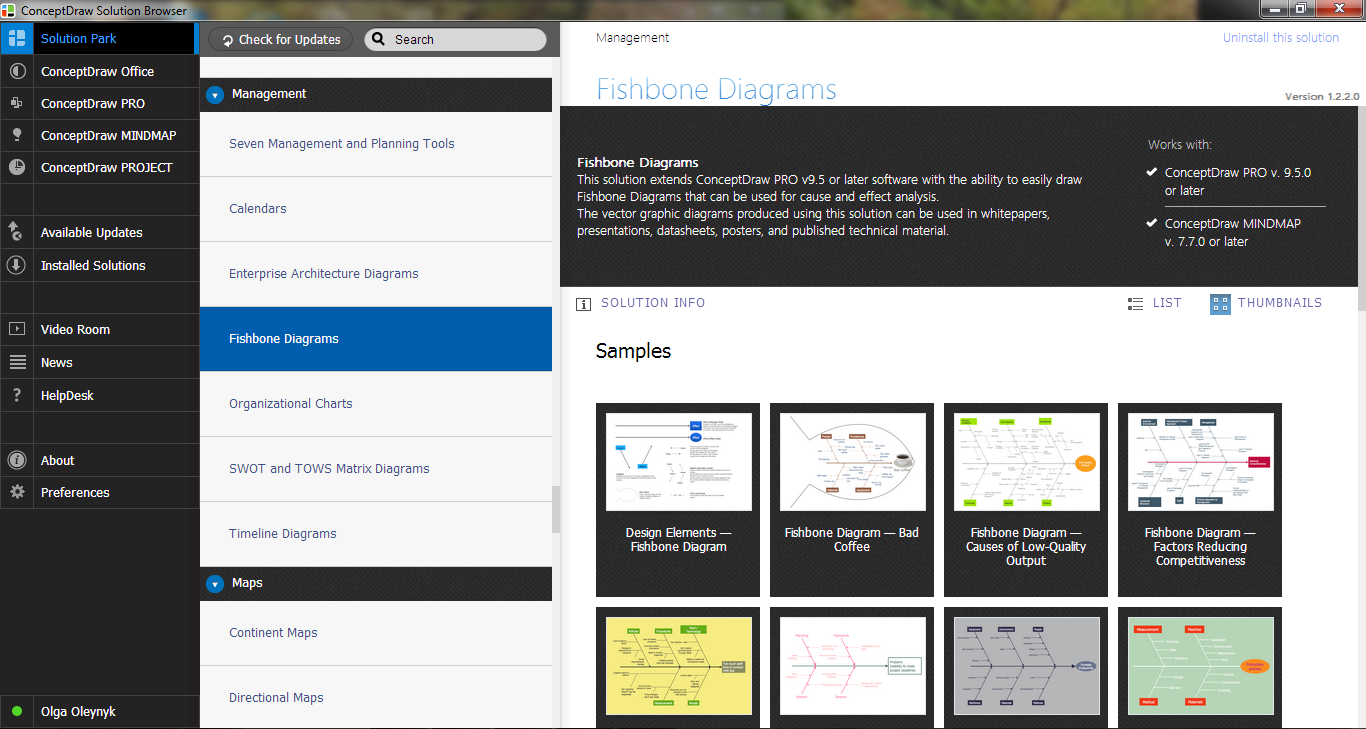 Example 2. Fishbone Diagrams Solution in ConceptDraw STORE
For easy realization all these steps, use the predesigned elements from the Fishbone Diagrams library for Fishbone Diagrams Solution, or start with one of predesigned templates offered at ConceptDraw STORE. You can also orient on ready Fishbone diagram samples and use them as the base when drawing your own charts and illustrations.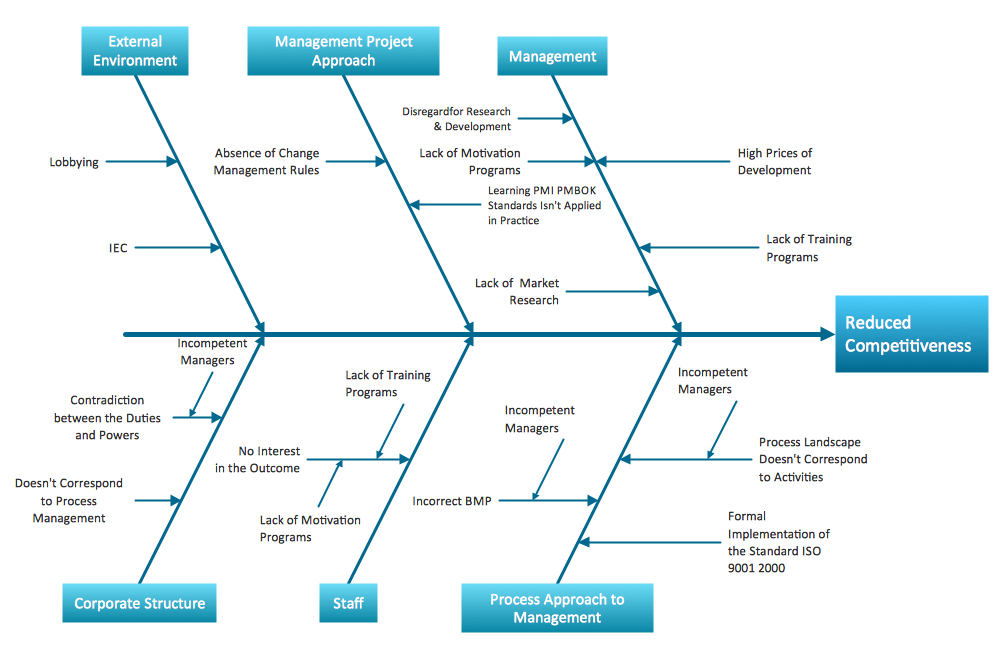 Example 3. Cause and Effect Diagram - Factors Reducing Competitiveness
The following features make ConceptDraw DIAGRAM extended with the Fishbone Diagrams solution the most effective Cause and Effect Diagram software:
You don't need to be an artist to draw professional looking diagrams in a few minutes.
Large quantity of ready-to-use vector objects makes drawing your diagrams quick and easy.
Extensive collection of pre-designed templates and samples give you a great start for your own diagrams.
ConceptDraw DIAGRAM provides you with the possibility to use the grid, rules and guides. You can easily rotate, group, align, and arrange objects, and use different fonts and colors to make your diagram stand out.
All ConceptDraw DIAGRAM documents are vector graphic files and are available for reviewing, modifying, and converting to a variety of formats: image, HTML, PDF file, MS PowerPoint Presentation, Adobe Flash, MS Visio.
Using ConceptDraw STORE you can navigate through ConceptDraw Solution Park, managing downloads and updates. You can access libraries, templates and samples directly from ConceptDraw STORE.
If you have any questions, our support is free of charge and always ready to come to your aid.
TEN RELATED HOW TO's: