SWOT Analysis Software
The ConceptDraw is a SWOT analysis software. The SWOT Analysis solution includes the SWOT matrix samples and templates that allow users create well-designed SWOT diagrams.
A SWOT analysis provides professionals to identify the positives and negatives in the organization and in the external environment. Developing a full awareness of your situation can help with both strategic planning and decision-making.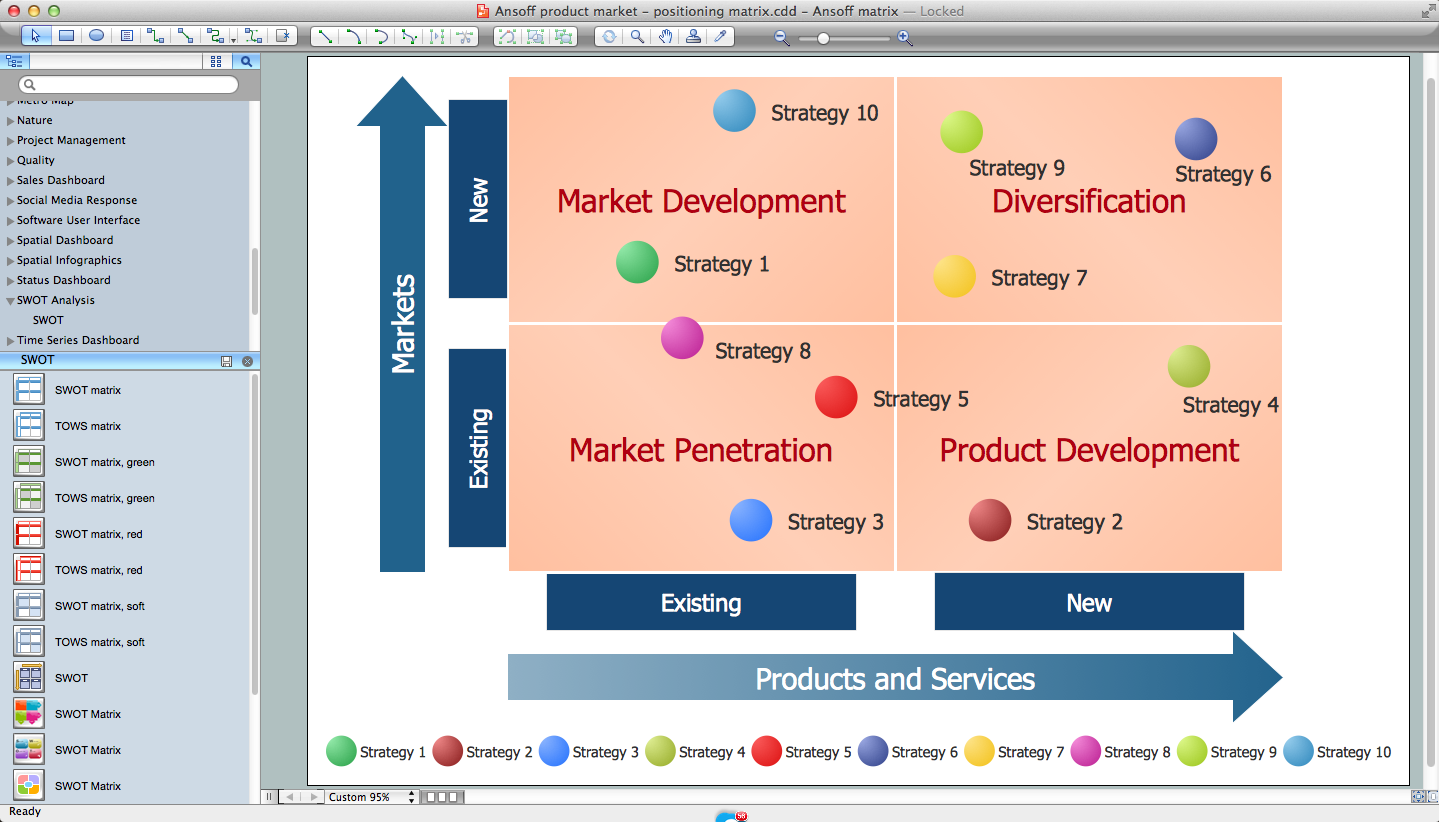 Pic 1. SWOT Analysis Software for Mac OS X and Windows
SWOT Analysis solution from ConceptDraw Solution Park contains easy-to-use mind map templates that help identify Strengths, Weaknesses, Opportunities, and Threats using ConceptDraw MINDMAP software, as well as outputs to ConceptDraw DIAGRAM for presenting analysis results as SWOT and TOWS matrices.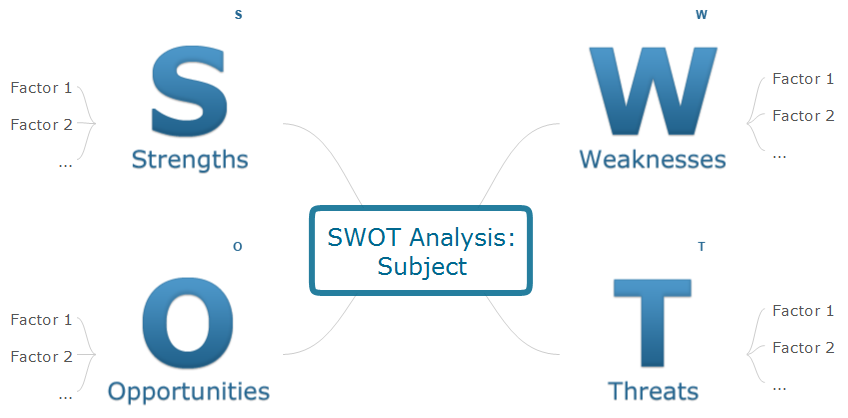 Pic 3. SWOT Analysis - TOWS Mindmap Template
The SWOT Analysis solution supports a variation of SWOT analysis called TOWS. TOWS is more focused on external factors and action planning.
---
See also:
Marketing — Matrices
Marketing positioning matrix - Product positioning map
Product-market matrix - Ansoff matrix
BCG matrix - Boston growth-share matrix
Feature comparison chart - Digital scouting cameras
Marketing matrix diagram - Competitive strategies
Marketing matrix diagram - Porters value chain
Marketing — Mind Maps
Marketing mindmap - Marketing research project
Marketing mind map - Strategic accomplishment mapping
Twitter Compaign for New Software Product
Marketing mind map - Sales Call
TEN RELATED HOW TO's:
SWOT analysis is an effective method of business planning, the question is how to do it. The most obvious way is to make a SWOT analysis in a Word document, which is not very convenient. Luckily, you can use software like ConceptDraw DIAGRAM that has features and templates made especially for SWOT analyzing. A SWOT Analysis is a manager's means of the strategic planning. It is used to define and classify considerable internal moments (strengths and weaknesses) and external forces (opportunities and threats) a business faces. You can use ConceptDraw MINDMAP to determine and organize factors utilized for SWOT analysis, and represent them in the SWOT matrix using ConceptDraw DIAGRAM. Using mind maps empowers you to explore and rank a lot of data engaged for SWOT analysis as well as recognize the relations between various pieces of information.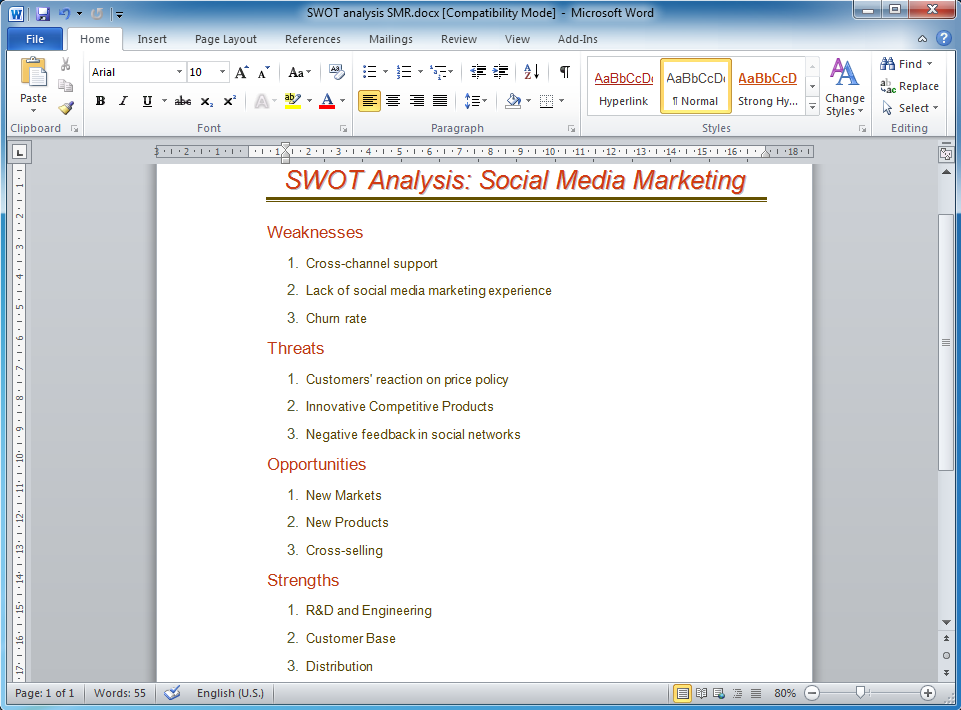 Picture: How to Make SWOT Analysis in a Word Document
Related Solution:
Mind map template of a strategy map that can help you display a variety of performance measures that can have an impact on your organization.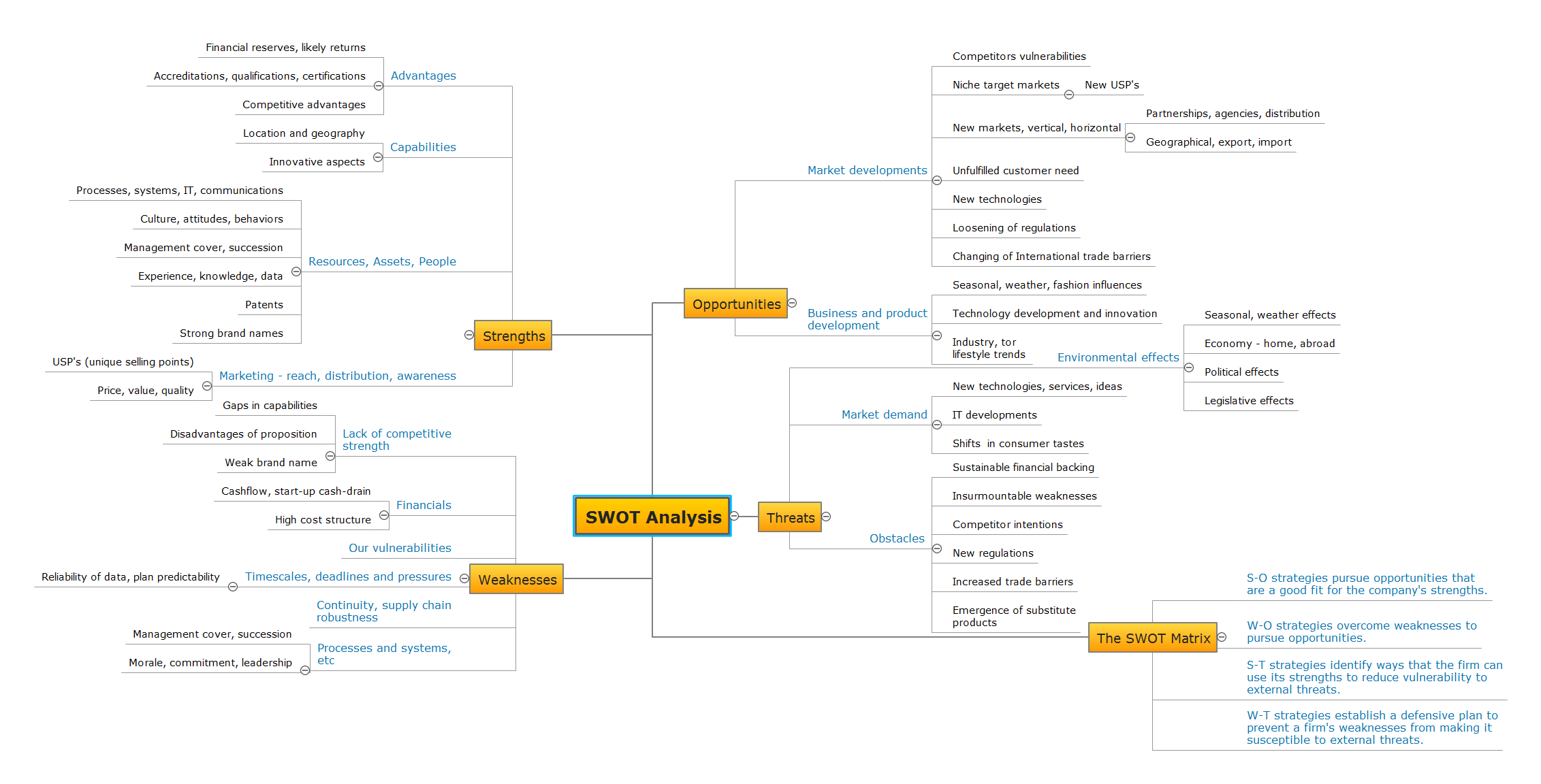 Picture: SWOT Analysis
Related Solution:
How do Fishbone diagrams solve manufacturing problems? Fishbone diagrams are successfully used in various fields of industries and manufacturing to analyze the set of possible causes and their effects. Fishbone diagram provides a process to clearly define the "Effect" and then puts you to thinking about the possible causes, based on the categories of common problems in manufacturing. ConceptDraw DIAGRAM application extended with Fishbone Diagrams solution lets you construct Fishbone diagrams and represent globally recognized standards for manufacturing 6 Ms and 8 Ms.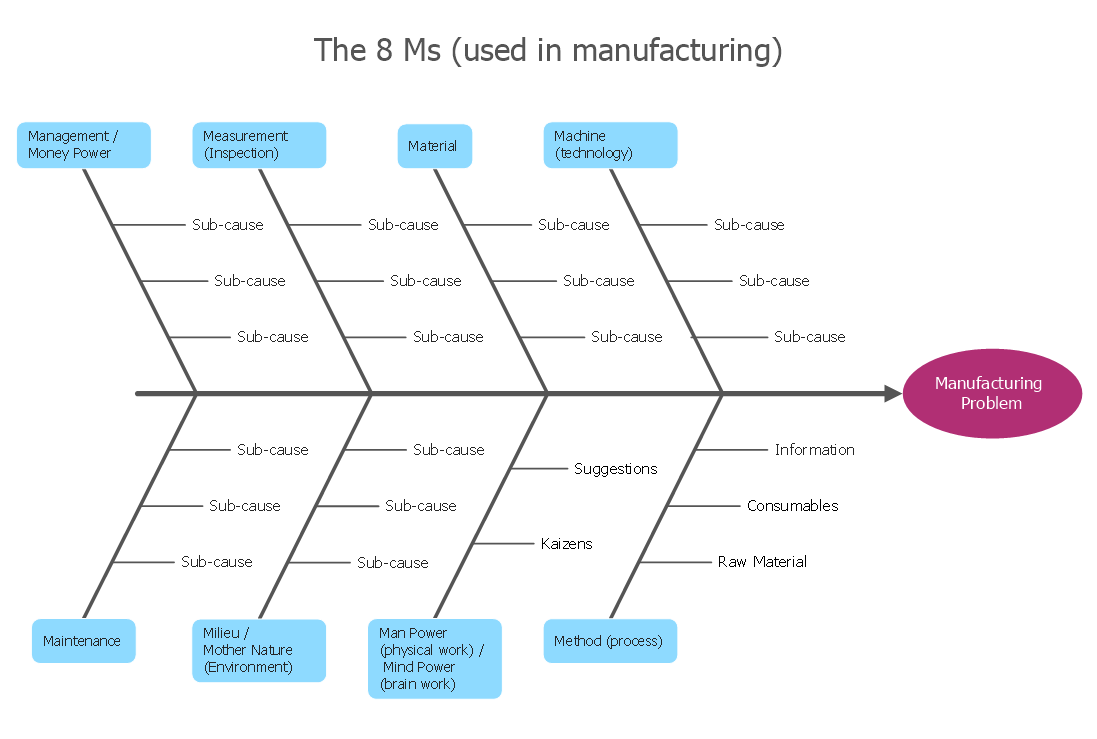 Picture: How Do Fishbone Diagrams Solve Manufacturing Problems
Related Solution: