Amazon Web Services Diagrams
diagramming tool for architecture
The AWS Architecture Diagrams solution includes icons, sample and templates for several Amazon Web Services products and resources, to be used when creating architecture diagrams. The icons are designed to be simple so that you can easily incorporate them in your diagrams and put them in your whitepapers, presentations, datasheets, posters or any technical material you like.
For IT specialists, system designers and network administrators, the AWS Architecture Diagrams solution offers a wide range of recognizable graphic icons to help illustrate a diagram, as well as a helpful selection of templates and samples to model a design on. Architecture diagrams are a great way to communicate your design, deployment and topology. Here you will find an official collection of AWS resources that will help you build great AWS Architecture diagrams.
"The AWS Architecture Center is designed to provide you with the necessary guidance and application architecture best practices to build highly scalable and reliable applications in the AWS cloud. These resources will help you understand the AWS platform, its services and features, and will provide architectural guidance for design and implementation of systems that run on the AWS infrastructure."[from aws.amazon.com]
ConceptDraw - Diagramming Tool for:
Create Web Application Architecture
Architect infrastructure based on AWS® (Amazon Web Services)
Design application services based on AWS® (Amazon Web Services)
Design auto-scalable architecture
Design for elastic compute cloud
Create Amazon Web Services planning diagrams
Illustrate whitepapers and presentations
Create vector graphics files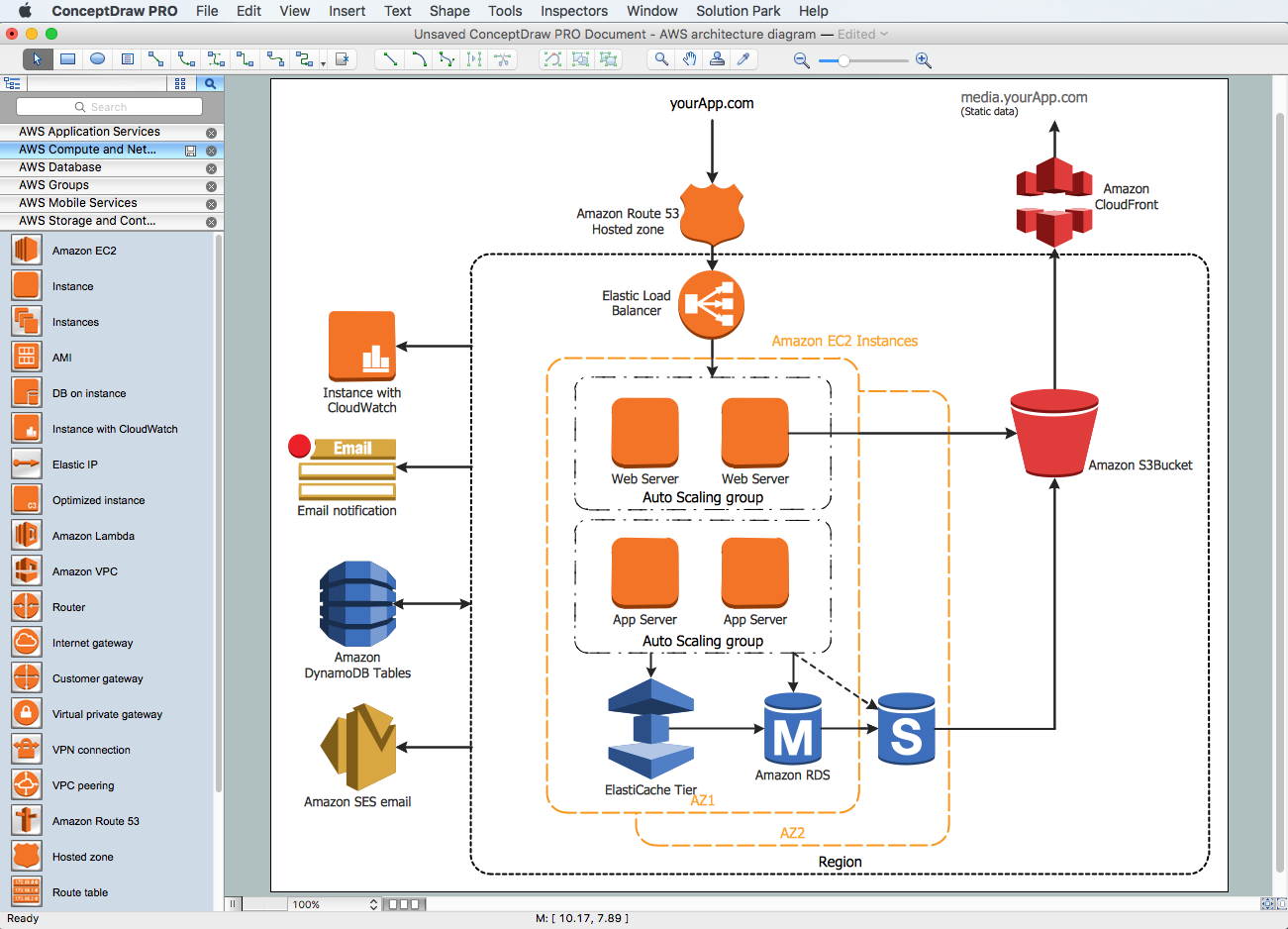 This diagram was created in ConceptDraw® PRO using the AWS® Architecture Diagram library from the Amazon Web Services Architecture Diagrams solution (AWS solution).
---
See also: