Account Flowchart. Flowchart Examples
ConceptDraw defines some flowchart types, divided into ten categories.
Every flowchart type has specific shapes and examples.
Create your own flow charts of computer or network system account processing using the ConceptDraw DIAGRAM diagramming and vector drawing software extended with the Cross-Functional Flowcharts solution from the Business Processes area of ConceptDraw Solution Park.
"A user is a person who uses a computer or network service. A user often has a user account and is identified by a username (also user name). A user's account allows a user to authenticate to system services and be granted authorization to access them; however, authentication does not imply authorization. To log into an account, a user is typically required to authenticate oneself with a password or other credentials for the purposes of accounting, security, logging, and resource management.
Once the user has logged on, the operating system will often use an identifier such as an integer to refer to them, rather than their username, through a process known as identity correlation. In Unix systems, the username is correlated with a user identifier or user id.
Computer systems are divided into two groups based on what kind of users they have:
Single-user systems do not have a concept of several user accounts.
Multi-user systems have such a concept, and require users to identify themselves before using the system.
Each user account on a multi-user system typically has a home directory, in which to store files pertaining exclusively to that user's activities, which is protected from access by other users (though a system administrator may have access). User accounts often contain a public user profile, which contains basic information provided by the account's owner." [User (computing). Wikipedia]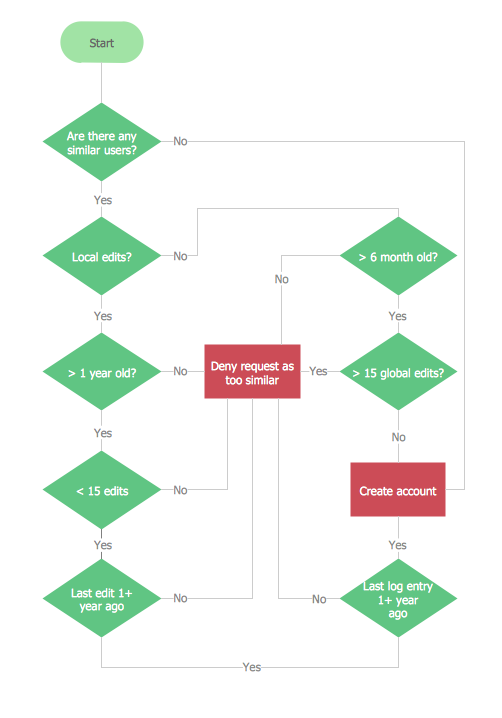 Example 1. Account Flowchart
This sample was created in ConceptDraw DIAGRAM using the Cross-Functional Flowcharts solution from the Business Processes area of ConceptDraw Solution Park. It shows the Cross-Functional Flowchart of account creation on Wikipedia using the Account Creation Interface application software. You can see the process of the handling the user requests.
Using the ready-to-use predesigned objects, samples and templates from the Cross-Functional Flowcharts Solution for ConceptDraw DIAGRAM you can create your own professional Flowchart Diagrams quick and easy.
The Flowcharts produced with ConceptDraw DIAGRAM are vector graphic documents and are available for reviewing, modifying, and converting to a variety of formats (image, HTML, PDF file, MS PowerPoint Presentation, Adobe Flash or MS Visio).
---
See also Samples:
TEN RELATED HOW TO's: