Work Flow Diagram
In case there is some work flow diagram that has to be created, it is always possible to do by using the ConceptDraw DIAGRAM diagramming and drawing software from a scratch or using the Basic stencil library that is available for all the ConceptDraw DIAGRAM users. As an option, there is the Workflow Diagrams solution that can be found in the relatively new product of CS Odessa — the ConceptDraw STORE.
Having the previously mentioned solution downloaded means having an opportunity to create any needed work flow diagram within only a few minutes by editing the already existing one. As there are many templates that all were created by the IT specialists of CS Odessa, they all can be taken into account while making a unique drawing in the ConceptDraw DIAGRAM application.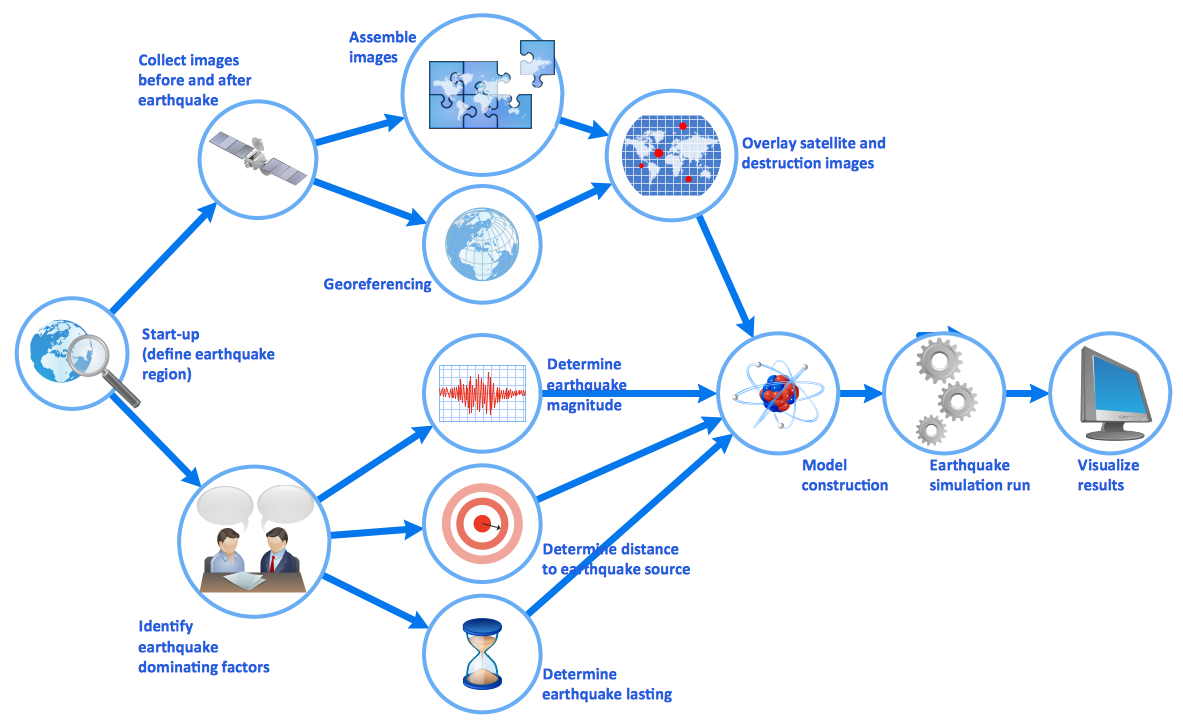 Example 1. Work Flow Diagram — Earthquake Disaster Assessment
Any unique work flow diagram can be made by any ConceptDraw DIAGRAM user in a way of editing the already existing template taken from the Workflow Diagrams solution from the ConceptDraw STORE application. Such example as the "Workflow Diagram — Business" can be used to make a slightly or completely different drawing that is based on it adding more design elements to it.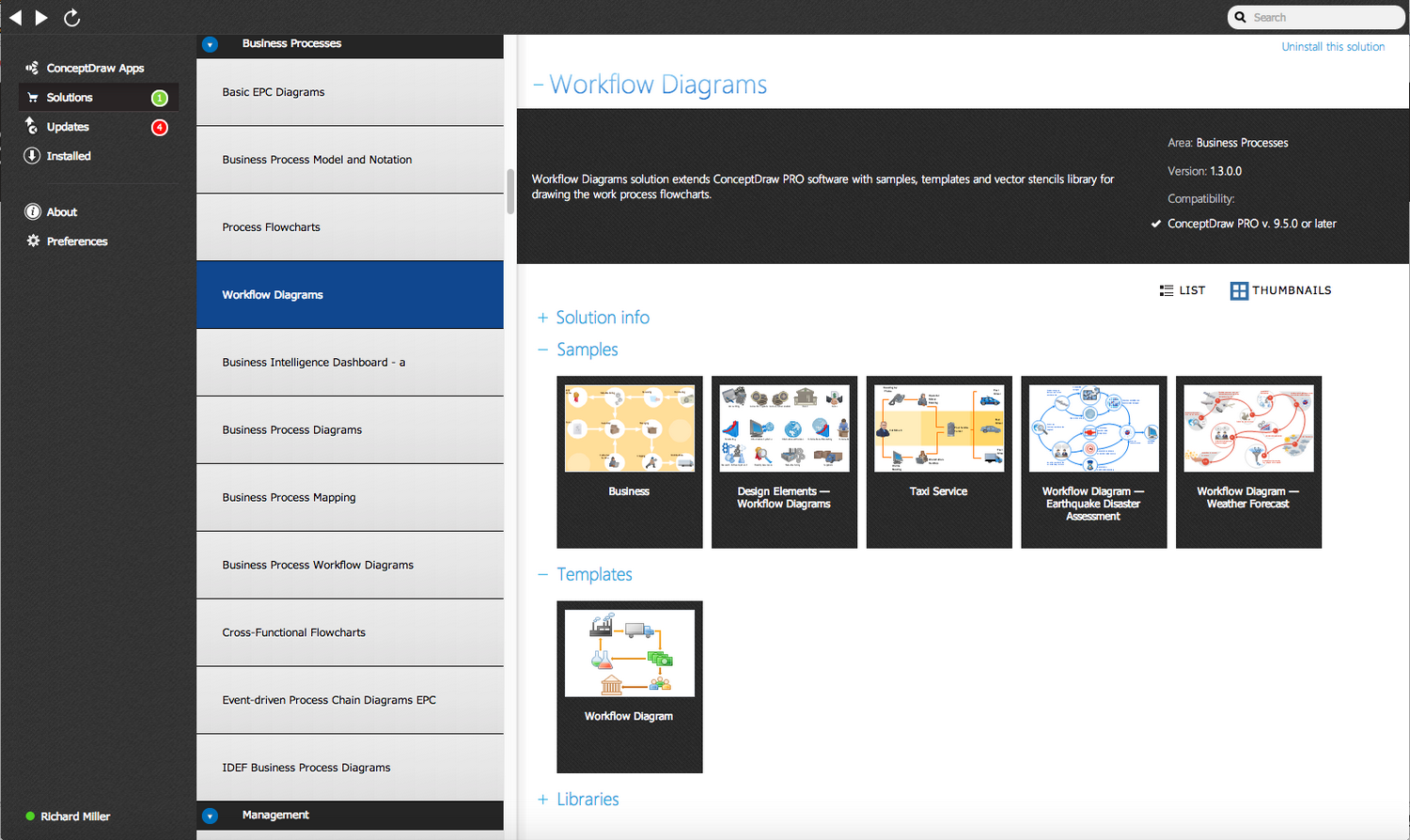 Example 2. Workflow Diagrams Solution in ConceptDraw STORE
Another example, such as the "Workflow Diagram — Taxi Service" was created with the help of the design elements taken from the "Workflow" stencil library from the Workflow Diagrams solution and it can always be changed, same as all the other samples, names as follows: "Earthquake disaster", "Weather forecast" and "Workflow Diagram Template".
Any workflow is what consists of some repeatable as well as an orchestrated pattern of some of the field of business activity enabled by the systematic organization of resources into processes that are known to be transforming different materials, providing different services or process information.
Being depicted as a sequence of operations and declared as work of some group of people or one person, an organization of staff, or one or more than one either complex or simple mechanisms, a work flow diagram is one of the most commonly used drawings that is being created on the everyday basis by the business specialists.
From a higher-level or a more abstract perspective, any workflow may be considered as a representation or a view of some real work. That flow may be described being referred to some service, some product or some document that is being transferred from one step to another.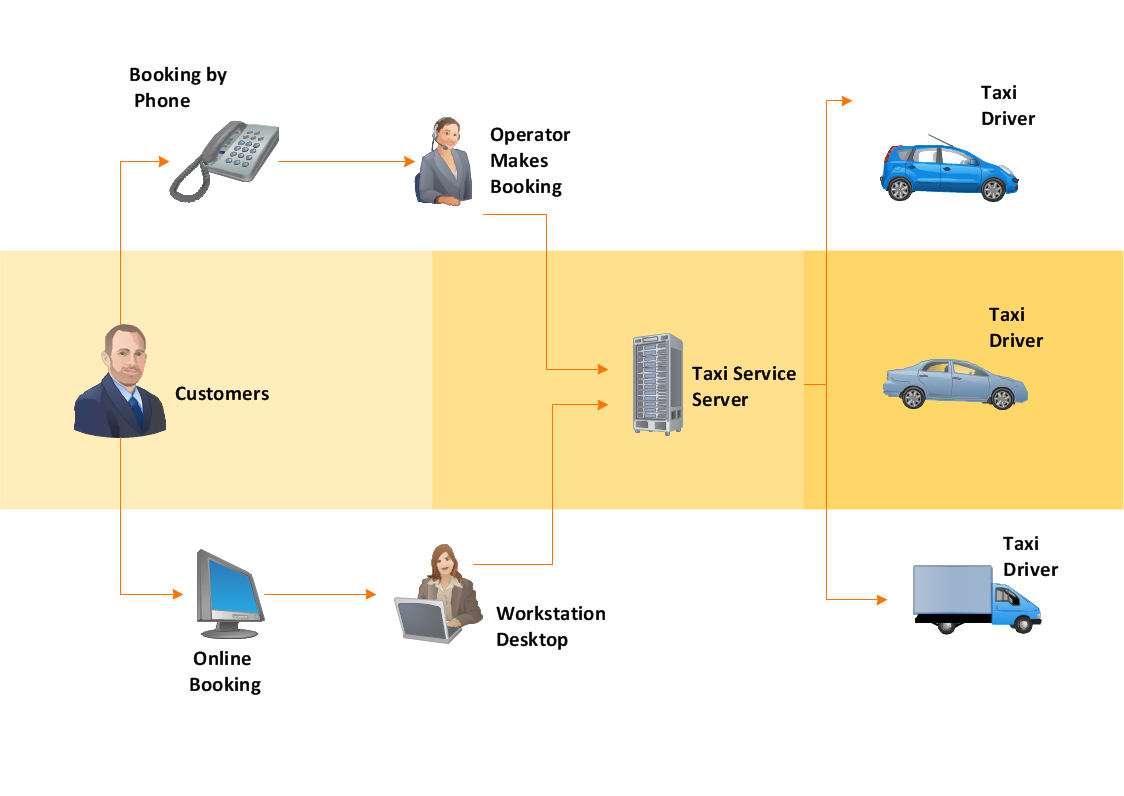 Example 3. Work Flow Diagram — Taxi Service
Making a work flow diagram with the aid of ConceptDraw DIAGRAM diagramming and drawing software may be a fun and entertaining process as long as the ConceptDraw STORE application is downloaded from this site being installed to your desktop.
The general idea of a workflow is known to be precisely related to a few fields in operations research as well as other areas that study the nature of work, either by quality or quantity. An example can be an artificial ethnography and intelligence. The word "workflow" on its own is more usually utilized in some specific spheres, such as professional domains and printing, where it may have some particular specialized meanings.
Any process can be illustrated in a way of a work flow diagram being a more general notion than workflow. Any process can apply to any biological or physical processes, for example, but a workflow is usually known to be a process or collection of a couple of processes that are being described in the context of work.
Any plan is simply a description of some logically necessary set of different activities that are required for accomplishing some specific goal. The goal that was given is expected to include some certain starting conditions and any plan when it is augmented with a schedule as well as the resource allocation calculations may define some particular instance of the systematic processing in pursuit of a goal.
Any workflow is what may be always viewed as a realization of different mechanisms that are required for executing the very same plan repeatedly and those mechanisms are usually not a part of a work flow diagram but they still may be mentioned within a drawing.
Any flow diagram is a generic concept for a diagram that is depicting a flow or some set of the dynamic relationships that can be found within some system. The term "flow diagram" itself can also be used as a synonym for a flowchart or work flow diagram in case the representation of the work is mentioned.
Any flow diagram can be sometimes seen as a counterpart of some flowchart being created with the help of the ConceptDraw DIAGRAM diagramming and drawing software as well as the Workflow Diagrams solution taken from the ConceptDraw STORE application.
Flow diagrams are known to be used in order to order and structure some complex system. They can be also used for revealing the underlying structure of different elements as well as their interaction. The term "flow diagram" itself can be used in either practice or in theory in different meanings, but most commonly the flow diagram and the flow chart are used in the meaning of a representation of some definite process.
Any flow chart or a flow diagram is a diagram that is used for a visual representation of some interrelated information such as steps in a process, events, functions, and other, either chronologically or sequentially. A flow diagram can be as well described as a graphic representation of some physical route or some flow of materials, paperwork, people, communication or vehicles being associated with an investigation, a procedure plan or a process.
In another definition its meaning is limited to the representation of the physical flow or route and the representation of such a system can be supplemented by one or more than one flowcharts, which are used for showing the sequence of one of the flows going in the same direction, or any of the control flows used for managing the system.
TEN RELATED HOW TO's: