Integrated Circuit
An integrated circuit (IC) is a chip or microchip that consists of a substrate created from semiconductor material and thousands or millions of tiny electronic components installed on it. It is a complex fast-speed device with great capacity and small sizes. Its components are extremely little and the size of an entire chip is from a few square millimeters to a few square centimeters. It is the invention of the transistors in 1947 by William B. Shockley that became a base for integrated circuits.
Usually, the substrate is produced from silicon crystal, and in most modern ICs, the components are embedded into it. The electronic components are microscopic active devices like transistors and diodes, and passive devices like capacitors and resistors. The components are interconnected through a complex web of semiconductor wafers from copper, silicon, or other material that function as wires. A single semiconductor substrate is quite fragile, therefore a combination of substrates installed one on the another is often used.
Integrated circuits are used in almost every modern electronic equipment including computers, mobile phones, smartphones, televisions, radars, video processors, audio amplifiers, logic devices, toys, and other electronic devices and appliances like washing machines, toasters, microwaves, televisions, etc. They can function as amplifiers, microprocessors, microcontrollers, counters, timers, logic gates, oscillators, voltage regulators, radiofrequency decoders and encoders, memory devices, etc.
Example 1. Four-Bit Majority Circuit in ConceptDraw DIAGRAM
The integrated circuits differ in size, number of components per chip and their arrangement, and used technologies. There are three types of ICs: digital integrated circuits, analog integrated circuits, and mixed integrated circuits.
Digital integrated circuits are widely used in microprocessors, digital signal processors, computers, memory chips, and frequency counters. They operate with digital input and binary input data like 0 and 1. The programmable ICs, logic OCs, power management integrated circuits, and interface ICs also refer to this category.
Analog or linear integrated circuits include radio frequency integrated circuits, linear integrated circuits, and operational amplifiers that are the most frequently used. Analog integrated circuits have high voltage gain and fewer transistors in comparison to digital integrated circuits. Analog ICs are often used as audio-frequency and radio-frequency amplifiers, temperature sensor in heaters, ovens, air conditioners, switches to turn on / off devices.
Mixed integrated circuits combine digital, RF, and analog integrated circuits on one chip. They operate as analog to digital converters, digital to analog converters, and timing/clock ICs.
There are also used logic gates integrated circuits, switching integrated circuits, timer integrated circuits, and amplifier integrated circuits. The most complicated type of IC is a microprocessor. It includes billions of interconnected transistors and performs billions of operations and logic functions per second. It contains the CPU running a computer or the GPU used to render images and video.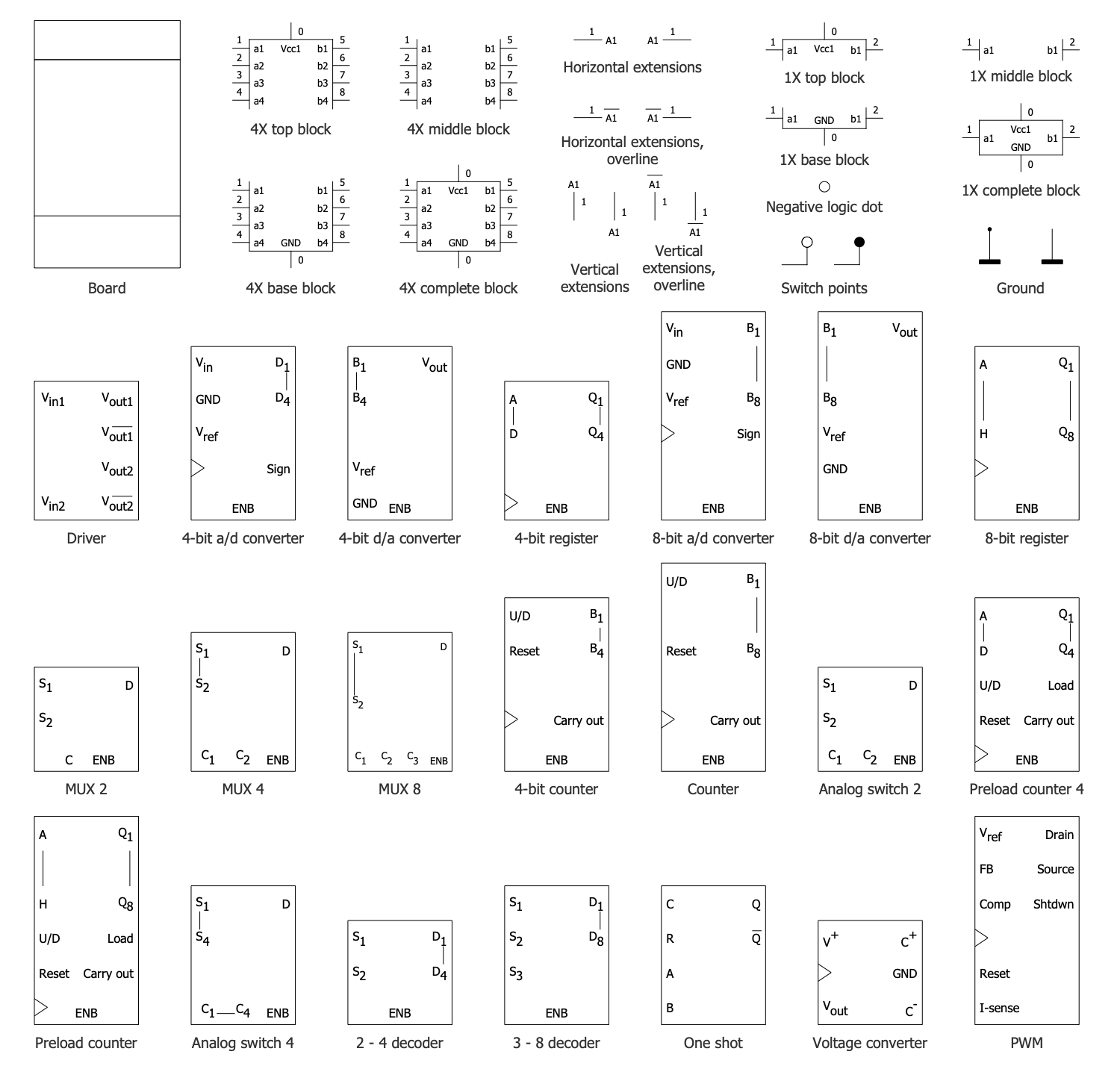 Example 2. Integrated Circuits Library Design Elements
ConceptDraw DIAGRAM software with included Digital Electronics solution allows you to choose from an enormous number of vector electrical symbols, design elements — integrated circuits, logic gates, connections, flip flop symbols. Collection of the pre-made symbols and also an included set of professionally designed samples are useful to create Integrated circuit schematics of various kinds in minutes.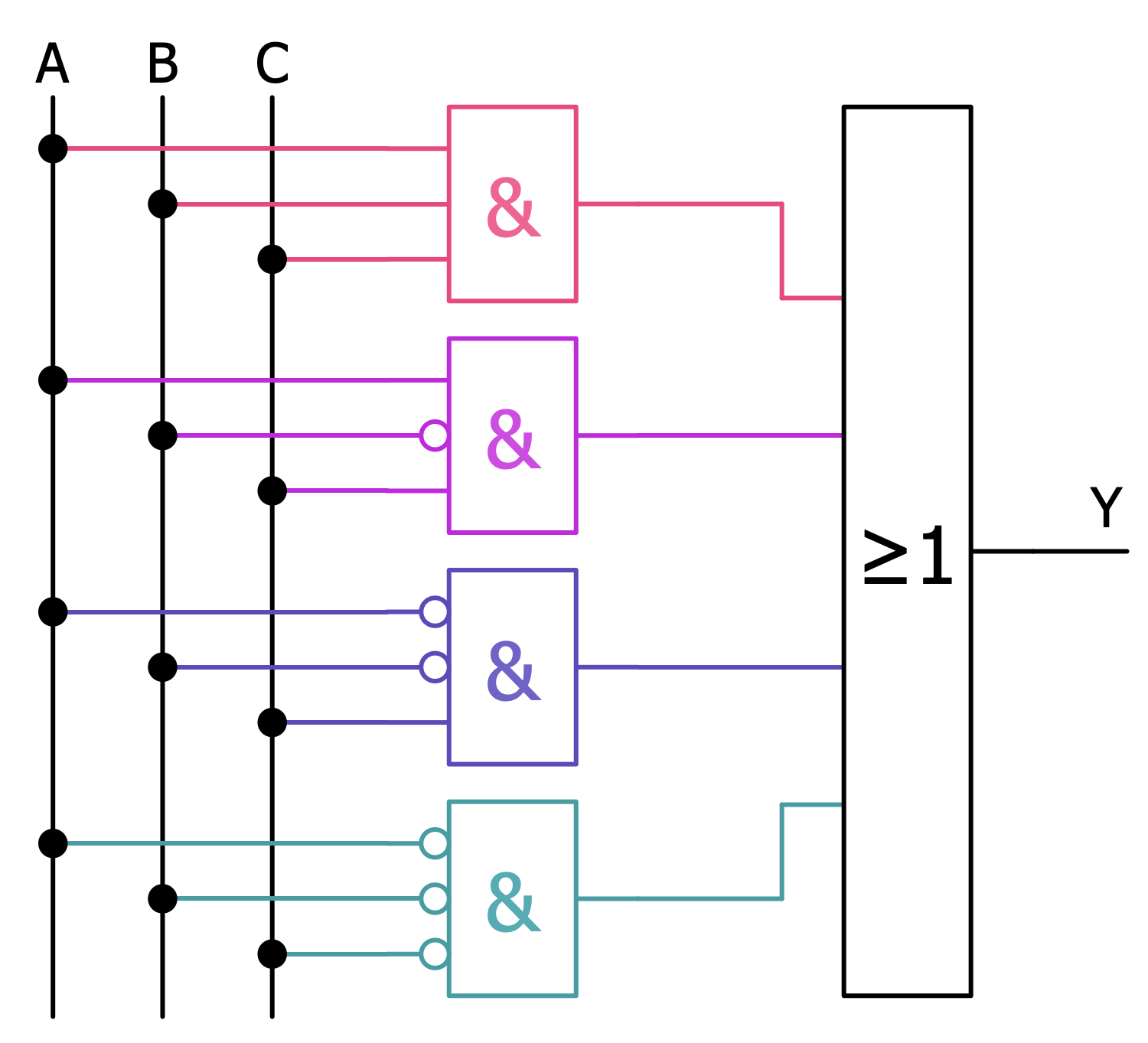 Example 3. Digital Circuit
The samples you see on this page were created in ConceptDraw DIAGRAM software using the drawing tools of the Digital Electronics Solution. These examples successfully demonstrate solution's capabilities and the professional results you can achieve using it. An experienced user spent 5-10 minutes creating each of these samples.
Use the drawing tools of the Digital Electronics solution to design your own Digital Electronics Infographics quick, easy, and effective.
All source documents are vector graphic documents. They are available for reviewing, modifying, or converting to a variety of formats (PDF file, MS PowerPoint, MS Visio, and many other graphic formats) from the ConceptDraw STORE. The Digital Electronics Solution is available for ConceptDraw DIAGRAM users.
TEN RELATED HOW TO's: