Information Architecture
Making such structural design as information architecture with the help of ConceptDraw DIAGRAM diagramming and drawing software, especially in case you have Enterprise Architecture Diagrams Solution downloaded from ConceptDraw STORE application, is always much simpler rather than doing the same thing from a scratch. The main feature of the well developed drawing product, mentioned above, is that you can always use the described solution full of the pre-made vector shapes for explaining such terms as "Enterprise", "Business Model", "Operating model", "Governance", "Business Capabilities", "People", "Business Processes", "Technology", "Business Intent sector", "Business Design sector", "Influencers", "Drivers", "Partners", "Box (level 1)", "Box (level 2)", "Box (level 3)", etc.
Having the pre-made examples of the diagrams, such as "Enterprise Architecture Diagram", "Enterprise Architecture Diagram Template", "Enterprise Architecture Diagram — ISE Enterprise Architecture Framework", "Enterprise Architecture Diagram — TEAF Work Products" and "Enterprise Architecture Domains Diagram" can simplify your work with creating your own Enterprise Architecture Diagrams as you can always use one of already offered in the "Enterprise Architecture Diagrams Solution" layouts, which can become a base for your own professionally looking drawings.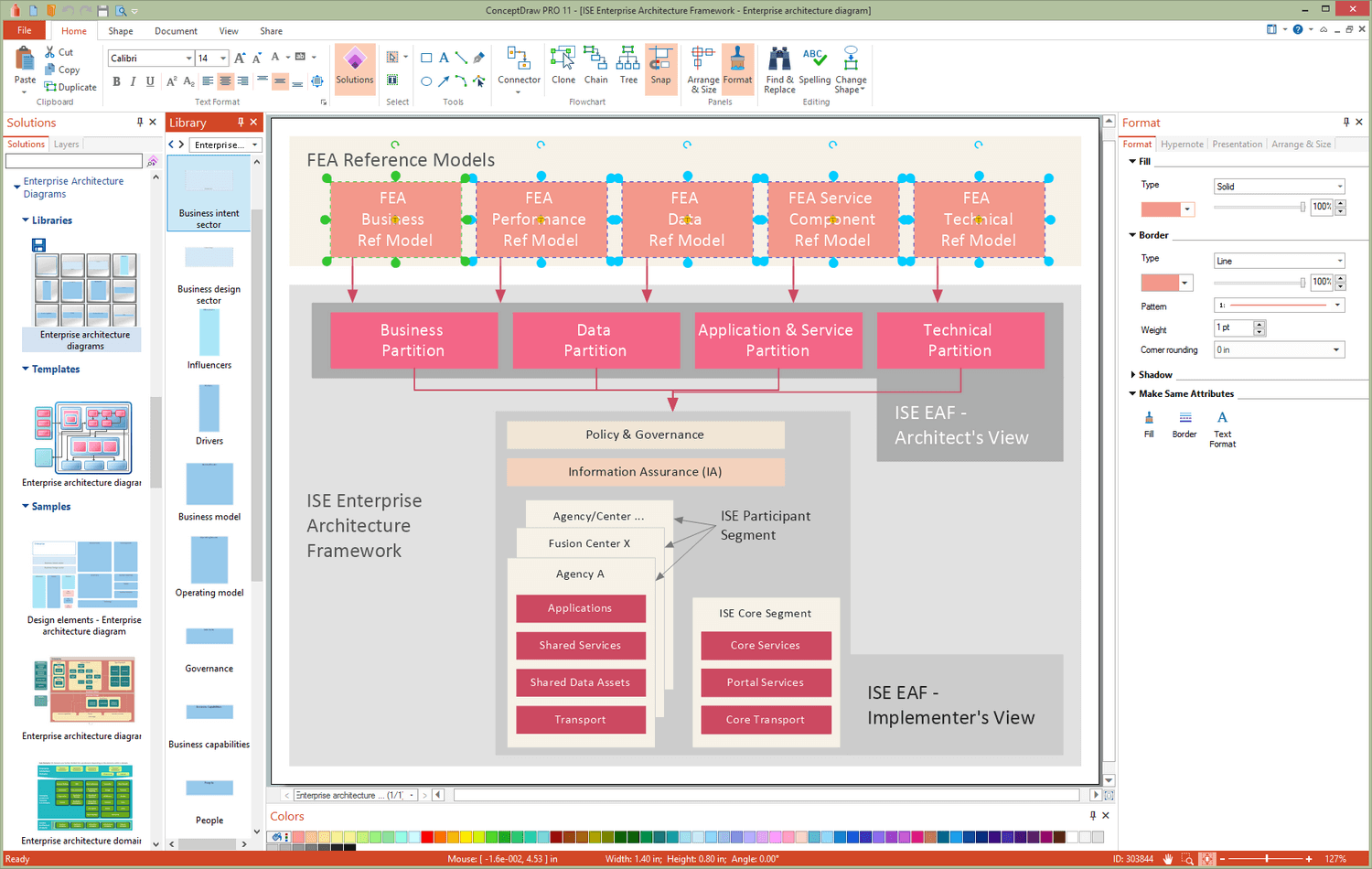 Example 1. Information Architecture
Knowing information architecture as the structural design of some information environment, it is also interesting to get to know that it involves science as well as the art of labelling and organizing different websites, online communities, software and intranets in order to be able to support both findability and usability. It is also an emerging community of the practice, which is known to be focused on using the principles of both architecture and design to the digital landscape. Usually, the mentioned process is known to be involving a concept or some model of information, both used and later applied to activities, which are known to be requiring the explicit details of some complex, usually large, information systems. The mentioned activities can include database development as well as library systems.
Information architecture is simply known to be considered as something founded by Richard Saul Wurman. Nowadays there is a growing network of the active IA specialists who are known to be constituting the Information Architecture Institute. Any information architecture has a few different meanings, depending on which of the branches of information technology or information systems it is used in. Thus, it can be used in the structural design of the shared information environments, the art and/or science of organizing and labelling some websites, online communities, software and/or intranets for supporting the findability as well as usability.
Information architecture can be also used in an emerging community of the practice, which is known to be focused on upbringing the principles of either design or architecture, or both, to the digital landscape. The combination of the process of labelling, search, organization and navigation systems within some particular intranets and websites can be also the field of activity where Information architecture is a commonly used term.
In order to extract some required parameters or data of the Engineering Designs during the process of creating a so-called "knowledge-base" for linking different systems as well as different standards, Information architecture is also a necessary thing to involve. Information architecture can be also a navigational aid as well as a blueprint to the content of the so-called "information-rich" systems. It is also known to be a subset of the data architecture, where some usable data/information is known to be constructed in. Such data can be designed or arranged in a fashion most useful or/and simply holistic to the users of such data.
The practice of a process of organizing some information, content and/or functionality of some website, presenting the best user experience, having an information as well as the services which are being easily findable and usable (due to the development as well as web design), is also known to be connected with term of "information architecture". The most difficulty within such processes is to establish a common definition for the "information architecture" term, known to be arising partly from its own existence in the multiple fields. For instance, in the field of the systems design, the information architecture is simply one of the components of the enterprise architecture, known to be dealing with the information component while describing the structure of an enterprise itself.
Thus, as the definition of such term as "information architecture" is known to be well-established, at least within the field of systems design, it is known to be much more debatable within the context of the online information systems (such as websites). Sometimes, information architecture can involve more than just the organization of a website, but also the factors in user experience, considering the usability issues of the information design in this way.
Example 3. TEAF Work Products for EA Direction, Description and Accomplishment
The information design itself is a commonly known practice of presenting some information so it becomes effective as well as efficient for understanding it. The term itself has come to be used specifically within such field of activity as graphic design for displaying the information in an effective way, instead of making it attractive or using for the artistic expression. The term of information design is also known to be closely related to the field of data visualization, that is why it is known to be often taught as a part of the graphic design courses, as it is an explanation design, used for explaining the facts of the world, leading to knowledge as well as informed action.
TEN RELATED HOW TO's: