Electrical Symbols — Analog and Digital Logic
Digital electronics or digital (electronic) circuits are electronics that handle digital signals – discrete bands of analog levels – rather than by continuous ranges (as used in analogue electronics). All levels within a band of values represent the same numeric value. Because of this discretization, relatively small changes to the analog signal levels due to manufacturing tolerance, signal attenuation or parasitic noise do not leave the discrete envelope, and as a result are ignored by signal state sensing circuitry.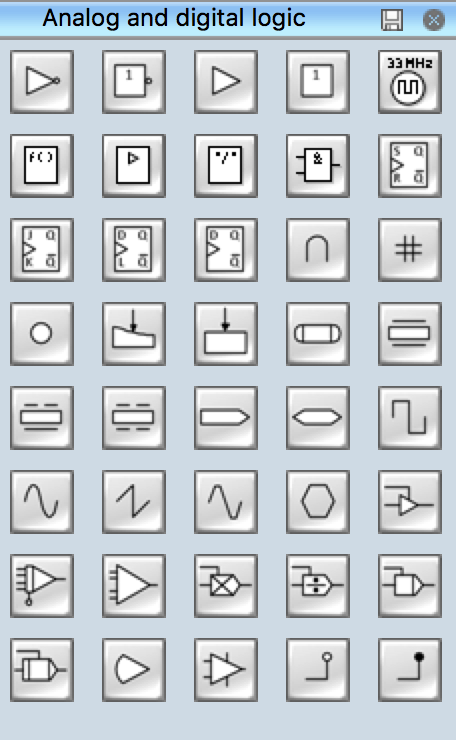 Pic. 1. Analog and digital logic Library
ConceptDraw DIAGRAM is a powerful software for creating professional looking electrical diagram quick and easy. For this purpose you can use the Electrical Engineering solution from the "Engineering" area of ConceptDraw Solution Park.
Electrical Engineering Solution for ConceptDraw DIAGRAM provides the stencils libraries of ready-to-use predesigned 926 vector symbols, templates and samples that make your electrical drawing quick, easy and effective.
26 libraries of the Electrical Engineering Solution of ConceptDraw DIAGRAM make your electrical diagramming simple, efficient, and effective. You can simply and quickly drop the ready-to-use objects from libraries into your document to create the electrical diagram.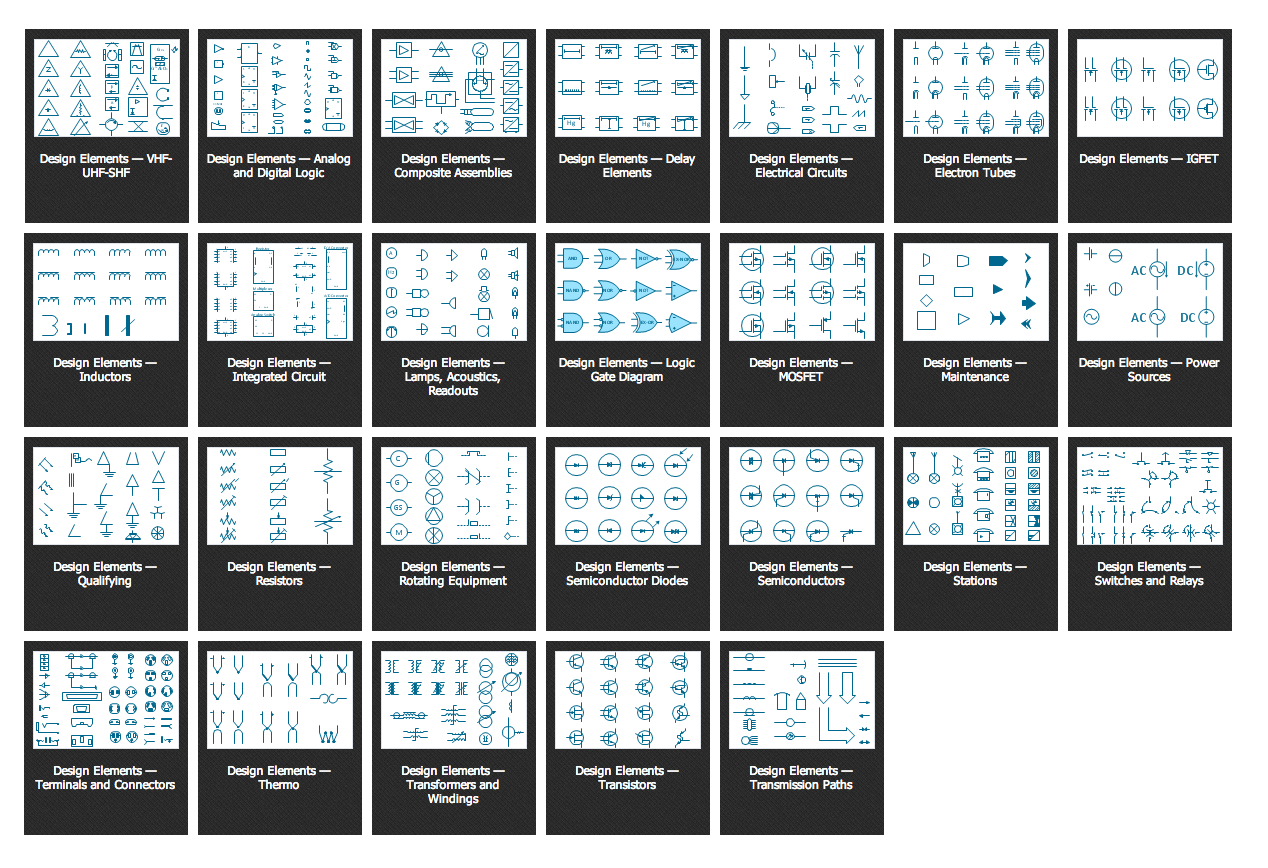 Pic. 2. Electrical Engineering symbols
Electrical diagram software will assist you in drawing your electrical diagrams with minimal effort and makes it very easy for beginners. Electrical symbols and smart connectors help present your electrical drawings, electrical schematic, wiring diagrams and blue prints.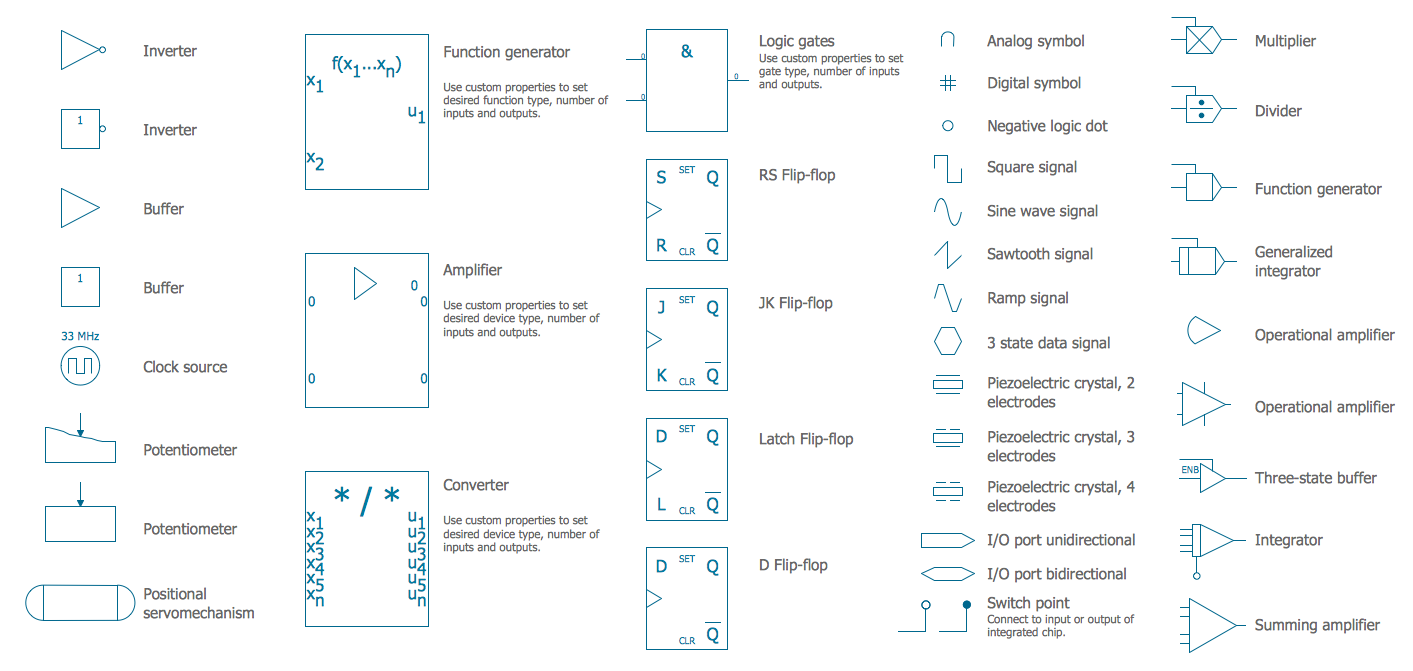 Pic. 3. Electrical Symbols - Analog and Digital Logic
Most of the electrical symbols can be changed in their appearance, styles and colors according to users' requirements. Electrical symbols are used to represent various electrical and electronic devices in a schematic diagram of an electrical or electronic circuit.
The following table lists some analog and digital logic electrical symbols in our electrical diagram software.
Symbol
Meaning
Electrical Symbols — Analog and Digital Logic
Inverter
Inverter 2
Buffer
Buffer 2
Clock
Function generator
Amplifier
Converter
Logic gates 1
RS Flip-flop
JK Flip-flop
Latch Flip-flop
D Flip-flop
Analog symbol
Digital symbol
Negative logic dot
Potentiometer
Potentiometer 2
Positional servo
Piezoelectric crystal, 2 electrodes
Piezoelectric crystal, 3 electrodes
Piezoelectric crystal, 4 electrodes
I/O port unidirectional
I/O port bidirectional
Square signal
Sine wave signal
Sawtooth signal
Ramp signal
3 state data signal
Three-state buffer
Integrator
Summing amplifier
Multiplier
Divider
Function generator 2
Generalized integrator
Operational amplifier
Operational amplifier 2
Switch point
Switch point 2
Digital electronic circuits are usually made from large assemblies of logic gates, simple electronic representations of Boolean logic functions.
How to Create an Electrical Diagram Using Analog and Digital Logic Library
Open ConceptDraw DIAGRAM new document page.
Select libraries from Electrical Engineering section.

There are a few different ways to place an object into your drawing:

Click on an object and then click on the document, at the place you want the object to be inserted.
Perform a

drag-and-drop

from the library to your document.
Double click on an object's icon in the library to place an object in the center of your document.

Select the Smart Connector tool . To connect elements using this tool, drag the connector from one connect dot to another.You can use Layers to place connections on different layers.
Result: Circuit Diagram.
TEN RELATED HOW TO's: