How to Build a Flowchart
Steps of the RapidDraw
A flowchart is a type of diagram used for designing, analyzing, documenting and managing the processes and programs, it lets visually represent an algorithm, workflow or process using the boxes objects to show the steps and connecting them with arrows, and applying a diamond symbol to represent a decision.
The ConceptDraw DIAGRAM is a professional software for quick and easy building great looking flowcharts of various types and any degree of complexity. An important role at the simplicity of drawing the flowcharts plays the ConceptDraw's RapidDraw technology which lets to add the objects with just a single click and create professional-looking flowcharts in a few steps.
The vector stencils from the object libraries allow you to use the RapidDraw technology. By clicking on direction arrows one can add new object to flowchart. This technology gives to ConceptDraw users the ability of fast creating visualization for the structural data.
Start new document
Open Flowcharts Rapid Draw library from the Flowcharts solution
Add a first object to page
Place cursor on the object
You will see blue arrows with drop-down object
Pick needed object
New object is added and connected with connector
Note: New object also will have a Rapid Draw functionality

Add new objects using the same method
Note: New object will be added at the same side as a blue arrow points

Continue to draw a flowchart

Flowchart base is ready, let's fill it out
Note: When you work with rapid draw objects, once you reach left or bottom edge of page, its size will double automatically

Zoom in the drawing for your convenience. Use mouse scroll with held Command (Ctrl)
Change size and fill the text in the needed object

Align objects using Align options on the ribbon. All objects will be aligned basing on object highlighted with green
Add text and change size, if needed

Change objects disposition regarding to one another
Change the path of connector using yellow control dots. In this case connector will stick to new trajectory, even if you move connected object

Align objects horizontally

Fill the text
Allign text center using Inspector

Add missing connectors to the objects. Connection points will appear as crosses

Add new connectors, if needed
Connect connector with object's center; in this case, when you move an object, connector will follow the closest path side

Adjust the page size to the drawn flowchart file using the Document Properties - Page Size menu

Select connector and add the text to it
Adjust its angle and object box

Add text to other objects and connectors
Adjust its position with yellow control dot

Select all objects with Command+A
Use Shape menu - Make Same - Size, to equalize it
Select few objects with held Shift button
Align objects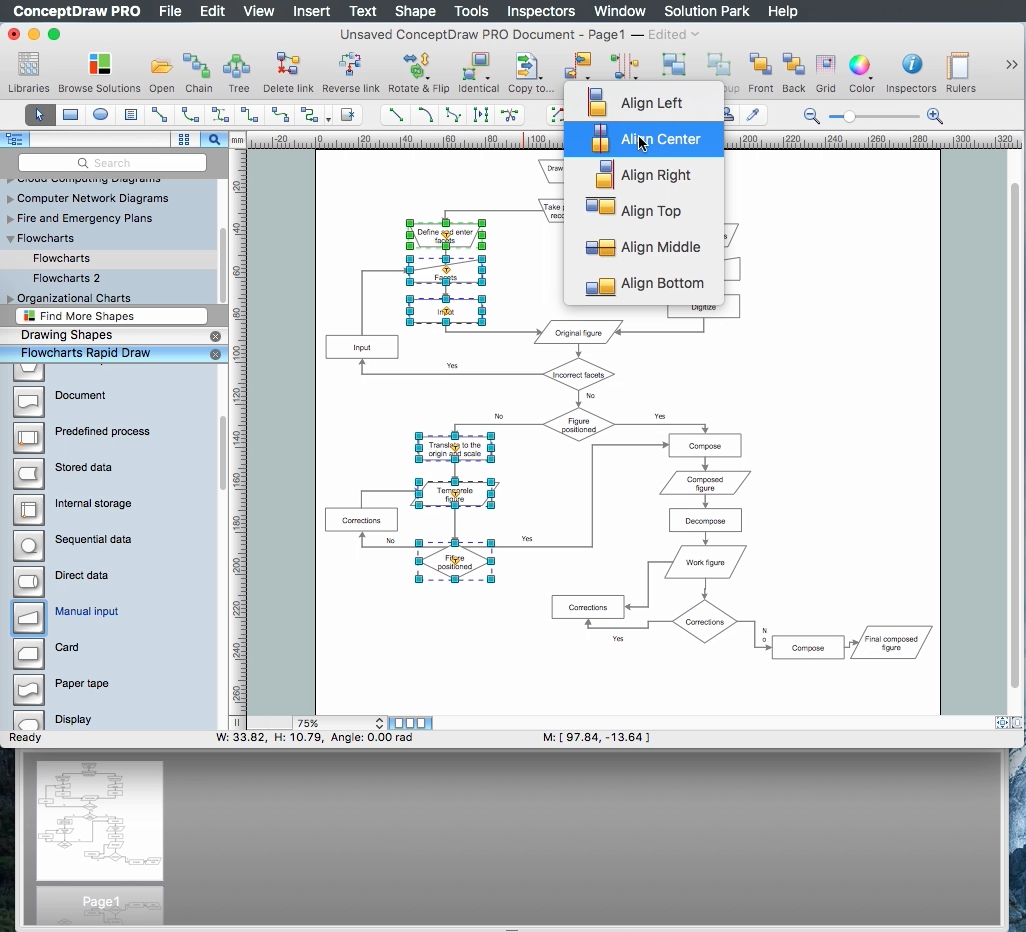 Select few objects
Open Inspector from ribbon
Set the color and switch off the stroke

Repeat actions for another group of objects
Again, adjust the page size to the File

Select connectors
Change colors and end objects
Change connector's text color

Double click on a page name at Pages inspector
Enter the page's name

Check your document
Adjust objects and connectors, if needed
Revert connectors. if needed

Your Flowchart is ready!

All exporting commands are available at ConceptDraw DIAGRAM from the File menu. You can immediately apply them when your Flowchart is ready.

The possibility of exporting to variety of popular graphical formats (PNG, JPEG, JPG, GIF, TIF, TIFF, BMP, DIB, EMF, SVG) and file formats, such as Microsoft PowerPoint (PPT), Adobe Acrobat (PDF), Microsoft Visio (VDX, VSDX), Adobe Flash (SWF), Encapsulated PostScript (EPS), HTML, opens wide opportunities for you.
Now, you can fast and easy create your Flowcharts with powerful ConceptDraw DIAGRAM software. And thanks to the wide export capabilities effectively collaborate and exchange information with other people, demonstrate your Flowcharts to wide auditory and your colleagues, even if they don't have the ConceptDraw DIAGRAM software.
Video How to Build a Flowchart (1min 49sec)
TEN RELATED HOW TO's: