Best Flowchart Software and Flowchart Symbols
ConceptDraw DIAGRAM
For years ConceptDraw has been flowchart maker delivering high quality business process flow design solutions, turning ConceptDraw DIAGRAM into most comprehensive and powerful examples of best flowchart software available. Solutions have been tailor made to apply to numerous departments and stakeholders within a company, while ConceptDraw specialize in professionally drawn vector stencil graphics of both standardized flowchart notations and typical flowchart symbols, as well as a large selection of themed icons and design elements.
Here are some of the flowcharting solutions for ConceptDraw DIAGRAM
HR Flowcharts
Accounting Flowcharts
Audit Flowcharts
Sales Flowcharts
Cross-Functional Flowcharts
Business Process Diagram
IDEF0 Diagrams
Flowcharts
Business Process Mapping
Data Flow Diagrams (DFD)
Workflow Diagrams
Event-driven Process Chain Diagrams EPC
By using flowcharts, you can map unique company processes at all levels and across all departments, transmit information to important stakeholders, or use your flowchart as part of a presentation - so it is important to have a piece of software powerful and dynamic enough to cater for all flowcharting needs. Combining these solutions with ConceptDraw DIAGRAM gives users all the tools they need to create effective and professional flowchart designs.
ConceptDraw DIAGRAM is a bundle of the vector stencils, examples, and templates include also RapidDraw technology this is the best flowchart software. Start design own flowchart with ConceptDraw DIAGRAM an accomplish great results in the moment.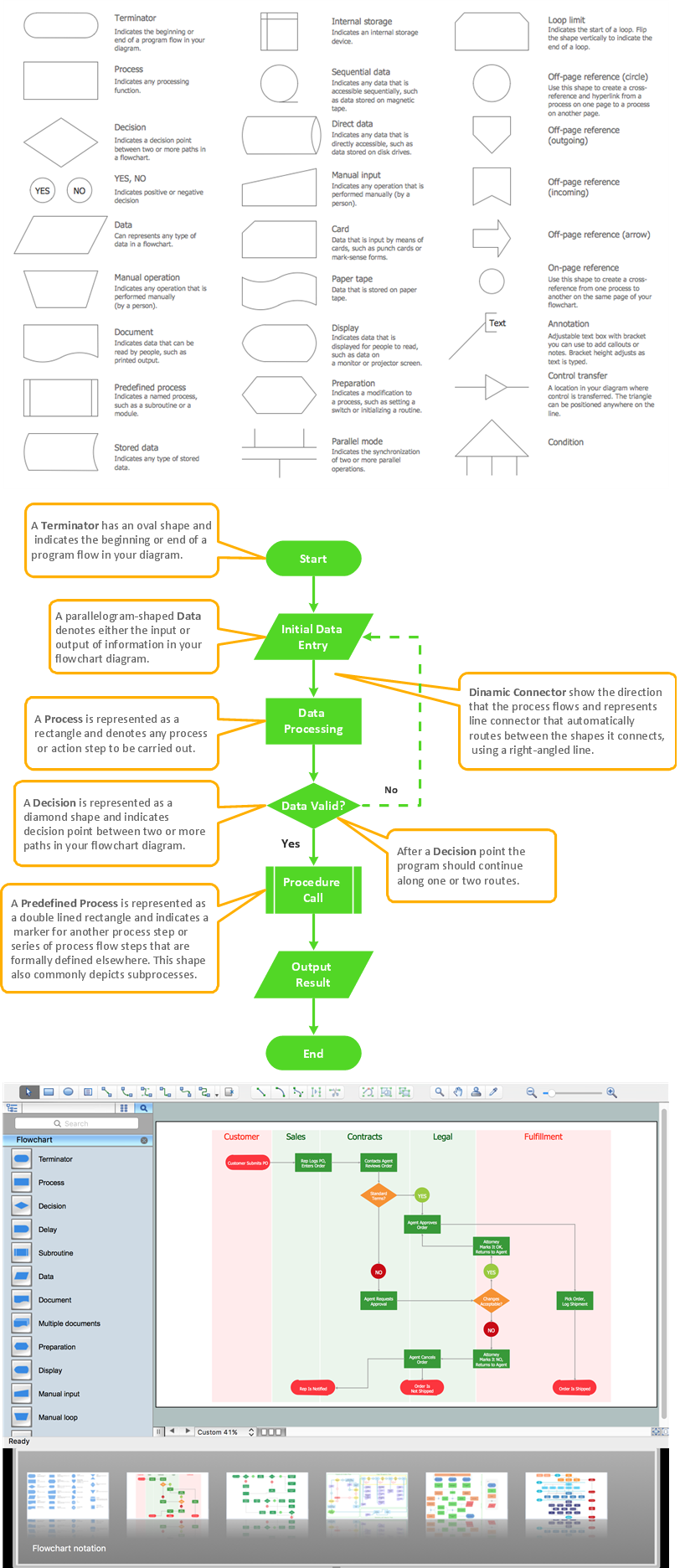 Sample 1. Best Flowchart Software: flowchart maker, flowchart symbols, template and example
This template explains the basic flow chart symbols.
Use ConceptDraw DIAGRAM diagramming and vector graphics software provides templates, samples and libraries of stencils for drawing flowcharts, diagrams and illustrations.
No other flowchart software gives you all this:
Design and document using a wide range of pre-drawn colored flowchart shapes, smart connectors and programming flowchart symbols.
Great value for the money, only $199 dollars.
Free technology support.
Free examples and built-in templates to help you draw flowcharts rapidly.
TEN RELATED HOW TO's: