Electrical Symbols — Composite Assemblies
Electronic components have two or more electrical terminals (or leads) aside from antennas which may only have one terminal. These leads connect to create an electronic circuit with a particular function (for example an amplifier, radio receiver, or oscillator). Basic electronic components may be packaged discretely, as arrays or networks of like components, or integrated inside of packages such as semiconductor integrated circuits, hybrid integrated circuits, or thick film devices.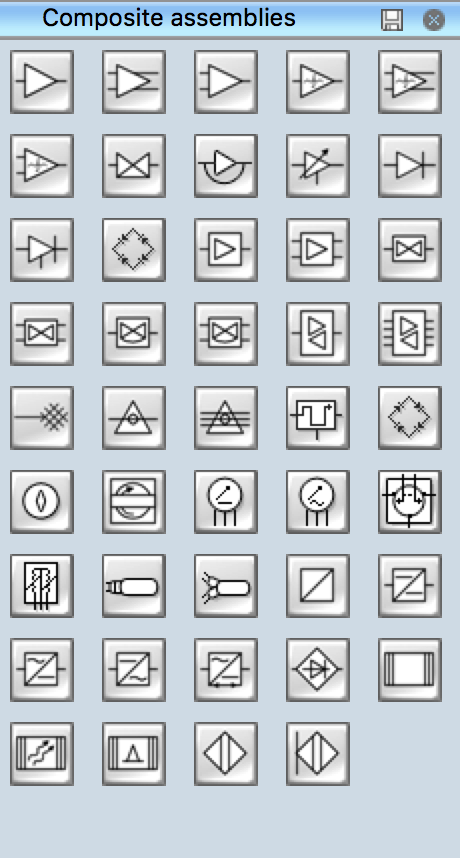 Pic. 1. Composite Assemblies Library
ConceptDraw DIAGRAM is a powerful software for creating professional looking electrical diagram quick and easy. For this purpose you can use the Electrical Engineering solution from the "Engineering" area of ConceptDraw Solution Park.
Electrical Engineering Solution for ConceptDraw DIAGRAM provides the stencils libraries of ready-to-use predesigned 926 vector symbols, templates and samples that make your electrical drawing quick, easy and effective.
26 libraries of the Electrical Engineering Solution of ConceptDraw DIAGRAM make your electrical diagramming simple, efficient, and effective. You can simply and quickly drop the ready-to-use objects from libraries into your document to create the electrical diagram.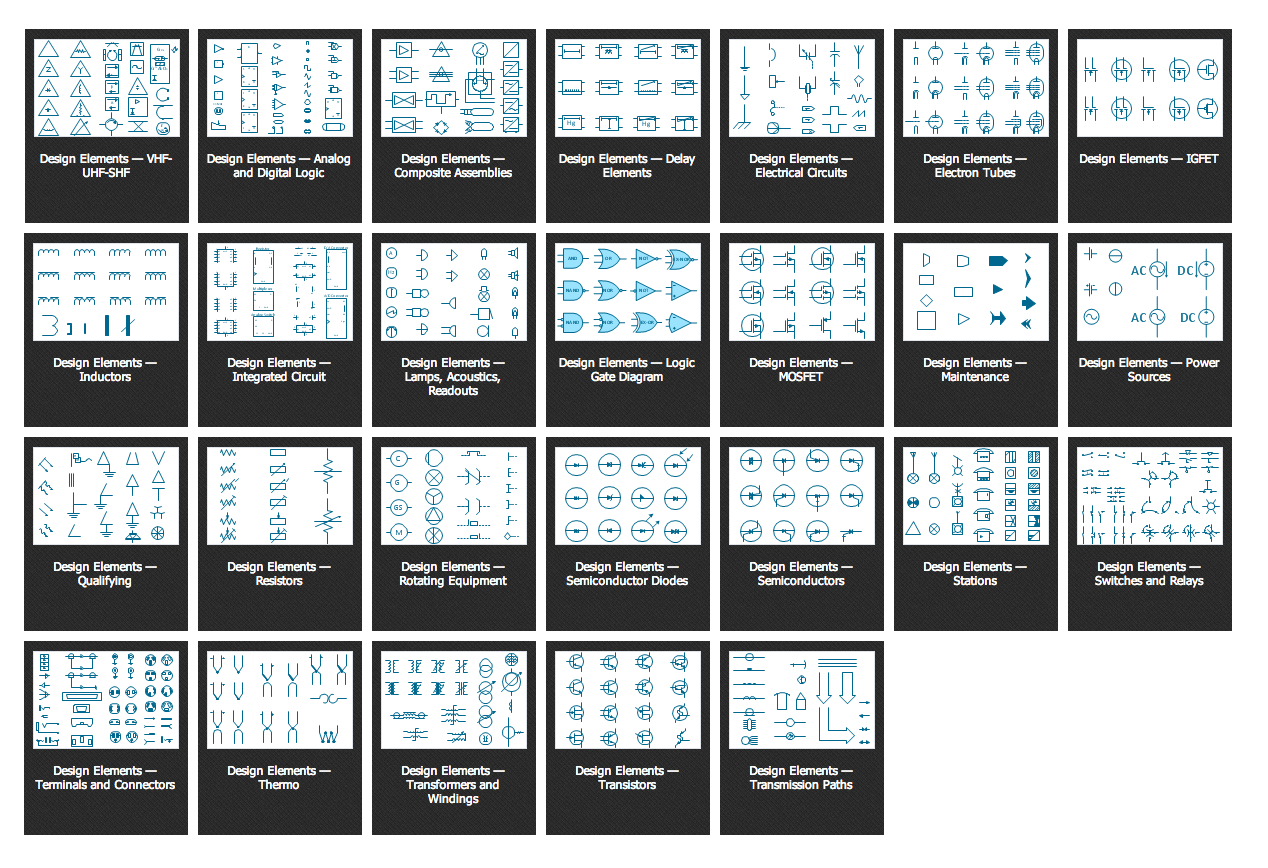 Pic. 2. Electrical Engineering symbols
Electrical diagram software will assist you in drawing your electrical diagrams with minimal effort and makes it very easy for beginners. Electrical symbols and smart connectors help present your electrical drawings, electrical schematic, wiring diagrams and blue prints.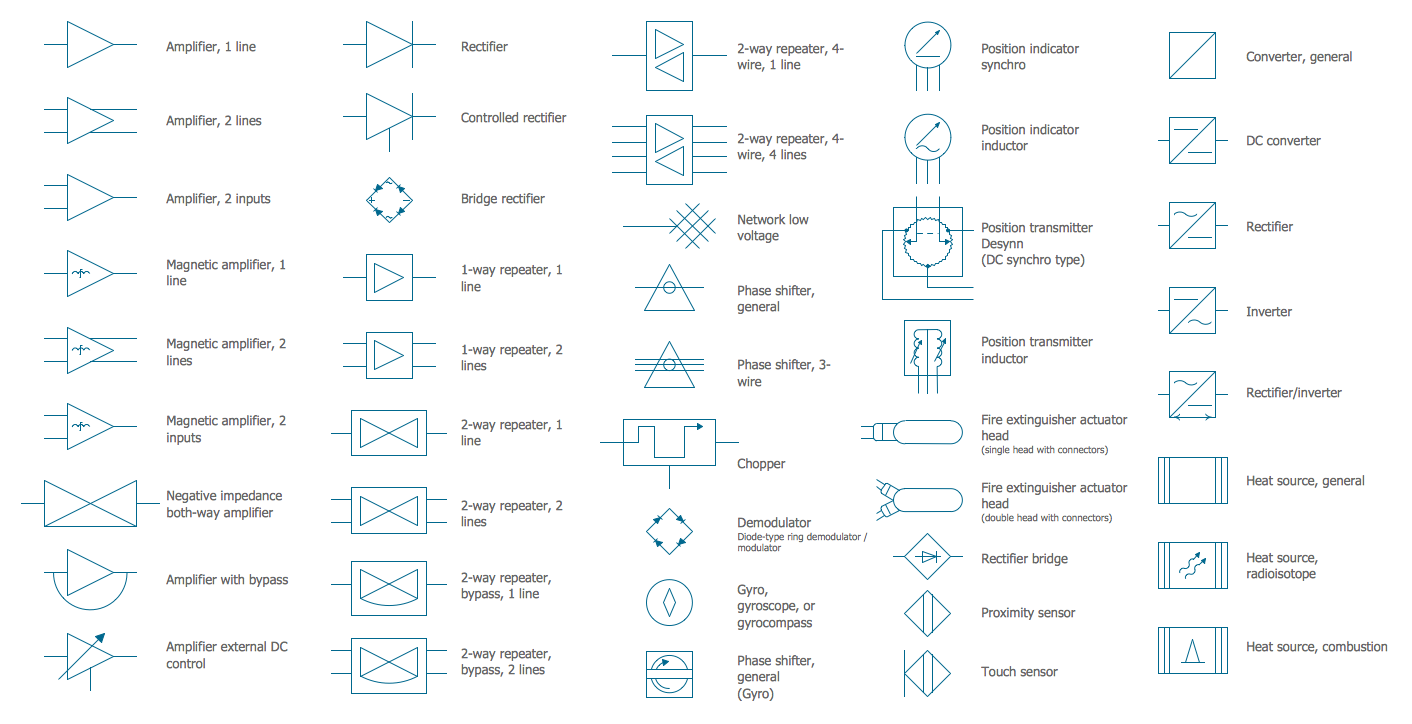 Pic. 3. Electrical Symbols — Composite Assemblies
Most of the electrical symbols can be changed in their appearance, styles and colors according to users' requirements. Electrical symbols are used to represent various electrical and electronic devices in a schematic diagram of an electrical or electronic circuit.
The following table lists some сomposite assemblies electrical symbols in our electrical diagram software.
Symbol
Meaning
Electrical Symbols — Composite Assemblies
1-way repeater, 1 line
1-way repeater, 2 lines
2-way repeater, 1 line
2-way repeater, 2 lines
2-way repeater, 4-wire, 1 line
2-way repeater, 4-wire, 4 lines
2-way repeater, bypass, 1 line
2-way repeater, bypass, 2 lines
Amplifier, 1 line
Amplifier, 2 inputs
Amplifier, 2 lines
Amplifier external DC control
Amplifier with bypass
Bridge rectifier
Chopper
Controlled rectifier
Converter, general
DC converter
Demodulator
Fire ext. actuator head
Fire ext. double head
Gyro
Phase shifter, general (Gyro)
Heat source, combustion
Heat source, general
Heat source, radioisotope
Inverter
Magnetic amplifier, 1 line
Magnetic amplifier, 2 inputs
Magnetic amplifier, 2 lines
Negative impedance both-way amplifier
Network low voltage
Phase shifter, 3-wire
Phase shifter, general
Position indicator inductor
Position indicator synchro
Position transmitter Desynn type
Position transmitter inductor type
Proximity sensor
Rectifier
Rectifier
Rectifier bridge
Rectifier/inverter
Touch sensor
An amplifier, electronic amplifier or (informally) amp is an electronic component that can increase the power of a signal. An amplifier functions by taking power from a power supply and controlling the output to match the input signal shape but with a larger amplitude.
How to Create an Electrical Diagram Using Composite Assemblies Library
Open ConceptDraw DIAGRAM new document page.
Select libraries from Electrical Engineering section.

There are a few different ways to place an object into your drawing:

Click on an object and then click on the document, at the place you want the object to be inserted.
Perform a

drag-and-drop

from the library to your document.
Double click on an object's icon in the library to place an object in the center of your document.

Select the Smart Connector tool . To connect elements using this tool, drag the connector from one connect dot to another.You can use Layers to place connections on different layers.
Result: Circuit Diagram.
TEN RELATED HOW TO's: