Business Architecture
Being involved in such business activity as business architecture, you may find ConceptDraw DIAGRAM diagramming and drawing software a useful tool for making only good looking as well as smart looking illustrations as it is one of the best applications nowadays, in a line with another product of CS Odessa — ConceptDraw STORE.
There's a Business Architecture Working Group of the Object Management Group which appeared in 2010, known to be describing business architecture as "a blueprint of the enterprise", known to be providing some common understanding of some organization, used for aligning the tactical demands and the strategic objectives. People who work on developing and maintaining any business architecture are known to be called as the "business architects". Such people may find Enterprise Architecture Diagrams Solution from ConceptDraw STORE a very helpful one for getting all the necessary tools for making the business architecture related drawings using ConceptDraw DIAGRAM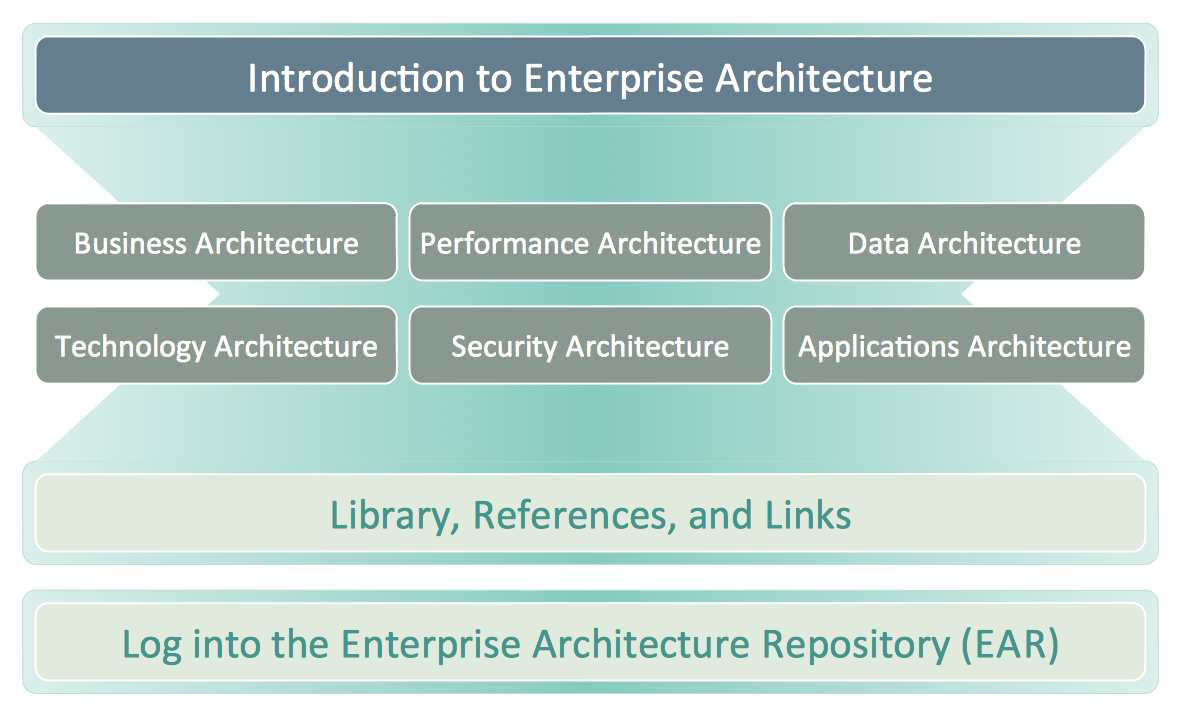 Example 1. Business Architecture — USDA Enterprise Architecture
Business architecture is sometimes called as "the bridge between the enterprise strategy and the enterprise business model as well as the business functionality of any enterprise" where it is used. The term of the "business architecture" itself can be also used for meaning some architectural description of some enterprise or of some business unit, some profession or some architectural model. According to the Object Management Group, which was already mentioned before, a blueprint of one of the types of business architecture describes "the structure of the enterprise in terms of its governance structure, business information and business processes".
The profession of business architecture is known to be focused on the operational, motivational and analysis frameworks, linking the mentioned aspects of the enterprise all together. The major characteristic of any business architecture: it is known to be representing real world aspects of some business, describing the way they interact with each other. Any business architecture is developed by some practice area, usually interdisciplinary, which is known to be focused on such processes (as well as the results of such processes) of defining and analysing the usual numerous concerns of what exactly business does, in what way it works, in what way it is organized, etc.
Business architecture is also used for designing the competitive structures and numerous processes, leveraging the already existing strengths, identifying the potential investment opportunities which all known to be advancing the business's objectives, driving innovation. All the products of any business architecture efforts can be used for developing plans, making business decisions as well as guiding any implementations.
Any business architecture effort can be conducted on its own as well as in a way of a part of some enterprise architecture (you can find more information about enterprise architecture in other articled on this site simply going to the "Search" button on the top right corner). An enterprise architecture was very popular in the past, being focused mainly on the technological aspects of change. Such practice was very fast evolving using a business architecture approach for addressing the organizational as well as motivational aspects of change.
The comparison between such terms as "business architecture" and "enterprise architecture" is simply a natural architectural comparison of two related disciplines, as any business architecture is known to be representing some business in the absence of any internet technology architecture and any enterprise architecture is known to be providing an overarching framework for business and internet technology architecture.
To make it possible to develop some particular integrated view of some enterprise, there are many different views of some organization, which are usually developed. Each of such "views" is usually a simple diagram, illustrating a way of understanding the enterprise in a way of highlighting the specific information about it. The main views of any enterprise address several aspects of the enterprise, which were summarized by the Object Management Group in 2012, including such statements as any "Business Strategy view captures the strategic and tactical goals which drive any organization forward", etc. One of the other statements is that the Business Capabilities view may describe the major business functions of any enterprise as well as its pieces, known to be performing the mentioned functions.
The Value stream view can be defining the so-called "end-to-end" set of different activities which are known to be delivering a value to both external and internal stakeholders. Any Business Knowledge view can establish the customers, orders, suppliers, etc., within some particular organization as well as all the relationships between the mentioned semantics, such as customers names, orders dates, suppliers names, etc.
Example 2. Enterprise Architecture Diagrams Library Design Elements
Any business strategy can consist of such elements as strategy statements, applied and/or generic business models, organizational objectives and goals and others. Any strategic statements are known to be arranged and analysed in a hierarchical way, with help of different techniques, such as well known qualitative hierarchical cluster analysis that always can be illustrated with help of ConceptDraw DIAGRAM Based on the mentioned hierarchy the initial business architecture can be further developed, using general methods as well as a business administration theory.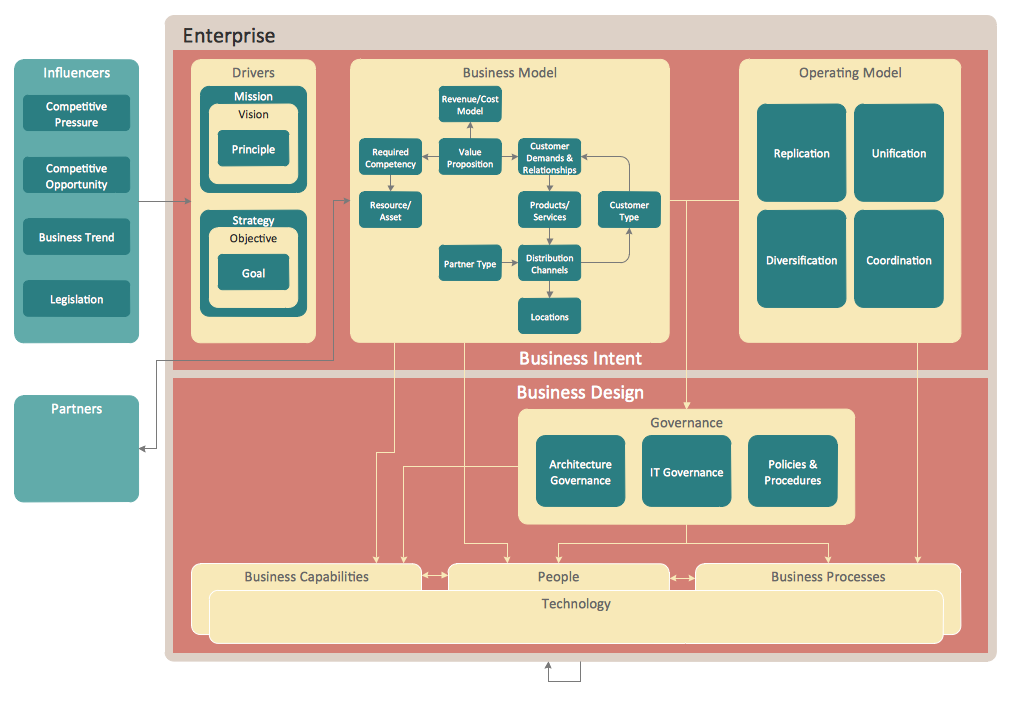 Example 3. Business Architecture
The drawings which can be related to the described field of business activity, can always be simply created in ConceptDraw DIAGRAM diagramming and drawing software with a usage of ConceptDraw STORE application that is known to be providing numerous "solutions" with the pre-made examples and templates, which all can be used as the drafts for all the ConceptDraw DIAGRAM users.
TEN RELATED HOW TO's: