Network Diagram Software
Physical Network Diagram
How to draw Physical Network Diagram
Physical Network Diagrams visualize the communication schemes of Physical Networks, and the networks arrangement in houses, offices and buildings. They are used by IT professionals to visually document the Physical Network structure and arrangement. ConceptDraw has 1004 vector stencils in the 40 libraries that helps you to start using software for designing your own Physical Network Diagrams. You can use the appropriate stencils from Computer and Network Diagrams object libraries.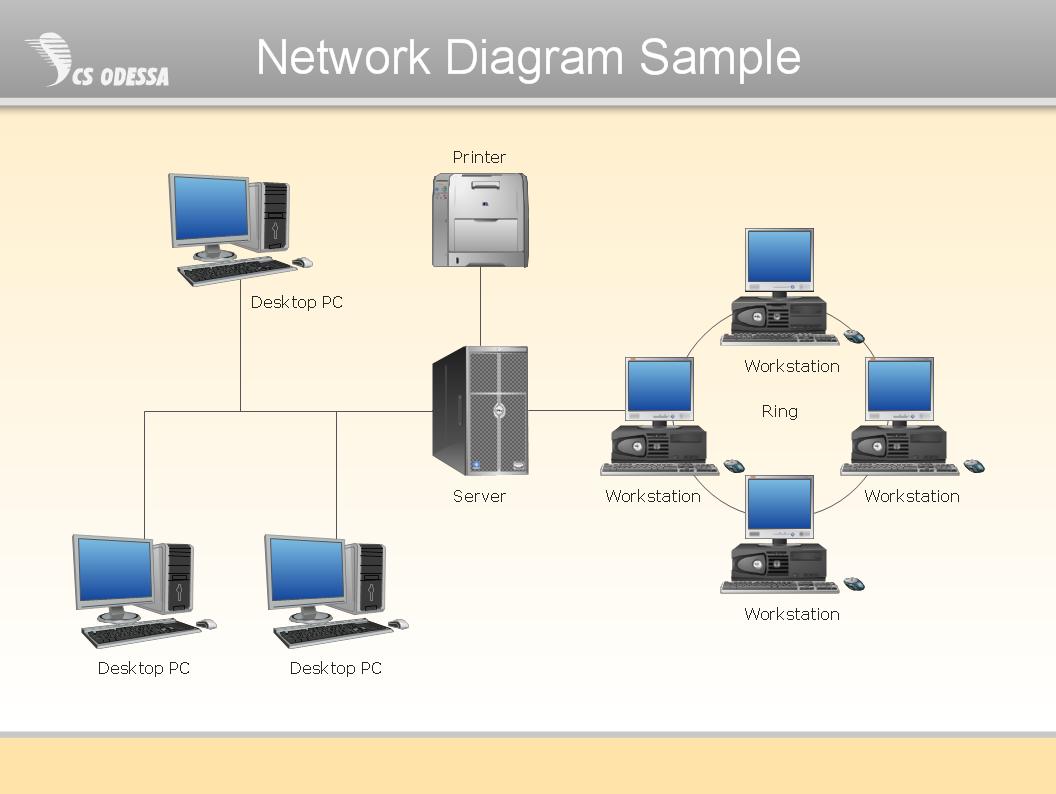 NINE RELATED HOW TO's:
Use ConceptDraw DIAGRAM diagramming and vector drawing software enhanced with Computer and networks solution to draw different types of network diagrams: physical layout and topology, LAN and WAN, Cisco, Apple, Wi-Fi wireless and Ethernet wired networks, etc. Special libraries of highly detailed, accurate shapes and computer graphics, servers, hubs, switches, printers, mainframes, face plates, routers etc.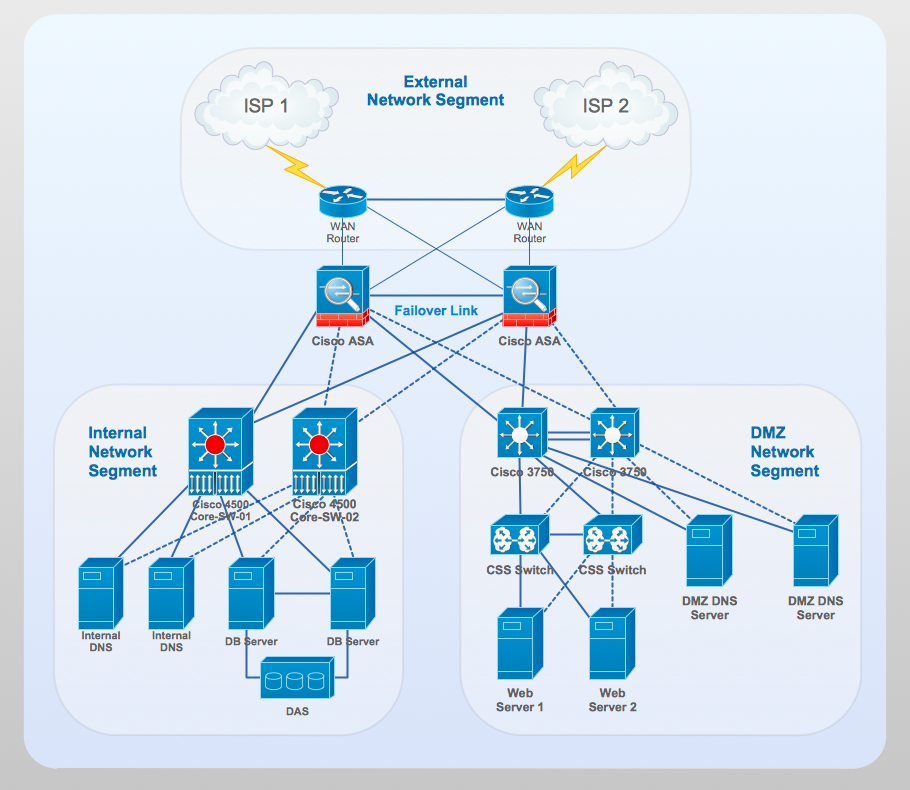 Picture: Network Gateway Router
Related Solution:
Communication via Internet nowadays is almost irreplaceable part of lifestyle. It's needless to say that providing that communication is not a piece of cake, and network diagram software is useful for representing all the interconnections between network devices. These diagrams are also helpful for educational purposes. This drawing depicts the network topology of the sample web studio. This is a physical type of network diagram. It is depicting the network, end-user equipment and connections between them. The given network has combined the both star and mesh network topology features. This diagram is a tool of network administrator. it delivers the actual information on location of servers, hubs, switches, routers, and other telecommunication equipment. The collection of network related symbols provided with ConceptDraw Network Diagrams solution represents the entire network components. All Symbols are standard. Therefore, network specialists can effortlessly decrypt this diagram.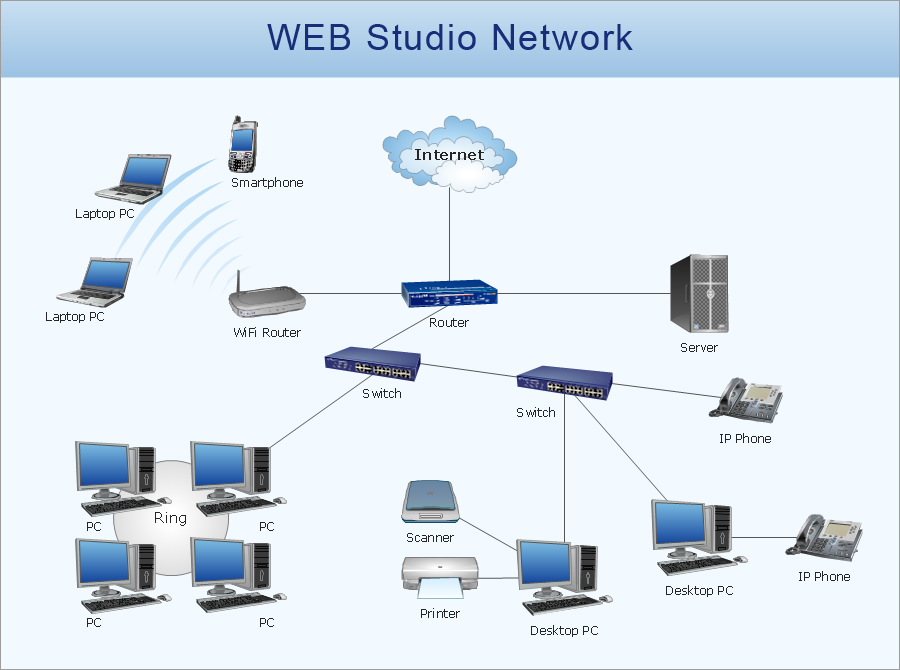 Picture: Network Diagram Software
Related Solution:
Local area network connects computers and other network appliances within an area, such as office building or a campus. It can be difficult to provide such network without a predesigned plan. For these purposes you can use network diagram software, which helps you to create LAN network diagrams and office network diagrams quickly and effortless. This will speed up your work and you can save the diagram for the future network improvements. The following diagram illustrates a network topology of the small office. LAN configuration has a star topology. The local network joins 8 computers among which are several desktop PCs, laptop, two iMacs and iBook. The end-point devices are divided into three groups. Each group is connected to its hub. There is a network printer and a modem, which are interconnected with other devices through a network server. Each computer on the LAN can access the server through a corresponding hub.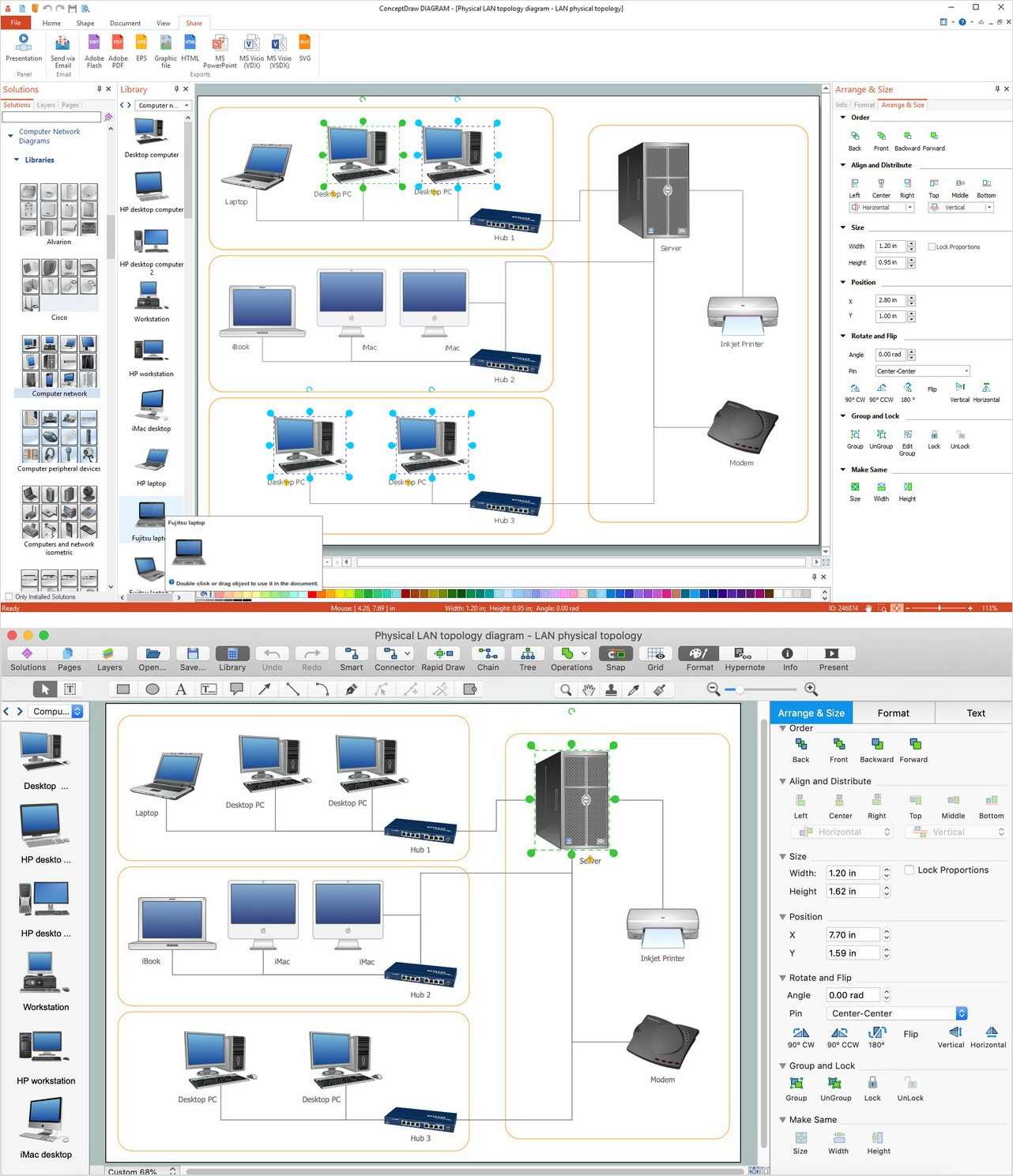 Picture: Network Diagram Software. LAN Network Diagrams. Physical Office Network Diagrams
Related Solution: