Top 5 Android Flow Chart Apps

For many years CS Odessa corporation has been developing the multifunctional vector diagramming software with supporting sophisticated drawing tools for vector diagramming and design on Macintosh and PC with Windows installed. We feel that our considerable experience gives us an opportunity to look objectively at the current offerings and to offer you our opinion about the main contenders and pretenders. Would you like to know the details about what is going on in the world of Flow Chart drawing applications that support Android? The Top 5 of drawing applications in this space rapidly changes, consequently it is significant understatement to call this application space dynamic. Now, the list of Top 5 popular flowchart makers for Android includes LLNL Flow Charts, Army Flow Charts, DroidDia prime, Note Droid, DroidDia PRO unlocker. These listed business graphics applications are recognized by many experts the most convenient, powerful, and successful for use when drawing on Android devices.
Read more
This work flow chart sample was redesigned from the picture "Simulation for earthquake disaster assessment" from the article "Simulation Workflows".
[iaas.uni-stuttgart.de/forschung/projects/simtech/sim-workflows.php]
" This simulation was developed to have an in depth understanding of the destructions and the decisions to be made in various phases of crisis management (Source: Mahdi Hashemi and Ali A. Alesheikh (2010). "Developing an agent based simulation model for earthquakes in the context of SDI." GSDI 12 World Conference. 19 – 22 October 2010. Singapour). The simulation process contains following major steps:
(1) All spatial information including satellite images (before and after the earthquake) and topographic/cadastral maps of the area are mosaicked and georeferenced. The parts of the city that contain various levels of destructions are selected. Three types of features namely buildings, roads and recreational areas are classified and extracted from the satellite images.
(2) The governing factors of destructions are identified; a mathematical model that integrates the factors is constructed.
(3) The simulation is constructed for various parameter values (different earthquake strength, time elapses, etc.)" [iaas.uni-stuttgart.de/forschung/projects/simtech/sim-workflows.php]
The example "Workflow diagram - Earthquake disaster assessment" was drawn using the ConceptDraw PRO diagramming and vector drawing software extended with the Workflow Diagrams solution from the Business Processes area of ConceptDraw Solution Park.
Read more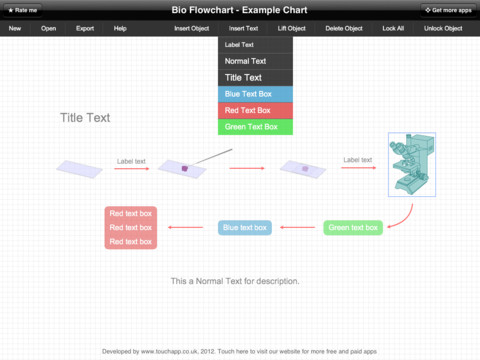 This app targets to help teachers and students to create vivid and professional biological flowcharts and diagrams in an easy way.
Read more