Gantt Chart Software
ConceptDraw PROJECT is a powerful project management tool in the line of ConceptDraw Office products. It gives you the possibility to manage effectively single and multiple projects, allocate the time and resources.
ConceptDraw PROJECT is a powerful Gantt Chart Software. The Gantt Charts are useful for displaying a large amount of detailed information, project tasks and timelines in a visually pleasing, easy-to-understand format.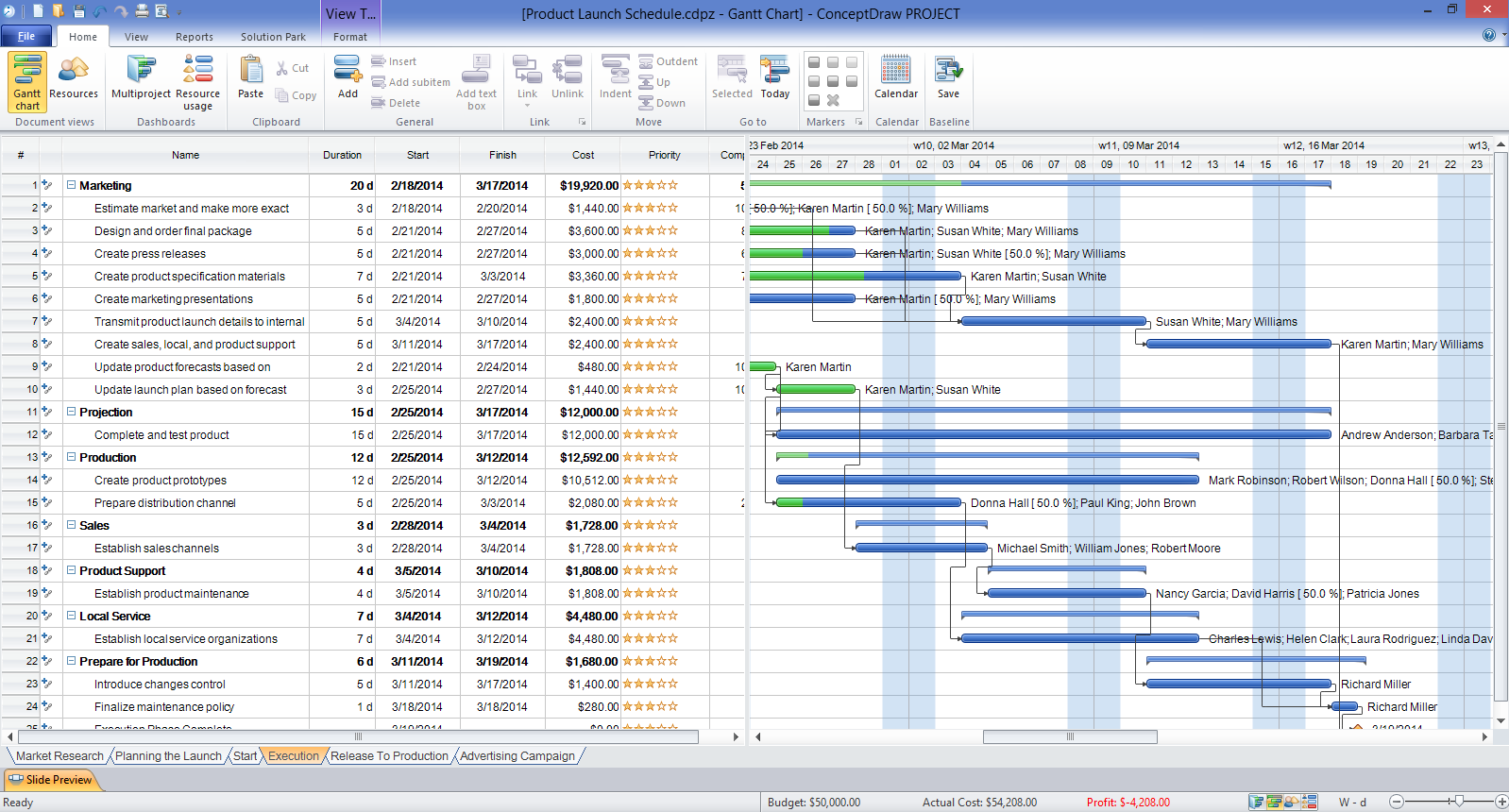 Sample 1. ConceptDraw PROJECT Gantt Chart Software
ConceptDraw STORE offers you the Project Exchange Solution from the Collaboration Area that allows to get instantly the access to the ConceptDraw PROJECT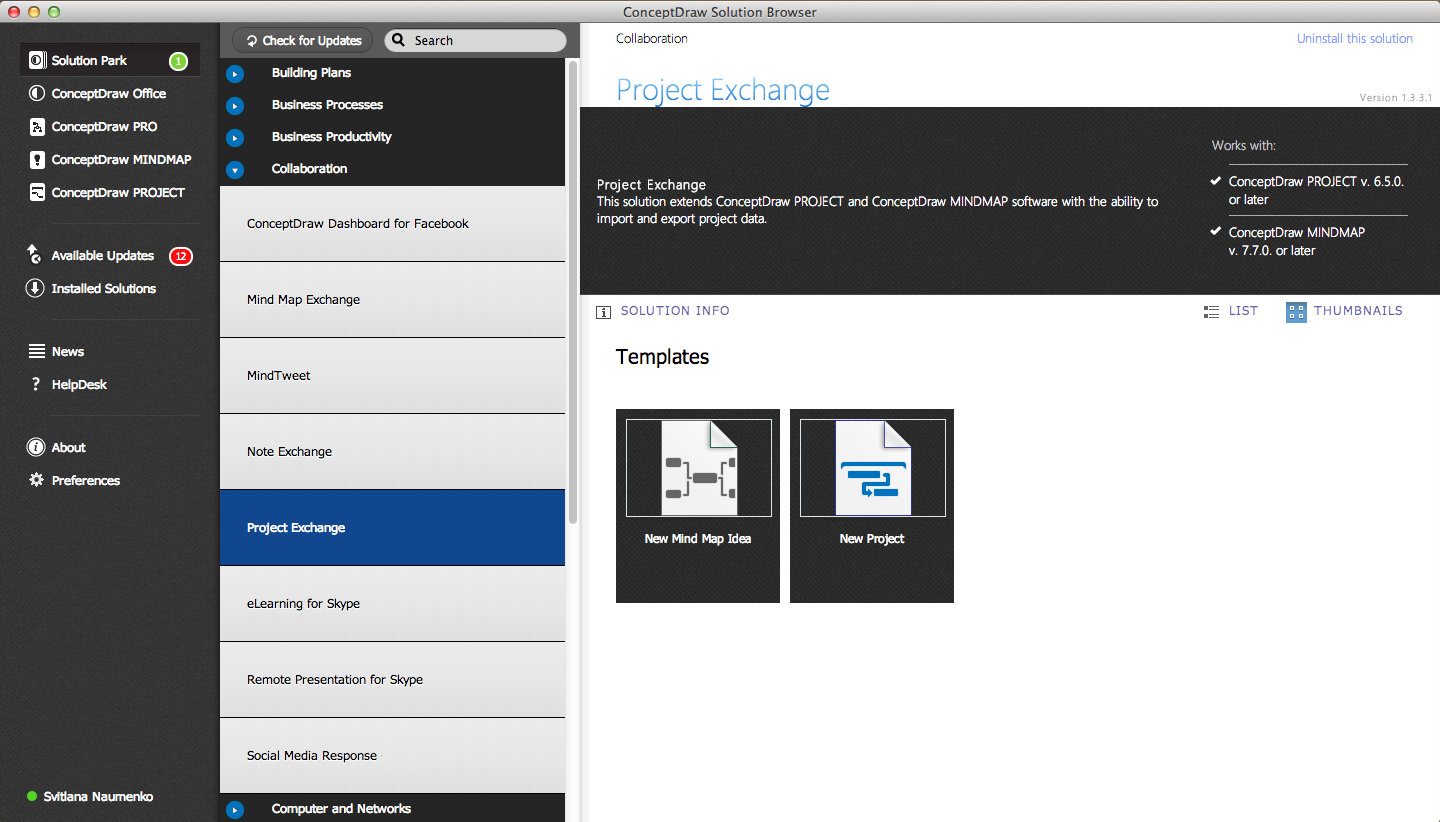 Sample 2. Project Exchange Solution in ConceptDraw STORE
Use the New Project Template from the Project Exchange Solution from ConceptDraw STORE to quickly create the new project in ConceptDraw PROJECT Easily create and organize the tasks, assign resources, track and manage any activity or event that requires planning, budgeting or tracking a variety of resources, with ConceptDraw PROJECT !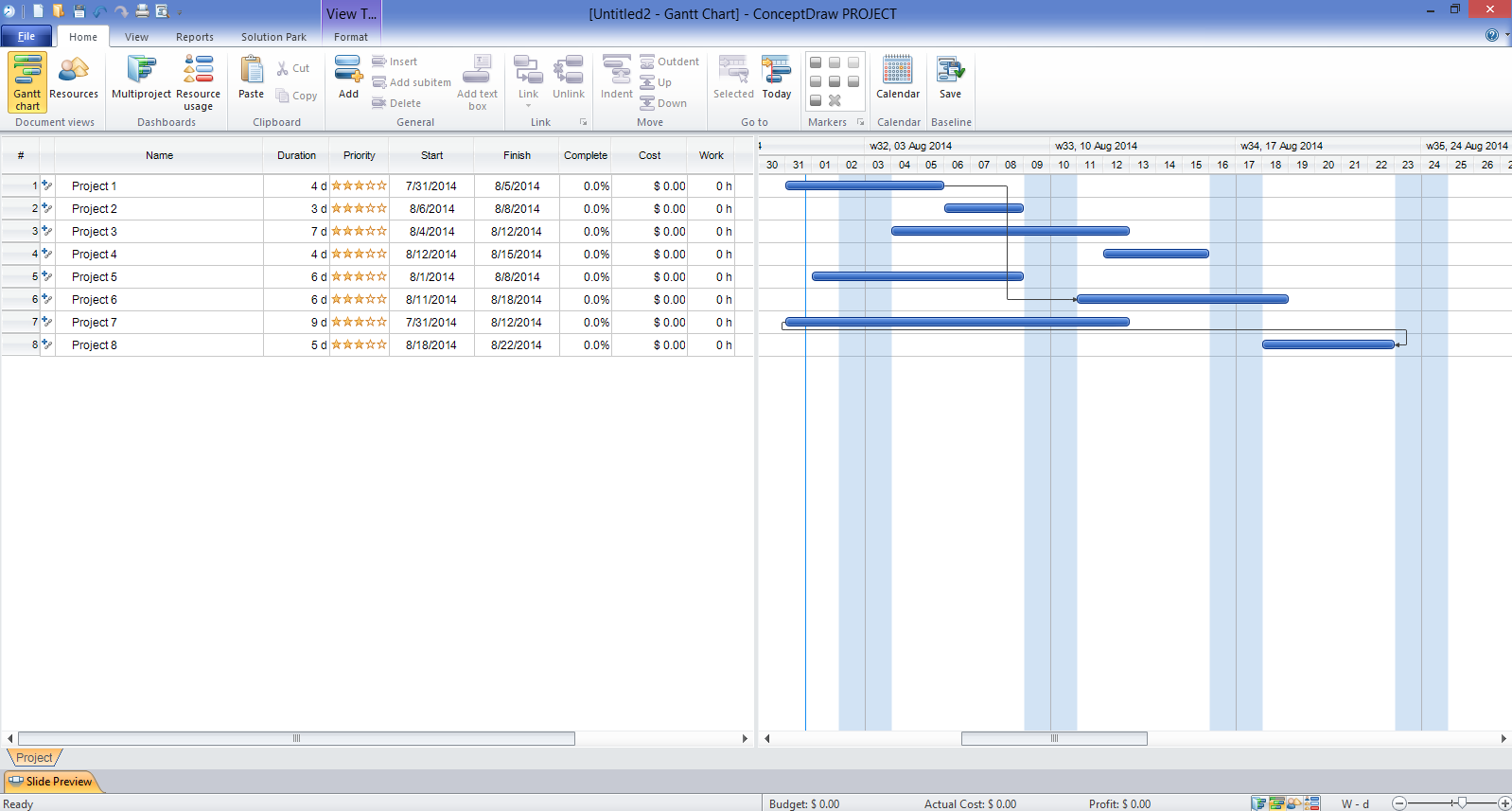 Sample 3. Gantt Chart Sample
Use ConceptDraw PROJECT and Project Exchange Solution from the Collaboration Area from ConceptDraw STORE to create and manage your single and multiple projects quick, easy and effectively.
The Benefits for ConceptDraw PROJECT Gantt Chart Software
ConceptDraw PROJECT is an effective tool with powerful functionality which is ideal for planning, scheduling and monitoring project development, allocation of budget and resources.
ConceptDraw PROJECT enables you to manage single and multi-projects, create visual project dashboards and diagrams, generate various kinds of reports with one click.
ConceptDraw PROJECT provides wide capabilities of importing and exporting in various formats: Microsoft Project, ConceptDraw MINDMAP, Mindjet MindManager, PDF file.
SEVEN RELATED HOW TO's:
Gant Chart is a graphical representation of tasks as segments on a time scale. It helps plan and monitor project development or resource allocation. The horizontal axis is a time scale, expressed either in absolute or relative time.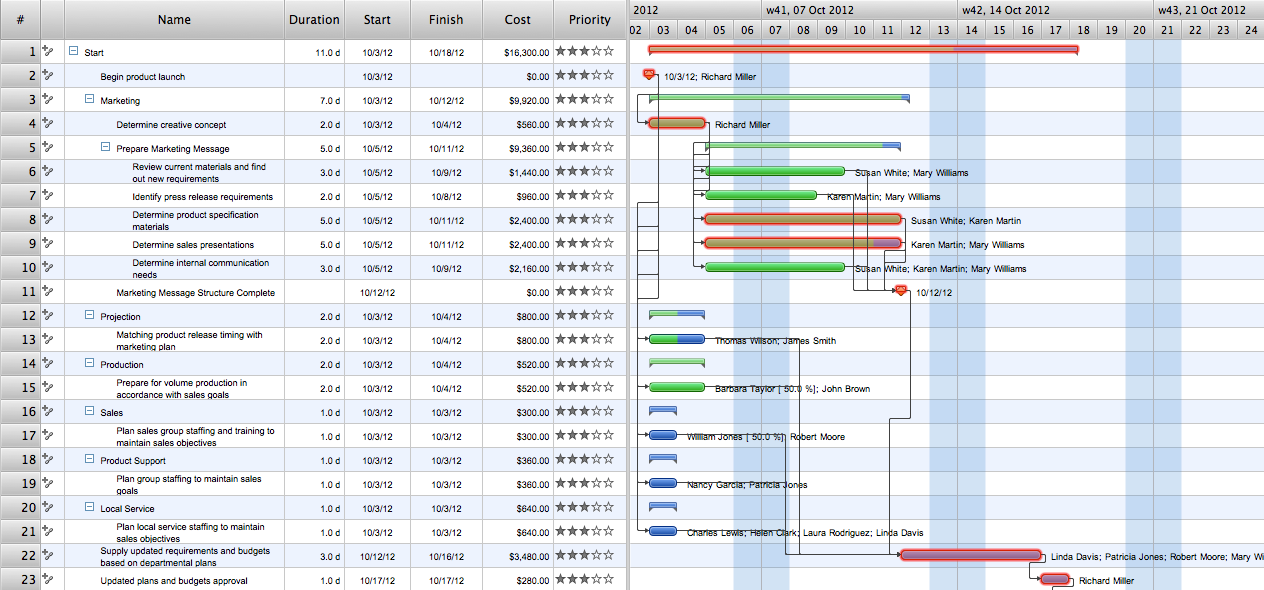 Picture: Gant Chart in Project Management
Related Solution:
Big and complex projects sometimes need some simplification of plans and schedules. That's why Program Evaluation and Review Technique was invented and first implemented in 1958. You can create PERT diagrams effortlessly with ConceptDraw DIAGRAM and share them with your colleagues. Program Evaluation Review Technique (PERT) is a method that is used to assess and analyze projects. PERT is a valuable tool for the project management practice. PERT gives an assessment and analysis of the time needed to the project completion. A PERT chart is a visual tool that delivers a graphical view of a project timeline. It is used to display the sequences and dependences of project tasks necessary to complete a project. ConceptDraw DIAGRAM delivers the possibility to build a PERT along with other diagrams applied to assist management process by using its Seven Management and Planning Tools solution.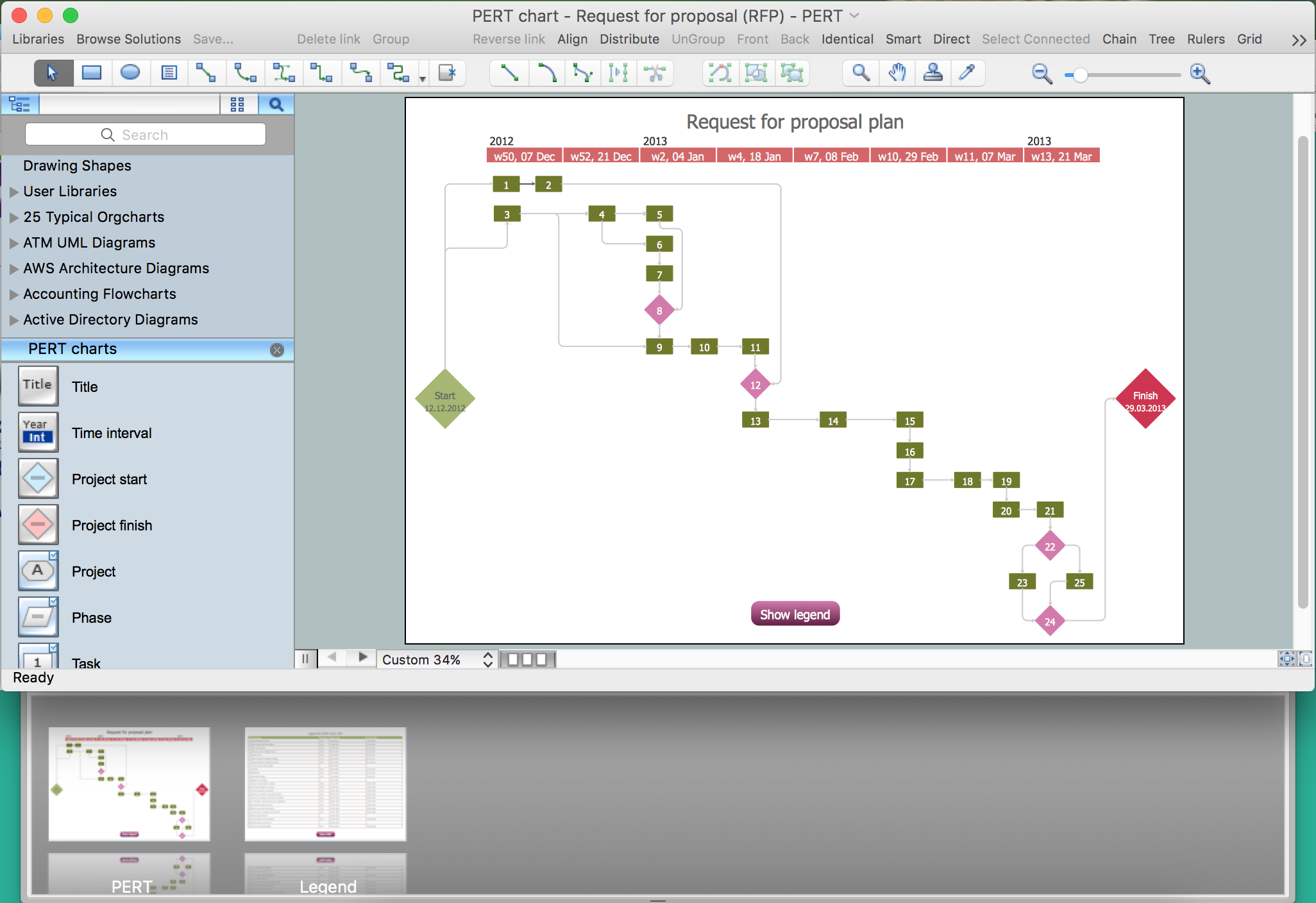 Picture: Program Evaluation and Review Technique (PERT) with ConceptDraw DIAGRAM
Related Solution:
There are numerous articles about the advantages of flowcharting, creating business graphics and developing different charts. Nevertheless, these articles are almost useless without the main component - the examples of flowcharts, org charts and without a fine example, it is difficult to get all the conveniences of creating diagrams. You can find tons of templates and vivid examples on Solution Park. This illustration shows a variety of business diagrams that can be created using ConceptDraw DIAGRAM. It comprises a different fields of business activities: management, marketing, networking, software and database development along with design of infographics and business illustrations. ConceptDraw DIAGRAM provides a huge set of sample drawings including business process modeling diagrams,, network diagrams, UML diagrams, orgcharts, DFD, flowcharts, ERD, geographical maps and more.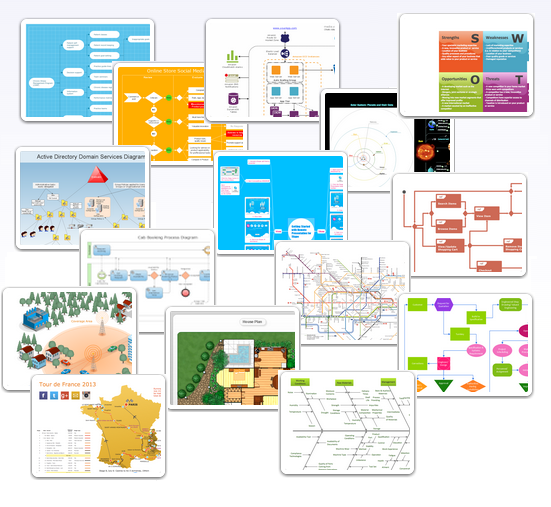 Picture: Examples of Flowcharts, Org Charts and More
Related Solution: