3 Tips for a Killer Presentation
Creating presentation
ConceptDraw MINDMAP is an advanced tool for creating presentations, if you decide to represent data without spending hours on that. You can effectively generate, change, and update your presentation to best meet your needs. There are different demonstration capabilities for viewing, editing, or simply playing your presentation.
In ConceptDraw MINDMAP adding new slides and pages, and view resulting document is intuitively simple. On the Slide Navigator, you can choose the most suitable slides for the presentation and preview them. When you are timeless to prepare a presentation, you have the ability to use the default presentation.
See also Videos:
---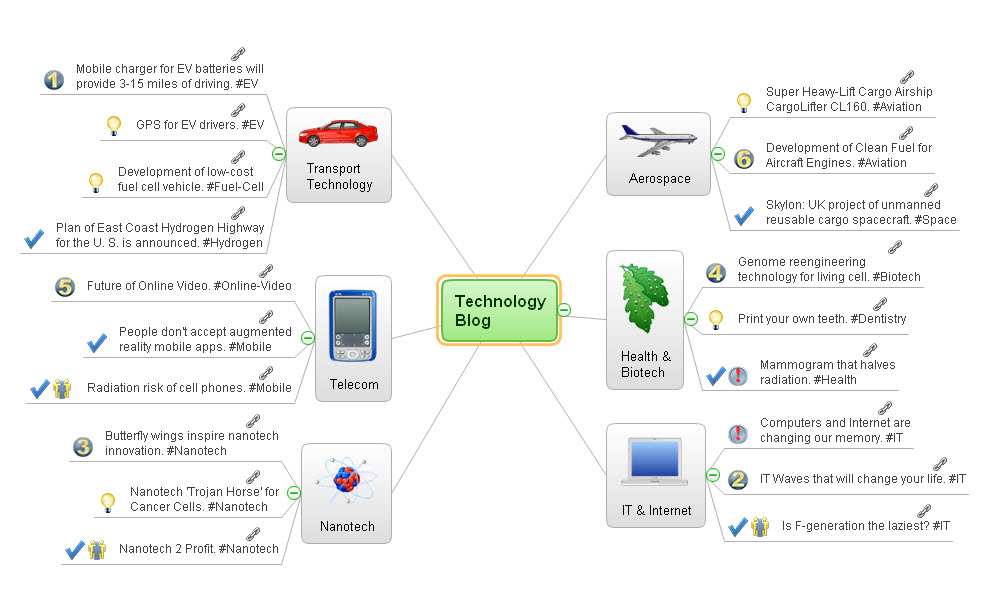 Sample 1. Mind map presentation - Technology blog.
Why to import PowerPoint slides into ConceptDraw MINDMAP ?
There are three usable scenarios.
Scenario 1 — Need to Review PowerPoint Content.
A major proposal to your company includes a PowerPoint slide deck covering some of the more detailed points. Flipping from slide to slide takes time, and in the process you can lose or obscure the meaning behind the presentation. With the latest update to ConceptDraw MINDMAP, you can easily extract the content from the presentation and see how it all fits together in a single view.
Scenario 2 — Organization of Presentation Content.
You have to give an important presentation to the Board of Directors on Friday. The last presentation you gave they picked apart. They said it wasn't presented properly, and that it was very hard to follow. They felt you should have done a better job of supporting your critical points.
Scenario 3 — Improve Learning from Slides.
The class you are attending has distributed slide presentations that contain lots of study content. The challenge is to take all of the material from class and use it to better leverage the time you have to study. With ConceptDraw MINDMAP you can pull the content into a map that gives you better access to the class materials.
SEVEN RELATED HOW TO's: