How to Supervise People
ConceptDraw Office
ConceptDraw Office is an integrated set of visualization products and document exchange technologies. ConceptDraw OFFICE consists of a diagramming platform, a mind mapping, and a project management tool. These tools are essential to generate business diagrams, mind maps, project plans, dashboards, presentations, schematics, and any other business visualizations. These tools have access to an online service, ConceptDraw Solution Park that will deliver additional product extensions in the future. This is a time saving assistant for generating your business documents and presentations.
ConceptDraw Office consists of a diagramming platform, a mind mapping, and a project management tool. These tools are essential to generate business diagrams, mind maps, project plans, dashboards, presentations, schematics, and any other business visualizations.
ConceptDraw MINDMAP Samples
Sample mind maps created in ConceptDraw MINDMAP that demonstrate the different capabilities and applications of the program for business, personal, or education use.
A detailed mind map that includes advice on how to supervise people.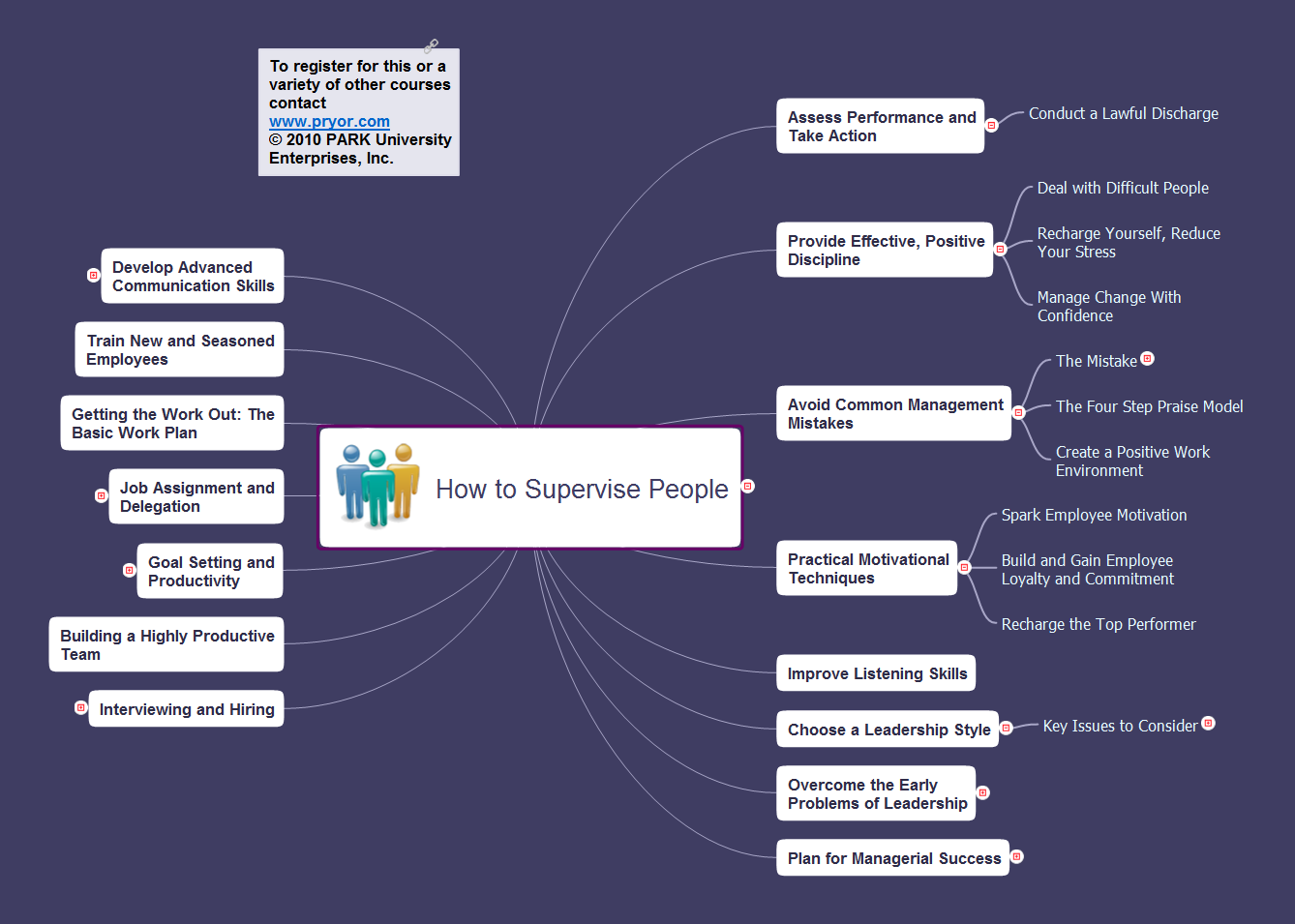 Example 1. How to Supervise People
Export to Outline
How to Supervise People

Assess Performance and Take Action

Conduct a Lawful Discharge

Provide Effective, Positive Discipline

Deal with Difficult People
Recharge Yourself, Reduce Your Stress
Manage Change With Confidence

Avoid Common Management Mistakes

The Mistake

Mediocre Performance
Boring or Thankless Work
Money as a Motivator
Failure to Recognize and Praise Employees

The Four Step Praise Model
Create a Positive Work Environment

Practical Motivational Techniques

Spark Employee Motivation
Build and Gain Employee Loyalty and Commitment
Recharge the Top Performer

Improve Listening Skills
Choose a Leadership Style

Key Issues to Consider

The job to be done.
Social/emotional relationships.
Willingness/ability to take initiative.

Overcome the Early Problems of Leadership

Make the Transition Smoothly
Supervising Friends
Maintaining Peak Performance
Supervising Older/More Experienced Employees
Supervising Younger/Less Experienced Employees
Steering Clear of the Traps in Supervision
Set Clear Supervisory Boundaries

Plan for Managerial Success

Component One

A favorable attitude toward authority and toward people who are in charge

Component Two

The desire to compete, especially with peers

Component Three

The desire to assert oneself and take charge of situations.

Component Four

A desire to exercise power and authority over other people.

Component Five

A desire to behave in a distinctive and different way, to stand out from the crowd.

Component Six

A well-developed sense of responsibility in carrying out routine work.

Interviewing and Hiring

Recruitment Sources

Direct Sourcing
Referrals
Temp-to-Hire positions
Advertising

Reduce Employee Turnover with Researched Hiring and Interviewing Techniques

Behavior based interviewing
Open-ended questions

When Filling a Vacant Position
Interview Style and Formats

Panel
Group
Peer
Human resources representative versus hiring manager.
One-on-one.

The Interview Process
How Many Interviews are Enough?
Hire the Best Suited Candidate

Building a Highly Productive Team
Goal Setting and Productivity

Be SMART about Setting Goals

Job Assignment and Delegation

Why Don't We Delegate
Why Do Some Employees Resist Taking On Assignments?
What Can You Delegate?
Make Job Assignments: No-Nonsense Delegation Guidelines
Additional Hints
The Delegation Dilemna

Getting the Work Out: The Basic Work Plan
Train New and Seasoned Employees
Develop Advanced Communication Skills

Verbal Communication
Assert Yourself
Communicate Effectively
The Benefits for ConceptDraw MINDMAP Brainstorming Software
ConceptDraw MINDMAP is effective for brainstorming, designing mind maps, idea generating, creative and lateral thinking, creativity and problem solving.
ConceptDraw MINDMAP is ideal for team and personal work in Business, Marketing and Project Management.
The libraries with large quantity of vector objects help to illustrate your mind maps and to make them bright, visual and comprehensible.
Use of View Navigator tool lets create presentations from a mind map: you can simply select the map parts you want to present, sequence your slides, and preview the presentation.
ConceptDraw MINDMAP provides wide capabilities of importing and exporting in various formats: Microsoft PowerPoint, Microsoft Word, MS Excel, Mindjet MindManager, image, HTML, PDF file.
SIX RELATED HOW TO's:
Whenever you need quick presentations, the ability to choose specific content, the ability to focus on specific stakeholder needs, update data, or create polished slide decks — ConceptDraw MINDMAP provides a presentation solution for you.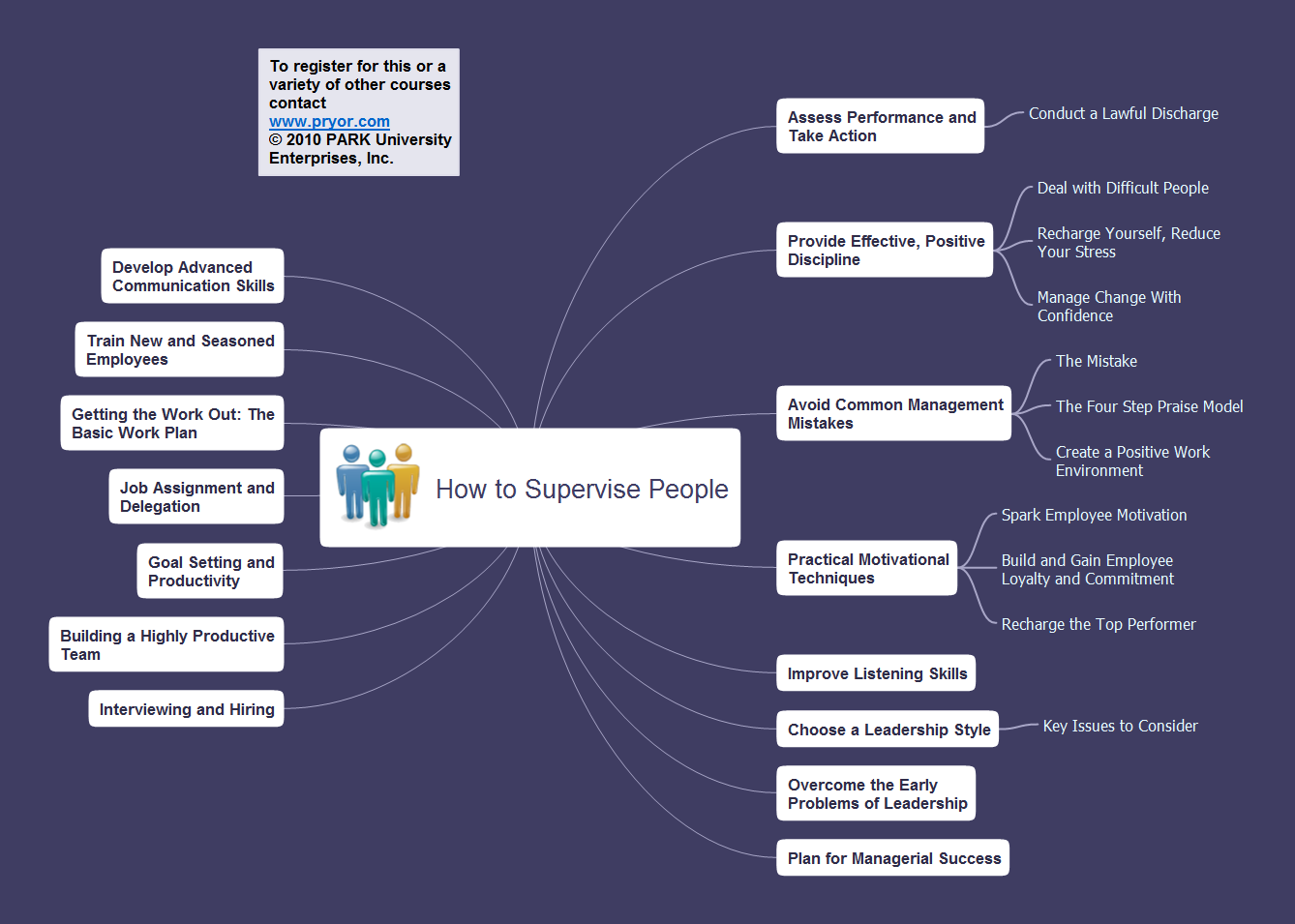 Picture: Presentation Preparation using Mind Maps
Related Solution:
Problems are obstacles and challenges that one should overcome to reach the goal. They are an inseparable part of any business, and the success of an enterprise often depends on ability to solve all problems effectively. The process of problem solving often uses rational approach, helping to find a suitable solution. Using Fishbone Diagrams for Problem Solving is a productive and illustrative tool to identify the most important factors causing the trouble. ConceptDraw DIAGRAM extended with Fishbone Diagrams solution from the Management area of ConceptDraw Solution Park is a powerful tool for problem solving with Fishbone Ishikawa diagram graphic method.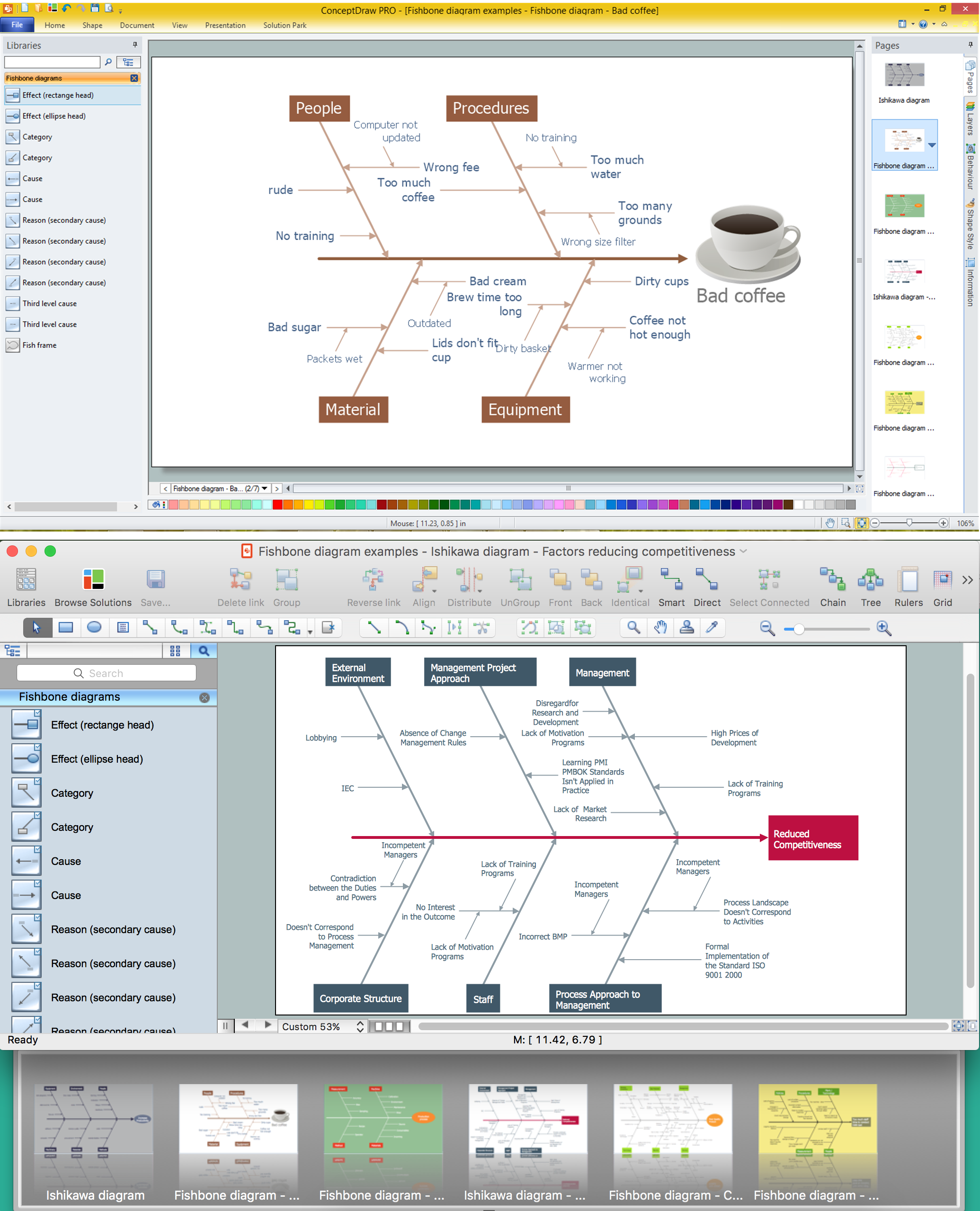 Picture: Using Fishbone Diagrams for Problem Solving
Related Solution:
The allied health practitioners are trained professionals in medicine and healthcare, which use the methods differing from those that are applied in a common medicine and pharmacy, they are not the doctors and nurses, but however they typically work in health care teams helping the main medical specialists in diagnostics and treatment diseases, in patients rehabilitation, recovery, nursing and support, and prevention diseases transmission. In a case, when you have all a couple of minutes and need design promptly professional illustration on the subject of health, health science, or allied health, quick-start with ready-made samples from the ConceptDraw STORE and create your own illustrations based on them.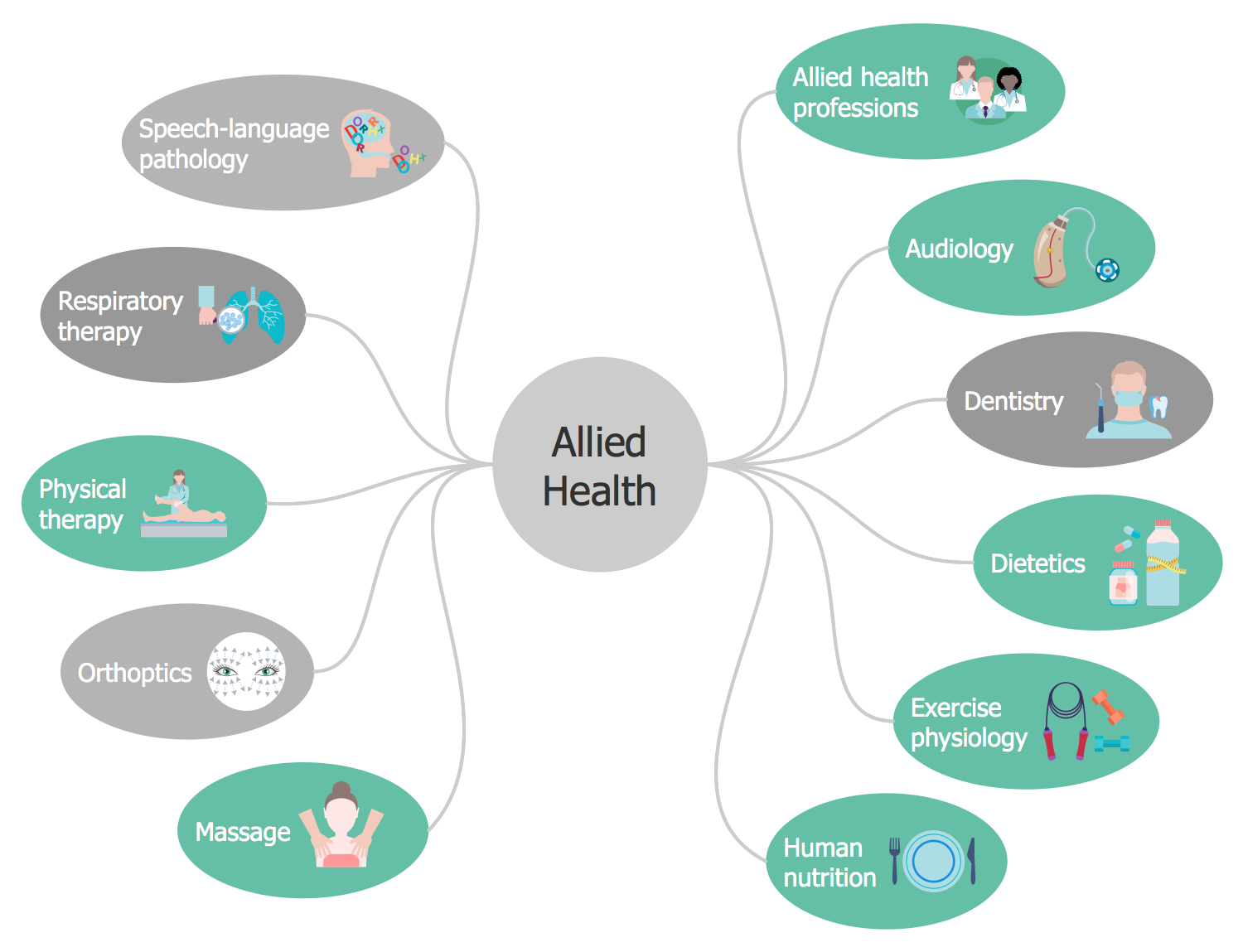 Picture: Allied Health
Related Solution: