Electrical Symbols — IGFET
There are several types of insulated gate field-effect transistors (IGFETs) in common use. The early term metal oxide semiconductor field-effect transistor (MOSFET) is still in use, and MOSFET is usually acceptable as a generic term for IGFETs. The metal oxide, and the insulation in the IGFET, is the insulating material between the gate terminal and the substrate between the source and drain terminals. This insulator must have very low leakage, of course, but another requirement for good performance of the transistor is that the dielectric constant of the material must be very high.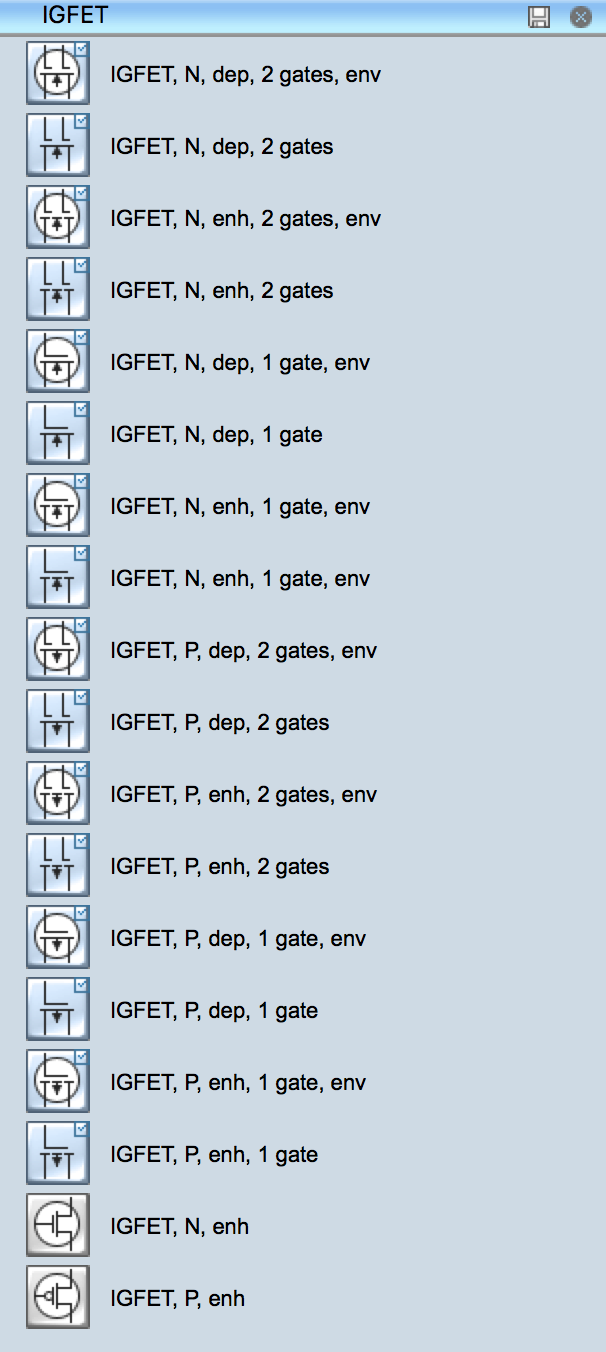 Pic. 1. IGFET Library
ConceptDraw DIAGRAM is a powerful software for creating professional looking electrical diagram quick and easy. For this purpose you can use the Electrical Engineering solution from the "Engineering" area of ConceptDraw Solution Park.
Electrical Engineering Solution for ConceptDraw DIAGRAM provides the stencils libraries of ready-to-use predesigned 926 vector symbols, templates and samples that make your electrical drawing quick, easy and effective.
26 libraries of the Electrical Engineering Solution of ConceptDraw DIAGRAM make your electrical diagramming simple, efficient, and effective. You can simply and quickly drop the ready-to-use objects from libraries into your document to create the electrical diagram.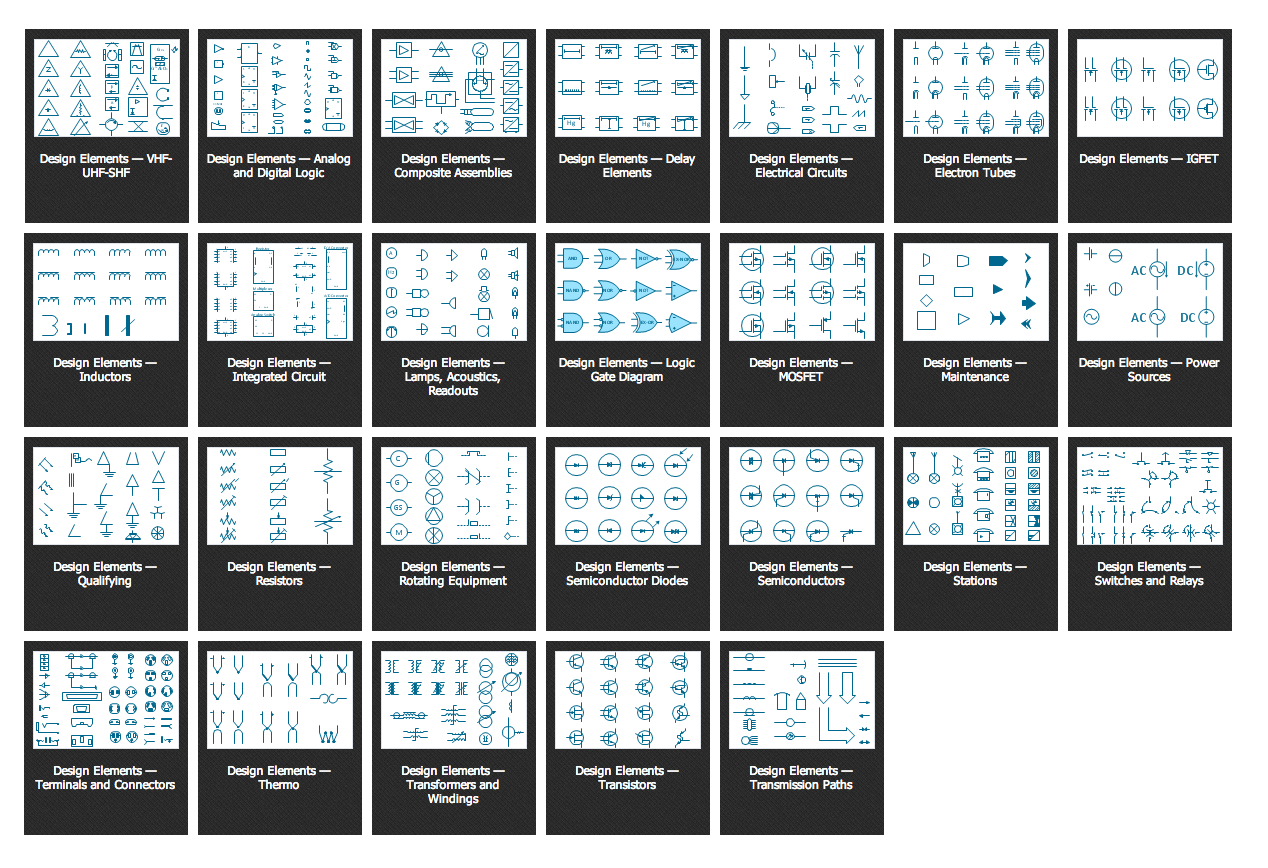 Pic. 2. Electrical Engineering symbols
Electrical diagram software will assist you in drawing your electrical diagrams with minimal effort and makes it very easy for beginners. Electrical symbols and smart connectors help present your electrical drawings, electrical schematic, wiring diagrams and blue prints.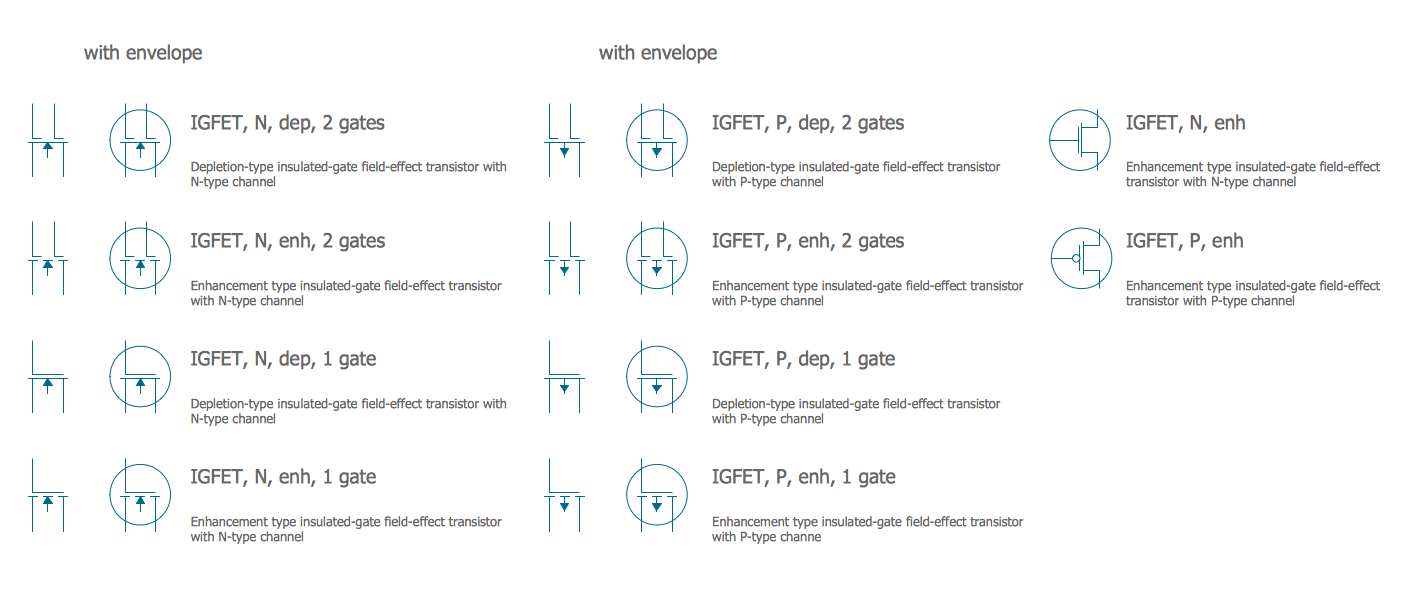 Pic. 3. Electrical Symbols — IGFET
Most of the electrical symbols can be changed in their appearance, styles and colors according to users' requirements. Electrical symbols are used to represent various electrical and electronic devices in a schematic diagram of an electrical or electronic circuit.
The following table lists some IGFET electrical symbols in our electrical diagram software.
Symbol
Meaning
Electrical Symbols — IGFET
IGFET, N, dep, 2 gates, env
IGFET, N, dep, 2 gates
IGFET, N, enh, 2 gates, env
IGFET, N, enh, 2 gates
IGFET, N, dep, 1 gate, env
IGFET, N, dep, 1 gate
IGFET, N, enh, 1 gate, env
IGFET, N, enh, 1 gate, env
IGFET, P, dep, 2 gates, env
IGFET, P, dep, 2 gates
IGFET, P, enh, 2 gates, env
IGFET, P, enh, 2 gates
IGFET, P, dep, 1 gate, env
IGFET, P, dep, 1 gate
IGFET, P, enh, 1 gate, env
IGFET, P, enh, 1 gate
IGFET, N, enh
IGFET, P, enh
An insulated-gate field-effect transistor or IGFET is a related term almost synonymous with MOSFET. The term may be more inclusive, since many "MOSFETs" use a gate that is not metal, and a gate insulator that is not oxide. Another synonym is MISFET for metal–insulator–semiconductor FET.
How to Create an Electrical Diagram Using IGFET Library
Open ConceptDraw DIAGRAM new document page.
Select libraries from Electrical Engineering section.

IGFET library contains objects, identified by a blue tile in the library pane. Such objects can be edited by using the Action button menu. To open the menu select an object and click the button in the upper right corner of the object.
Select the Smart Connector tool . To connect elements using this tool, drag the connector from one connect dot to another.You can use Layers to place connections on different layers.
Result: Electrical Diagram.
TEN RELATED HOW TO's: