What is IVR?
What is IVR? The Interactive voice response (IVR) is a popular and widely used technology which allows a computer to detect voice and keypad inputs, so it makes possible the interactions between computer and humans through the use of voice and dual-tone multi-frequency (DTMF) signals.
For illustrating the logical and physical structure of IVR systems are used the IVR diagrams. ConceptDraw DIAGRAM software extended with Interactive Voice Response Diagrams solution allows you to make the IVR Diagrams quickly and easily.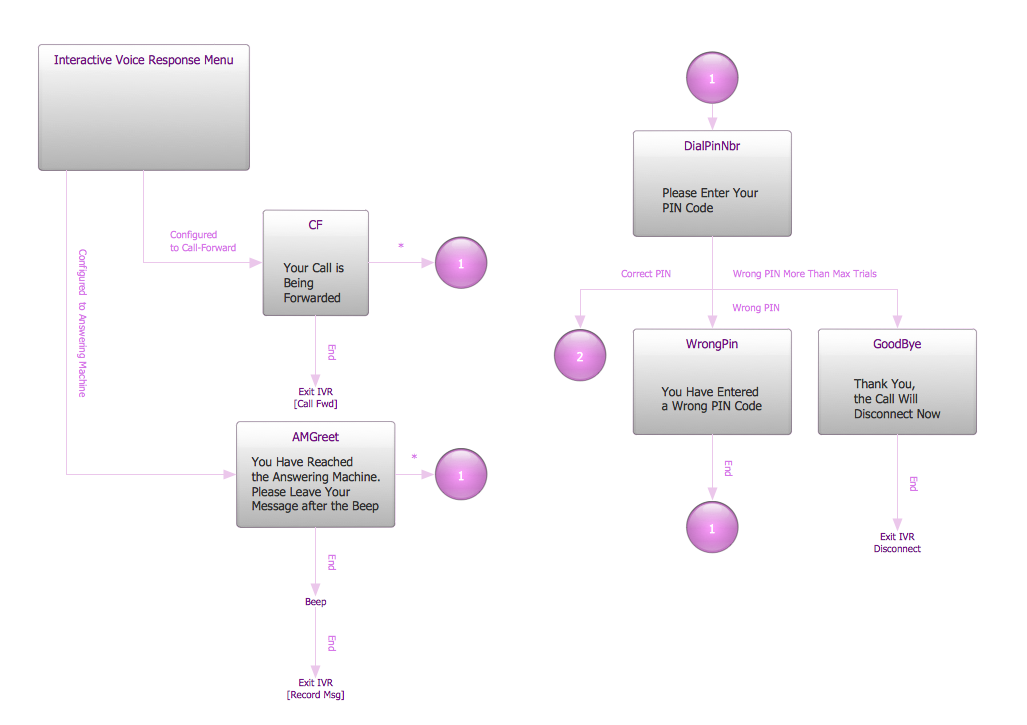 Example 1. What is IVR - IVR Diagram Multi Page Sample
Interactive Voice Response Diagrams Solution offers a powerful drawing tools, the Interactive Voice Response library with predesigned vector shapes to make drawing the IVR diagrams easy for everyone.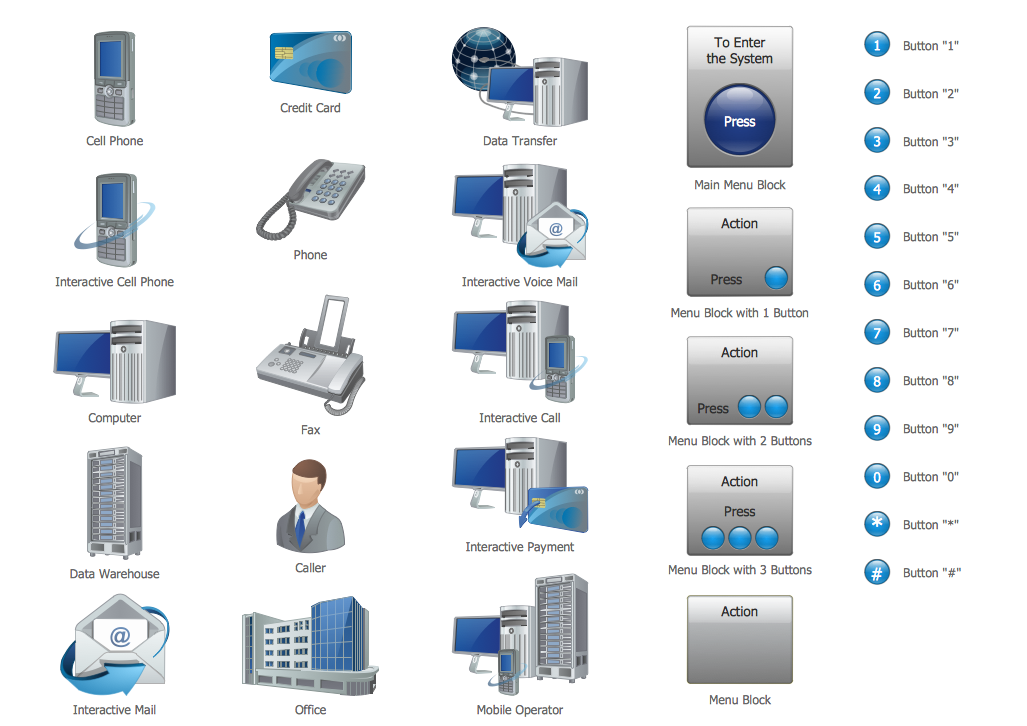 Example 2. Interactive Voice Response Library Design Elements
Interactive Voice Response Diagrams Solution provides also professionally designed samples and template. The IVR template offered by ConceptDraw DIAGRAM is already almost ready IVR diagram sample, you need only fill it with you data.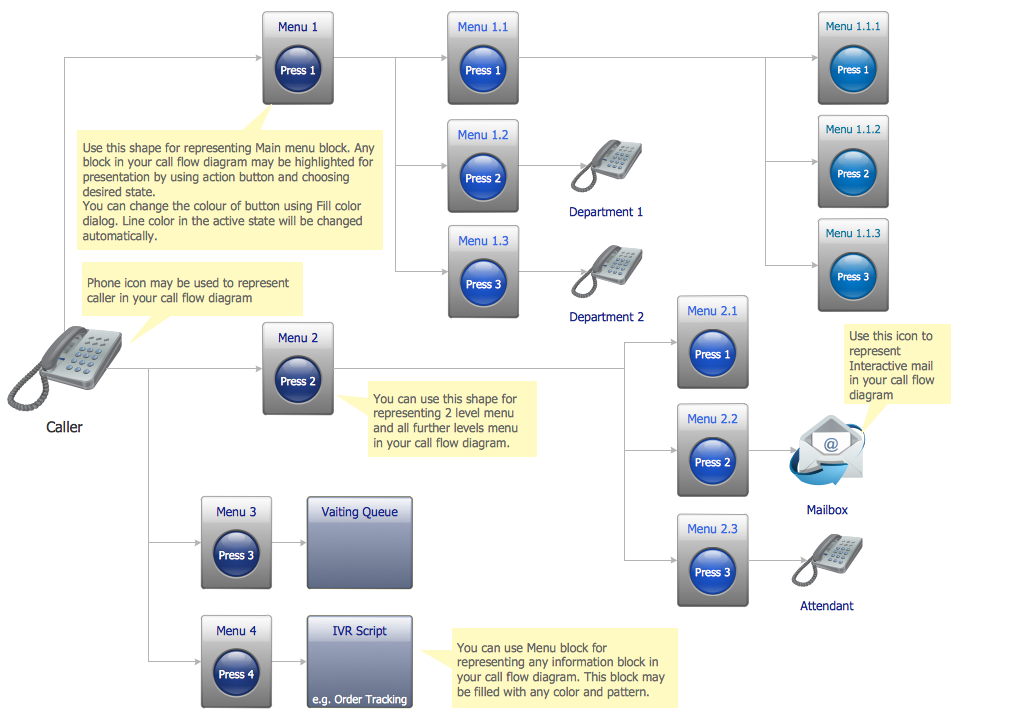 Example 3. What is IVR - IVR Diagram Template
The sample and template you see on this page were created in ConceptDraw DIAGRAM using the Interactive Voice Response Diagrams Solution for ConceptDraw DIAGRAM They successfully illustrate what is IVR and how quickly the IVR digrams can be designed in ConceptDraw DIAGRAM
Use the Interactive Voice Response Diagrams Solution for ConceptDraw DIAGRAM software to create your own professional looking IVR diagrams quick, easy and effective.
All source documents are vector graphic documents. They are available for reviewing, modifying, or converting to a variety of formats (PDF file, MS PowerPoint, MS Visio, and many other graphic formats) from the ConceptDraw STORE. The Interactive Voice Response Diagrams Solution is available for all ConceptDraw DIAGRAM or later users.
FOUR RELATED HOW TO's:
The ConceptDraw vector stencils library Cisco Multimedia, Voice, Phone contains equipment symbols for drawing the computer network diagrams.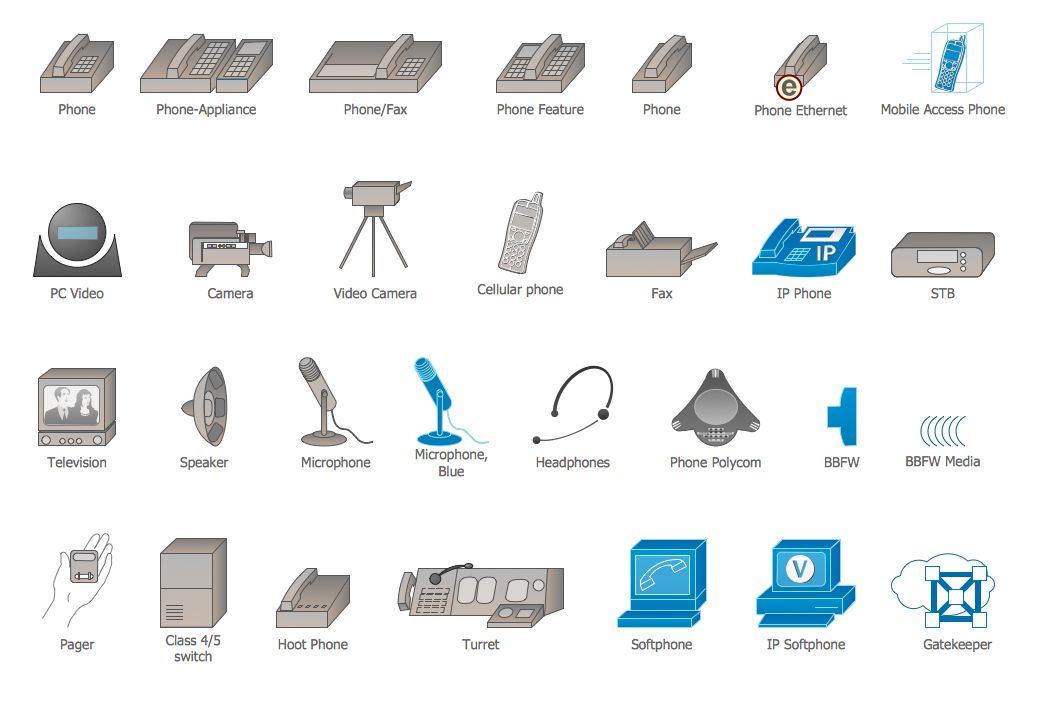 Picture: Cisco Multimedia, Voice, Phone. Cisco icons, shapes, stencils and symbols
Related Solution:
When describing any computer network, we imagine a set of devices and nodes, arranged in some way. Talking about network structures, we should distinguish physical and logical network topologies, as physical topology is about devices location and logical topology illustrates data flow. In the same time, they do not have to match, and some devices, such as repeaters, may have a physical star layout, but a bus logical topology. There are two main types of computer network topologies: Physical topology that show the physical organization of a network - equipment and types of connections. Star network topology involves a set of devices that is connected to a single hub (router). Ring network topology means that, devices connected according this topology have two connections, connecting with nearby devices to make a loop. Bus network topology is the topology presented at the current diagram. It is similar to a ring topology. The difference is that data moves up and down a linear connection, copying itself where network equipment works as bus-stations along the way. This network topology can be used for small network, or when adding an extra device into a network.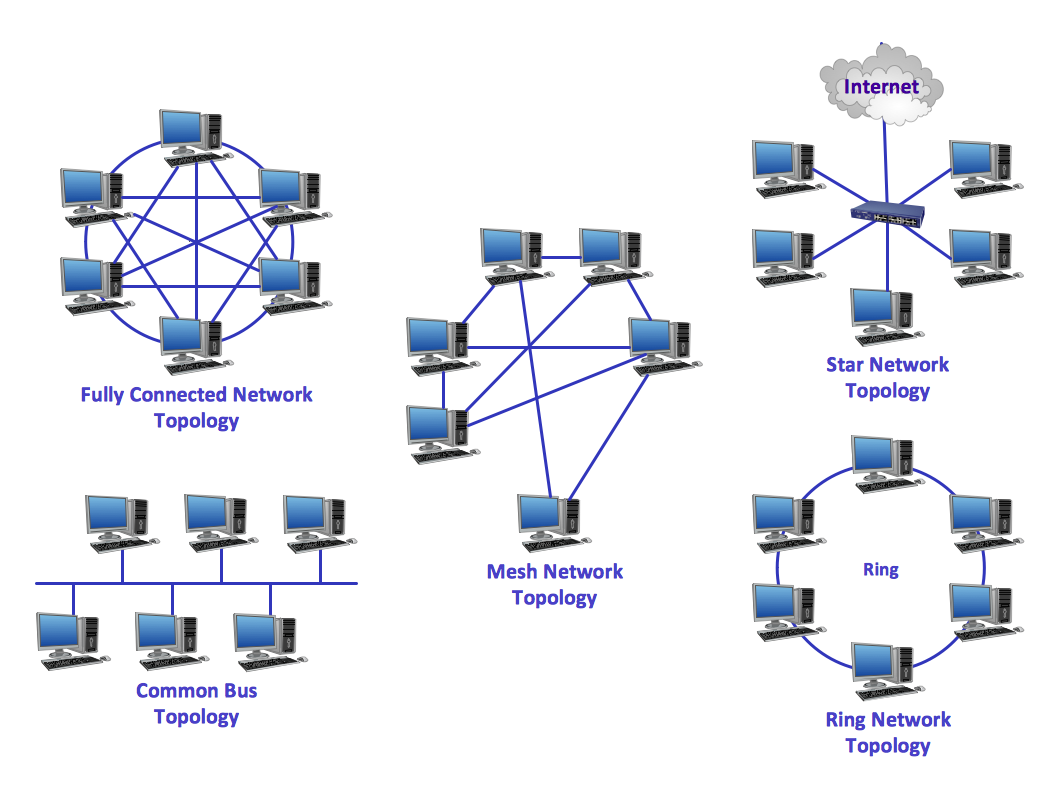 Picture: Network Topologies
Related Solution: