UML State Machine Diagram.Design Elements
UML State Machine Diagram is a type of Behavior Diagrams that displays the finite state machine with states and state transitions.
UML State Machine Diagram is a realization of the mathematical concept of a finite state machine. State Machine Diagram is an oriented graph for finite state machine in what tops represent states and connectors show transitions between two states. States are represented as rounded rectangles and state transitions as arrows. The Initial State of the system is represented as black circle, and Final State as encircled black circle.
UML State Machine Diagram is the object-based version of Harel State Chart that is extended by UML. UML State Machines keep the main benefits of traditional finite state machines and also overcome their restrictions. UML State Machines extend the notion of actions.
The Rapid UML Solution for ConceptDraw DIAGRAM contains 13 vector stencils libraries with 393 interactive shapes that you can use to design your UML diagrams.
To design a State Machine Diagram use the UML State Machine Diagram library.
UML State Machine Diagram library contains 35 shapes:
Send signal state
Frame, Fragment
Entry point
History pseudostate
Junction pseudostate
Choice pseudostate
Note
Simple state
State with compartments
Composite state
Transition text
Transition
Final state
Terminate pseudostate
Exit point
Vertical fork/join pseudostate
Horizontal fork/join pseudostate
Composite state (with substates)
Initial state
Internal behavior
Self-transition 1
Self-transition 2
Sub-machine diagram
Receive signal state
Composite state
Subactivity state
Divider
Synch state
Connector
Text label
Composite state
Composite state (2 concurrent substates)
Composite state (2 substates)
Entry point connector
Connector opposite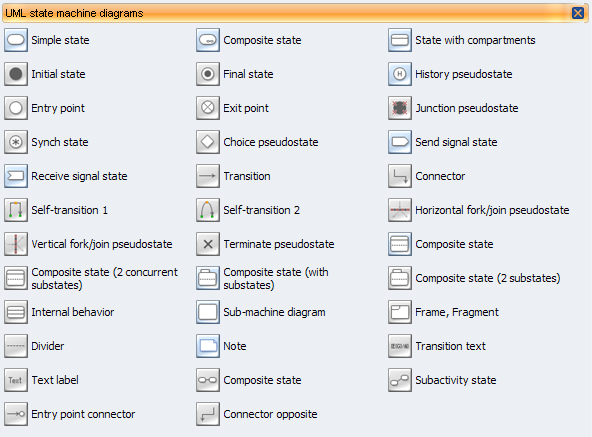 Pic.1. UML State Machine Diagram Library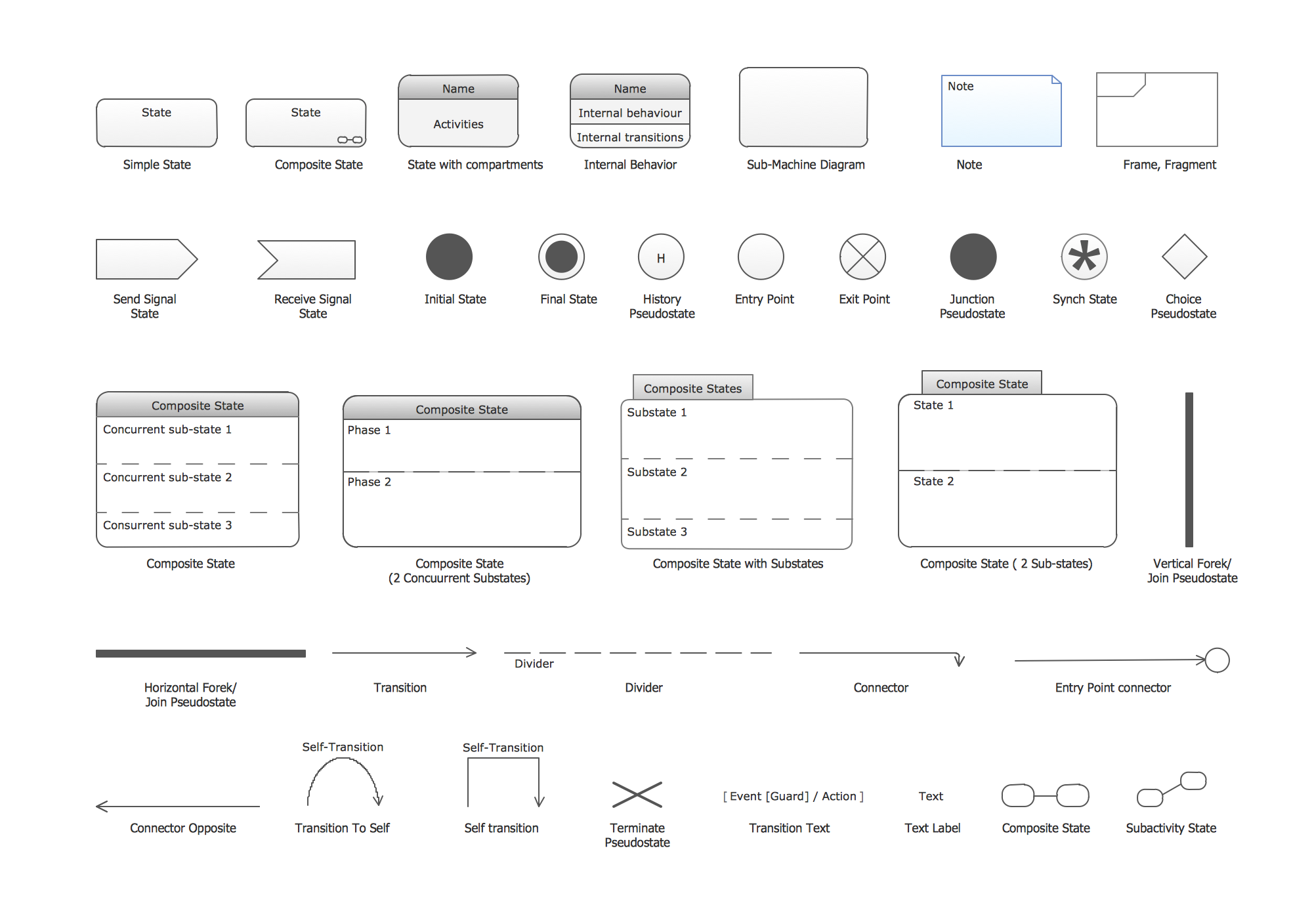 Pic.2. UML State Machine Diagram Library Elements
ConceptDraw Rapid UML solution provides UML State Machine Diagram library of vector stencils for drawing the state machine diagrams using state machine blocks and assembly connectors.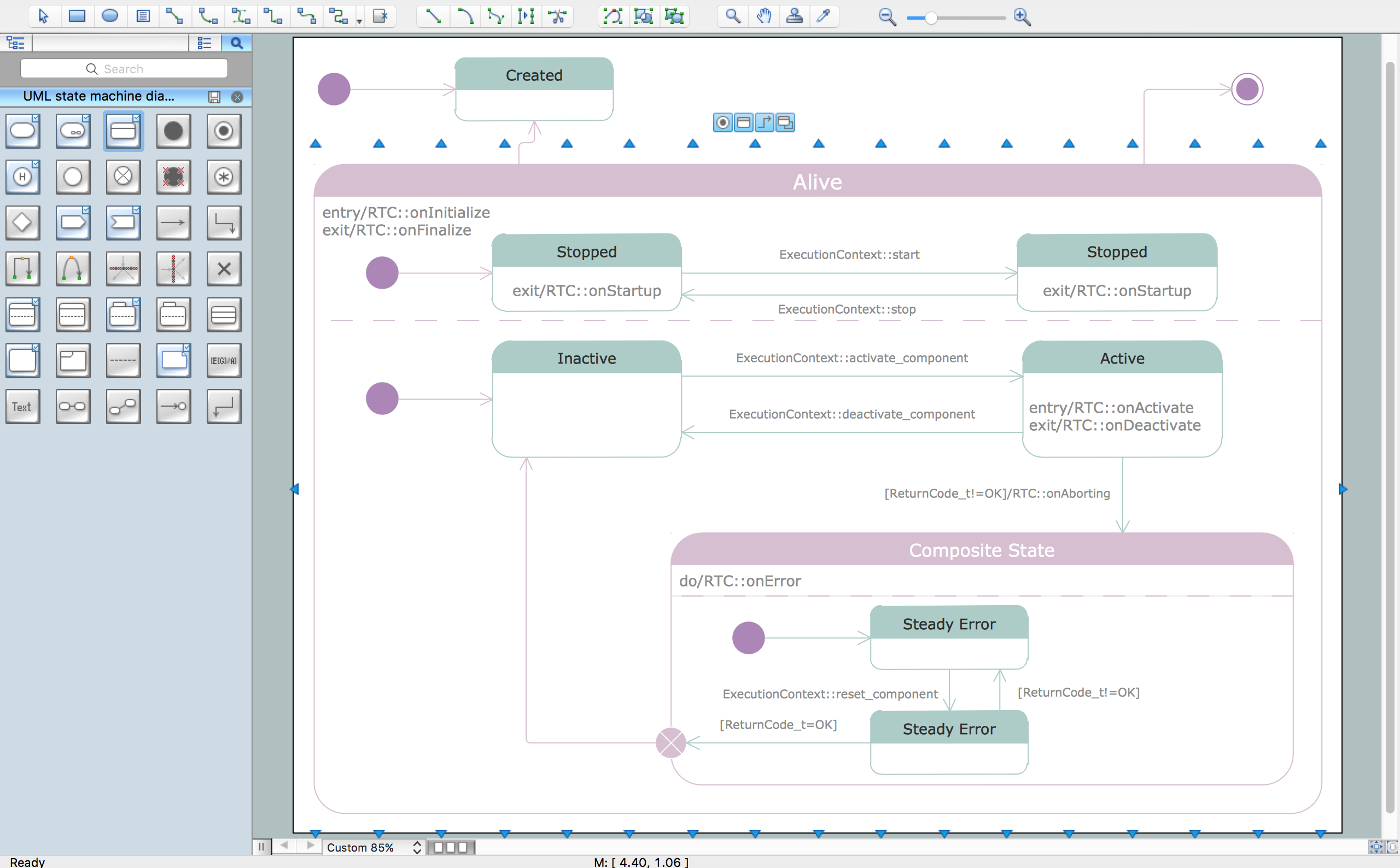 Pic.3. UML State Machine Diagram (Mac OS X, Windows)
Use design element from the UML State Machine Diagram library to draw your own UML state machine diagrams of complex systems and software applications.
All libraries for creating UML diagrams are available inside the ConceptDraw DIAGRAM Templates and samples are located in the Rapid UML section of ConceptDraw STORE.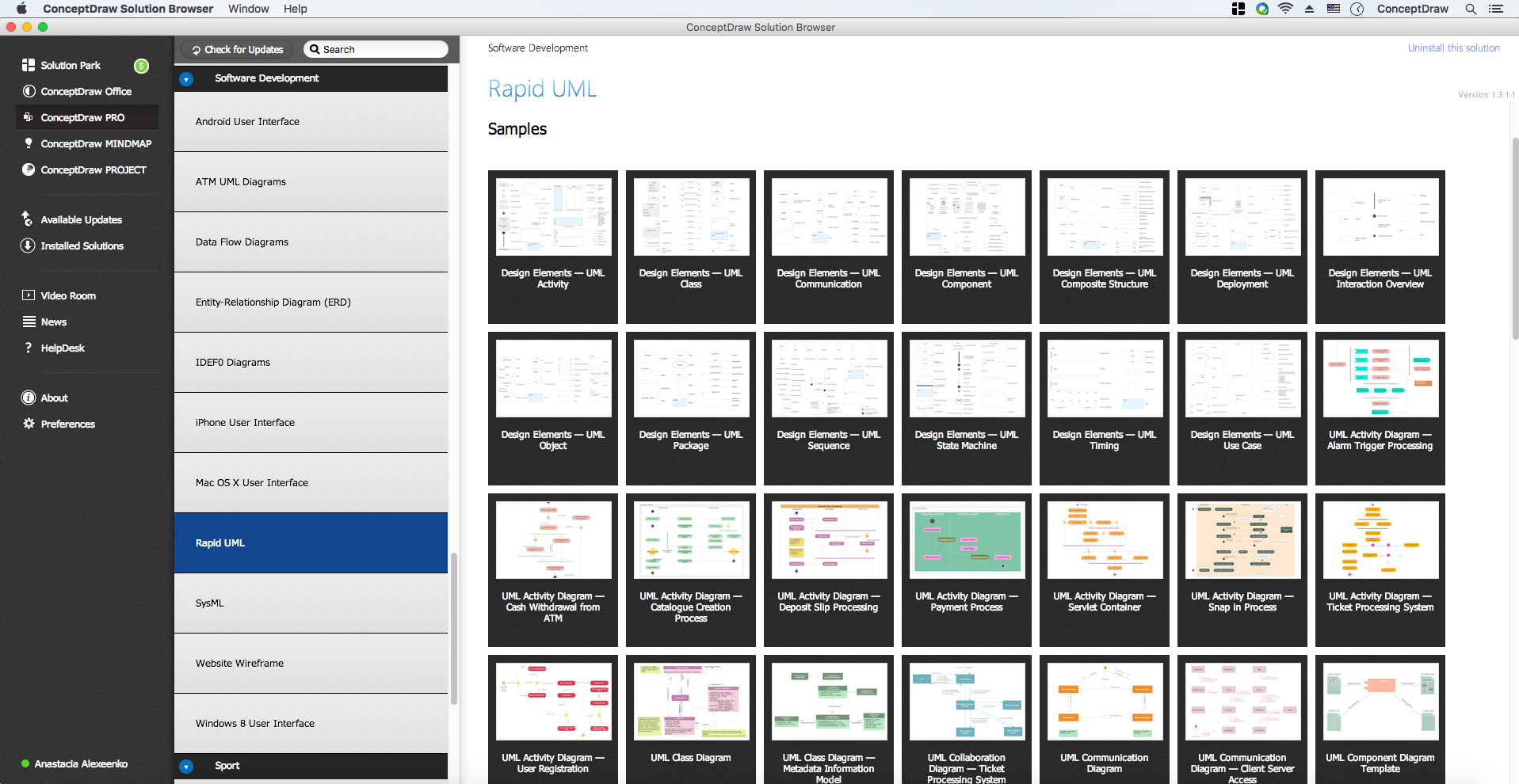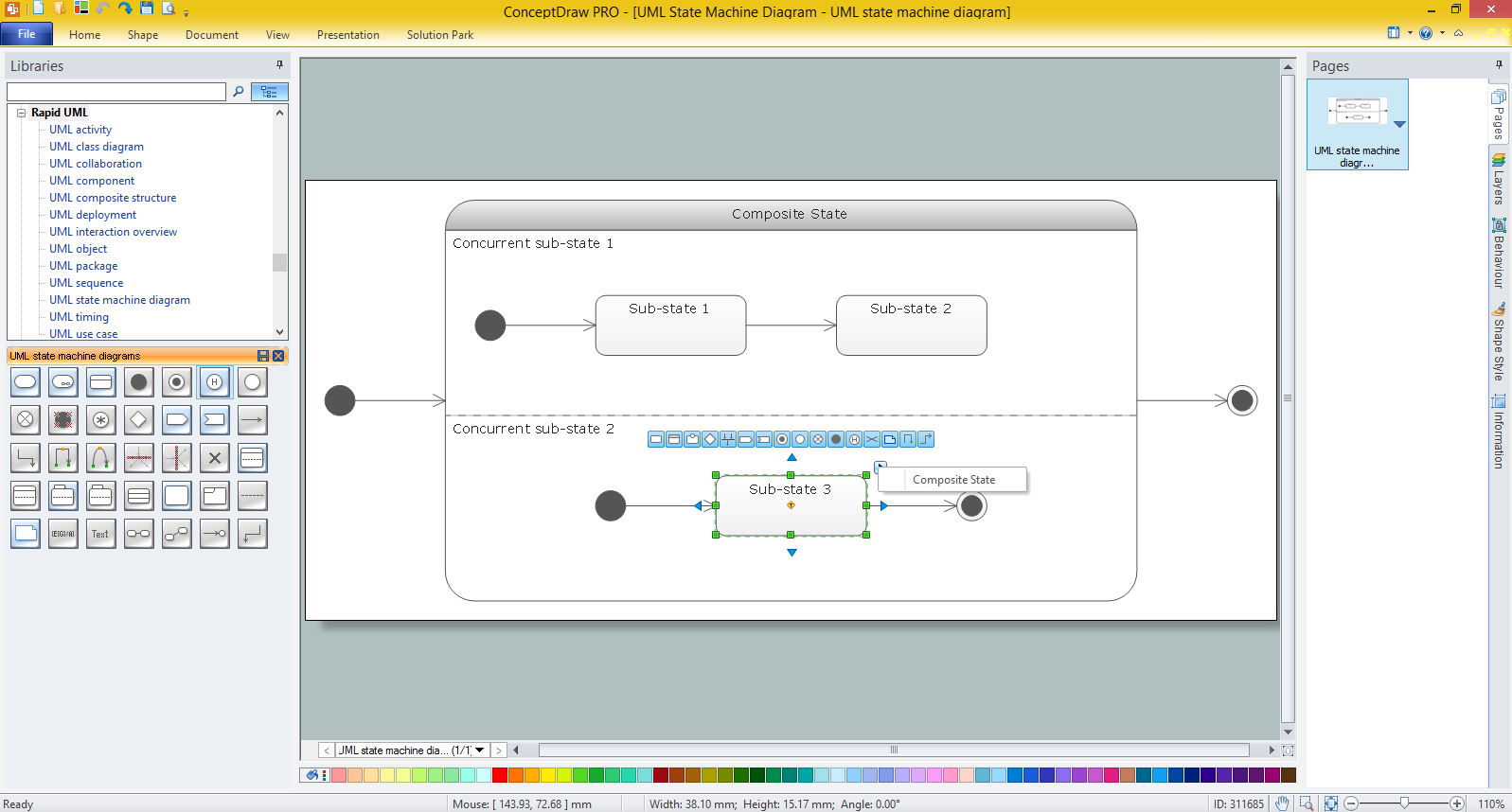 Pic.4. UML State Machine Solution in ConceptDraw STORE and UML State Machine template
The UML Diagrams produced with ConceptDraw DIAGRAM are vector graphic documents and are available for reviewing, modifying, and converting to a variety of formats (image, HTML, PDF file, MS PowerPoint Presentation, Adobe Flash or MS Visio).
EIGHT RELATED HOW TO's: