Interior Design. Office Layout Plan Design Element
Office Layout Plan Design Element
In general, office work can be divided into two main processes: the concentration and the communication. The main challenge in office planning is to find a balance between these two activities, which would correspond to the type of the company. Law firms impose different requirements than trading companies, banks differ from project offices.
The best solution for concentrated work would be a separate room, while open space is more suitable for communication. A floor plan is developed from the interaction of these two extremes. Private offices, open offices and combined spaces are the most common types of work space.
Traditional office consists of separate rooms arranged along the corridor. This office scheme creates an atmosphere of privacy and tranquility. However, it is practically impossible to implement teamwork in these conditions, employees' communication is difficult and use and space is used inefficiently. This solution is suitable for companies separated into departments consisting of a small number of people. There are two kinds of cabinet type offices. The first are rooms for one or two people, so called shared offices. They are characterized by a maximum privacy, a clear spatial organization, inability to work in a team and the lack of flexibility.
The second type includes offices consisting of larger rooms, designed for four to ten people to work in them. This gives rise to a certain collective spirit, which, however, applies only to a small group of people. At the same time this can cause problems in interaction with other departments of the company. This workspace type is characterized by a relative privacy, weak team spirit and limited flexibility.
A team space is a variety of open spacing. It is an open space, which is divided by low partitions into separate areas. Intensive communication is possible only within small groups. The space is used with the maximum efficiency and flexibility, and collective spirit is high there. The lack of soundproofing and the lack of privacy are the main drawbacks of this office type.
Vector stencils libraries Office Furniture and Office Equipment contain shapes of office furniture and equipment for ConceptDraw DIAGRAM diagramming and vector drawing software.
Use it to draw office interior design floor plans, office furniture and equipment layouts, and blueprints for facilities management, move management, office supply inventories, assets inventories, office space planning.
These 9 design elements libraries are included in Office Layout Plans solution from Building Plans area of ConceptDraw Solution Park:
The Bathroom library contains 41 vector shapes.
The Cabinets and Bookcases library contains 38 vector shapes.
The Cubicles and Work Surfaces library contains 46 vector shapes.
The Doors and Windows library contains 20 vector shapes.
The Furniture library contains 38 vector shapes.
The Walls, Shell and Structure library contains 29 vector shapes.
The Office Furniture library contains 36 vector shapes of office furnishings and work surfaces for drawing floor plans and furniture arrangements and layouts of office suites and conference rooms:

Side chair without arms
Side chair with arms
Desk
Desk with right hand return
Cubicle desk
Chair with arms
Storage unit
Corner surface
Work surface
Round corner
Podium
File cabinet
Flat file
Lateral file
Desk with left hand return
Couch
Curved back sofa
Sectional sofa with arms
Sofa
Bookcase
Credenza
Rounded desk
File
Reception desk
Chair with arms
Chalkboard
Desk mat
Screen
Paper tray
Backboard
Marker board
Multi-chair rectangular table
Multi-chair Rectangular table with rounded corners
Multi-chair round table
Multi-chair boat shape table

The Office Equipment library contains 33 vector shapes of office equipment, electronics and accessories for drawing office floor plans and equipment layouts:

Telephone
Phone
Fax
Desktop PC
PC
Personal computer
Computer
PC monitor
Computer monitor
Monitor
Keyboard
Tower PC
Mouse
PC column
Switch
Router
Hub
Modem
Printer
Scanner
Document shredder
Office lamp
Projector
Overhead projector
Projection screen
Marker board
Plasma panel
Acoustic column
Cash register
POS-terminal
Xerox
Copier
Plotter
Table lamp
Paper tray
Waste can
Square waste can
Coat rack
Solution Office Layout Plans from ConceptDraw Solution Park provides 9 vector stencils libraries with design elements of office equipment and furniture for drawing Office Layout Plans.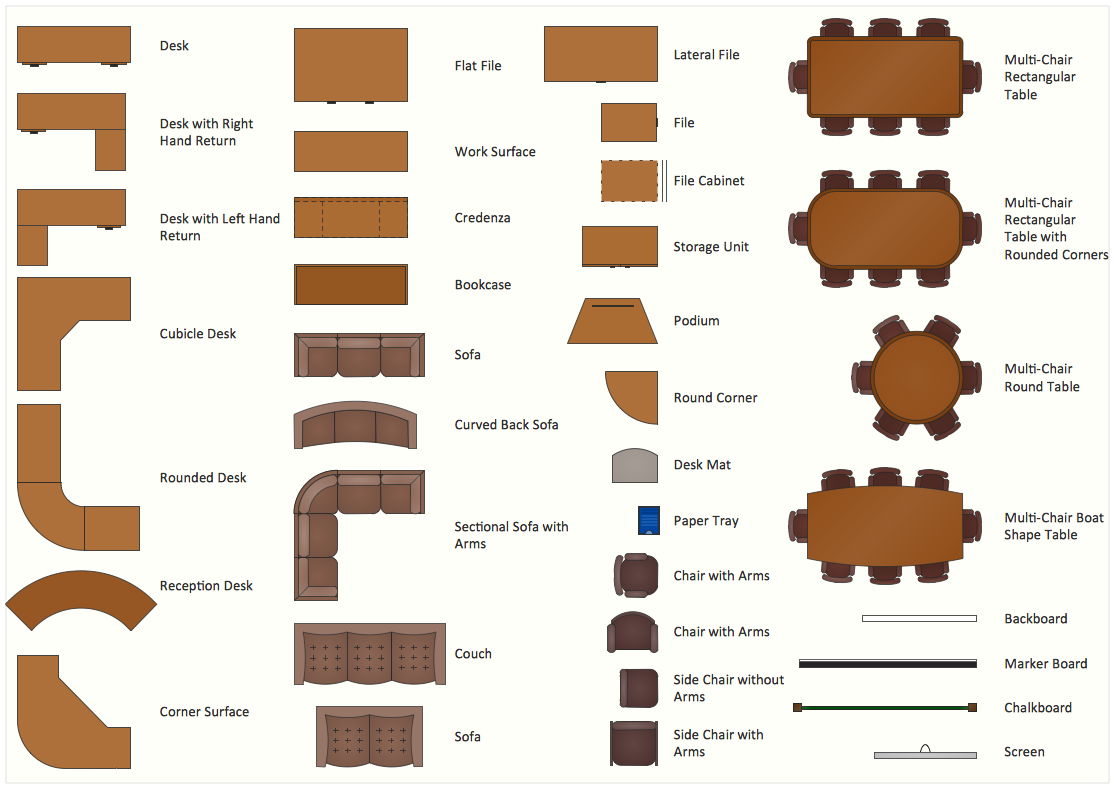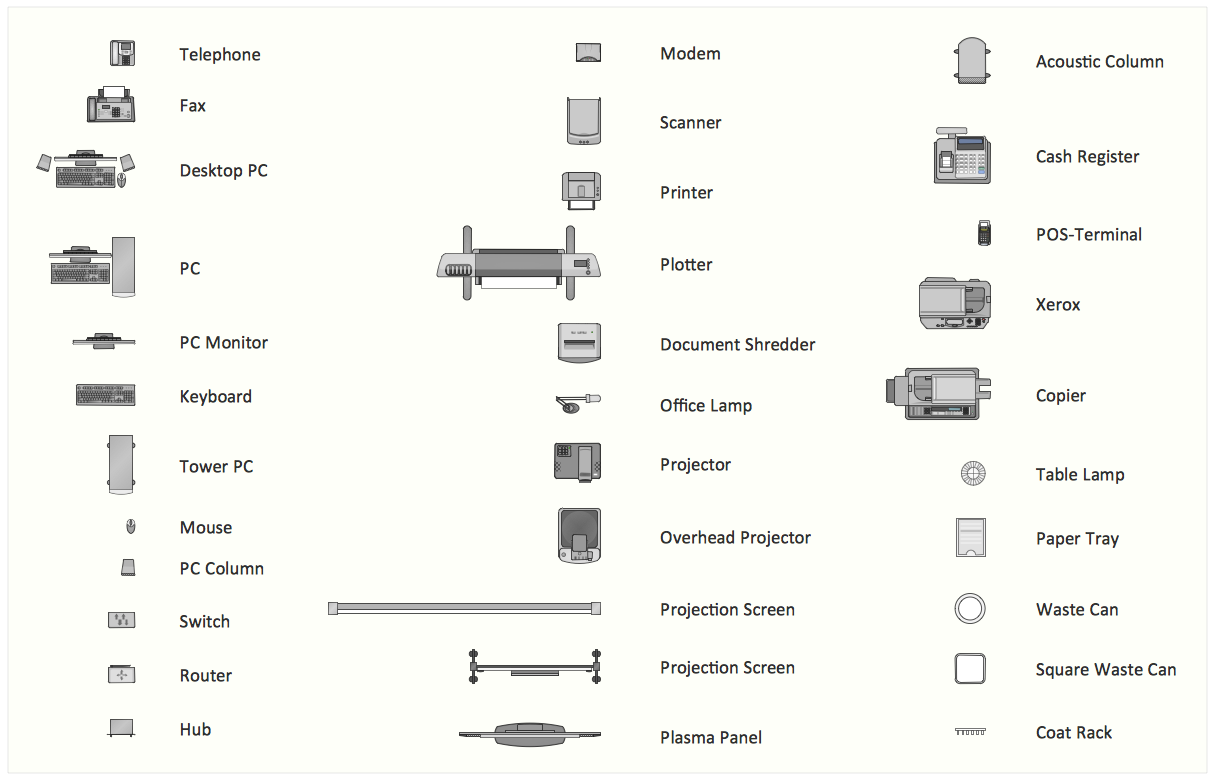 Sample 1. Design Elements — Office Layout Plan
Use it to develop floor plans and blueprints for facilities management, move management, office supply inventories, assets inventories, and office space planning.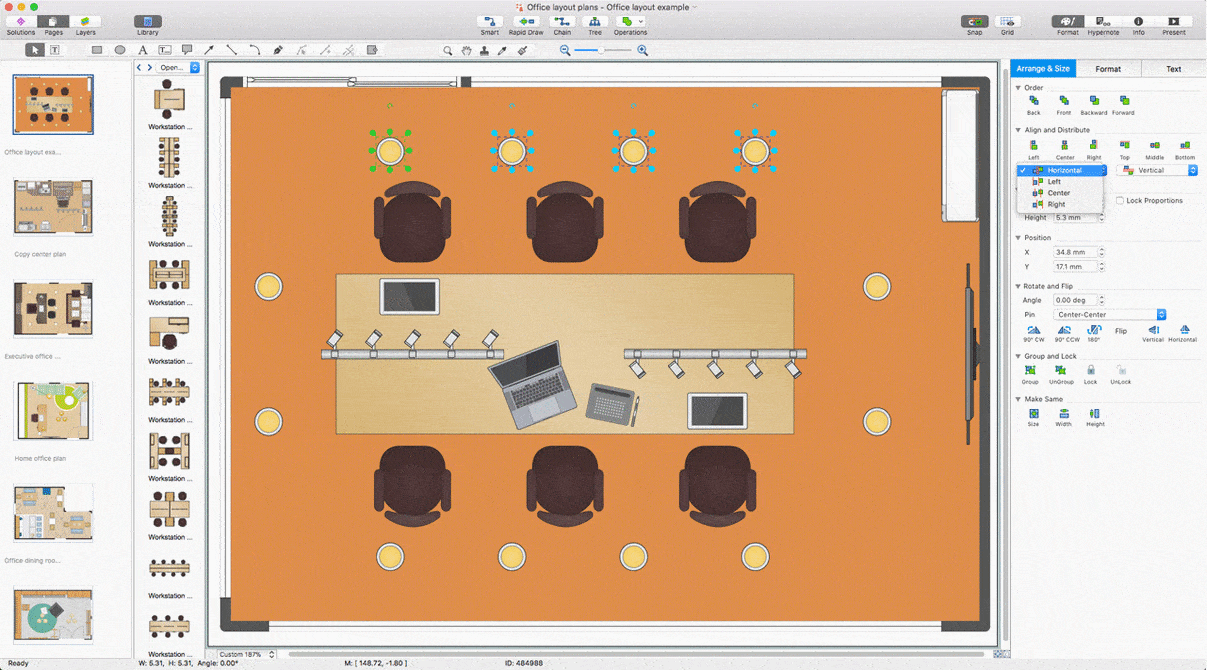 Sample 1. Buildind Plan software. Office Layout Plan solution
The following features make ConceptDraw DIAGRAM the best Building Plans Software:
You don't need to be an artist to draw professional looking diagrams in a few minutes.
Large quantity of ready-to-use vector objects makes your drawing diagrams quick and easy.
Great number of predesigned templates and samples give you the good start for your own diagrams.
ConceptDraw DIAGRAM provides you the possibility to use the grid, rules and guides. You can easily rotate, group, align, arrange the objects, use different fonts and colors to make your diagram exceptionally looking.
All ConceptDraw DIAGRAM documents are vector graphic files and are available for reviewing, modifying, and converting to a variety of formats: image, HTML, PDF file, MS PowerPoint Presentation, Adobe Flash, MS Visio.
Using ConceptDraw STORE you can navigate through ConceptDraw Solution Park, managing downloads and updates. You can access libraries, templates and samples directly from the ConceptDraw STORE.
If you have any questions, our free of charge support is always ready to come to your aid.
TEN RELATED HOW TO's: