Geo Map of Americas
The USA or United States of America is a federal republic and it consists of 50 states and one federal district, which is Washington, D.C. Most of the states are situated in the central part of North America, and the closest neighbours of the United States of America are Canada and Mexico countries. There is one state (which is the state of Alaska), which is situated on the north-west from the Northern America and there is another state (which is Hawaii), that is located in Oceania.
As for the USA there are some other territories which belong to it and which are both in the Pacific Ocean and in the Caribbean region. The United States of America is on the fourth place in the list of the largest countries in the whole world, considering its total area. The United States of America is the country which is on the third place among the largest countries in the world, taking into consideration their population.
The USA is also known as one of the most multicultural countries in the world. It is very variously ethnically developed as there are so many immigrants living within its borders. Geographically this country is also a very unique one. The reason for it, is that this country is so very large, that large that it extends along the 9 518 900 square kilometres. If to compare the USA and China, then these countries are very similar to each other in terms of the sizes of their territories.
The United States of America is a very well developed country and its military bases are very well developed as well. It is one of the most powerful countries in the world as many other countries economy depends on the USA and its leaders. The representatives of the supreme authority of this country are responsible for lots of events that happen in the world, especially nowadays. They are in charge for so much, especially for the way the countries from all over the world treat each other and so the United States of America is the one whose leaders can change the situation to the better.
There are so many rich people living in the country called the United States of America, and these rich people are also very influential people. Most of these people live in the very different states, but the most popular for those, who have money, are Nevada, where Las Vegas is, California, Texas, Washington and, of course, New York. There are 540 billionaires all together in the United States, stated by 2017. They have all together a combined net worth of 2.399 trillion US dollars. The 3 richest men come from the state of Arizona, where they all made their money working in the automobile business.
Arkansas is also a very popular state for those who want to make lots of money as that is the state where the Wal-Mart was established. There are five billionaires working in this very state. Colorado is a well-known state for going on vacation for those who love sport, especially doing it in the mountains. There are at least ten billionaires living in this state. Americans in general get very high salaries to compare to other people living in other countries. Their income in average is higher than that other nations get per month.
Population of America make about half of the world's population of millionaires in total. Of course, there are ups and downs in this country economy, but nowadays there are, for sure, more chances for the United States of America to win the race in terms of providing its own inhabitants with all needed, including growing local food and producing local clothes, etc.
There is a huge potential in American people and most of them are quite well educated nowadays as there is an opportunity of getting the good education within the USA borders. At least these people are educated enough to be able to work and so to support their own families. There are many people on benefits in this country, but it proves that their president takes a good care of his supporters.
It is always good to be an independent country and to make it possible not to import anything, but to produce whatever is needed within your own country's borders, and that is what American people seem to be wanting to do now. Hopefully one day it will become true and there will be no need to ask any other country to make whatever needed for those who live in the Unites States of America.
In case you need to create a correct and a good looking map of this country, then we can recommend to use already previously made templates as it can be very hard job to do for the beginners in such drawings to create the right and accurate map. Once you want to have a simply great looking result describing each state as it looks from the space, then you can always find the very useful and correct examples of the already existing (as they were previously created by the IT specialists of CS Odessa) maps.
ConceptDraw DIAGRAM software is the one providing its users with such a convenient option of choosing any needed sample and change it the way they want it to be changed. Having all of these tools (which include other different solutions for making not only maps, but other drawings) is always beneficial as using them means spending less time, rather than making all of the maps from scratch.
Using ConceptDraw DIAGRAM drawing software allows you to create something special, that can be based on what already was made by other people – IT specialists of the company named CS Odessa. These people were those, who established the company and developed ConceptDraw DIAGRAM one of the main products of CS Odessa, by the way based in the City of Odessa.
Also in order to use this ConceptDraw DIAGRAM application for drawing the maps, you can always use it for making other drawings, such as different kinds of charts, diagrams, plans, schemes and also flowcharts as there are many different solutions available for ConceptDraw DIAGRAM users to utilize. Downloading ConceptDraw DIAGRAM today enables you to make your own geo map of the United States of America and so to use it for the purpose you need having a very professionally looking and simply smart result.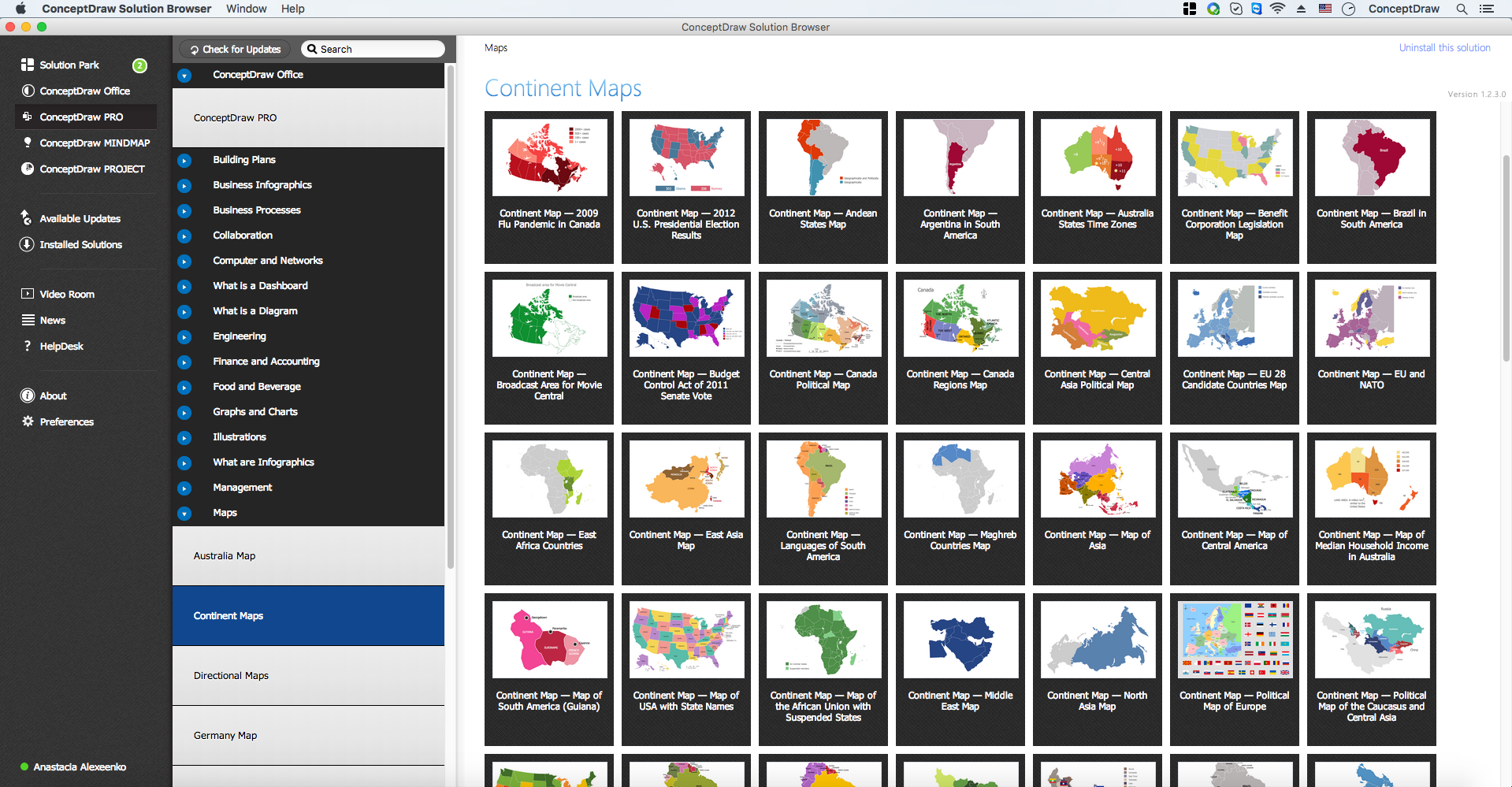 Pic. 1. Continent Maps Solution
Use it to draw thematic maps, geospatial infographics and vector illustrations for your business documents, presentations and websites.
The Map of Americas
Americas has an area of 42,549,000 km2.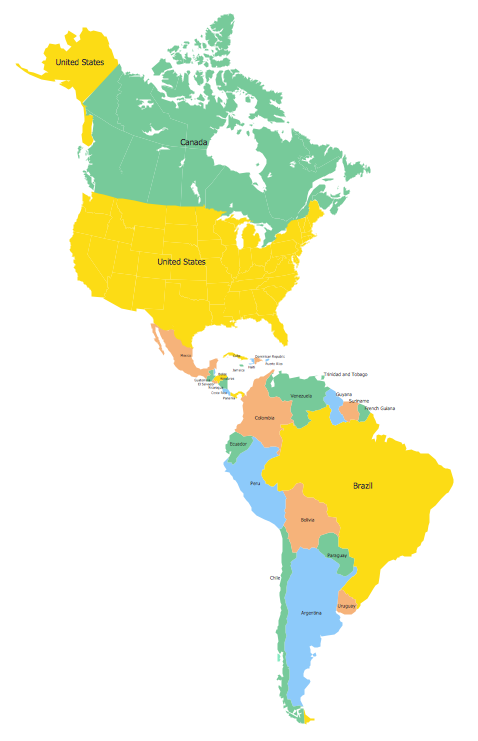 Pic. 2. The Map of Americas
The Map of Americas Contour
There are 35 sovereign states in the Americas.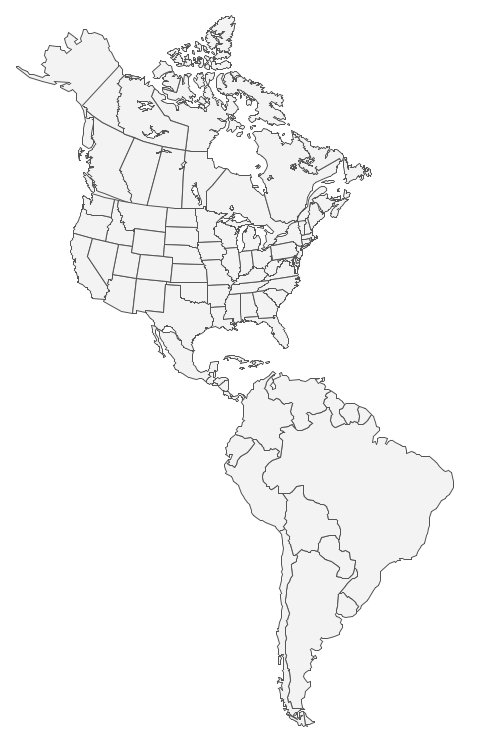 Pic. 3. Americas Contour
The Map of America — element of South America Continent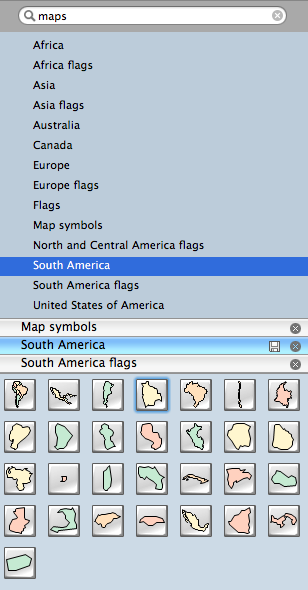 Pic. 4. Element of South America Continent
The Map of America — South America Continent
South America has an area of 17,840,000 km2.
There are 15 countries in the South America.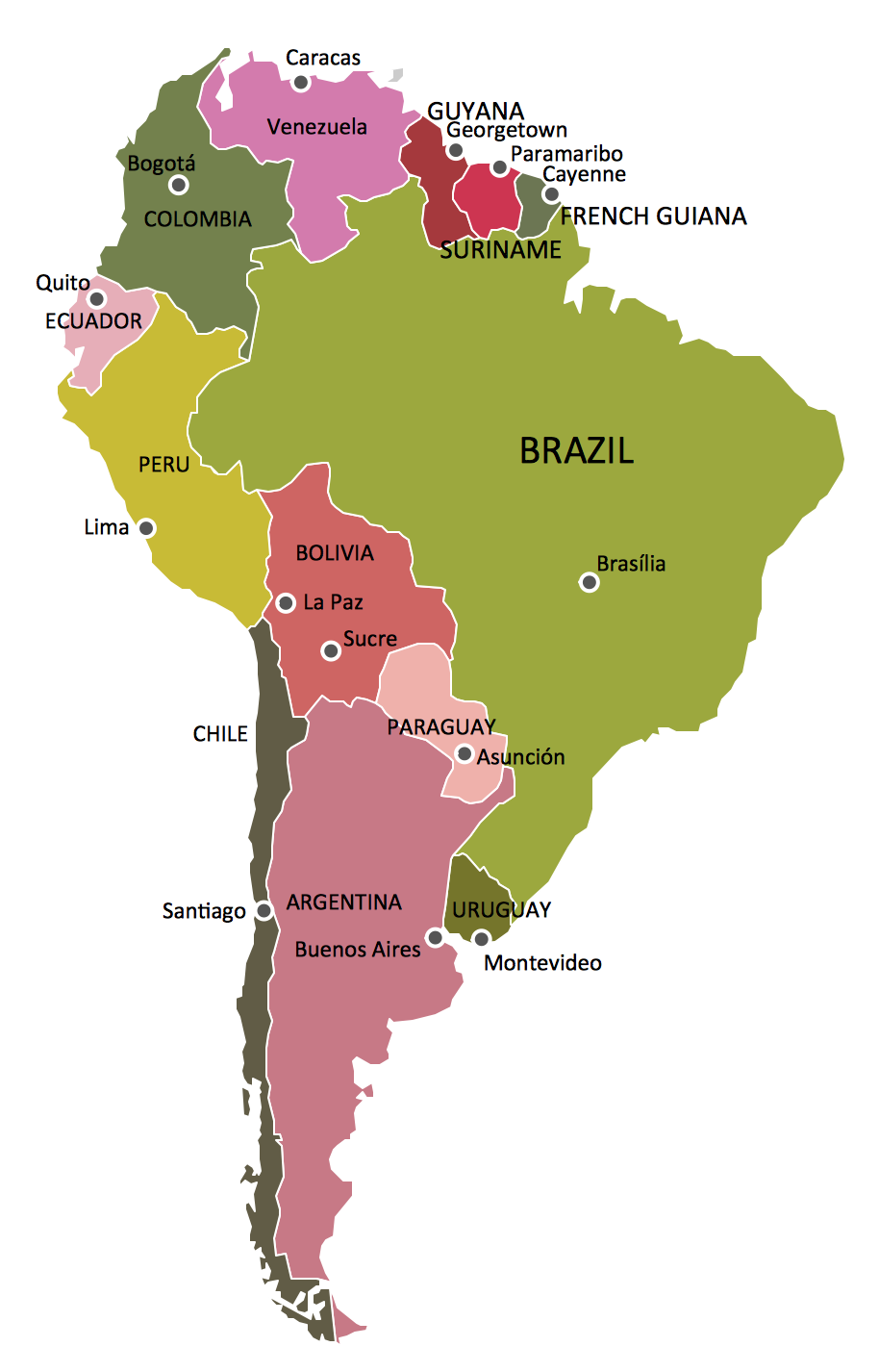 Pic. 5. South America Continent
The Map of America — North America
North America has an area of 24,709,000 km2.
There are 23 countries in the North America.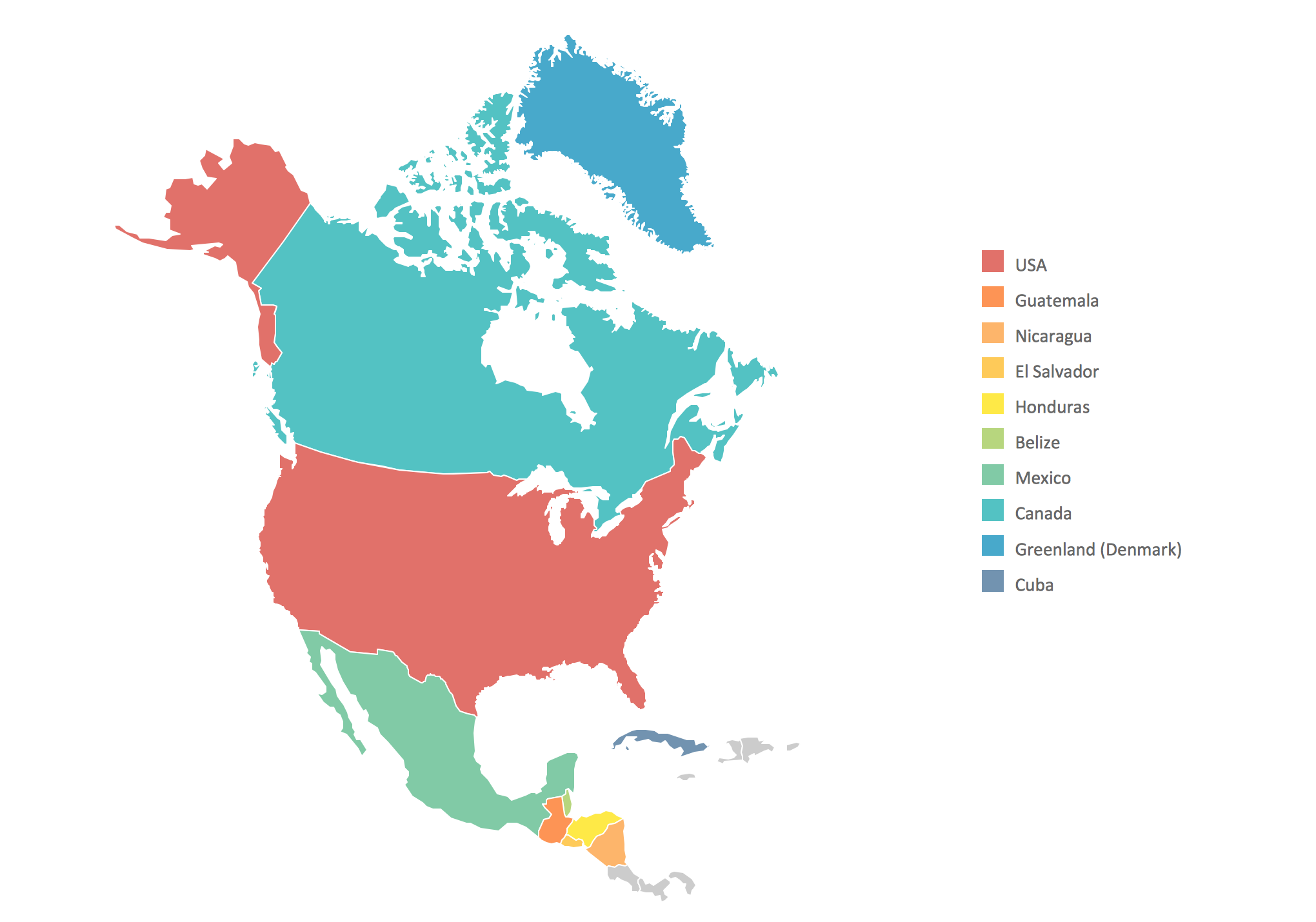 Pic. 6. North America
The Map of America — Central America
Central America has an area of 523,780 km2.
There are 7 countries in the Central America.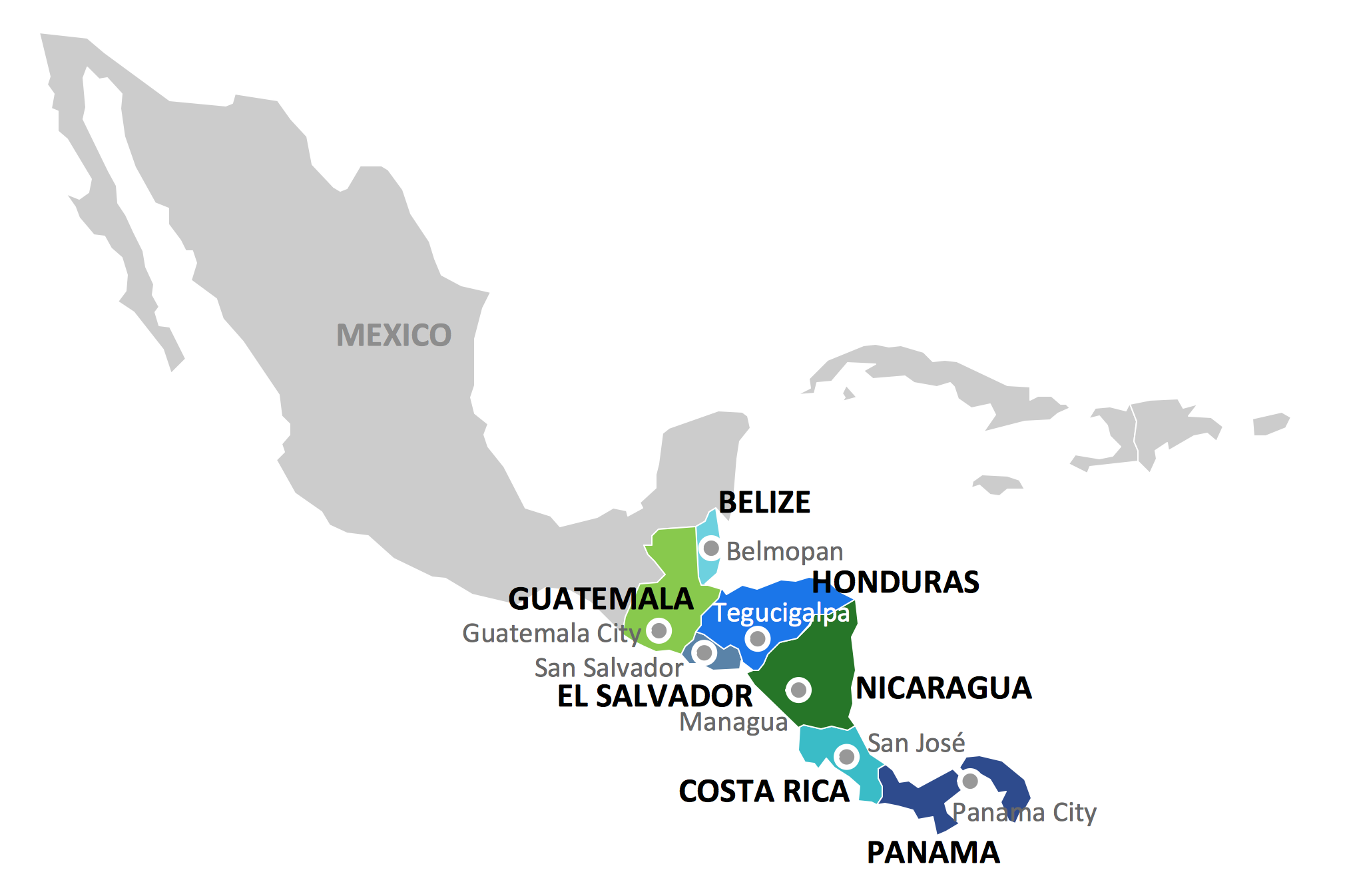 Pic. 7. Central America
The Map of America — element of United States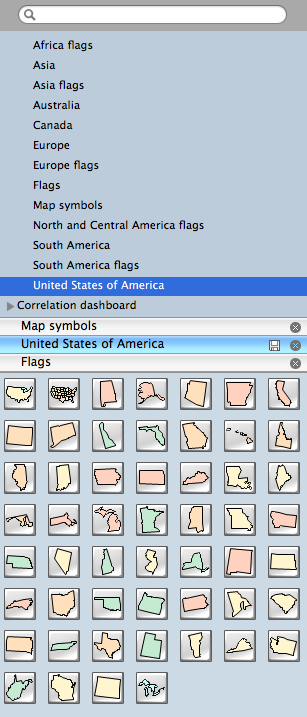 Pic. 8. Element of United States
Map of America — United States
United States has an area of 9,857,306 km2.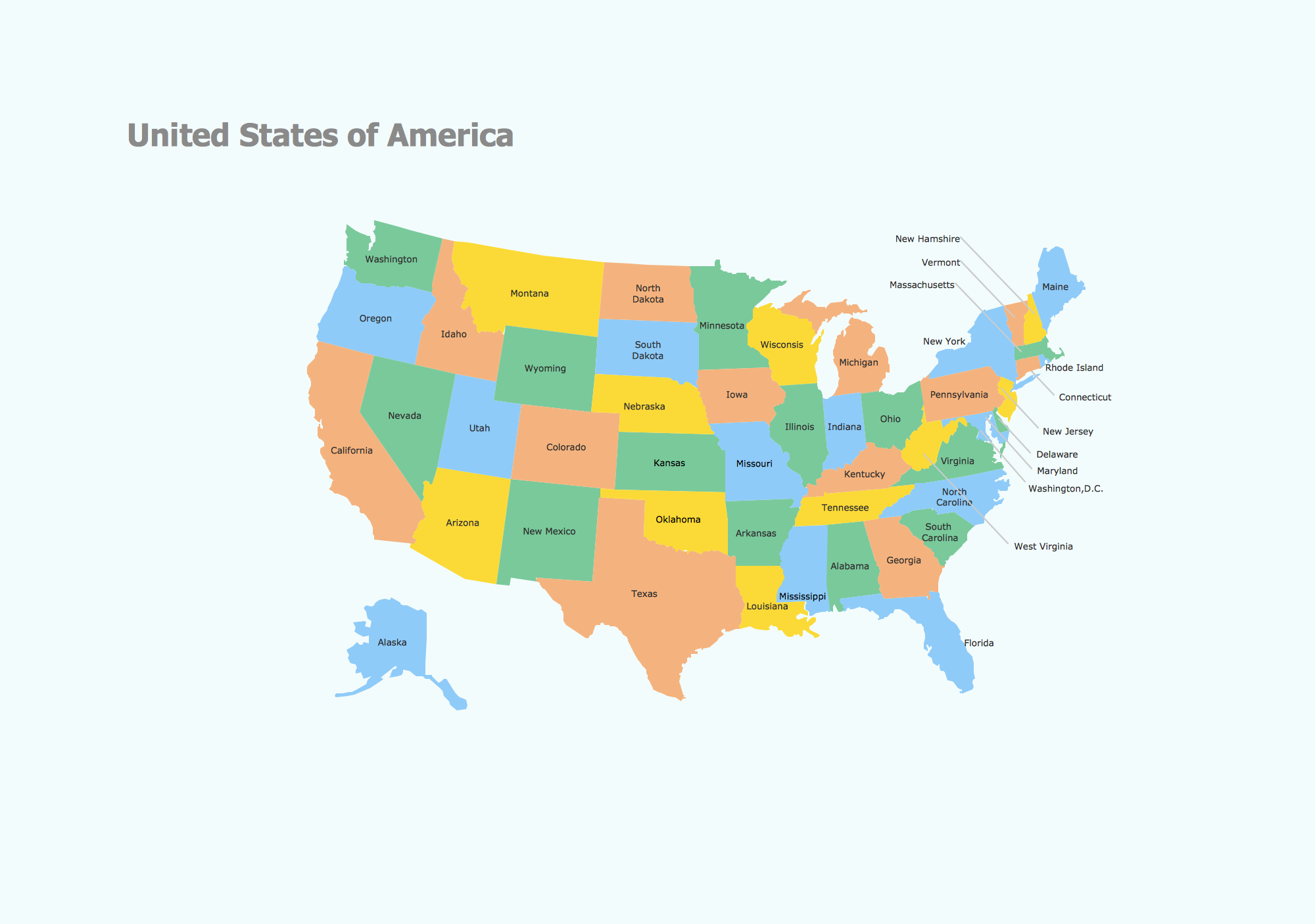 Pic. 9. United States
All ConceptDraw DIAGRAM documents are vector graphic files and are available for reviewing, modifying, and converting to a variety of formats: image, HTML, PDF file, MS PowerPoint Presentation, Adobe Flash, MS Visio (.VDX, .VSDX).
TEN RELATED HOW TO's: