Food Court
A "food court" can also be called a "food hall" or "hawker centre". It is basically an indoor plaza, which is simply a common area within some facility, contiguous with the counters of different food vendors, providing a common area for so called "self-serve dinner", which means that all the customers can serve themselves, choosing whatever they want to eat. Such "food courts" can usually be found in airports, parks and shopping malls, being, sometimes a standalone development. In some schools and some universities, food courts also take place replacing or complementing traditional "cafeterias", consisting of a number of vendors at so called "service counters" (also known as "food stalls").
Meals in such "food courts" can be ordered at one of the vendors and after they are carried to one common dining area where there are many other people eat. Such food can also be ordered as "takeout" for consumption at another location (for example, office or home), being packaged in the foam food containers or simply in a plastic boxes, although sometimes boxes can be made of cardboard. One common food tray used by all the stalls might also be utilized in order to allow the opportunity to carry such food to the table. Food courts may also have shops, selling the already prepared meals for customers to take it home, for example, and to eat after reheating, which makes the food court a daily food stop point.
Food from food courts can be eaten with plastic cutlery. Sporks can be used to avoid the necessity of providing spoons and forks. The exceptions are "Carrefour Laval", requiring its food court tenants to use cutlery and solid dinnerware. Traditional European as well as North American food courts have mainly fast food chains (for example, McDonald's), having sometimes only a few smaller private vendors. Cuisines and choices within such food courts are varied, sometimes offering more global choices, rather than African and Asian food courts, which are mostly private vendors offering the local cuisine.
The first food court was opened at Sherway Gardens shopping centre in Toronto Canada in 1971 and the second food court in the world was opened at the Paramus Park shopping mall in New Jersey in 1974, being credited as the first successful shopping mall food court in America.
Despite of food courts being so popular, there are cafeterias, which are a type of food service location where there are still a few people from the waiting staff working, serving the tables which is still more convenient for some people, especially disable ones. At the same time a restaurant is usually known to be a place where enough waiters work to serve their clients, but food is normally more expensive than in cafeteria or food court. A school dining location is also referred to as a "dining hall", as it was mentioned before, also known as "canteen" in the United Kingdom of Great Britain. Cafeterias have to be differed from "coffeehouses", which are simply the establishments which primarily serve hot or cold coffee as well as related coffee beverages (such as espresso, cappuccino, café latte, etc.), different kinds of tea and other hot beverages.
In cafeterias there's a so called "table service", where the customers can find the food-serving stalls with food, which they take while walking along, placing it on their trays. There are also stations which can be found in places where customers order their food, waiting for it to get prepared. For some drinks and food items customers collect an empty container, after they pay at the check-out point and later they fill the container after paying getting usually the unlimited second servings.
But more commonly the customers are charged a flat rate for admission or pay at the check-out point for each item in particular. Some of the self-service cafeterias charge by the weight of the desired items and in some universities and colleges students pay for three meals a day paying once for all the semester. As cafeterias still require a few employees, they can often be found within a larger institution, such as school college, hospital, military base, factory, prison, department store, museum, etc. Nevertheless, sometimes some of the cafeterias are self-operated by such institutions, being outsourced to a food service management company or leased space to the independent businesses for operate different food service facilities.
Previously mentioned "hawker centre" can be also known as "cooked food centre", being simply an open-air complex, common for the Asian countries, such as Malaysia, Indonesia, as well as the Riau Islands. Such centres can be found in city centres, where the public housing estates are or train/bus stations, being set up as a more sanitary option to so called "street-side outdoor alfresco hawker dining places". There are usually the permanent stalls in open air buildings in such hawkers, providing the stall or shared dedicated tables as well as chairs for their customers, being very popular in Singapore, although the street hawkers were reduced in the major cities of the southern part of East Asia.
Hawker centres usually provide a high quality food at low prices for everyone, so if you decide to open your own food court, hawker centre or cafeteria as well as some café, restaurant, pub or other place to eat in, you can do it after making a detailed plan which is simply an interior layout, made up with help of ConceptDraw DIAGRAM floor plan drawing software. Having the needed solution with the stencil libraries and the pre-made templates of the needed plans will be simpler for you to finish with your own drawing within only a couple of hours or even minutes if you are good at using ConceptDraw DIAGRAM floor plans drawing application. The main feature of the mentioned software is that you can always get the solution you need in order to simplify your work with creating the desired plan as well as any needed scheme or layout.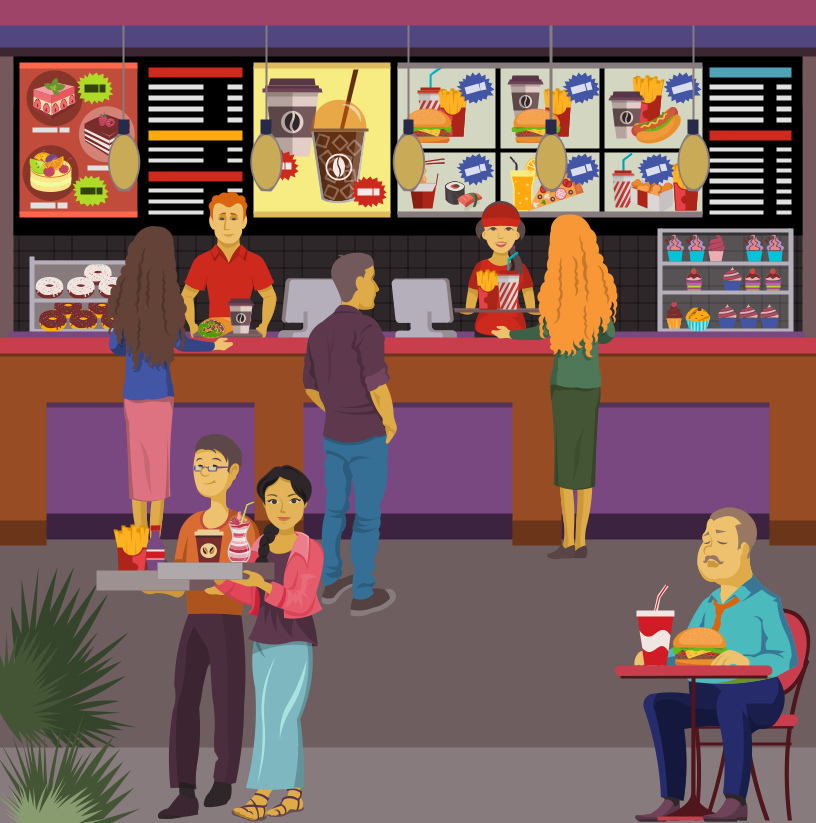 Example 1. Food Court - Fast Food Bar
Food Court Solution provides a set of predesigned samples and 7 libraries with wide variety of ready-to-use vector objects and clipart which was specially designed to give you the opportunity to create any design infographics and advertising illustrations for food court in minutes.
Simply create new document and drag the needed objects from the libraries to make your own professional looking and successful F&B drawing or illustration.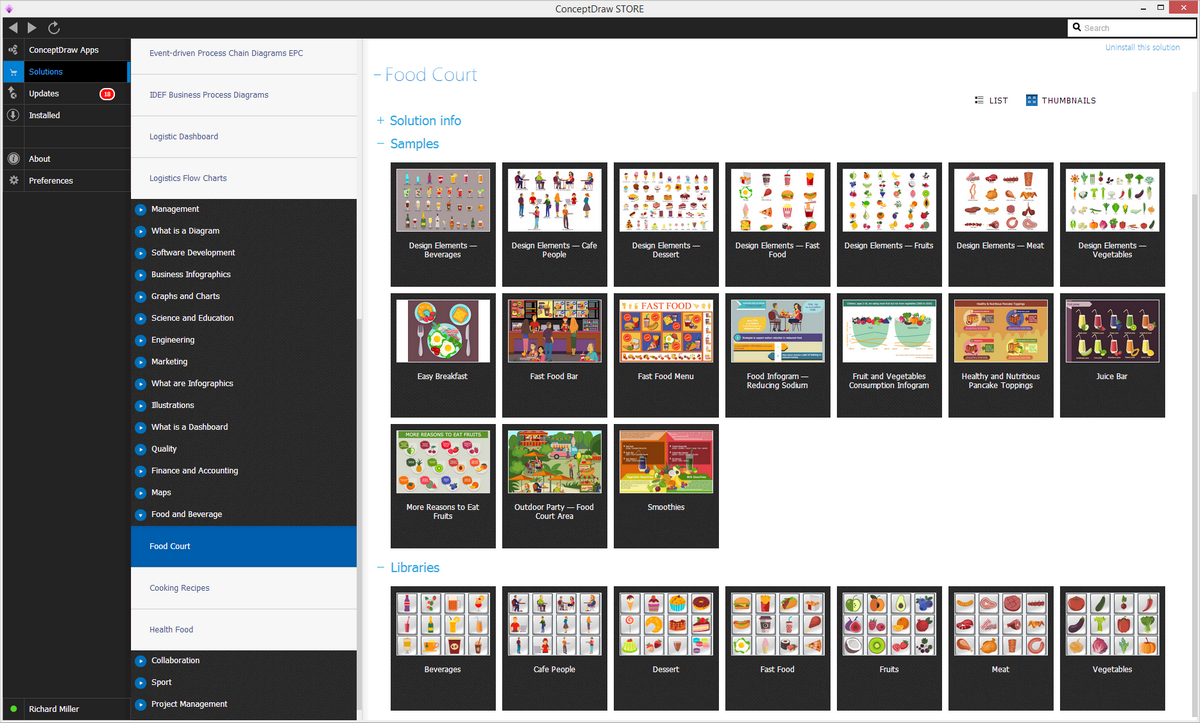 Example 2. Food Court Solution in ConceptDraw STORE
You can also use another infographic solutions offered by ConceptDraw Solution Park in ConceptDraw STORE to design pictorial and informative designs without efforts. ConceptDraw STORE allows easy navigate through ConceptDraw Solution Park, gives an access to all libraries, templates and samples, and also lets effectively manage downloads and updates.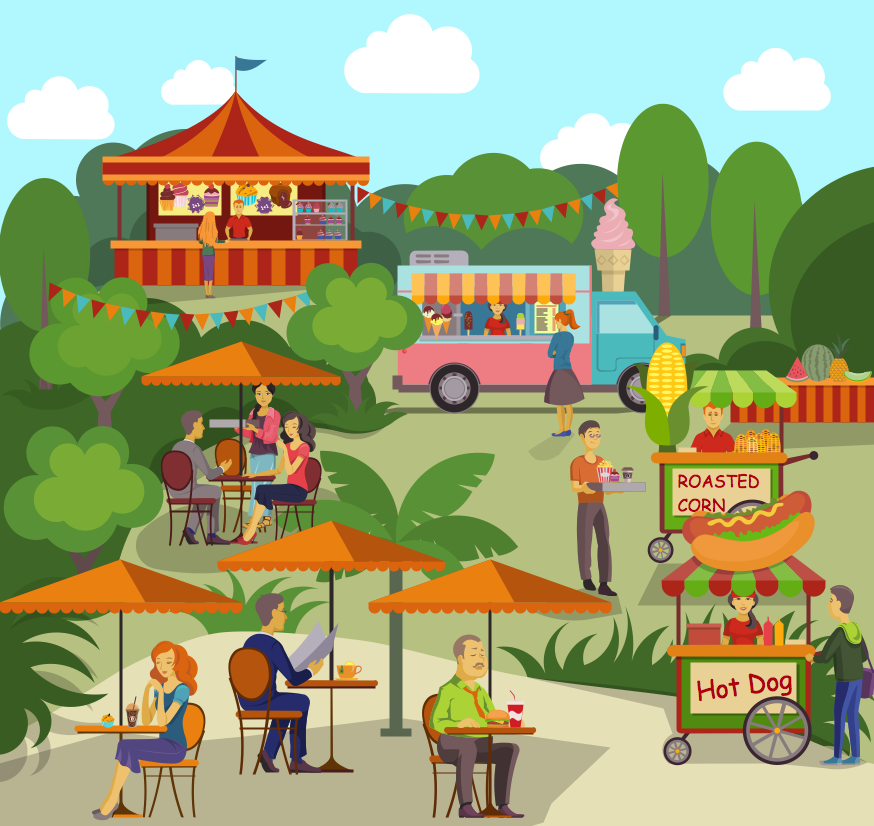 Example 3. Outdoor Party Food Court Area
The samples you see on this page were created in ConceptDraw DIAGRAM software using the Food Court Solution and show different food courts. An experienced user spent 10 minutes creating each of these samples.
Use the tools of Food Court Solution for drawing your own food court plans and illustrations of any complexity quick, easy and effective.
All source documents are vector graphic documents. They are available for reviewing, modifying, or converting to a variety of formats (PDF file, MS PowerPoint, MS Visio, and many other graphic formats) from the ConceptDraw STORE. The Food Court Solution is available for all ConceptDraw DIAGRAM users.
TEN RELATED HOW TO's: