Helpdesk
>
Visio Files Conversion

Visio Files Conversion
Replace Your Current Diagramming Tool
ConceptDraw DIAGRAM v12 Site License
Migrate from Microsoft Visio to ConceptDraw DIAGRAM v12 for the entire organization at one super-low price. With a ConceptDraw DIAGRAM v12 Site License, any employee in your company can make use of ConceptDraw DIAGRAM v12 License-management is super easy with our administration dashboard. Plus, all users can avail themselves of our no-charge support services.
The site license grants your organization:
Full use of ConceptDraw DIAGRAM v12 our flagship product.
No-charge product updates and new features.
No-charge phone and email support.
An easy-to-use license-administration interface.
Contact us for more information on pricing, licensing, and functionality of the ConceptDraw productivity line.
ConceptDraw DIAGRAM v12 is the Best Alternative to MS Visio®
For a fraction of the price of Microsoft Visio®, you can supply your entire company with a single ConceptDraw DIAGRAM v12 Site License. Reduced price and effortless administration are just a couple of the reasons to make the switch from MS Visio® to ConceptDraw DIAGRAM v12
ConceptDraw DIAGRAM v12 is powerful, and easy-to-use. See the demo video.
ConceptDraw DIAGRAM v12 can import MS Visio® VSDX, VSSX and VDX files. ConceptDraw DIAGRAM v12 imports and edits any Visio drawing.
ConceptDraw DIAGRAM v12 can export to VSDX and VDX file formats.
ConceptDraw DIAGRAM v12 is cross-platform software that is compatible with both Apple OS X and Windows Operating Systems.
Drawings you create using ConceptDraw DIAGRAM v12 can be shared with anyone.
Users benefit from extensive how-to videos and "Getting Started Guides".
If you want to migrate from MS Visio®, or are just looking for a great diagramming tool for your company, a ConceptDraw DIAGRAM v12 Site License is a solid choice.
Millions of Users in the World Rely on ConceptDraw DIAGRAM v12
Founded in 1993, Computer Systems Odessa supplies cross-platform productivity tools and graphics technologies to professional and corporate users around the world. CS Odessa sells products internationally in over 150 countries, both directly and through resellers. The ConceptDraw line of products has won numerous awards and is used by millions of people all over the world. The unique individual approach to each customer is one of the many reasons our customers are loyal and satisfied fans of our ConceptDraw DIAGRAM v12 software. Today, CS Odessa maintains its market leadership with innovative products and technologies and is always tuned to global market trends.
Our Customers:
Education
The University of Vienna (Austria)
Yale University (USA)
Victoria University (Australia)
Austrian Academy of Sciences
Government
NASA Ames Research Center (USA)
Federal Reserve bank of New York (USA)
Department of the Premier and Cabinet Adelaide Thinkers in Residence Program (Australia)
The Richmond Fellowship of New South Wales (Australia)
Manpower Planning and Policy Division. Ministry of Manpower (Singapore)
Commercial
Oracle (USA)
Cisco (USA)
INTECO (USA)
EON Group (Hungary)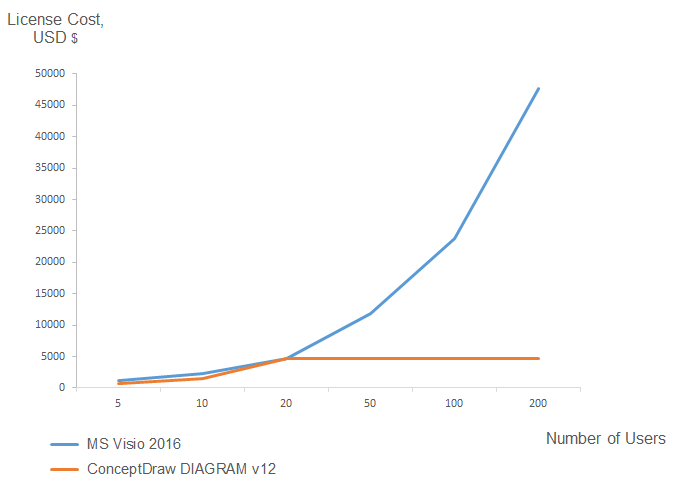 In Search of an Alternative to MS Visio for Mac
Many of us are acquainted with MS Visio, which is without a doubt a powerful and multi-functional tool. However, if you have moved from Windows to Mac, or need to collaborate in a cross-platform environment, you'll find yourself searching for an alternative to MS Visio. ConceptDraw DIAGRAM v12 is the only professional diagramming software that works on both Windows and macOS. All its documents and libraries are totally compatible and can be exchanged between the platforms.
In this short guide, we will describe the most requested drawing tools and how they work in ConceptDraw DIAGRAM v12 for macOS.
ConceptDraw DIAGRAM v12 offers a set of vector drawing tools and methodologies that can complete any professional business drawing task. With ConceptDraw DIAGRAM v12 you are able to work with documents created on a PC on your Mac and vice versa.