Helpdesk
>
License Policy

License Policy
How to Use ConceptDraw Single User License
With the single license, it is possible to allocate the license to someone for a short period of time and then stop using it so someone else can then use it.
With ConceptDraw products, it is possible to reassign a license when someone gets reassigned or leaves the organization. We work with you to preserve your product investment. However, our licensing is not to be switched from user to user so that different people can accomplish work tasks.
If you have an interest in switching please let us know.
You can transfer ConceptDraw license to another computer.
We license ConceptDraw products per named user, making it easy for one to transfer their license from one machine to another. An example of this would be if Richard Miller purchased a license of a ConceptDraw product and wanted to transfer it to his new computer, he would just need to log into his account on ConceptDraw.com and then download product to his computer for installation. As long as Richard is the only user of the product, the license transfer is then successful.
You can install your ConceptDraw product both on your Mac and PC.
Many users have a Mac and a PC. Most software products penalize you, requiring a separate license for each platform. Not ConceptDraw. ConceptDraw is one of the only programs out there that allow for cross-platform installation with a single license. And the file format is the same for ConceptDraw on Mac and PC, so you can share files freely between platforms.
After you have activated your license, just install ConceptDraw on both systems. Then, synchronize with your account, using ConceptDraw STORE Preference settings and your license will be downloaded, automatically activating your product(s).
You are eligible to install the ConceptDraw software both on your laptop and desktop computers.
We understand that many people, between business needs and personal preferences, use desktop and laptop computers with different operating systems. Our Licensing policy supports these types of customers and allows for single users to install our software on one Mac.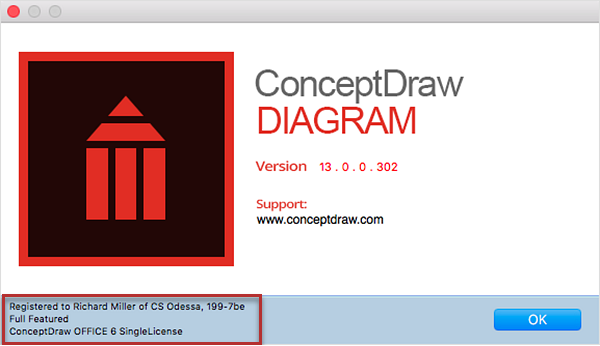 And on one PC computer, or on a single computer in a cross-platform environment. This does not impact current pricing.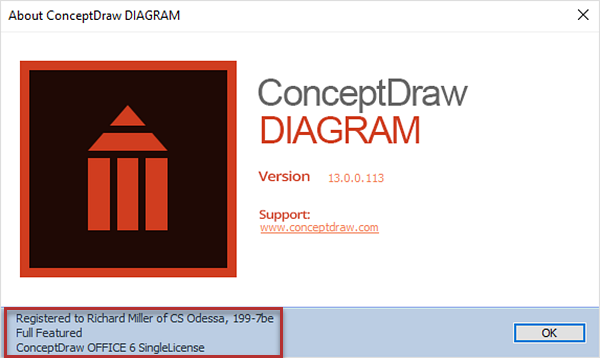 How to Track Multiple Licenses in Your Organization
The goal behind CS Odessa's Licensing Policy is to deliver the best value on ConceptDraw Products. The overall business benefit for multiple users is to provide organizations that have larger groups of users to achieve maximum value at a minimal cost.
At CS Odessa we have many innovative ways to license products to fit our customers' requirements. The multi-license method was introduced to our customers for the first time, with the introduction of the newest release of the ConceptDraw products. The process for multi-user licenses is very easy. If you have 100 users who you would like to be licensed, and you purchase a 100 user multi-license you will never need to worry about losing licenses.

With the purchase of this license type, you receive an administration panel where you can see the state of the licenses you have deployed at any moment in time. We make it easy for you to support your employees' requirements.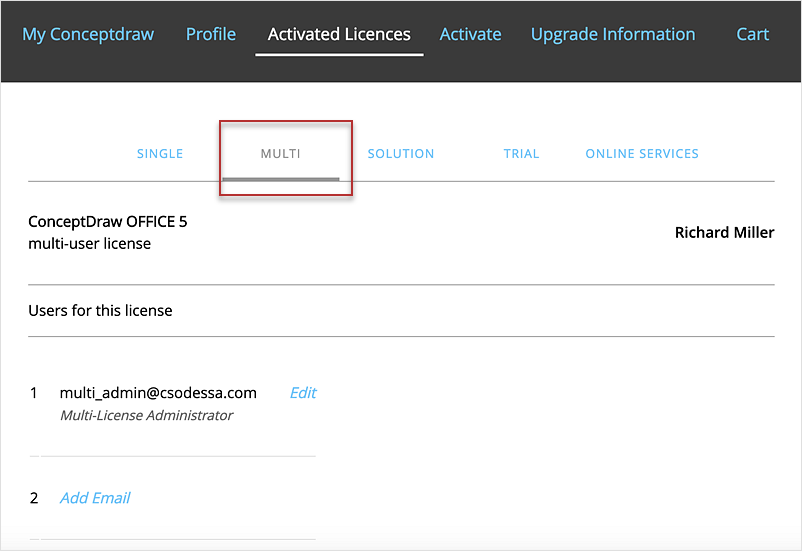 How to Work with Multiple Licenses in a Cross-Platform Environment
ConceptDraw multiuser license can be used for installation on both macOS and Windows.
We at CS Odessa understand that many organizations, because of business needs and employee's personal preferences utilize computers with different operating systems. Our Licensing policy concerning Multi-user licensing allows for each named user to install ConceptDraw software on one macOS and one Windows computer, or on a single computer on a cross-platform environment, provided that the number of named users does not exceed the number of copies of the Software purchased.