The vector stencils library "Azure architecture - Virtual machines" contains 17 Virtual machines symbols.
Use this cloud computing icon set to design your Azure architecture diagrams with ConceptDraw PRO diagramming and vector drawing software.
"A virtual machine (VM) is a software implementation of a machine (for example, a computer) that executes programs like a physical machine. Virtual machines are separated into two major classes, based on their use and degree of correspondence to any real machine:
(1) A system virtual machine provides a complete system platform which supports the execution of a complete operating system (OS). These usually emulate an existing architecture, and are built with the purpose of either providing a platform to run programs where the real hardware is not available for use (for example, executing on otherwise obsolete platforms), or of having multiple instances of virtual machines leading to more efficient use of computing resources, both in terms of energy consumption and cost effectiveness (known as hardware virtualization, the key to a cloud computing environment), or both.
(2) A process virtual machine (also, language virtual machine) is designed to run a single program, which means that it supports a single process." [Virtual machine. Wikipedia]
The symbols example "Design elements - Azure architecture - Virtual machines" is included in the Azure Architecture solution from the Computer and Networks area of ConceptDraw Solution Park.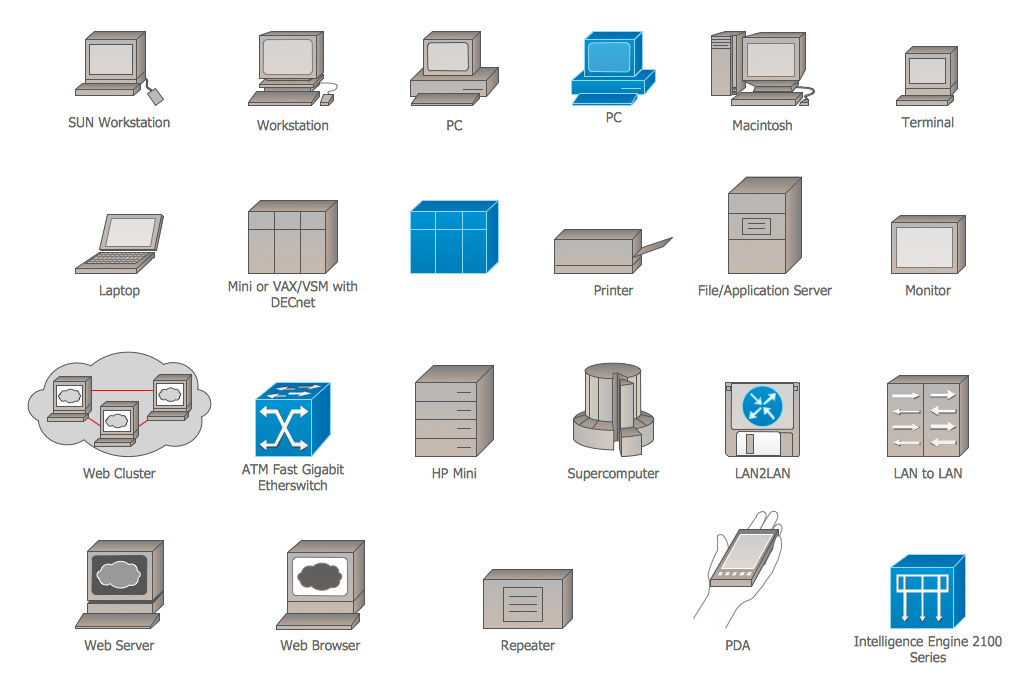 The ConceptDraw vector stencils library Cisco LAN contains symbols for drawing the computer local area network diagrams.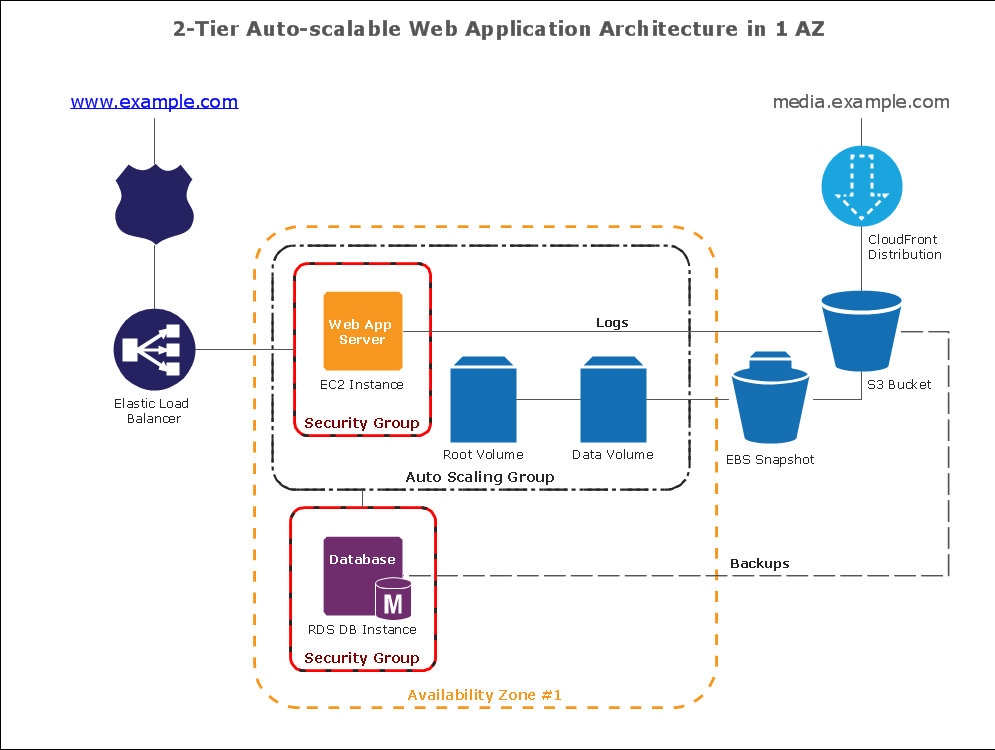 Want to create Diagrams for Amazon Web Services architecture? ConceptDraw Solution Park with AWS architecture Solution will help you!
This vector stencils library contains 184 round icons.
Use it to design cloud computing infographics and diagrams with ConceptDraw PRO software.
"Though service-oriented architecture advocates "everything as a service" (with the acronyms EaaS or XaaS or simply aas), cloud-computing providers offer their "services" according to different models, which happen to form a stack: infrastructure-, platform- and software-as-a-service.
Infrastructure as a service (IaaS)
In the most basic cloud-service model ... providers of IaaS offer computers — physical or (more often) virtual machines — and other resources. IaaS refers to online services that abstract the user from the details of infrastructure like physical computing resources, location, data partitioning, scaling, security, backup etc.
Platform as a service (PaaS)
PaaS vendors offer a development environment to application developers. The provider typically develops toolkit and standards for development and channels for distribution and payment. In the PaaS models, cloud providers deliver a computing platform, typically including operating system, programming-language execution environment, database, and web server. Application developers can develop and run their software solutions on a cloud platform without the cost and complexity of buying and managing the underlying hardware and software layers.
Software as a service (SaaS)
In the software as a service (SaaS) model, users gain access to application software and databases. Cloud providers manage the infrastructure and platforms that run the applications. SaaS is sometimes referred to as "on-demand software" and is usually priced on a pay-per-use basis or using a subscription fee.
In the SaaS model, cloud providers install and operate application software in the cloud and cloud users access the software from cloud clients. Cloud users do not manage the cloud infrastructure and platform where the application runs. This eliminates the need to install and run the application on the cloud user's own computers, which simplifies maintenance and support. Cloud applications differ from other applications in their scalability — which can be achieved by cloning tasks onto multiple virtual machines at run-time to meet changing work demand." [Cloud computing. Wikipedia]
The vector stencils library "Cloud round icons" is included in the Cloud Computing Diagrams solution from the Computer and Networks area of ConceptDraw Solution Park.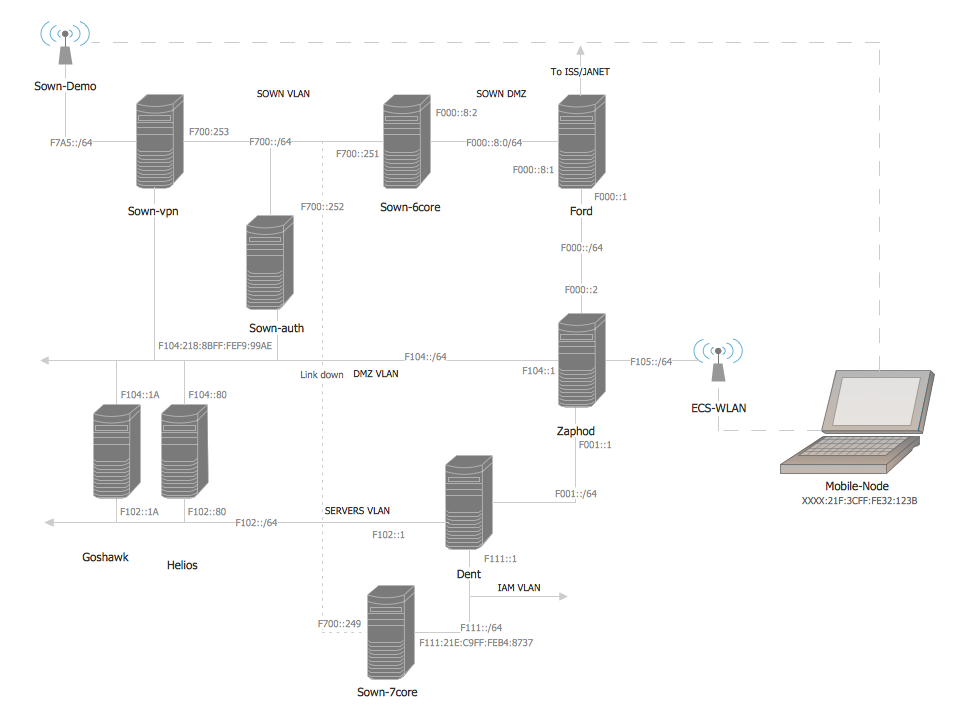 Cisco Network Diagrams solution from the Computer and Networks area of ConceptDraw Solution Park provides 14 libraries with 450 ready-to-use predesigned vector objects that can be used for quickly and easily drawing the professional Cisco Network Diagrams.
The vector stencils library "Web" contains 24 web icons. Use this Internet and WWW icon set to design your computer and telecom illustrations and infographics with ConceptDraw PRO diagramming and vector drawing software.
"The World Wide Web (WWW) is an information space where documents and other web resources are identified by URLs, interlinked by hypertext links, and can be accessed via the Internet. ...
It has become known simply as the Web. When used attributively (as in web page, web browser, website, web server, web traffic, web search, web user, web technology, etc.) it is invariably written in lower case. ...
Web pages are primarily text documents formatted and annotated with Hypertext Markup Language (HTML). In addition to formatted text, web pages may contain images, video, and software components that are rendered in the user's web browser as coherent pages of multimedia content. Embedded hyperlinks permit users to navigate between web pages. Multiple web pages with a common theme, a common domain name, or both, may be called a website. Website content can largely be provided by the publisher, or interactive where users contribute content or the content depends upon the user or their actions. Websites may be mostly informative, primarily for entertainment, or largely for commercial purposes." [World Wide Web. Wikipedia]
The WWW icon set example "Design elements - Web" is included in the Computers and Communications solution from the Illustration area of ConceptDraw Solution Park.
ConceptDraw DIAGRAM is a powerful diagramming and vector drawing software. Extended with AWS Architecture Diagrams Solution from the Computer and Networks Area, ConceptDraw DIAGRAM now is ideal software for Amazon Web Services diagrams drawing.
The AWS Architecture Diagrams solution includes icons, sample and templates for several Amazon Web Services products and resources, to be used when creating architecture diagrams. The icons are designed to be simple so that you can easily incorporate them in your diagrams and put them in your whitepapers, presentations, datasheets, posters or any technical material you like.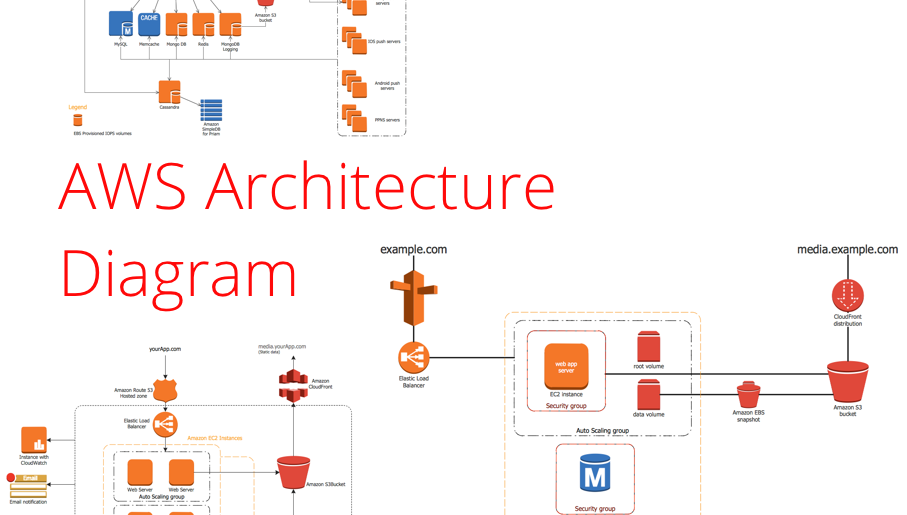 AWS Architecture Diagrams with powerful drawing tools and numerous predesigned Amazon icons and AWS simple icons is the best for creation the AWS Architecture Diagrams, describing the use of Amazon Web Services or Amazon Cloud Services, their application for development and implementation the systems running on the AWS infrastructure. The multifarious samples give you the good understanding of AWS platform, its structure, services, resources and features, wide opportunities, advantages and benefits from their use; solution's templates are essential and helpful when designing, description and implementing the AWS infrastructure-based systems. Use them in technical documentation, advertising and marketing materials, in specifications, presentation slides, whitepapers, datasheets, posters, etc.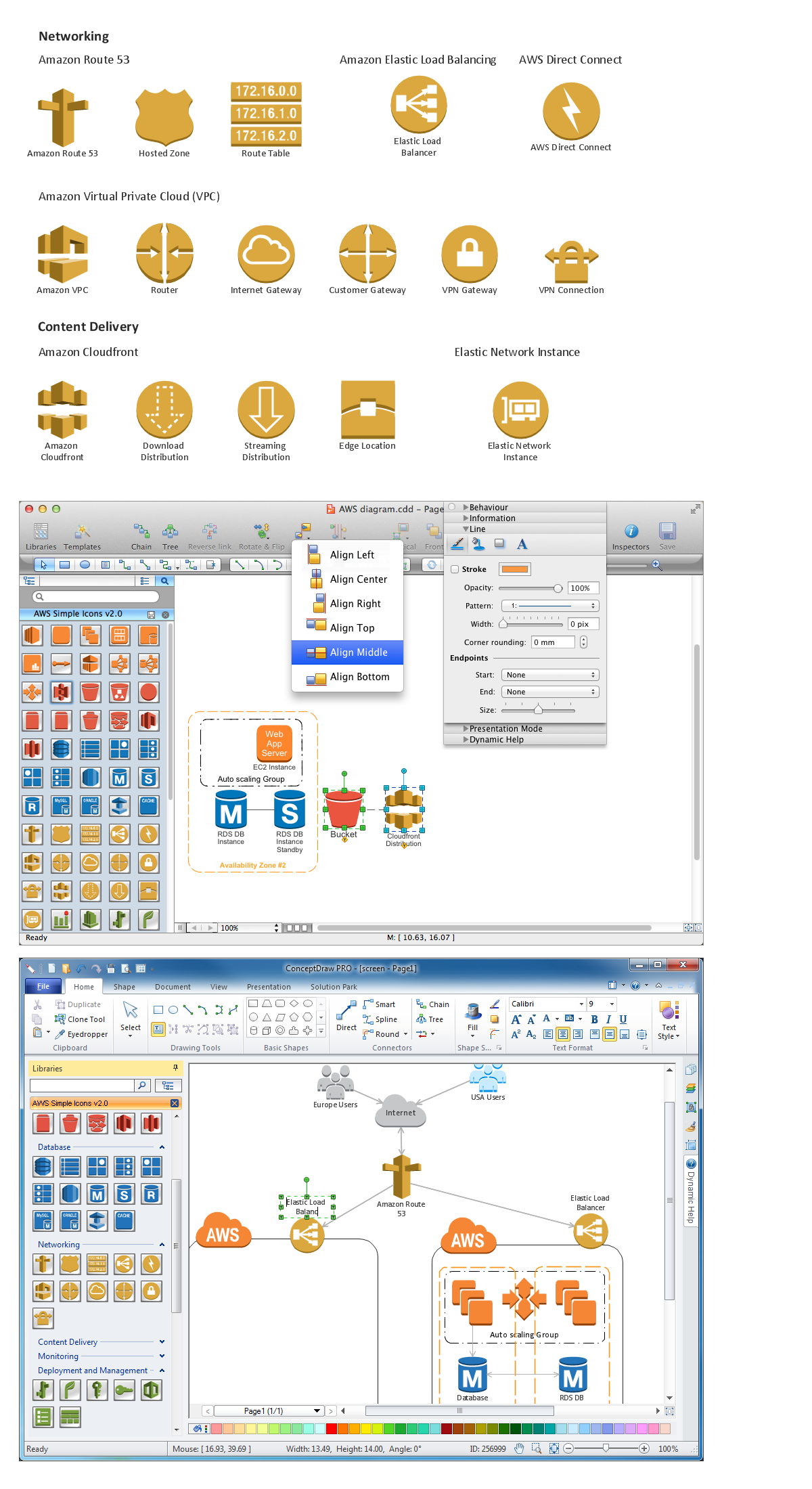 Networking and Content Delivery icons - Amazon AWS pro diagrams - AWS diagrams are part of architecturing tools provided with ConceptDraw Solution Park.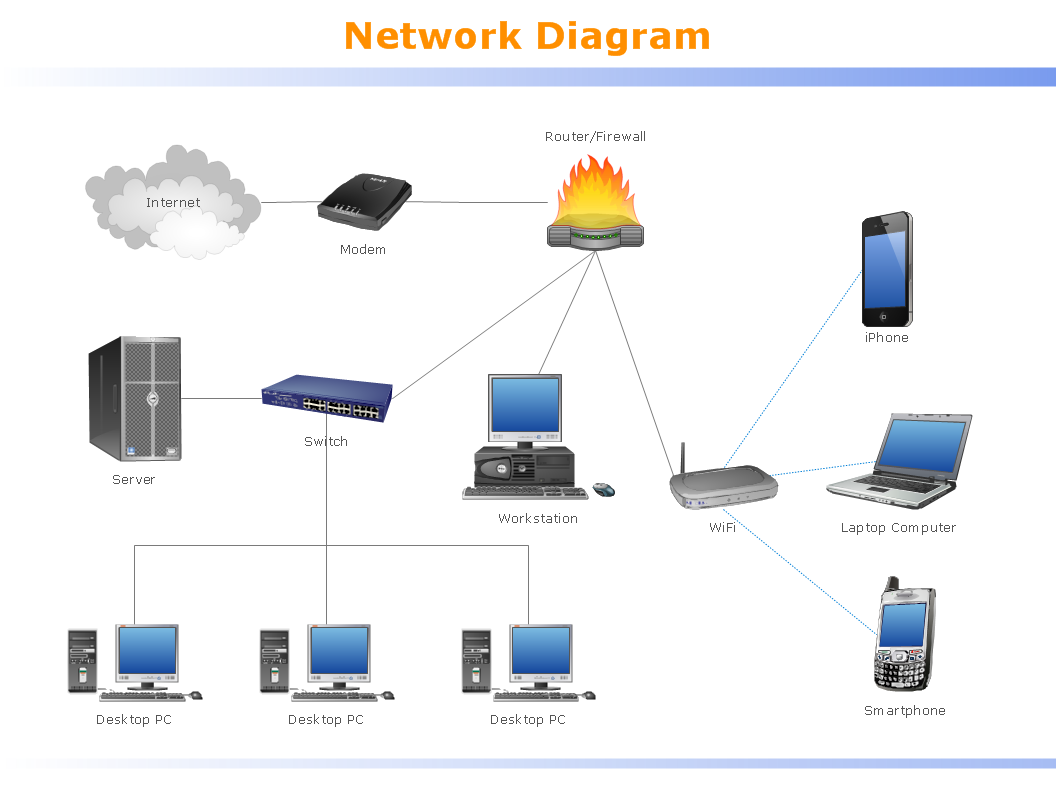 A local area network (LAN) is a devices network that connect with each other in the scope of a home, school, laboratory, or office. Usually, a LAN comprise computers and peripheral devices linked to a local domain server. All network appliances can use a shared printers or disk storage. A local area network serve for many hundreds of users. Typically, LAN includes many wires and cables that demand a previously designed network diagram. They are used by IT professionals to visually document the LANs physical structure and arrangement.
ConceptDraw - Perfect Network Diagramming Software with examples of LAN Diagrams. ConceptDraw Network Diagram is ideal for network engineers and network designers who need to draw Local Area Network diagrams.
How to Draw a Computer Network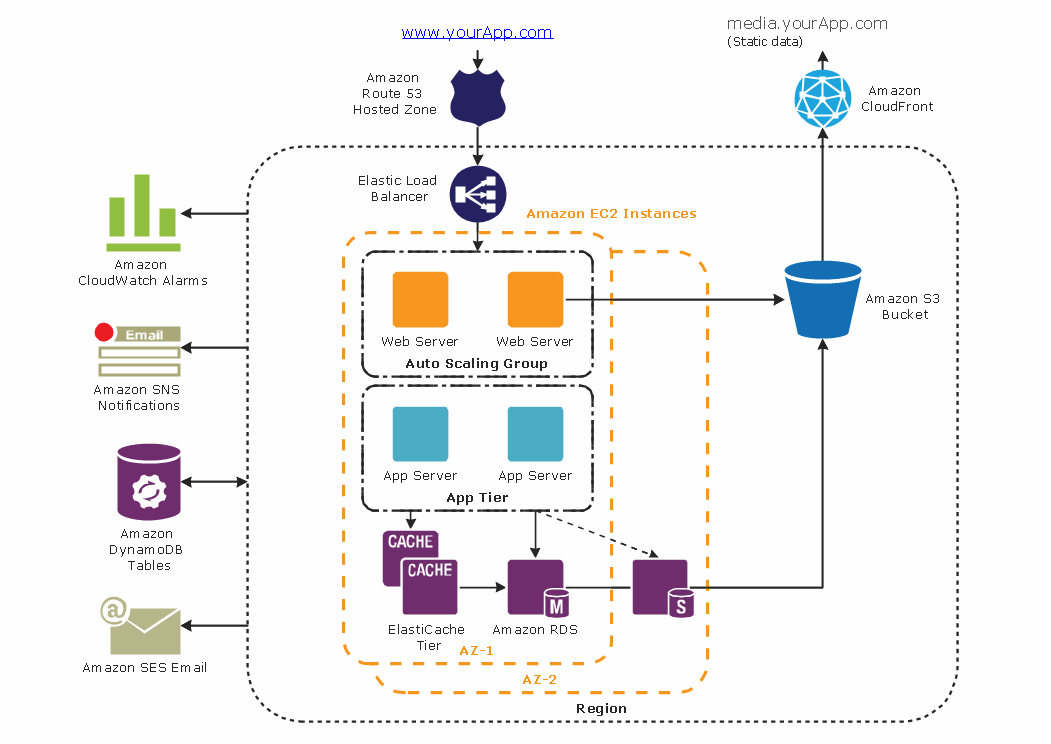 The AWS diagrams are convenient way for explaining the work of Amazon Web Services. ConceptDraw DIAGRAM diagramming and vector drawing software offers the AWS Architecture Diagrams Solution from the Computer and Networks Area for fast and easy creating the AWS diagrams of any complexity.